The Top 10 "Freak Show" Fights In MMA History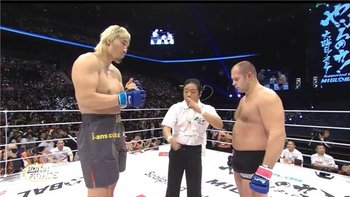 In the great tradition of MMA, size does not matter, strength does not matter, only skill. The following are ten fights that put that tradition to the test.
In modern MMA, fights that include strange matchups are known as "Freak show" fights. This moniker may not be fair to the participants that genuinely compete and try to win, but is hard to call them anything else.
Whether you love them or hate them, you probably would never miss them. Here are the top ten "Freakshow" fights of all time.
No. 10 Dana White vs Tito Ortiz - Bad Blood Promotion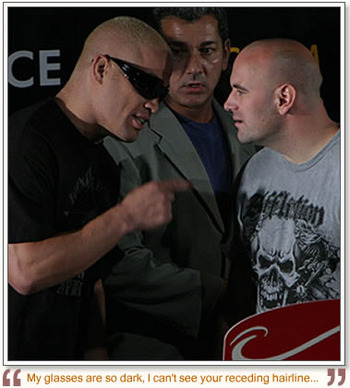 "Bad Blood" they called it and it sure was.
The feud between Dana White and Huntington Beach "bad boy" Tito Ortiz became so heated, they finally decided to settle it with a fight.
While we never got to chance to see this fight happen, the matchup was a freak show nonetheless.
Not getting along with your boss is one thing, but stepping into the ring to settle your differences on national television or PPV is another.
What else is there to call it other than a freak show?
Tito and Dana - don't they just deserve each other?
Though this fight never happened, there was so much hype regarding it, and to ignore it is impossible. It therefore earns the No. 10 spot on our list of ultimate freak shows.
See what Tito thinks about it here:
No. 9. Hong Man Choi vs Fedor Emelianenko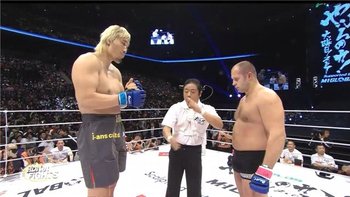 This was originally supposed to be a simple exhibition bout until Hong Man decided it was a real fight and started attacking Fedor with everything he had.
Fedor must have gotten a little angry because he sure dismantled Choi in a real hurry.
Full Fight:
No. 8. Bobb Sapp vs Ikuhisa Minowa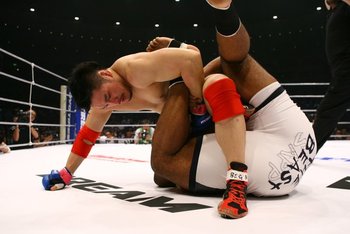 Ah the Super Hulk Tournament. A fond and not so distant memory.
Almost anyone could compete in this tourney and almost everyone did. The highlight of the event was this fight between Minowa and Sapp.
Needless to say there is a significant size difference here. Sapp can be very dangerous from the top position, at least until he gases.
Well Bob never gassed in this fight making it a freak show for that reason alone.
Enjoy Bob Sapp vs Ikuhisa Minowa:
No. 7 Butterbean / Kimo vs Ikuhisa Minowa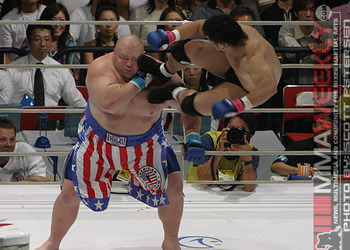 When do you take an opponent named after a bean seriously?
When it is Eric Esch that's when. This gigantic man actually won many significant fights in all aspects of combat sports from Boxing to Sumo.
Butterbean took on Minowa in a surprisingly competitive effort. They should both be praised for the good sportsmanship and respect they displayed at the event's conclusion. Hey Brock are you reading this?
Unfortunately the video for this was removed by Zuffa. They are always supporting the little guy right?
Well thats ok because I have a better treat for you- Here is Minowa vs Kimo in a match that isn't owned by the UFC.
No 6 Giant Silva vs Ikuhisa Minowa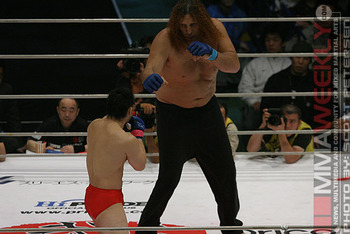 Yes poor Minowa was tossed into the giant's lair once more. This time he faced off against the mighty Giant Silva in one of the most ridiculous fights in history.
This is one of those fights that makes a fan wonder what each man is doing inside the ring at all. It boggles the mind.
Ikuhisa may not have made it to the Hall of Fame, but he made this list three times. Minowa is probably the greatest freak show fighter ever.
Unfortunately, yet again, Zuffa pulled this video without explanation. As a result you will all be treated to another great freak show- Conseco vs Hong Man Choi:
No. 5 Herschel Walker defeats Greg Nagy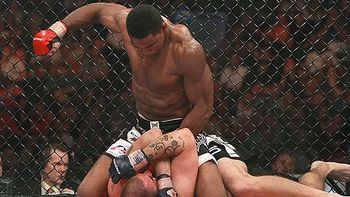 Herschel Walker was one of the greatest running backs in NFL (and USFL) history.
Originally signing with the New Jersey Generals of the now defunct USFL, Walker went on to have a very long and fulfilling NFL career.
The fact that all of that occurred some time in the last millenium is what makes this a freak show fight today.
Herschel wanted to test himself in the cage. Was he tested by Greg Nagy?
You be the judge:
No. 4 Tim Sylvia vs Mariusz Pudzianowski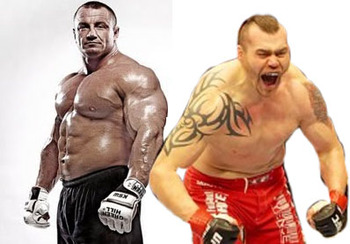 Alright, you are the World's Strongest Man. You think MMA is really cool so what do you do? Why you fight a former UFC heavyweight champion as the main event for an entire MMA promotion!
So what if you have no fight experience? You are the strongest man in the world right?
That is exactly what happenned as Mariusz Pudzianowski battled Tim Sylvia for the...well for the...something about a moose.
Oh well, it was entertainment right?
Watch as Pudzianowski, the heart of Poland, attempts to live up to his promise. The promise Mariusz made to the entire Polish nation when he declared his inevitable victory.
Inevitable? Yes. Victory? Well it is always possible.
Here is the complete spectacle:
No. 3 Zuluzhino vs Fedor Emelianenko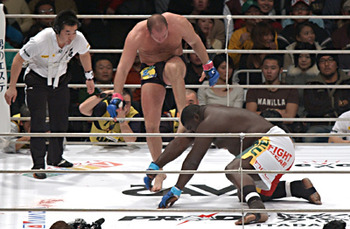 You are the best fighter in the world. You are going to star in the main event of the biggest MMA organization of the time. Naturally your opponent should be seven feet tall and weigh a thousand pounds right?
Well this is exactly what happened when Fedor Emelianenko was forced to fight Zuluzhino who was undefeated at a whopping 1-0.
This was more like a pointless beating than an actual MMA event.
What happens when an unstoppable force meets and unmovable object?
Find out here:
No. 2 Antonio Nogueira vs Bob Sapp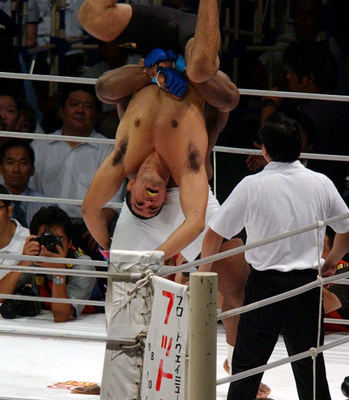 This is the freak show that almost ended the life of Antonio Nogueira. With one vicious suplex from the gigantic Bob Sapp, these men began a battle that would become one of the greatest freak shows ever.
Early in Bob Sapp's career, he was considered a terrifying opponent. It wasn't until his true fighting skills and ability were revealed that this fight became considered a freak show at all.
It is, in fact, amazing that Nogueira survived much less won this battle. This fight simply must be seen by any avid MMA fan.
Bob Sapp vs Antonio Nogueira:
No. 1 Kieth Hackney vs Emmanual Yarborough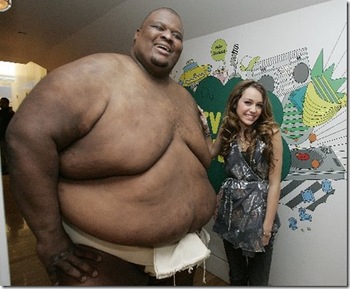 While Emmanual Yarborough vs Miley Cyrus might be an entertaining fight for some, it was not to be on the eve of UFC 3.
Keith Hackney, the rough and tumble member of Duran Duran, faced off against the six hundred pound Yarborough that evening. Standing five foot - ten inches tall, Hackney became part of history as the fighter to participate in the most mismatched MMA battle ever.
Yarborough was primarily a Sumo wrestler and it showed. He at one point even defeated the great Akebono, showing he had some sort of fight experience.
Unfortunately, the sort of combat found in the UFC did not resemble the calm, serene, and ritualistic Sumo at all. Emmanual quickly discovered this when he faced the relatively tiny Hackney.
It is a shame that this fight cannot be shown. Zuffa owns the rights to it and has refused to allow it here. Therefore lets watch as yet again, Joe Son, gets hit repeatedly in his blanks. Hopefully it won't be pulled by Zuffa to fill some holiday ball-bashing Christmas dvd:
Keep Reading