True Colors: What Does Your Jacksonville Jaguars Jersey Say About You?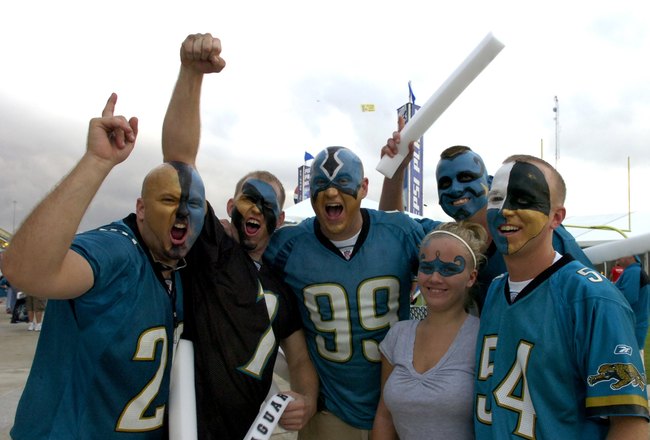 Though the Jaguars' first "real" game this fall is still two months away, the start of training camp next week poses a season-defining question to Jacksonville's faithful fans: What are you going to wear?
The answer is more important than you might think.
In every stadium, there are over-achievers who paint their bodies, build costumes, and think up crazy chants to scream their "fanhood" to the world. For the rest of us, buying a jersey is a simpler, less messy (and sometimes cheaper) way to make that statement.
Whether the Jaguars jersey you'll sport this fall came from the team's store at The Jack or out of a box shipped to you in Australia, whether it's one from a closet-full or your very first, and whether it's teal or white, owning it is a rite of passage for you.
After all, you'll have plunked down at least $50 on a shirt you can't wear without representing your team. That's real commitment. (Unless you're one of those jerks who tapes over the name on the back. Just own it, guy.)
But what exactly are you representing when you pull that elastic neck hole—or jaunty V-neck, if it's one of the new ones—over your head?
The Jaguars are only part of it, because there's also a name and number screen-printed (or stitched, if you've got $300 to burn) on the front and back. In a sea of teal, black, and white, your choice of which player to honor says a lot about the kind of fan you are.
Dishonorable Mention: The Joker. Having shelled out $100 for the right to put whatever name you'd like on your jersey, you blew it on a misguided attempt to be funny.
There's no one named "WHOSYOURDADDY" wearing number 69 on Jacksonville's roster. You just look like a tool. I'd bet more money than you spent on that poor excuse for a Jaguars jersey that you rack up big bar tabs and tip according to how much the bartender high-fived or flirted with you.
Maurice Jones-Drew, Rashean Mathis: The Pragmatist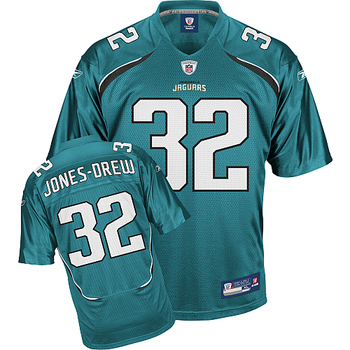 On Sundays in Jacksonville, there are an awful lot of jerseys with "Jones-Drew" on the back, and "Mathis" isn't too far behind. That's smart.
After all, this isn't just another tee-shirt. They don't sell these things in shrink-wrapped packs of three. If you're going to spend (potentially) close to $100, the jersey you pick needs to have a low-risk, time-tested name, and number that won't make you ashamed to wear it for the next few seasons.
(Incidentally, this is an excellent way to avoid becoming one of those "tape over the name" guys.)
So speaks the pragmatist. Your jersey isn't the place to take a chance on a player who might become a star one day. That'd be like playing the lottery, and I'm pretty sure you don't fool around with lotteries.
No one's going to pick you out amidst the tens of thousands gathered on game day — but you won't be the clown in a bright teal Jerry Porter jersey, either.
Tony Boselli, Mark Brunell, Jimmy Smith, Fred Taylor: The Historian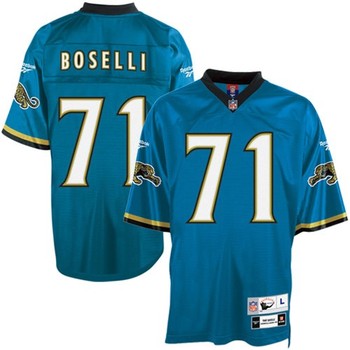 The only reason the Jaguars' current stars don't see their jerseys on more of the "pragmatist" demographic is that many Jacksonville fans are even more puckered-up —and not for a kiss — when it comes to the element of risk.
As a teen-aged franchise playing in the NFL's smallest media market, the Jaguars don't yet boast any truly legendary names in their short history. But the few who've come close, especially during Jacksonville's big-winning heyday at the turn of the century, are the gold standard for success locally.
Aside from Brunell, Taylor, Smith, and Boselli — the biggest names — names from yesteryear abound at "The Jack." From expansion-year defensive tackle Joel Smeenge's 99, to current broadcaster and former defensive end Jeff Lageman's 90, to recent retiree Donovin Darius' 20, they're all over the place.
Legends are the safest bets, least subject to change, and you know it's important to maintain their prominent place in the fans' collective memory. That's the historian's job.
Byron Leftwich, Matt Jones, Mike Peterson: The Stick in the Mud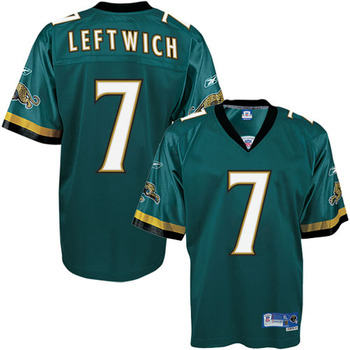 There are some very non-traditional jersey choices coming up, but wearing one from this group brands you as the weirdest of the weird among Jaguars fans.
Maybe you think Leftwich's stellar stint as Ben Roethlisberger's backup with the Pittsburgh Steelers proves he didn't get a fair shot in Jacksonville. Maybe you hate Jack Del Rio for alienating and shipping out Peterson out to serve youth at linebacker.
Maybe you're from Toad Suck, Arkansas, and caught between the rock of Jones' NFL bust career and the hard place of all the Jaguars gear you bought when they drafted him.
Whatever the case, even if it's just that you're too cheap to spring for a new, relevant jersey, you look like a stick in the mud. So long as it's teal, it'll work on Sundays — and God bless you for not taping over the name —but you might be better off with a $10 Wal-Mart shirt instead.
David Garrard: The Teenage Anarchist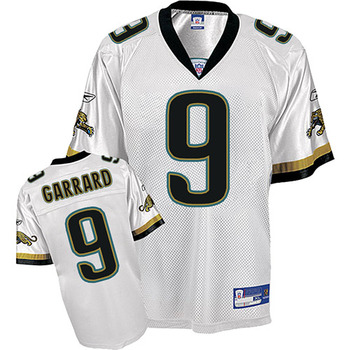 "Do you remember when you were young and you wanted to set the world on fire?"
Even Gainesville-based punk rockers "Against Me!" might remember the huge groundswell of support for Garrard in Jacksonville near the end of Leftwich's tenure as starting quarterback.
Five years ago, wearing that number 9 jersey was a statement of protest against Leftwich, against coach Del Rio and his perceived status quo, against the Jaguars' losing ways — against everything. You were mad as hell; you were "looking for a revolution."
And you got it. Garrard unseated Leftwich in 2007 and Jacksonville won a playoff game. After just one season, your guy was the entrenched incumbent instead of the upstart challenger.
Now, a six-year, $60 million extension and two losing seasons later, the tables have turned and you're defending him against those in favor of drafting a franchise quarterback. Facing a make-or-break season in 2010, you're hoping it's not true that, as the song goes: "The revolution was a lie!"
Joe Zelenka, Ernest Wilford, Paul Spicer: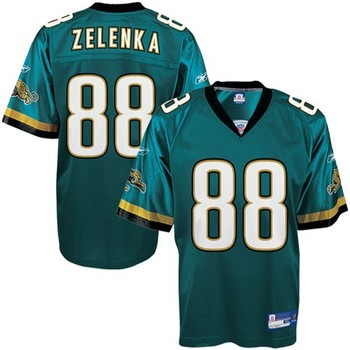 Where a Matt Jones jersey is weird in a head-scratching way, the many instances of support for Zelenka, Wilford, and Spicer are strange in their own heart-warming fashion.
It's not that these three adopted heroes are locals: Zelenka's from Cleveland, Wilford grew up in Virginia, and Spicer was born in rival territory in Indianapolis.
But fans in Jacksonville have a special fondness for their long-time long snapper, their gritty, hard-hitting backup tight end, and the man who put their county ("Du-val!") on the map on national television, respectively.
When you see one of these jerseys, even if it's in an airport halfway across the country, you might as well ask the wearer whether he's from Northside or Arlington. It's a sure bet he's from Jacksonville.
Reggie Nelson, Derrick Harvey: The Dreamer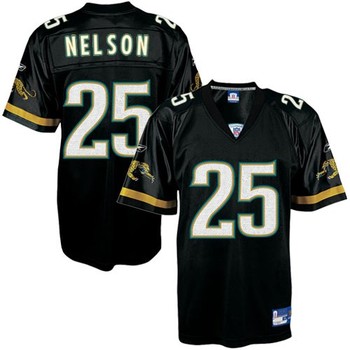 A knee-jerk reaction can sometimes be overpowering.
For former Jaguars general manager James "Shack" Harris, the knee-jerk decisions to draft Nelson (2007) and Harvey (2008) were borne from positional need. Jacksonville's roster still looks iffy at safety and defensive end going into 2010, but they looked like real problem-solvers at the time.
For you, the knee-jerk decision to snap up a Nelson or Harvey jersey probably happened around the same time they were drafted. Each looked like the one piece needed to put the Jaguars over the top, and they had played their college ball for everyone's favorite team in nearby Gainesville.
It looked like a great decision at the time.
You might have had your head as high in the clouds as Shack, but it's commendable that you've gritted out through their obscurity over these past few tough years.
Then again, that's just the chance you take when you hitch your wagon to a rookie.
Tim Tebow: The Hater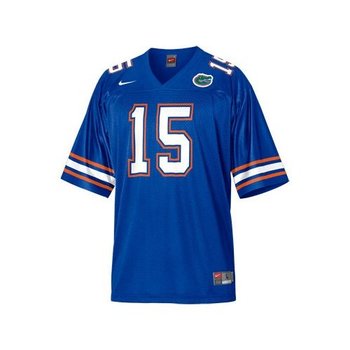 Let's put all the snide comments about jerseys featuring Jerry Porter, Mike Peterson, Reggie Nelson, or any other much-maligned Jaguars player aside for the moment. Except for tasteless personalized jobs, if it's teal, it's legitimate. That's the bottom line.
With that in mind, it's time to acknowledge and condemn the recent disgusting trend of Tim Tebow jerseys in Jacksonville Municipal Stadium.
From 2006 'til this past January, Tim Tebow was a standout college quarterback for the Florida Gators, where he was part of two BCS national championship teams. In April, the Denver Broncos drafted him by trading up to the 25th overall pick.
Again, for emphasis: the Denver Broncos drafted him.
Tebow is not a Jacksonville Jaguar. His jersey, as in-demand an item though it might be, has no place in the Jaguars' stadium or on a Jaguars fan. Were Jacksonville able to handle the aforementioned facts dispassionately, you'd just be an oddity for wearing one to a game.
In the charged context of Florida fans' fawning, and especially if you're still sporting a Jaguars jersey you customized with "Tebow" and "15," you're a hater.
Mike Sims-Walker, Terrance Knighton, Derek Cox: The Young-at-Heart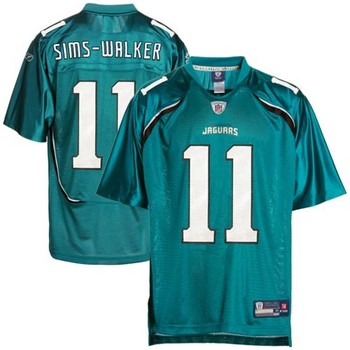 If you're looking for the complete opposite of the "hater," you've only to find someone wearing one of Jacksonville's newer names — and there are plenty of them.
Aside from Knighton and Cox, the third-round gems who shined brightest out of new GM Gene Smith's first draft class in 2009, and surprise fantasy football commodity Mike Sims-Walker, jerseys featuring slot receiver Mike Thomas, and second-year tackles Eugene Monroe and Eben Britton abound.
They're on fans who might be six years old or 60, and they represent the fan optimism that's brought the Jaguars within 6,500 season tickets of selling out their stadium's general bowl and avoiding TV blackouts in the upcoming season.
Jacksonville's in the middle of a youth movement, and a jersey from this group marks you as part of it.
Josh Scobee, Mike Hollis: The Oddball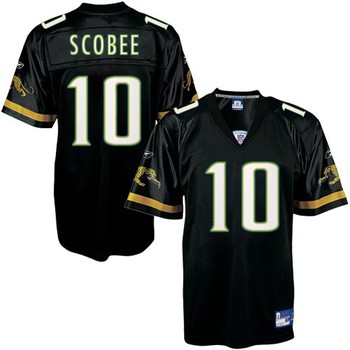 Also on the lighter side of the Jaguars' supporters, there's an unusually large segment of the fan base that's been dedicated to Jacksonville's two most prominent kickers.
As far back as the 1996 season, kickers have been involved in some of the most memorable events in the Jaguars' history.
One fan, unimaginatively dubbed "Arrow Guy," claims to have used a sign pointing away from the uprights to throw the legendary Morten Andersen off on the field goal that would've kept Jacksonville out of the playoffs in the franchise's second year.
And anyone who watched Scobee beat the Colts with a 51-yarder in the fourth quarter at Indianapolis in 2008 — one of the Jaguars' few bright spots that year — probably has enough lingering warm fuzzies to feel proud wearing his jersey.
Particularly popular among the womenfolk, Jacksonville's affection for these soccer-style talents is an oddball trend with staying power.
Tyson Alualu: The Faithful
Last, but not least, we acknowledge the faithful, for whom the gut response of "Whoa!" is at once accurate and inadequate.
Before NFL commissioner Roger Goodell announced Alualu as the Jaguars' first-round pick in April, no one in Jacksonville could have expected California's unheralded defensive lineman to be it. In all their pre-draft dealings, Jaguars brass deliberately kept a tight lid on their real target.
There were plenty of other, more-publicized options. Jacksonville could have gone with quarterback Jimmy Clausen, wide receiver Dez Bryant, or any of several highly-touted defensive ends as more palatable choices.
GM Gene Smith made the tough, unpopular decision in trusting his scouts' work and taking Alualu. He hasn't gotten any credit for it in post-draft grades, and he won't until and unless Alualu takes the league by storm in a fashion worthy of a top-10 draft pick.
There's no margin for error, and by wearing Alualu's jersey you're showing an impressive confidence in Smith's decision-making. After last year's draft landed starters with four picks and contributors with eight of nine total, there's evidence building in your favor...
Still, "Whoa."
Keep Reading

Jacksonville Jaguars: Like this team?