NHL: 10 Things the Dallas Stars Need to Do to Compete in the West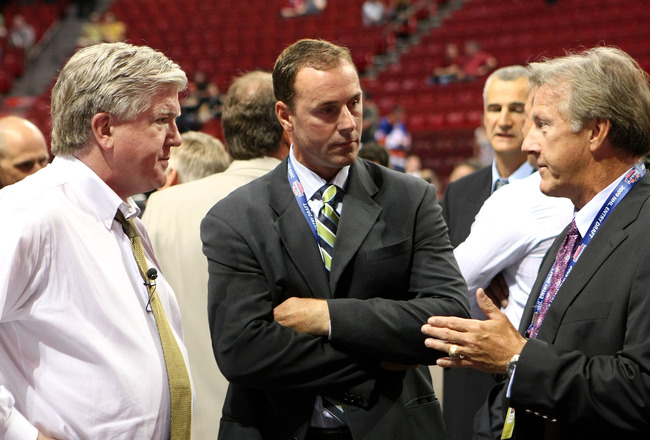 General Manager Joe Nieuwendyk of the Dallas Stars has much work to do to lead a once proud franchise back to Stanley Cup contention. Thus far, he appears to be part of the new wave of ex-player executives that have their heads on their shoulders.
Let's take a look at what is on Joe Nieuwendyk's to-do list to get the Stars back to the playoffs this coming season.
Fill the Leadership Void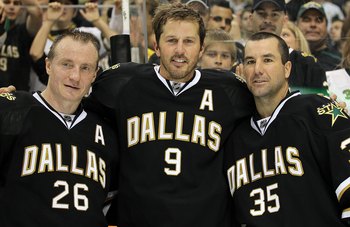 Three long-time members of the team in goaltender Marty Turco (age 34) and forwards Mike Modano (age 40) and Jere Lehtinen (age 37) will not be back with the team next season. The Stars have made it clear that Modano and Turco will not be re-resigned and the former Selke Trophy winner Lehtinen appears to be ready to retire.
Last season, Modano provided 14 goals and 16 assists in 59 games. While Lehtinen contributed four goals and 13 assists in 58 games to the club this past season. Modano spent 16 years in Dallas as a Star while Lehtinen was also a fixture of the organization spending the past 13 years with the club.
While Turco had solid numbers with a 2.72 goals against average, a 0.913 save percentage, and four shutouts in 53 games this past season, general manager Joe Nieuwendyk felt it was time to move in another direction.
Turco spent nine NHL seasons with the franchise and unseated Stanley Cup winning goaltender and future Hall of Famer Eddie Belfour for the starters role in the early 2000's. The best memory the Stars faithful have of him is the 2002-2003 season, when he posted a 1.72 goals against average and a 0.932 save percentage with seven shutouts over 55 games.
Players like Brad Richards, Brenden Morrow, and Stephane Robidas will be looked on to be the leaders in the room now.
Salary Cap Situation is Good
They currently have $14,641,666 in cap space for the upcoming 2010-2011 NHL season with 22 NHL players signed. The breakdown is $30,513,344 committed to forward, $10,475,000 going towards defensemen, and $4,200,000 spent on goaltending.
On the forward lines the top six is currently comprised of Brad Richards, Mike Ribeiro, Loui Eriksson, Brenden Morrow, Jamie Benn, Steve Ott, and Fabian Brunnstrom on the outside looking in. Brad Richards has a current cap hit of $7,800,000 on a contract that will be expiring at the end of this coming season, making his an unrestricted free agent. Fabian Brunnstroms's contract ($675,000 cap hit) also expires at the end of this season making him a restricted free agent.
The defense of the current Stars looks as follows: Stephane Robidas, Trevor Daley, Karlis Skrastins, Brad Lukowich, Mark Fistric, Philip Larsen, and Jeff Woywitka. Currently, Daley, Skrastins, Lukowich, and Woywitka all have contracts that will make them unrestricted free agents at year's end.
As restricted free agents the club still has Nicklas Grossman (D), Matt Niskanen (D), James Neal (F), and Perttu Lindgren (F) to sign. James Neal is the biggest priority to re-sign, as he was third in team scoring last season with 27 goals and 28 assists in 78 games. While Grossman and Niskanen provided 15 and seven points from the back end respectively. Perttu Lindgren did not appear in any NHL action this past season.
The Stars also acquired grinding forward Adam Burish as a free agent this offseason. He has spent the last three seasons with the Chicago Blackhawks, winning the Stanley Cup while appearing in 15 playoff games this year. He should fit nicely into their bottom six forwards.
Fabian Brunnstrom Needs to Take the Next Step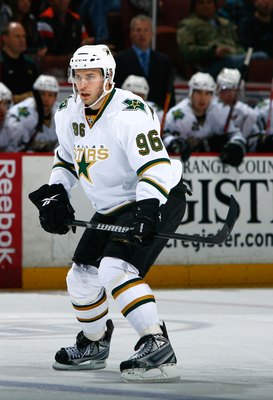 After all the hype we heard of the 6'2", 212 pound, 25-year-old forward during 2008 you would have expected more from the young Swede. So far, he has appeared in 99 NHL games with 19 goals, 21 assists, and a minus-11 rating.
Last season, he took a step back, appearing in only 44 games while scoring only two goals. He is beginning to round out his game with 44 hits, five blocked shots, and 20 takeaways this past season.
Although the 2008-2009 season showed more promise for his future when he scored 17 goals and 12 assists in 55 games, with five of his goals being game-winners.
If the Stars are expecting to make the playoffs then Brunnstrom needs to take a step forward in his development and show that he has was it takes to be a solid top six forward in the NHL.
Kari Lehtonen Needs to Stay Healthy
After being drafted second overall in the 2002 NHL Entry Draft by the Atlanta Thrashers big things were expected of this talented goaltender. In terms of numbers, he has delivered solid NHL stats with a career 2.87 goals against average, a 0.912 save percentage, and 14 shutouts in 216 NHL games.
He is heading into his sixth NHL season but has only played in more than 50 games once, largely due to injuries. After spending most of the season last year on the sidelines in Atlanta the Stars acquired him.
He went on to post a 2.81 goals against average and a 0.911 save percentage in 12 games with Dallas after the trade. Since then GM Joe Nieuwendyk has signed Lethonen to an extension that will make him an unrestricted free agent at the end of the 2012-2013 NHL season. The cap hit for this contract is $3,550,000 per season, which appears to be a very reasonable number for a young goaltender with Kari's numbers.
In the only season that saw him play more than 50 games he played 68 times with a 2.79 goals against average and a 0.912 save percentage. With Andrew Raycroft as his back up look for him to make 55 starts with numbers close to his career stats.
He will need to stay healthy and consistent between the pipes if the Stars are to be successful moving forward. At the age of 26 he still has plenty of gas left in the tank, look for him to lead the Stars to the playoffs this year.
Need to Acquire a Puck-Moving Defenseman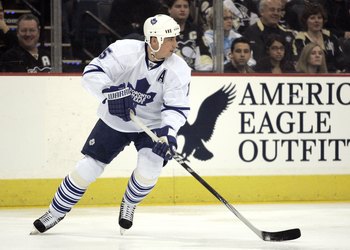 The Stars have an overabundance of defensive defensemen on the roster. With only Stephane Robidas (10 goals, 31 assists) and Trevor Daley (six goals, 16 assists) providing more than 20 points this past season.
They currently have five NHL defensemen in Stephane Robidas, Trevor Daley, Karlis Skrastins, Brad Lukowich, Mark Fistric signed for next season. Also they still have Matt Niskanen and Nicklas Grossman as restricted free agents to sign.
A player like Tomas Kaberle would be a good fit the Stars blue line. He is much like the long-time blue liner for the Stars Sergei Zubov in his style of play. Kaberle is not overly physical but provide a great first pass out of the zone and also is a great set-up man on the power play.
The Leafs are rumored to be seeking a top six forward and a draft pick for Kaberle. Perhaps the Stars could engineer a trade sending Mike Ribeiro and a third round pick to the Leafs for Kaberle.
If the Stars were to trade Ribeiro they would need to be very sure that Brunnstrom and/or Ott could handle a top six forward role to replace the 50-60 points Ribeiro consistently provides. Although Ribeiro's weakness appears to be his face offs, as he only won 44.8 percent of them this past season.
Also a payer like Marc-Andre Bergeron could be useful to the Stars. He was 37th in the league amongst defensemen this past season with 13 goals and 21 assists making 34 points. He also scored seven power play goals and four game winning goals. He is a consistent 10-goal, 30-point defenseman in the NHL, however, he does not add much in his own zone. He is a current unrestricted free agent and could likely be signed for under $1.5 million.
Brendan Morrow Needs to Stay Healthy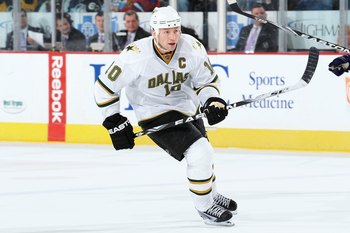 Morrow is the team captain and a key player to have in the lineup for the Stars. He is very affordable for what he provides with his current cap hit of $4.1 million on a contract that expires at the end of the 2013-2014 NHL season.
The 6'0", 205 pound, 31-year-old was fifth in team scoring last season with 20 goals and 26 assists for 46 points. After injuries limiting him to 18 games during the 2008-2009 NHL season Morrow came back and showed a little less offensive pop than his 32 goals in 2007-2008. He was also an integral part of the gold winning Canadian Olympic team at the Vancouver 2010 games.
He should be a consistent 20 goal, 30 assist player for the balance of his current contract. But where his real value lies is in his heart and his blue-collar play. Along with his 46 points his also provided 230 hits, 48 blocked shots, 33 takeaways, two game winning goals, and a shorthanded goal in 76 games his past season. He also showed very disciplined play with only 69 penalty minutes over those 76 games.
If he can stay healthy and be Mr. Everything for the Stars again this season that should go a long way to their goal of playoff success.
Improvement required on the Penalty Kill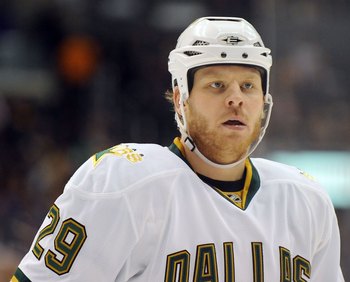 Last season the Stars penalty kill ranked 27th in the league at 77.4 percent. This will be an area that will require much improvement for the club. Perhaps players like Dominic Moore, Sean Bergenheim, Richard Park, or John Madden (53.2 percent on faceoffs) could assist improvement on the penalty kill.
Scotty Bowman used to have a system in determining how well his special teams were doing overall. He would add the power play percentage and the penalty kill percentage together. Then he would do the same for the rest of the league. If his team's number was over 100 percent overall then he would consider them to be doing well.
Last season the Stars were at 96 percent overall, while playoff teams had percentages as follows: Washington (104), Montreal (104.8), Philadelphia (104.4), San Jose (106), Vancouver (102.5), Chicago (103). As you can see this clearly shows that often special teams play can be the difference between watching the playoffs and competing for the Stanley Cup.
Improvement required in the face off circles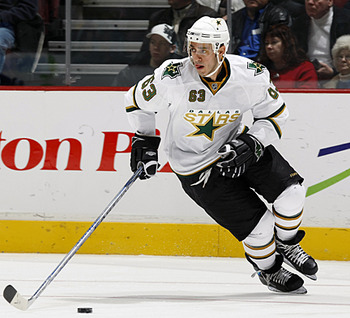 One area key to any teams success is puck possession and face off play a large role in that success. On the penalty kill you can kill off 10-20 seconds by winning a face off and firing the puck down the ice. On the flip side, the same can be said for saving time on the power play.
Last season the Stars were ranked 26th in the league winning only 48.1 percent of their face offs. The following are the centers that took more than 100 face offs for the club this season and their percentage in brackets: Brad Richards (51.5), Mike Ribeiro (44.8), Mike Modano (50.4), Tom Wandell (44), Steve Ott (56.8), Jamie Benn (46.2), Toby Peterson (44.4).
While Ribeiro is an effective offensive player he needs much work in the face off circles. The team should start next season allowing Steve Ott to move to the centre ice position. As well they should sign another bottom six player that is good on face offs, like John Madden (53.2). With him next season would see Brad Richards, Mike Ribeiro, Steve Ott and John Madden taking draws.
If Ribeiro is shipped out Ott could even be considered for movement up to the second line as he did show this past season with his 22 goals that he has untapped offensive potential.
Resign Brad Richards, sign quality bottom six players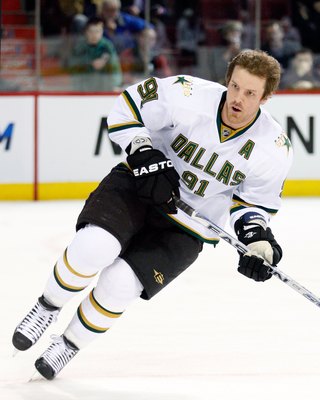 Brad Richards is on the last year of a contract that will see him paid $7.8 million. He just turned 30 years old in May of this year and has another six to eight good years left in him.
His first two years in Dallas saw him struggle more than in the past. However this past season he appeared to return to form with 24 goals and 67 assists in 80 games.
He could also be a key playoff performer for the franchise in the future. On his career he has scored 21 goals and 41 assists with seven game winning goals in 63 games.
He is a key playmaking center that exhibits clutch scoring. He already has a Stanley Cup and Conn Smythe Trophy to his name and it would not be unreasonable to expect a similar result before his career is done.
It would not be unreasonable to see Richards sign an extension at $6 million per season. Thus taking a pay cut from his lofty $7.8 million contract.
As well, the Stars need to improve the quality of their bottom six forwards. Their top six, while not spectacular, is serviceable enough to be competitive in today's NHL. However they do need more secondary scoring and improved special teams players in their bottom six forwards.
Perhaps players like Aaron Asham, John Madden and Dominic Moore could provide instant improvement and likely help the team to a playoff appearance this coming season.
Stable Ownership is Needed, Tom Hicks to Sell?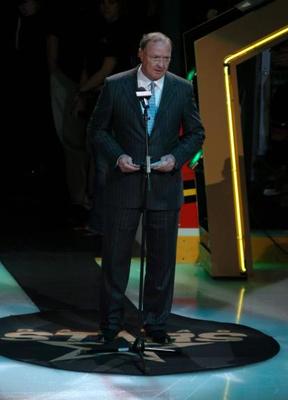 General Manager Joe Nieuwendyk has done an admirable job under uncertain financial circumstances recently. However stable ownership like the Stars had in the late 1990s and early 2000s would go a long way to having them successful again. After a couple years of not augmenting their young players with free agents that may finally be a possibility again.
It has been reported that Calgary billionaire and current owner of the Portland Winterhawks of the Western Hockey league is the lead of a group that has reached an agreement to purchase the Stars for $225 million. Originally when Tom Hicks bought they Stars in 1995 he paid $50 million, the franchise has come a long way since then.
There are also rumblings that the current owner of the NBA's Dallas Mavericks, whom also play out of the American Airlines Center would be interesting, is purchasing the franchise at this lower price. He is a fiery owner that likes to win and is committed to his franchises; he would be a good fit for the Stars.
As reported by Forbes and The Hockey News the Dallas Stars can be a profitable NHL franchise in a good market when the team is winning. They could average up to $10 to $15 million per season under those conditions. GM Joe Nieuwendyk surely cannot wait until the budget is loosened under new ownership.
The Stars will once again be one of the top franchises in the league soon enough. They do have a good young core on defense and forward, as well as a newly minted young starting goaltender. Look for them for compete for the Stanley Cup in the next three or four seasons.
Keep Reading

Dallas Stars: Like this team?