Return of Miracle Marlins: How This Year's Marlins Compares To 2003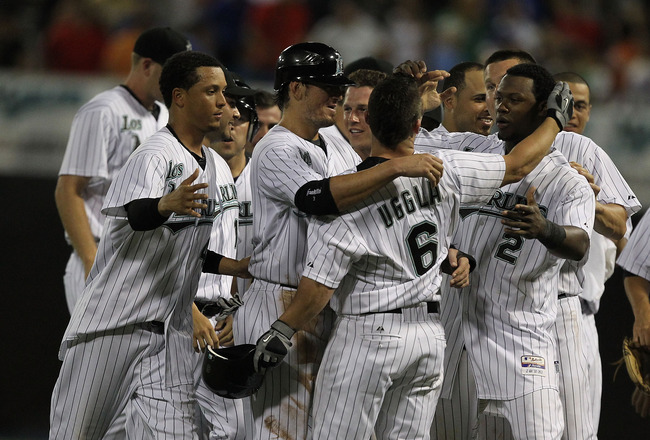 About a week ago, it may not have seemed as though the Florida Marlins had much life left in them. They were four games under .500 and seven out of the Wild Card lead with a losing series away from becoming instant sellers at the trade deadline.
Flash forward a week later, surprise! The Marlins have reached their first goal of getting to .500 now comes the Wild Card. They control their own destiny as they embark on taking care of the Braves, Giants, and Padres before the deadline and to gain ground in the standings.
But already, this team has shown flashes of their championship counterparts in 2003. Here's why the comparisons are vastly similar.
Rough Starts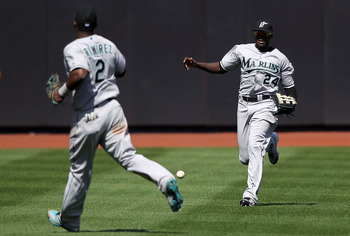 As the saying goes, it's not how you start but how you finish that matters. Both of these teams got off to rough starts on the season.
The 2003 Marlins started the season 19-29, which was their lowest point in the season. The 2010 Marlins weren't nearly as bad to start off at they were 24-26 at a similar point in the season.
Managerial Changes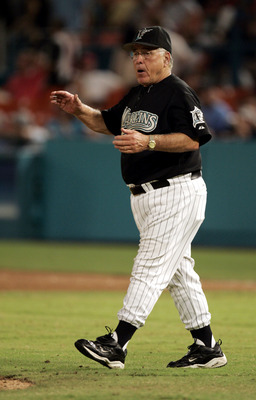 Back in 2003, the front office fired manager Jeff Torborg when they felt the team needed a spark. They hired Jack McKeon and we all know the spark he gave the Marlins that year.
In 2010, the front office struck again, firing Fredi Gonzalez midseason after underachieving. Instead of hiring an experienced man, they stayed within the organization and kept Edwin Rodriguez.
Both didn't get off to great starts as they stepped in to their new roles. In fact, McKeon struggled, going 3-7 in his first 10 games and Edwin Rodriguez was also 3-7 in his first 10 games as manager. Additionally, both had back to back victories at least once in their first 10 games.
Rookies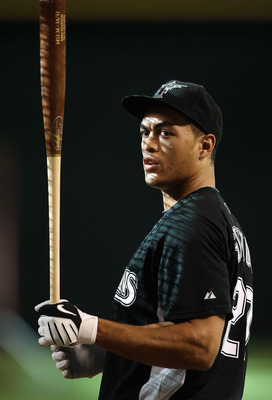 In 2003, the Marlins were guided to the playoffs in large part due to their pair of rookies Miguel Cabrera and Dontrelle Willis. Both contributed equally and guided the Marlins to a place they have only been one other time in their 18 seasons. Cabrera had 12 home runs with 62 RBI, while Willis went 14-6 with a 3.30 ERA, winning Rookie of the Year honors.
In 2010, the Marlins haven't quite replicated those 2003 Marlins in bringing up a stud pitcher like Willis, although Alex Sanabia is starting to become a solid rookie starter for them. The only difference is Willis was with the squad for the first part of the season, like rookie first basemen Gaby Sanchez, who is a candidate to win Rookie of the Year in the National League.
Furthermore, the Marlins have a young, talented power hitter who they called up around the same time as Cabrera in Michael Stanton. Stanton and Cabrera are both similar in that they came up as outfielders with power-hitting ability. Thus far, Stanton has hit 6 home runs and driven 23 RBI (mostly by his home runs) in six weeks of play and is on pace to have similar numbers to that of Miggy in the first season.
One more fun fact: Both Cabrera and Stanton hit their first big league home runs (which eventually won the game) against the Tampa Bay Rays (Cabrera's was a walk-off at home; Stanton's was grand slam on the road).
Second Half Surge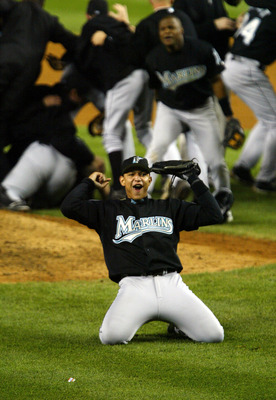 The 2003 Marlins went 45-23 in the second half and, although it's too early for the 2010 Marlins to really say if they'll come close to that, they have won six of their first eight games coming out of the All-Star Break, which is a start. The '03 Fish won 10 of 13 coming out of the break and the Marlins are on a similar run.
The fact that the Marlins have walked-off three times in a span of five days while riding their current hot streak pretty much paves way for more momentum are the possibility of comebacks and late-game heroics that every second half team has.
The Bottom Line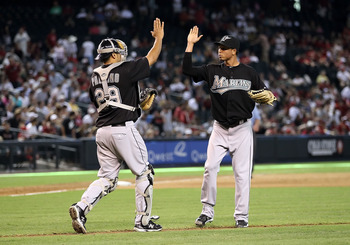 The 2003 Marlins had a great mix of speed and power. This year's squad may not have Juan Pierre and Luis Castillo, but if Emilo Bonifacio and Hanley Ramirez can pick up the pace, they can be deadly on the basepaths.
Both squads have gotten the majority of their power from their infield, and those '03 Marlins like these '10 Marlins have relied on one ace, (Josh Beckett and Josh Johnson). See the similarities? Oh my Josh!
The 2003 Marlins made a deadline move for Ugeth Urbina for future superstar Adrian Gonzalez, and you could say Logan Morrison might fall into that category, but I'd doubt that he gets traded at all. This year's Marlins might have to sell to be buyers. In other words, they might trade their regulars (Jorge Cantu and Cody Ross) to get immediate help in the bullpen that isn't a half-year rental.
Teams can never be exactly the same as a past one, just like no two snowflakes are the same. At the end of the day, this year's and past year's Marlins might get to the same destination via different routes.
Keep Reading

Miami Marlins: Like this team?