Madden 11's Player Ratings: The Winners and Losers
The Madden NFL 11 player ratings are finally out!
Who lost major points due to poor performance?
Who gained major points due to great performance?
Who's overrated?
Who's underrated?
After plenty of cross referencing, here it is!
NOTE: This isn't a complete and elaborate list. Just a few notable players.
The Winners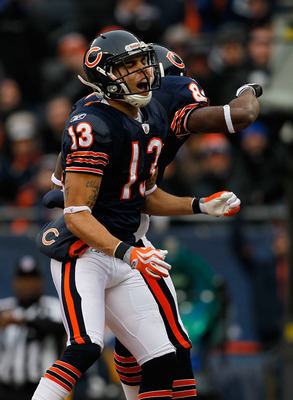 What do I classify as "Winners?"
These players gained a nice chunk of "Overall" points due to surprising everyone with great stats, and hidden physical talent.
Unless you're Johnny Knox. Because, even if have an overall of one, you will still be a winner. Because you're Johnny Knox. And you are just that awesome.
Johnny Knox, Wide Receiver, Chicago Bears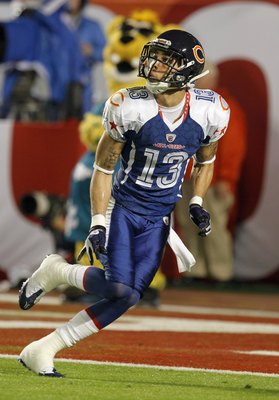 Madden 2010 Overall: 62
Madden 2011 Overall: 75
Difference: +13
Johnny Knox, an unheralded fifth-round pick in the 2009 NFL Draft, surprised the NFL with his immense speed, and great hands. Alongside that is his incredible kick return ability.
He was rewarded with 97 speed, about what he deserved, and 80 catching. I would have rated his catching a few points higher, but hey!
You all know how bias I am when it comes to Johnny boy.
Chris Johnson, Halfback, Tennessee Titans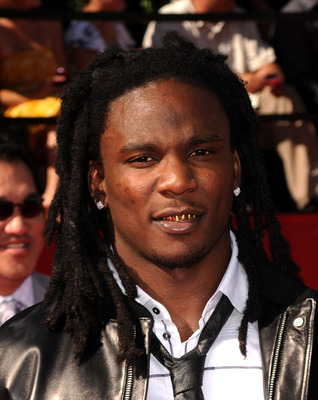 Madden 2010 Overall: 88
Madden 2011 Overall: 99
Difference: +11
Everyone knew from the beginning that Johnson was something special. But he really proved it in the 2009 season, becoming only the sixth player in NFL history to rush for over 2,000 yards.
He was rewarded with several stat boosts, along with a 99 overall rating.
Vince Young, Quarterback, Tennessee Titans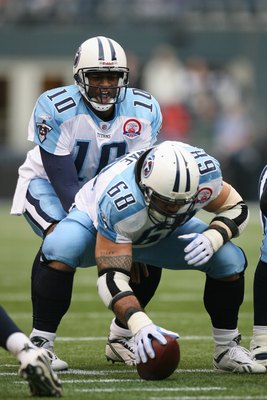 Madden 2010 Overall: 68
Madden 2011 Overall: 79
Difference: +11
Vince Young was on the brink of officially becoming a "draft bust"...until he proved everyone wrong.
After a 59-0 loss to the New England Patriots, Vince took over as the Titans' starting quarterback, finishing 8-2, and nearly earning them a spot in the playoffs.
For this, Vince Young was rewarded with a 79 overall rating, about what he deserved.
Cedric Benson, Halfback, Cincinnati Bengals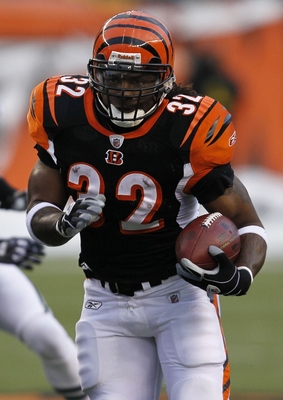 Madden 2010 Overall: 76
Madden 2011 Overall: 89
Difference: +13
Cedric Benson, fourth overall pick by the Chicago Bears (Coincidentally, Walter Payton was drafted fourth overall, EXACTLY 30 years earlier) was considered a bust.
His career sabotaged by injuries and off-field discipline trouble, it was thought that Benson's career was over.
Cedric, however, was ready to prove them all wrong—rushing for 1,251 yards, one of his best seasons ever.
For this, Benson was rewarded with a six-point speed boost, and an 89 Overall rating. He's a great running back, but he's still a punk.
Chad Henne, Quarterback, Miami Dolphins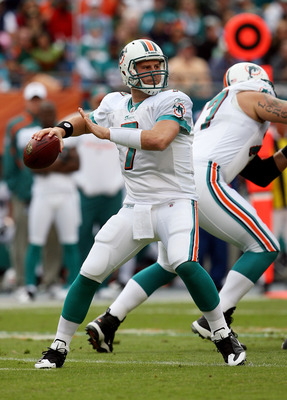 Madden 2010 Overall: 66
Madden 2011 Overall: 79
Difference: +13
After using their second-round pick to draft a quarterback THREE YEARS IN A ROW, plus the addition of Chad Pennington, there was one question that everyone was asking: How many quarterbacks does Miami need?!
Well, the All-American from the University of Michigan, Chad Henne, answered all of their questions.
They need two quarterbacks: the mandatory backup, and Chad Henne.
His supreme throwing power, along with his great leadership skills, couldn't overcome how young he really is.
He couldn't milk more than a 7-9 record out of Miami in 2009, but, as a reward for his awesome Henne-ness, he was given a 13-point boost, bringing his overall rating to 79.
The Losers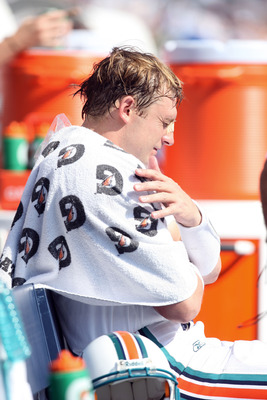 What do I classify as a "Loser" do you ask?
Let me tell you the easy version—it's the opposite of winner.
They lost major Overall points because of poor performance.
Chad Pennington, Quarterback, Miami Dolphins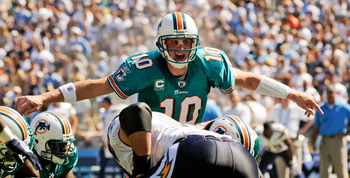 Madden 2010 Overall: 85
Madden 2011 Overall: 78
Difference: -7
Two Miami Quarterbacks? On opposite lists? Wow.
Chad Pennington was a pointless signing.
Seriously, if you drafted John Beck and Chad Henne, why in the world would you need to sign Pennington?
More importantly, why would you need to draft Pat White afterward?!
I don't know. The whole Pennington fiasco was pointless.
I admit, I have to give Chad P some props for his surprising 2008 season, but he had bones of glass.
He missed virtually the entire 2009 season, which means he basically grabbed a nice juicy paycheck, and got to sit back and relax on the bench all season.
For his glass bones and extreme suckishness, he lost seven points, for an overall of 78.
Ted Lee Ginn, Jr., Wide Receiver, San Francisco 49ers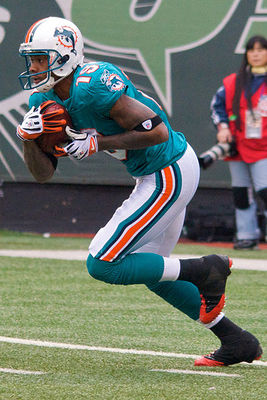 Madden 2010 Overall: 79
Madden 2011 Overall: 70
Difference: -9
I have to admit, Ginger (I call him that because his last name is Ginn, Jr.) is a great kick returner.
His great evasiveness and blazing speed make him one of the best return men in the league right now.
So why has his rating dropped so much over the year?
The reason his rating "drops" is because he "drops." What does he drop? Passes. So, so many passes.
I mean, honestly! This dude couldn't catch a ball if his hands were made out of super glue!
I personally would make Ted's catching "0." But, Madden made it 65. And they're probably more rational than I am. They also made his overall 70.
But look at the bright side, Ginger! You have 97 speed! You'd be one of the biggest deep threats in the game...if you knew how to catch.
Jake Delhomme, Quarterback, Cleveland Browns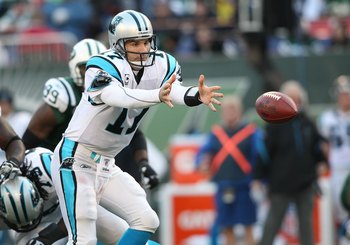 Madden 2010 Overall: 80
Madden 2011 Overall: 73
Difference: -7
Del, are you catching that ball? Or is that honestly the way you throw? Because if that's the way you throw, you're really starting to worry me.
Delhomme was great in his prime—he really was. It's just that, in his old age, he kind of...
Sucks.
Sorry, Jake. You're really a great guy, but you've just been awful these past few years. So, as a punishment, you get a 73 rating. Seven points behind last year.
Derrick Johnson, Inside Linebacker, Kansas City Chiefs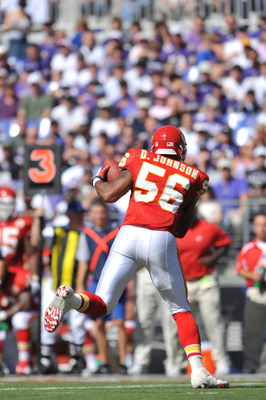 Madden 2010 Overall: 83
Madden 2011 Overall: 76
Difference: -7
He just gets worse and worse, doesn't he? I wouldn't go so far as to call him a bust—he had a couple of good seasons.
He even had two interceptions returned for touchdowns—in the same game!
He's just...underwhelming. Now that he lost his job as primary starter, he's gotten even rustier.
For his poor performance, he was given a 76 overall rating.
Chris Long, Defensive End, St. Louis Rams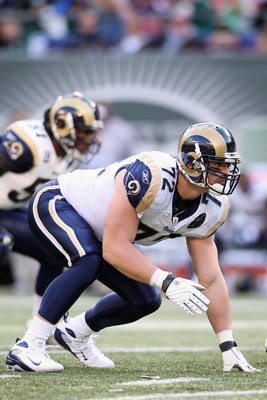 Madden 2010 Rating: 82
Madden 2011 Rating: 75
Difference: -7
The second overall pick of the 2008 NFL Draft had an average, maybe slightly above average, rookie season, earning a spot on the Associated Press All-Rookie Team. His sophomore season was a little bit better, but not much.
Do you know how many sacks he had? Five. Their star defensive end gets...five sacks. Is that what you get paid millions of dollars for, Chris? Five sacks? Granted, he had 46 tackles.
But honestly, FIVE SACKS!
It's hard to get anything on a terrible team like the Rams, but still! Is five sacks all you can get them?
For his poor 2009, he had seven points knocked off, for a 75 overall rating.
The Overrated Players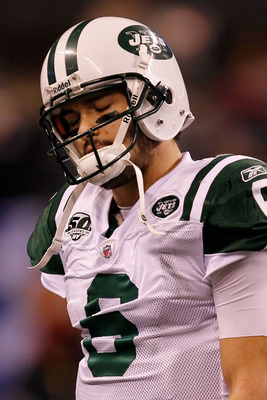 What do I classify as overrated?
People who, despite average, or even subpar performances, get unfair boosts to their stats.
This also includes people who may have had a fair boost, but were put ahead of players who are much better than them.
Mark Sanchez, Quarterback, New York Jets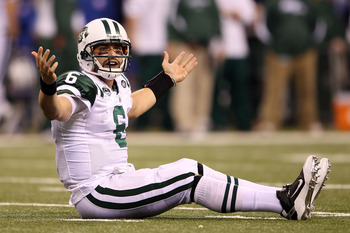 Madden 2010 Overall: 78
Madden 2011 Overall: 82
Difference: +4
Although this is not a huge difference, I think that it's a crime that he should be put two points ahead of Matthew Stafford.
Do you know how many touchdowns he threw last year? 12. And do you know how many interceptions it took for him to reach this grand amount? Only 20!
Stafford had the exact same numbers, only he had 13 touchdowns. One more than Sanchez!
I hate how Madden ranks players up just because their team is successful (Example, the Saints' defensive players, even though they were ranked 25th in defense).
Oh well. It's your game, do whatever the heck you want.
Drew Brees, Quarterback, New Orleans Saints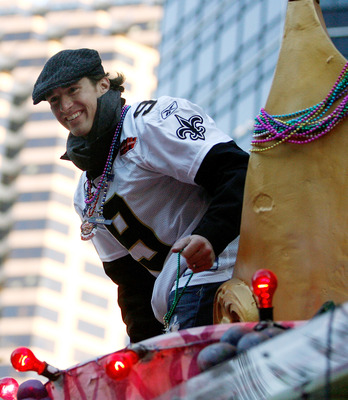 Madden 2010 Overall: 96
Madden 2011 Overall: 99
Difference: +3
Yes, I went there. Yes, I will get hate mail. And no, I do not care.
Although this is a very small increase, just the fact that he's a 99 disgusts me. Are we again going through the stereotype that the Super Bowl winning quarterback is somehow the best?
Granted, Peyton Manning, Brees's superior, is also a 99.
But still! This is ridiculous!
But, under closer inspection, it revealed that Brees was given only 88 throw power, compared to Manning's 95. Finally, someone notices his weak arm!
He also was given 97 accuracy, a little more than he deserves, but less than Manning's 99.
He had 99 awareness, though. That's probably what gave him his 99. At least Manning has 99 awareness too.
So Madden still agrees with me that Manning is the best! However, I'm going to get even more hate mail for this...
Brady is still the number two. He has tremendous arm strength, great accuracy, coolness under pressure, and everything that Brees doesn't.
Does it matter that the Patriots were only 10-6? No. You can't blame the quarterback for that kind of stuff.
So, in conclusion, if anyone should be a 99 with Manning, it's definitely not Brees—it's Brady.
Sebastian Janikowski, Placekicker, Oakland Raiders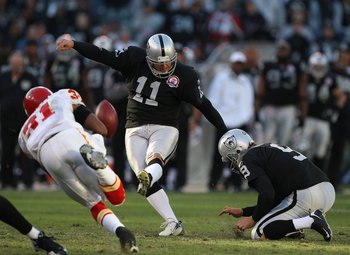 Madden 2010 Overall: 73
Madden 2011 Overall: 90
Difference: +17
Janikowski has arguably the most powerful leg in the league. But his accuracy is absolutely awful.
Sure, he may have kicked 89 percent this year, but does that entitle him to a 17-point increase? I don't think so.
The Underrated Players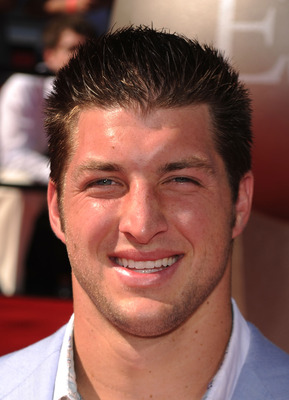 What do I classify as "underrated?"
These players are rated very low, despite their immense physical talent.
Tim Tebow, Quarterback, Denver Broncos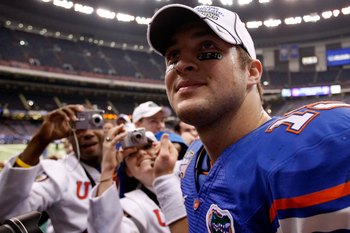 Madden 2010 Overall: N/A
Madden 2011 Overall: 70
The 25th overall pick of the 2010 NFL Draft, and one of the the greatest college players ever, is rated a 70?
Come on, guys! Give Steak Boy some love!
Jimmy Clausen, a second-round pick, was rated a 76 overall. Six points higher than Tebow. I guess I can understand that. Clausen is a great quarterback, but I think a six-point difference is too much.
But get this—Colt McCoy, a third-round pick, is a 71 overall. One point higher than Tebow! Are you guys kidding me? McCoy better than Tebow?
You guys have GOT to stop smoking pot on the job.
A more accurate rating list:
Tim Tebow, 77
Jimmy Clausen, 75
Colt McCoy, 71
Devin Aromashodu, Wide Receiver, Chicago Bears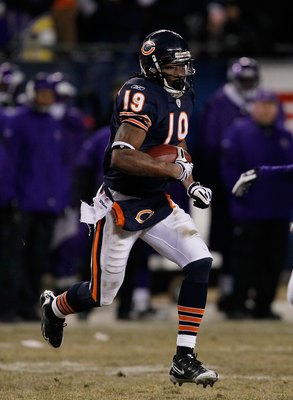 Madden 2010 Overall: 72
Madden 2011 Overall: 70
Difference: -2
This one just confuses me.
So, this guy is an absolute nobody, and gets a 72 overall...
Then he has a breakout season, four touchdowns in four games played, and gets two points knocked off?
Weird...
That's all!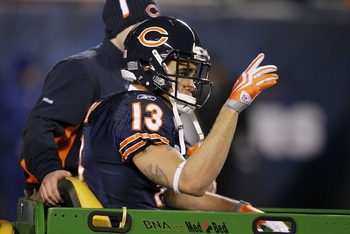 Those are the first players that came to mind.
Have any more? I still have plenty of space, so if you could leave a comment, I might add an extra slide for you :D
Sincerely, Dmitri Duggan
Keep Reading