Five Wrestlers Who Have Changed for the Worse Since 2005
Hey everybody, this is my first article on Bleacher Report and I'm so excited to start writing.
Over this past year, I've noticed several differences in some of my favorite wrestlers' appearances.
Maybe it's just taking time off or slacking on their workouts, but either way these wrestlers have changed a lot, and not for the better.
This list details five wrestlers who I believe have drastically changed in appearance over the past five years.
However, this list does not count old age as a factor, as aging is inevitable.
So even though Sting wrestles with a T-shirt now, he won't be on the list because I believe age hasn't been so kind to him (as well as the plenty of other old wrestlers who should retire).
Begin Slideshow

»
I decided to start off with someone who has changed noticeably.
The Olympic Gold Medalist Kurt Angle looks like a completely different person compared to himself five years ago. Somehow it appears as if his entire face has changed.
If you held up a picture of him in 2005 and a picture of him in 2010 next to each other, you wouldn't even think it's the same person.
Also, he doesn't possess the same physique that he had during his time in WWE.
I know Kurt's been finally feeling the effects of wrestling nonstop for the past 12 years, and I think it's really starting to take its toll on him, but he is much smaller than he was in 2005.
Recently, I've heard reports of him retiring before 2011, and I can understand, he has given so much to both WWE and TNA.
Even though Kurt may not necessarily look like his former self, he still wrestles with the same Intensity, Integrity, and Intelligence that we have come to know and love.
Angle's in-ring ability hasn't diminished due to his age, he can still suplex and Angle Slam like he was 30. His match quality hasn't suffered in the slightest, only his appearance.
I have to admit, I really don't follow TNA that much and don't give it as much credit as it deserves, but I tuned in a few weeks ago and noticed Jeff Hardy is not the same as he was during his time in WWE.
One thing I noticed was his lesbian haircut. Where is the long rainbow colored hair that I've come to know and love? The short hair really doesn't work well for him.
Also, Jeff seems to have put on a few pounds since leaving WWE. It seems like the Charismatic Enigma has acquired a much-undesired beer belly.
Maybe its been his recent drug busts, but Jeff does not appear to be making the right decisions.
Instead of partying it up, Jeff, you should try doing some sit-ups.
I feel as if I'm being a little too harsh on Jeff, so I'm going to at least mention that his in-ring ability hasn't suffered too much. Jeff can still do the Swanton Bomb just as well as he could in WWE.
However, I haven't watched TNA enough to see if he can still do the Whisper in the Wind, but I have faith in Jeff's abilities.
One other plus to the new Jeff Hardy is that he's still rocking the face paint. Oh, and his new theme kicks ass.
The Hardy Boy in WWE, Matt Hardy really looks like he hasn't been near a gym for months.
I'm going to be honest to all my readers, and tell you that I do prefer Jeff over Matt, so I might be a little harsher to Matt than he deserves.
Matt now has a nice big ol' beer belly just like his brother, Jeff. I guess it runs in the family. Matt no longer has that six-pack and chiseled physique that he had in 2005 when he was feuding with Edge.
Now he looks a little bloated and just finished feuding with Drew McIntyre. I'm not entirely positive in this accusation, but I believe that Matt is wrestling with a t-shirt on to hide his failing fitness.
Also, what kind of pants are Matt wearing now; I swear he looks like he just came out of Hot Topic.
Unlike his brother Jeff, Matt's in-ring ability has been showing a rapid decline. Now 35, Matt wrestles almost as badly as Ric Flair.
During one of his matches with Drew McIntyre, I saw Matt goes for his patented elbow drop to the back of the head, and it just looked absolutely terrible.
If I worked for WWE Management, I'd tell Matt that he should take some time off or send him down to FCW because right now Matt is a disgrace in the ring.
I feel almost bad including the Great Khali in this list, but it had to be done.
Once a feared monster who battled with John Cena, Batista, and the Undertaker; Khali has assumed the role of the Punjabi Playboy that does nothing more than dance around and chop jobbers in the head.
Yes, I know Khali's Marfan Syndrome is taking its toll on him, but he should honestly just retire.
Now that I think of it, didn't he technically say he was going to take a break back when he was on Smackdown.
The Great Khali debuted in 2006, and was an absolute powerhouse of a man standing 7'3 and weighing in at 420 lbs.
Khali, who at one point held the World Heavyweight Championship, has lost nearly all of his muscle since his debut.
His pecs have become outrageously flabby and its almost disheartening watching him wrestle.
The guy can barely move, has no endurance whatsoever, and can't sell a move due to his massive and limiting size.
Honestly, I'm sort of disappointed in the WWE for not forcing him to retire.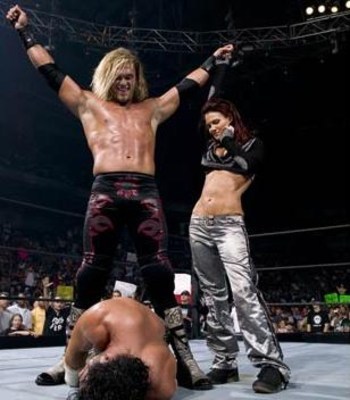 Edge may not be the most changed since 2005, but in my eyes he's a shadow of his former self. Ever since returning to the WWE at the 2010 Royal Rumble, Edge looks like a whole new man, and not for the better.
It appears as if Edge didn't lift a single weight during his time off from his Achilles injury.
When Edge returned to the Royal Rumble I was almost disappointed, his new lack of muscle and strange beard made me wish that he didn't even return at all.
His shoulders seem smaller, his arms flabbier, and his stomach fatter.
I can hardly believe that this is the same Edge who five years ago won the first Money in the Bank Ladder match.
For the past few RAWs, WWE has been showing clips of Edge's MITB win at Wrestlemania 21, and Edge looks like a completely different person in the 2005 footage.
His physique was better, his hair looked better, and he looked way more intimidating.
Despite the 2010 Edge looking like the 2005 Edge's scrawny younger brother, his in-ring skills are still phenomenal.
The Rated R Superstar can still pull off devastating spears, yet nowhere near as devastating as Goldberg's. Also, his match against Christian on the May 17 RAW was outstanding.
Both Edge and Christian showed that after 10 years they can still wrestle like champions. And who could forget his spectacular match against Chris Jericho at Wrestlemania 26.
Even though Edge has lost his physique, he still is one of the business's best.
If there is anyone I left out that you feel has changed drastically since 2005, feel free to comment.
Also, seeing as how this is my first article, please leave me feedback (good or bad) on my writing. And if you enjoyed this article let me know too.