Five Goals For Florida Gators Football in 2010
In 2010, Urban Meyer and his Florida Gators will begin L.A.T. (Life After Tebow) and start anew in their quest to win the school's fourth national title and ninth SEC championship.
Realistic goals must be set however, and if the following five are accomplished, 2010 will by no means be considered a failure, championship or not.
Beat the Rivals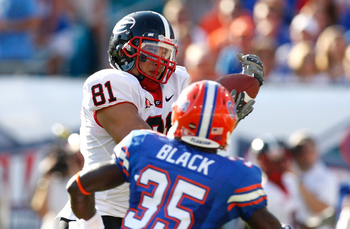 Urban Meyer has amassed a 15-1 record against Tennessee, Georgia, Florida State, and Miami since he arrived at Florida in 2005.
He won't get another chance to take on Miami until 2013, but with the three other traditional rivals always on the schedule, Meyer should be able to push his already impressive rival-beating resume to 18-1.
None of these games will take place in Gainesville, with the most daunting task coming in the regular season finale against the Seminoles in Tallahassee. At that juncture, first-year (in an official sense) head coach Jimbo Fisher should have his team firing on all cylinders.
Despite losing many key leaders from the SEC's all-time most winningest class, Meyer still has the pieces to hold Florida State at bay, and extend Florida's winning streak in the rivalry to seven.
Defend the Swamp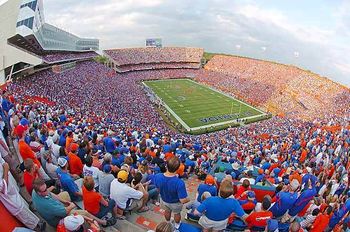 When your home stadium is widely considered the most intimidating in all of college football, it takes work to maintain that reputation.
In Meyer's tenure, Florida has only been bested on their home field twice (Auburn '07, Mississippi '08), so it's fair to ask him to turn in another undefeated season at Florida Field.
In 2010 Florida will take on Miami-Ohio, South Florida, Kentucky, LSU, Mississippi State, South Carolina, and Appalachian State.
Conventional wisdom says that LSU and South Carolina should be the only true challenges on that list. Both Les Miles and Steve Spurrier have defeated Meyer's teams before, and LSU will visit Gainesville a week after the Gators return from playing on the road at Alabama. Regardless of what happens in that contest, Meyer will need to keep his team focused for the Tigers the following Saturday.
Get to Atlanta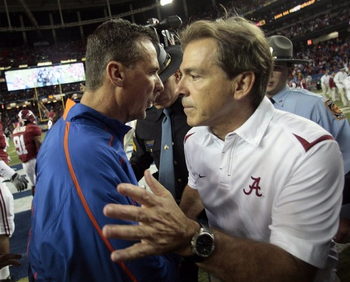 From a divisional standpoint, Florida's road to the SEC Championship game in the Georgia Dome isn't as challenging as usual.
Typical SEC East co-favorites Tennessee and Georgia are both facing numerous question marks on offense, and coaches who for different reasons don't exactly have the full confidence of their fan bases at this point.
South Carolina could emerge as a challenger in the SEC, but the Gamecocks have never made an appearance in the SEC Championship game, and by the time their game with Florida rolls around (November 13) it could be too late to earn a bid.
Florida will take on Nick Saban and Alabama on October 2nd, and odds are they'll get a rematch on December 4th. While playing in the conference title game is always a reason to be proud, losing to Alabama twice in one season would be detrimental to Florida's recruiting clout in the south.
If the Gators and Tide play twice in 2010, Florida must win at least once.
Develop the Nation's Best Recruits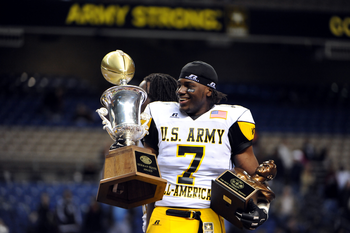 Florida has always been an ideal school for a head coach to recruit at, but in the spring of 2010, Meyer collected a gang of blue chippers that could start immediately at virtually any school in the nation.
With the arrival of 5-star defensive players Dominique Easley, Shariff Floyd, Ronald Powell (pictured), and Matt Elam, the Gators have an opportunity in 2010 to build the foundation for a trophy haul in 2011.
Look for these baby Gators to get ample playing time this fall, and follow in the footsteps of one of college football's best defensive teams in recent years.
Keep Meyer Healthy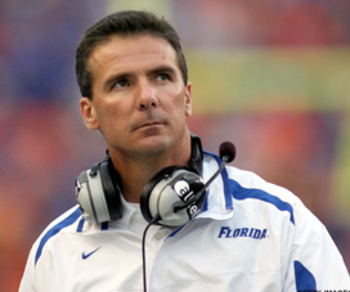 In reality, this may be the most important goal of all.
After the head coach's unusual resignation and return in a 24-hour period last December due to health concerns, Meyer's well being will be on the mind of everyone involved with the UF program.
His assistant coaches (many of them newcomers) need to accept the fact that they work with the game's most dedicated workaholic, and apply themselves equally.
Meyer must stand by the promises he's made for himself, and take care of his health.
If the 46-year old's leave of absence hasn't solved any problems on the medical front, success on Florida's sideline might have to be achieved by someone else in the near future.
Keep Reading

Florida Gators Football: Like this team?