Tracy McGrady and the Top 10 Active NBA Veterans Without a Ring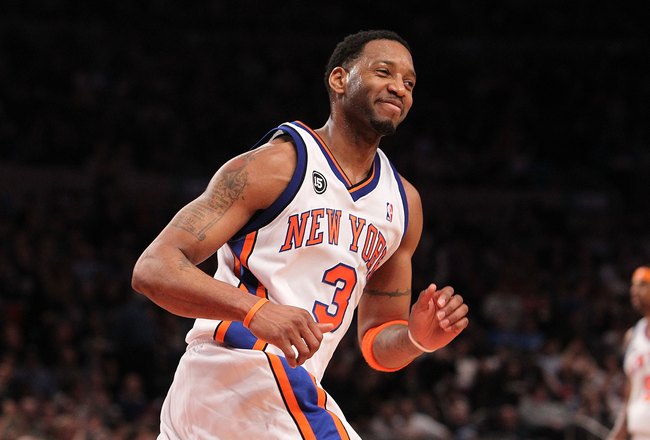 Tracy McGrady used to be really, really good.
Let's face it, you don't grace the cover of the NBA Live video game and not have talent.
T-Mac was brilliant in his heyday, back when he was getting to the basket, knocking down jumpers, coming up clutch.
And he was always fun to watch dunk.
But the biggest knock against McGrady was he could never get it done in the playoffs.
So much talent and once among the league's best, McGrady's knees began to break down, as did his game.
For a time, T-Mac was one of the most feared names in the NBA. So where does McGrady rank among the top 10 active NBA veterans* to never win a ring?
*In this case, veterans refers to anyone drafted prior to 2003, and can also include current free agents.
Honorable Mention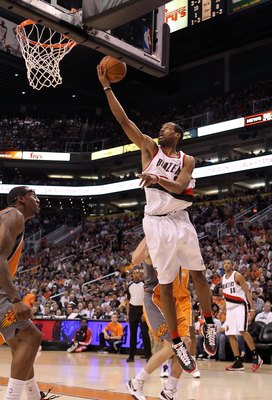 Jerry Stackhouse
Stack played alongside Grant Hill in Detroit for a few seasons right around the time his career began to peak. He was a two-time NBA All-Star who has averaged 18 points per game over his career.
Baron Davis
Davis never panned out to be the superstar the Charlotte Hornets were hoping they were getting when they selected him third overall out of UCLA in 1999. The two-time All-Star has averaged 16.7 points, 7.4 assists, and four rebounds per game.
Gilbert Arenas
Agent Zero gets honorable mention because at one point, around 2008 when he was on the cover of NBA Live, he was one of the league's best. A three-time All-Star (2005-2007), Arenas is averaging 22.7 points per game.
Michael Redd
The smooth-shooting lefty out of The Ohio State University has always been good, and has always been trapped in Milwaukee. In 10 injury-plagued seasons with the Bucks, Redd has shot 38.4 percent from deep, and averaged 20.3 points per game.
Marcus Camby
The journeyman center has never really been appreciated for his defensive talents. Camby was the NBA Defensive Player of the Year in 2007, and was on the NBA All-Defensive First Team in 2007 and 2008.
10. Andre Miller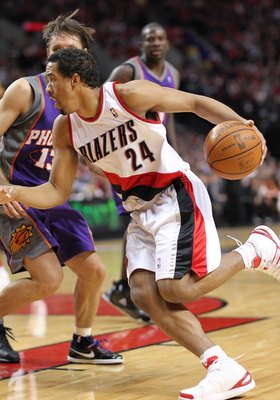 Miller is probably the biggest surprise to be on this list.
Selected eighth in the 1999 NBA Draft by Cleveland, Miller never really panned into the player the Cavs thought they were getting.
That being said, Miller might be one of the best, and underrated true point guards in recent NBA history.
Miller played hard-nosed defense and had spectacular court vision during his best seasons.
In 12 NBA seasons, Miller is averaging 14.5 points and 7.2 assists per game.
More intriguing has been Miller's longevity and health. As of the end of this NBA season, Miller has played in 612 consecutive games, which is currently the longest active streak.
9. Pedrag 'Peja' Stojakovic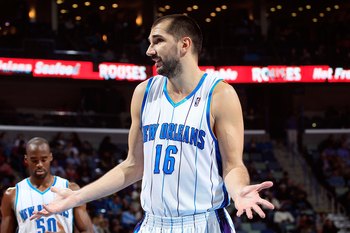 The Serbian sharp-shooter will always be known for his ability to knock down shots from anywhere on the court.
Peja entered the league with Sacramento in 1996 when he was selected 14th overall in the draft.
He was a three-time NBA All-Star from 2002-2004, and won the NBA Three-Point Shootout in 2002 and 2003.
For his career, Peja has averaged 17.3 points per game, but is a 40 percent career three-point shooter.
Stojakovic has also accumulated several accolades for his play internationally.
8. Yao Ming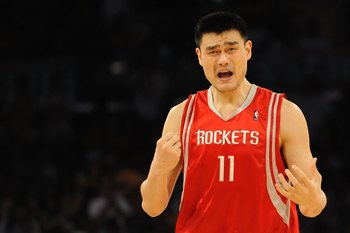 Ming might as well be the Houston Rockets version of Patrick Ewing.
He was drafted first overall in the NBA Draft with much hype surrounding him, but not much success to follow.
Well, team success, anyway.
Yao entered the NBA in 2002 with much hype and even more doubters, including Charles Barkley, who kissed a donkey for losing a bet that Ming wouldn't score more than 19 points in a game during his rookie season.
In seven NBA seasons (he sat out last year due to injury), Yao has averaged 19.1 points, 9.3 rebounds, and 1.9 blocks per game.
Yao has also been an All-Star in each year he has played in the league (2002-2009).
7. Dirk Nowitzki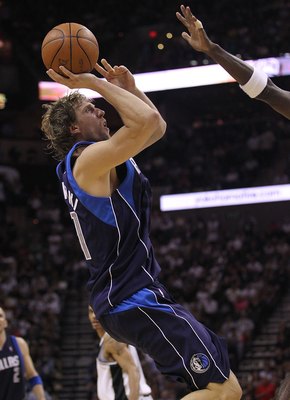 One of the biggest reasons Dirk isn't higher on this list is his career is far from over, especially after signing a nice long-term deal to stay in Dallas.
Nowitzki broke into the league in 1998 after being selected No. 9 overall by Dallas.
Since then, he's been a nine-time All-Star, four-time All-NBA First Team, NBA Three-Point Shootout Champion (2006), and NBA MVP (2007).
And don't even get me started on his European accolades, which could be a short novel in itself.
Nowitzki has averaged 22.9 points and 8.5 rebounds per game over his NBA career.
In the postseason, Dirk is averaging 25.6 points and 10.9 rebounds per game in 103 tries.
6. Tracy McGrady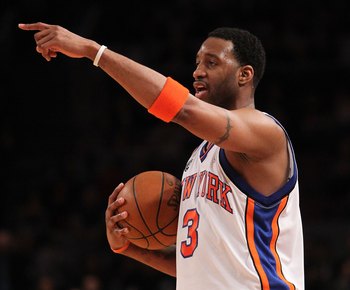 Having harped a bit on McGrady already, here are some of his career accolades.
T-Mac is a seven-time All-Star, two-time NBA scoring champion, two-time All-NBA First Team member.
For his career, McGrady has averaged 21.5 points, six rebounds, and 4.7 assists per game.
Despite his team's failures in the playoffs, McGrady has averaged 28.5 points over 38 postseason games.
5. Vince Carter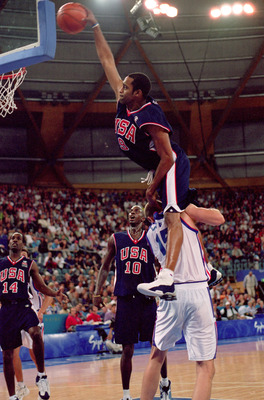 Vince Carter could have made this list on his dunking ability alone.
Carter won Rookie of the Year in 1998-99 as a member of the Toronto Raptors, a few seasons before he started his run of eight consecutive All-Star Game appearances (2000-2007).
Air Canada has averaged 22.9 points per game over his 13-year NBA career.
Carter graced the presence of video game covers twice, first in 2002 (NBA Inside Drive), and again in 2004 (NBA Live).
Carter also helped Team USA win Olympic gold in Sydney in 2000.
4. Jason Kidd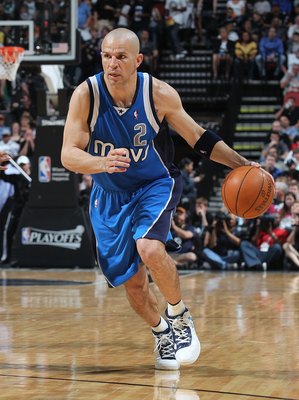 As previously mentioned, Kidd won co-Rookie of the Year honors with Grant Hill in 1994-95.
(Kidd was actually drafted one position higher than Hill in the 1994 draft. Kidd went No. 2 to Dallas, while Detroit took Hill No. 3.)
Kidd, a triple-double machine, is currently third all-time in regular season triple-doubles (105), and second all-time in playoff triple-doubles (11).
Kidd is averaging just a hair under a double-double per game, with 13.6 points and 9.2 assists per contest. He also averages two steals and 6.6 rebounds per game for his career.
Other accolades include two trips to the NBA Finals with New Jersey (2002, 2003), two Olympic Gold Medals for the USA (2000, 2008), 10 All-Star Game appearances, and five inclusions on the All-NBA First Team.
Kidd was also on the cover of the popular video game NBA Live 2003.
3. Grant Hill
Grant Hill was at one point the best player in the NBA, and that includes when Michael Jordan was actually playing.
Hill, a seven-time All-Star, entered the league in 1994 (while Jordan was temporarily retired) and took the NBA by storm.
He became the first rookie in any of the four major American sports to lead all players in voting for the All-Star Game.
That season, he shared the Rookie of the Year Award with Jason Kidd.
Hill was one of the league's best before an ankle injury sidelined him for the better part of four consecutive seasons, his first four in Orlando.
If all this isn't enough, he's also won the NBA Sportsmanship Award three times.
What more could you ask for?
Well, if you did ask for more, you'd probably want him to wear one of the coolest NBA uniforms ever...oh wait, he did that too.
2. Allen Iverson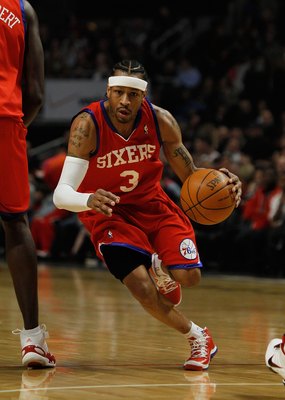 "The Answer" dominated basketball from the time he set foot on the court as a rookie for the 76ers in 1996-97.
Iverson's claim to fame will always be his crossover, which left defenders speechless, immobile, and in a state of shock.
AI reached the Finals once, but lost to Los Angeles. That was the same season, 2000-01, Iverson won his only league MVP award.
Iverson is an 11-time All-Star (2000-2010), four-time NBA scoring champ, and three-time member of the All-NBA First Team.
1. Steve Nash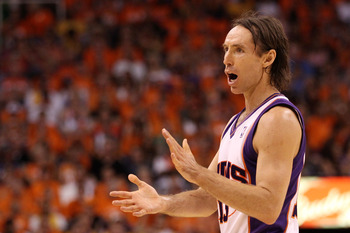 Nash won back-to-back MVP awards, but has never won a ring.
Heck, the gritty point guard has never even played in an NBA Finals game.
While his career numbers of 14.6 points and 8.3 assists per game don't jump off a page, consider the fact he's averaging 10.3 dimes per contest over the past six seasons.
Keep Reading

New York Knicks: Like this team?