Brandon Jennings to Stephen Curry: Ranking the Top 15 NBA Sophomores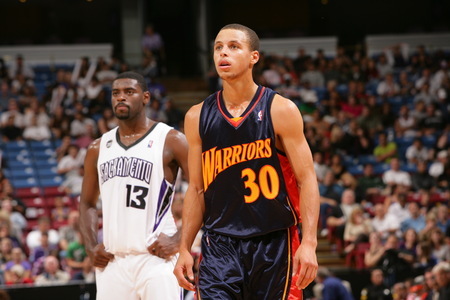 The experience of being an NBA Rookie seems like an interesting one. Players get drafted or are fortunate enough to make an NBA Roster, and are then subject to a season of constant judging and monitoring.
When that's over, we tend to forget about them in wake of the new incoming rookie class.
This article will spotlight the former rookies of 2009-10 who I believe will have fantastic sophomore years next season. The list will be comprised of the 15 sophomores who I believe will have the best, most productive seasons.
Before you start reading, please realize that these rankings refer to how I believe the players will perform in the 2010-11 season. They are not a reflection of how I believe the player's careers will turn out.
For example, I believe Darren Collison will have one of the best careers out of the 2009 Rookie Class. However, if he plays behind Chris Paul come 2010-11, his production and ability to perform over that season will be limited.
The key term in understanding this is "situation." For many of the rookies in my article, bad situations or environments will rank them a lot lower then I believe their talent deserves.
Players who were effective last season may be ranked low due to their being reserves next season. Conversely, players who underachieved last season may be ranked high due to their new positions as starters.
Now that you understand my ranking system, I believe you will enjoy reading this article. These 15 players all have the talent, potential, and ability to be future stars in the league.
Begin Slideshow

»
Team: Chicago Bulls
Position: Power Forward
Drafted: 26th overall
Rookie Stats: 9 PPG, 7.5 RPG, 1.3 BPG, 49.4 FG%, 26.9 MPG
2010-11 Season Outlook:
In his first season, Gibson was the best front court performer in a point guard heavy rookie class. However, situation will limit the extent to which Gibson is able to perform on the court this upcoming season.
Gibson will still show his stuff, but in a role coming off the bench. He is a low-post banger who has solid athleticism and can hit the mid-range jumper.
Unfortunately, he will see limited playing time due to being stuck behind the major offseason signing of Carlos Boozer. Plus, he is too undersized to see significant minutes at center.
Don't count him out though, as his production off the bench will still be very important for a Chicago team striving for playoff success.
In the future, Gibson may carve out a successful career as a starter with the ability to average a double-double and potentially become an All-Star caliber player. Unfortunately though, those plans will have to be held off for at least another season.
Team: Detroit Pistons
Position: Power Forward
Drafted: 39th pick overall
Rookie Stats: 9.3 PPG, 6 RPG, 48.1 FG%, 27.9 MPG
2010-11 Season Outlook:
Last season Jerebko was a bright spark for a Detroit team that had little to celebrate. The second-round pick from Sweden emerged to display a versatile and productive game.
Jerebko highlighted his ability to be a versatile offensive scorer with a smooth jumper extending out to the perimeter. He also proved to be a solid rebounder with particular prowess on the offensive glass.
Look for Jerebko to continue improving his game this season. He was a real surprise among last year's rookie class and looks to be a solid pro.
He will need to produce though, as Detroit drafted Greg Monroe, another power forward from the 2010 Draft. Jerebko will likely find himself battling Monroe for minutes, a solid prospect who will command playing time from the get-go.
Team: Dallas Mavericks
Position: Point Guard
Drafted: 25th overall
Rookie Stats: 7.1 PPG, 1.3 APG, 51.8 FG%, 40.9 3PT%, 12.5 MPG
2010-11 Season Outlook:
While Beaubois didn't have an excellent rookie season, he has certainly made a name for himself. He is already a popular player among fans due to his athletic play and ability to score from deep.
Beaubois is a lightning quick guard who is equally adept at hitting the perimeter jumper and getting to the basket. He has excellent ball-handling ability and a knack for slicing through the defense.
He had an extremely efficient rookie season while playing limited minutes but contributing in a variety of areas. His shooting percentages in particular are impressive for a young guard.
Positioning "Roddy" on this list was extremely difficult as many predict a breakout season from him. However, like Gibson, he will be stuck behind an established starter. Fortunately, Jason Kidd is on the decline, so Beaubois should still see decent court time.
If he was in a different situation, he would be ranked a lot higher on this list. However recent rumors place Beaubois as the Mavericks' starting shooting guard come November. If true, this could see "Roddy" have an explosive season and quickly move up this list.
Team: Sacramento Kings
Position: Small Forward
Drafted: 23rd overall
Rookie Stats: 10.3 PPG, 4.5 RPG, 44.6 FG%, 36.9 3PT%, 25.1 MPG
2010-11 Season Outlook:
In 2009 Casspi made history as the first Israeli-born player to play in the NBA. On top of that he compiled an impressive rookie season, displaying poise and sharp-shooting ability on offense.
Despite going through shooting slumps and periods of sporadic playing time, Casspi put together a relatively successful first campaign. Most impressive was Casspi's self-belief and confidence, an intangible strength that can only benefit him as his career continues.
The Kings are a very young team, and Casspi looks to be a part of their future as they build towards playoff contention. His shooting should be integral next season as he compliments the penetrating game of go-to scorer Tyreke Evans.
As the starting small forward of the Sacramento Kings, I'd expect Casspi to continue improving and have a relatively successful sophomore campaign.
Team: Oklahoma City Thunder
Position: Shooting Guard
Drafted: 3rd overall
Rookie Stats: 9.9 PPG, 3.2 RPG, 1.05 SPG, 37.5 3PT%, 22.9 MPG
2010-11 Season Outlook:
Harden displayed a maturity last season with his ability to be effective as a starter or second-unit player. His long-range shooting and athletic play showed flashes of a versatile, dangerous offensive arsenal.
It pains me to rank Harden this low as I'm a firm believer that he is a star of the future. However, he is still developing and head coach Scott Brooks is a firm supporter of Thabo Sefolosha—the team's defensive stopper who also plays shooting guard.
Like Harden, Sefolosha is a solid player and it is difficult to envision him not playing significant minutes in the majority of games. Next season, both players will likely receive similar minutes with Harden potentially playing a bit more.
In the long term, I envision Harden as the mainstay starter playing alongside Russell Westbrook and Kevin Durant. However, he is only 20 years old and it is most likely that his time to fully utilize his talents will not be next season.
Team: Golden State Warriors
Position: Small Forward
Drafted: Undrafted
Rookie Stats: 15.2 PPG, 4.6 RPG, 2.8 APG, 49.5 FG%, 32.4 MPG
2010-11 Season Outlook:
If you're reading this and have never heard of Williams, I don't blame you. It seems every year there is one undrafted player who will get signed by a team and end up with a starting gig.
For the 2009 draft class, Williams is that guy. He is a 6'6" scoring machine with good size, strength, and athleticism for his position. In case you didn't see his rookie stats, scoring isn't the only thing he can do.
Williams is a willing passer, good rebounder, a solid perimeter shooter, and aggressively penetrates on offense. He played just 24 games for the Warriors but had eight games scoring over 20 points.
He sure sounds impressive right? My only knock on Williams is that he played less than a third of the regular season. Whether he can maintain production like that over an entire season remains to be seen.
However, as the starting small forward of the Warriors for 2010-11, he'll have every chance to prove he belongs in the premiere basketball league in the world.
Team: Toronto Raptors
Position: Shooting Guard
Drafted: 9th overall
Rookie Stats: 8.6 PPG, 2.9 RPG, 49.8 FG%, 21.6 MPG
2010-11 Season Outlook:
DeRozan could be the best athlete and dunker of the 2009-10 draft class. His potential as a player is off the charts as he has all of the physical tools needed to become a dangerous player on both ends of the floor.
That said, why am I ranking the "raw" DeRozan above a polished player like James Harden?
For starters, DeRozan is not as raw as most people think. He has been working vigorously this offseason to improve his ball-handling and passing skills as well as launching thousands of jump shots at each daily workout.
In addition, his situation will allow him to have a bigger breakout season then Harden. If you don't live under a rock you will be aware that Chris Bosh has signed with Miami, leaving Toronto in rebuild mode.
That pencils DeRozan in as the starting shooting guard, and the additional departure of Hedo Turkoglu opens up minutes at small forward.
This Toronto team is now very young and very inexperienced. Look for them to develop their young prospects by giving them plenty of playing time, especially DeRozan.
Team: Philadelphia 76ers
Position: Point Guard
Drafted: 17th overall
Rookie Stats: 8 PPG, 3.8 APG, 1.1 SPG, 39 3PT%, 24.2 MPG
2010-11 Season Outlook:
Holiday was one of the hottest prospects entering his freshman season at UCLA but found his stock drop slightly going into the 2009 NBA Draft. Heading into his second season in the NBA, he remains one of the top prospects potential-wise at the point guard position.
While he was slow finding his footing, Holiday made Philadelphia's decision to draft him look like genius. For the month of February his averages were 13.2 PPG and 5.5 APG while shooting over 45 percent from deep.
I'm not sure which is most impressive: His marksmanship from the perimeter, playmaking creativity, or potential as a lock-down defender?
While it's not certain Holiday will put it all together this coming season, his impressive play will give him a strong chance to earn the bulk of minutes available at point guard.
Come back in three years time and there is a great possibility that Holiday will have advanced past the others who are ranked higher than he is on this list.
Team: New Orleans Hornets
Position: Shooting Guard
Drafted: 43rd overall
Rookie Stats: 14.5 PPG, 2.9 RPG, 37.4 3PT%, 81.4 FT%, 25.6 MPG
2010-11 Season Outlook:
Every draft class has one second-round player who turns out to be the steal of the year. For the 2009-10 draft class that man was Louisiana State product Marcus Thornton.
Thornton's rookie season to me was comparable to Ben Gordon back in 2005. Despite the high praise, some will still put the heat on me for ranking Thornton so low. After all, he was the fourth leading scorer among rookies and a member of the All-Rookie Second Team.
Forgive me if I sound negative, but I'm not yet sold on Thornton. He looks to be a dominant scorer, but is he a one-dimensional player? Unlike his younger sophomore classmates, Thornton is already 23 and is undersized for his position.
That said, Thornton played extremely well with Chris Paul out towards the end of the season. Despite gaining the reputation as a scorer, Thornton averaged over 18.8 PPG for each of the last three months of the season.
The jury is still out on whether he is just a scorer, but look for him to be just as effective putting the ball in the basket come November.
Team: New Orleans Hornets
Position: Point Guard
Drafted: 21st overall
Rookie Stats: 12.4 PPG, 5.7 APG, 47.7 FG%, 40 3PT%, 27.8 MPG
2010-11 Season Outlook:
With Hornets superstar Chris Paul out for large chunks of last season, Collison found himself thrust into the spotlight.
For the most part he didn't disappoint as he averaged over 21 PPG and eight APG for the entire month of January. Collison played a ton of minutes, shouldering an immense amount of responsibility for the Hornets. His leadership during the absence of Paul was immeasurable.
Skill-wise, Collison showed that he can score, shoot from deep, create for his teammates, and play effective on-ball defense.
Positioning Collison for next season was incredibly difficult. The most volatile variable for his placement on this list is the status of Paul and whether or not he will suit up for the Hornets come November. With all the trade rumors circulating it is incredibly hard to predict how many minutes Collison will be playing next season.
If Paul is traded, Collison could find himself having a season comparable to sophomore studs Tyreke Evans and Stephen Curry. If Paul remains with the Hornets, Collison will be effective but show limited statistical improvement from last season.
Team: New Jersey Nets
Position: Small Forward
Drafted: 11th overall
Rookie Stats: 8.4 PPG, 4.5 RPG, 2.9 APG, 71.5 FT%, 22.6 MPG
2010-11 Season Outlook:
Don't worry, New Jersey fans! You may have missed out on LeBron James, but "T-Dub" is the real future of the franchise.
That may be setting expectations high but I firmly believe Williams may be the most talented all-around sophomore in the league. Not only is he the best athlete in his draft class, he is a do-it-all forward who is incredibly versatile. He showed a bit in his rookie campaign too by averaging 14.3 PPG, 7.1 RPG and 6.3 APG in March.
Like DeMar DeRozan, Williams has committed himself to improving his game this offseason. From jumpers, to ball-handling, passing, and conditioning, Williams is working on it. His recent play in the Summer League gives a strong indication that all his hard work is paying dividends.
Nets fans should be disappointed about not bringing in a big-time free agent, but hopeful about the future. Williams is a special player who should thrive alongside Devin Harris and Brook Lopez.
Williams is not just a player to watch next season, he's a player to keep your eye on for the next decade.
Team: Minnesota Timberwolves
Position: Point Guard
Drafted: 6th overall
Rookie Stats: 13.5 PPG, 4.4 APG, 82.6 FT%, 28.9 MPG
2010-11 Season Outlook:
Welcome to the Final Four, aka the Point-Guard-Bonanza! That's right, the top of the list is filled with point guards, with Flynn as the first featured.
Flynn is probably the quickest player end-to-end from his draft class and an incredible leaper. Last season he showed an ability to score and distribute, but seemed to struggle with the Timberwolves offense at times.
The best thing about Flynn's rookie season was his consistency. While he didn't play at an extremely high level at any point during the season, he was not sporadic and delivered the same production each month.
That said, Minnesota looks committed to Flynn as one of their major building blocks for the future. Despite off-season acquisition Luke Ridnour vying for his starting spot, Flynn is in the driver's seat at the moment.
The Timberwolves have made a bunch of moves this off-season, moving out Al Jefferson and bringing in the talented Michael Beasley. Flynn could find himself playing an increasingly prominent role come November.
Team: Milwaukee Bucks
Position: Point Guard
Drafted: 10th overall
Rookie Stats: 15.5 PPG, 5.7 APG, 1.3 SPG, 37.4 3PT%, 32.6 MPG
2010-11 Season Outlook:
While not ranked at the top of this list, Jennings may be the most well known player from his draft class. That would be an incredible honor despite playing for a team that gets limited media coverage.
Milwaukee's own "Young Buck" was the initial front-runner for the Rookie of the Year Award after bursting onto the scene. Most memorable was his ridiculous 55 point outburst against Golden State just five games into the season.
What more can I say?
Jennings is a leader of one of the fastest-rising teams in the NBA. In addition to that he has ridiculous ball-handling ability, creative passing flair, and a dangerous quick-release jumper.
However, not all aspects of his game were bright and bubbly last season. As the season went on his shooting became extremely streaky, often shooting better from downtown than from mid-range.
In a nutshell, Jennings is incredibly talented but at times incredibly inefficient. If he can pay attention to the little areas of his game then next season could be a major breakout campaign for him with an All-Star selection not out of reach.
Team: Sacramento Kings
Position: Point Guard
Drafted: 4th overall
Rookie Stats: 20.1 PPG, 5.3 RPG, 5.8 APG, 1.5 SPG, 37.2 MPG
2010-11 Season Outlook:
Finally, the Sacramento Kings have a player who can help them return to relevancy. Evans had a remarkable rookie season, putting up a 20-5-5 line which puts him in extremely exclusive company.
Evans showed maturity, leadership, and poise as he consistently destroyed teams on a nightly basis. His ability to penetrate and score in a multitude of ways had defenses baffled the entire season.
In addition, he squashed any question marks regarding his ability to be a playmaker. He showed off a game that in many ways is comparable to a less explosive Dwyane Wade.
He ranks second on this list for a few reasons. First, I don't think his production will amount to as many wins as Stephen Curry in Golden State. In addition, Curry has less areas of his game in which he needs to improve.
If Evans is able to improve on his rookie production, his sophomore campaign should be considered a great success. He is an All-NBA talent who should soon join the ranks of the league's elite.
Team: Golden State Warriors
Position: Point Guard
Drafted: 7th overall
Rookie Stats: 17.5 PPG, 5.9 APG, 1.9 SPG, 43.7 3PT%, 36.2 MPG
2010-11 Season Outlook:
If I was ranking the top point guards in the NBA, Curry would already be on my list. His shooting ability is among the very best and he shows a creative flair in his passing that is similar of Steve Nash.
Curry really turned it on to end his rookie season by averaging an absurd 26.4 PPG, 6.4 APG and 8.1 APG in 39.4 MPG in March. Did I mention he shot over 45 percent from the field, 47 percent from the perimeter, and 89 percent from the charity stripe?
Looking at numbers alone you can tell Curry is special. He is incredibly efficient and shoots a deadly accurate jumper from literally all spots on the floor. He is a solid rebounder for his position, a gifted passer, and good defensively.
His position atop this ranking is a testament to his all-around efficiency and skills, and I believe he is a more complete player than Tyreke Evans. In addition, it is my opinion that Curry will have a more successful sophomore campaign by winning more games than Evans.
With Monta Ellis' future rather cloudy, Curry is the face of the Golden State franchise. Expect him to form a dominant partnership with off-season acquisition David Lee as he continues his ascent to NBA stardom.