MMA: Taking Film, TV and Popular Culture By Storm (Video)
Films and TV shape and influence us every day so anytime that something new is introduced to us we take note of it.
MMA has grown by leaps and bounds over the past few years.
We have seen MMA influence movies, TV, popular culture and much more. It is a true mark of growth on the sports part to be featured in films and TV.
Movie directors and producers have realized that rather than staged stunt fighting that people respond to realistic combat.
You will see that some movies even carried the mark of Mixed Martial Arts before the sport was fully realized.
With film and TV using MMA as a storyline to base stories off of it is only a matter of time before MMA is fully main stream with audiences.
Begin Slideshow

»
Troy Jennings (UFC Fighter Stephan Bonnar) is set in a world of drugs, fighting and corruption. Being a former fighting champion Jennings must bring the underground fighting and drugs to a stop being the only man for the job.


When a scheme against a crooked fight promoter goes awry, Eliot is forced to step into the ring. In this scene of the TNT series Parker demonstrates all the different facets of an MMA fight.
The OC was a popular drama on the Fox network for several seasons. One of the main characters in the show Ryan Atwood finds cage fighting as a refuge to deal with his troubled past as well as a car accident that took away his girlfriend. Atwood can be seen in full force holding his own in a squared cage dishing out his feelings onto his opponent.
Ma Jun (Donnie Yen), a cop known for dispensing justice during arrests, teams with Hua Sheng, who's undercover, to try to bring down three merciless Vietnamese brothers running a smuggling ring in the months before the mainland's takeover of Hong Kong. In this clip you can see Kung Fu and MMA mixed together in a fantastic visually appealing fight style.
Hector Echavarria who wrote, directs and stars in this movie is to no one's surprise the hero of this film.
Echavarria wins the fights, gets all the girls and has the biggest house in the movie. A few of Echavarria's friends in this movie are actual MMA fighters such as George St. Pierre, Heath Herring, BJ Penn, and "Rampage" Jackson.
Never Surrender sees our hero delve deep into the world of underground fighting to eventually face off against the champion of the division.
A second film was recently released titled Unrivaled with a similar premise also starring Echavarria alongside Rashad Evans and Keith Jardine.
In Los Angeles, an ex-con (Michael Jai White) takes the underground fighting world by storm in his quest to fulfill a promise to a dead friend. MMA stars Kimbo Slice and Bob Sapp make cameos as two of White's opponents.
Heavyweight boxing champion George "Iceman" Chambers (Michael Jai White) is sent to a Russian Jail on trumped-up drug charges and is introduced to the underground fights that are much more then boxing. Chambers must adapt his boxing style to become more of a complete fighter to face the undefeated Russian champion Uri Boyka.
With the threat of being sent back to jail looming over his head Johnny Sanchez (Ernie Reyes Jr.) must compete for his life.
Mixed Martial Arts is the stage making for some great action and stunts in this film.
Reyes has shown his skills in several martial arts titles including the Rundown and Teenage Mutant Ninja Turtles 2. But there are no talking turtles in this movie just MMA action.
Rich Japanese business men bet money on live tournament fights in front of their eyes. This Japanese language title was made while the Pride FC was still alive and well and contains many of their top fighters.
"Rampage" Jackson, Don Frye, Takayama, and Wanderlai Silva all appear in this film.
Perhaps the most interesting part of this movie is how life-like the fight scenes seem to be.
The fourth installment of the action packed series that includes hot cars, hot women and lots of thrills.
Fast & Furious sees the reuniting of the original cast of The Fast and the Furious including Michelle Rodriguez, Paul Walker and Vin Diesel.
Brian (Walker) is now an FBI agent hot on the case of a drug dealer who uses daredevil drivers to transport the drugs from Mexico to the US. Dominic (Diesel) is also looking for the same drug dealer in order to exact his revenge for his slain girlfriend who was killed by a rival driver.
In this scene Diesel is aggravated with Walker and things quickly get physical. MMA techniques can be clearly seen in this tussle it even resembles the famous fight between "Rampage" Jackson and Ricardo Arona.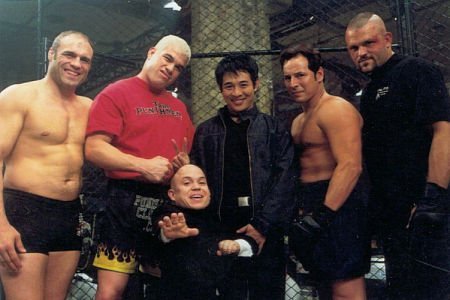 Jet Li and rapper DMX pair up on the hunt for diamonds.
Jet Li is a secret police officer looking to stop the thieves from attempting to sell the mysterious black diamond to terrorists.
DMX is a savvy thief looking to make money to support himself, his crew and his young daughter who is kidnapped by the rival thieves who have the black diamond. In this scene Jet is let into an underground fight club with pal Tom Arnold.
Both are trying to find a lead to connect them with information to help retrieve the black diamond. Jet poses as a fighter to gain access and is quickly selected to compete.
MMA stars Randy Couture and Tito Ortiz can clearly be seen duking it out with the Kung Fu star.
A trendy version of MMA training with a new student arriving to a Florida school where the popular kids put on the gloves and beat each other down.
Jake Tyler (Sean Farris) is lured to a party by a pretty girl only to be tricked into a fight with the most skilled fighter at their school. Jake is embarrassed and beat down and quickly seeks to redeem himself by training in Mixed Martial Arts.
In the final fight scene below Jake (Now fully trained) takes on his nemesis in a public MMA fight.
Brad (Vince Vaughn) and Kate (Reese Witherspoon) are stuck in the difficult spot of having to go to four family Christmas celebrations with relatives that they are trying to avoid.
Brad's brothers happen to be UFC trained fighters who are more than willing to show Brad what they have learned.
Sid 6.7 (Russel Crowe) a composite of all of the world's most sadistic criminals escapes his digital prison to wreak havoc on the real world.
It is up to Parker Barnes (Denzel Washington) a former cop to stop the sadistic Sid. Sid eventually makes his way to a Pay-Per-View taping of the Ultimate Fighting Championships.
He throws an unsuspecting fan into the cage and then dives in himself. Sid awakes to have the fans applauding his stunt from the center of the octagon.
One of the most popular action movies of the 1980's with stars Mel Gibson and Danny Glover as the partners who just happen to get stuck together.
Martin Riggs (Mel Gibson) who may be suicidal and a bit of a loose cannon certainly has some military and martial arts training under his belt.
When the main villain played by Gary Busey is cornered at Murtaugh's (Danny Glover) home he is quickly challenged to a fight. Riggs shows he is no slouch on the ground and shows us that he is more than a stand up fighter.
The uplifting story of a deaf boy who defied all odds to become a success. This movie follows the true story of wrestler turned UFC fighter Matt Hamill. The movie is set to release soon and also features UFC veteran Rich "Ace" Franklin as Hamill's wrestling coach.
Carly: iFight Shelby Marx is a 2009 Nickelodeon movie, based on the TV series iCarly. It stars Miranda Cosgrove, Jennette McCurdy, Nathan Kress, Jerry Trainor, Reed Alexander and Victoria Justice. This is an 45-minute long movie. iCarly appears on the Nickelodeon network and is a popular show with young girls.
Everyone's favorite super spy James Bond (Daniel Craig) is often forced to protecting the villain in order to secure the information that he requires.
In this scene Bond engages in combat with some thugs that are after Le Chiffre who is Bond's target in the film. Bond is thrown over a stairway and has limited space to fight in. Bond employs a very smart and tactical MMA technique that is quick, effective and works in tight spaces.
In New York City, a young street salesman(Channing Tatum) is introduced to the world of underground street fighting by a down and out hustler (Terrence Howard), who becomes his manager on the underground fighting circuit.
MMA star Cung Le also makes a cameo in this film as part of the opposition for Tatum.
Every MMA fan at one point or another has asked the question "How would Bruce Lee do if he competed in MMA?"
In this scene of Lee's finest and final performance we get to see a glimpse of Bruce's MMA talents. Even before MMA was fully realized Bruce was wearing the signature gloves and performing well rounded techniques.
Bruce's Jeet Kun Do system is much like MMA in which you do what is effective and remove the inessentials. This scene takes place in China before Lee is selected to go undercover as a fighter in a sneaky drug lord's martial arts tournament.
A fateful event leads to a job in the film business for top mixed-martial arts instructor Mike Terry (Chiwetel Ejiofor).
Though he refuses to participate in fighting of any kind, circumstances continue to force him to enter MMA competition. Many stars came out for this project including Tim Allen and Joe Mantegna.
This film is the first MMA themed film to be created by a notable director who in this case was David Mamet.
During season three of the popular sitcom Monica (Courtney Cox) falls for a business type hunk (Jon Favreau) who she works with. Unknown to Monica her now boyfriend Pete (Favreau) has an interesting goal: To become the Ultimate Fighting Champion.
Follow The Links Below For The Videos Embedding Was Not Available
http://www.youtube.com/watch?v=Rf9sYGd_bPs
http://www.youtube.com/watch?v=j-VzryUGpBk
In the ultimate stage of cool there is only the Simpsons. In order to reach cult following status you must be featured on this lovable cartoon show.
In recent season 21 Marge is matched up against the owner of the UPKCC the Ultimate Punch Kick and Choke Championships.
In order to protect Bart from seeing the violence on TV Marge accepts the bout. Chuck "The Iceman" Liddell makes a cameo on the show offering encouraging words to Marge.