Tiger Woods: Sex Scandal Aside, Why Tiger May Just Be Past His Prime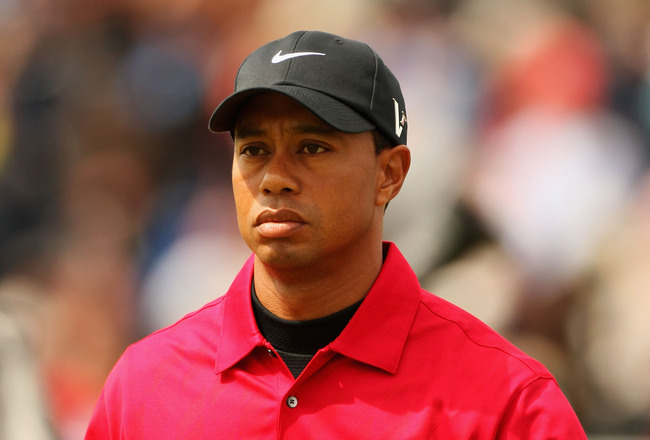 Warren Little/Getty Images
The last nine months of Tiger Woods' life have been a tornado of public scandal, secrets revealed, and simply personality-crushing news. The thinking was that the golf course would be his sanctuary where he could get back to his winning ways and bury all the negative press that surrounds him. That has yet to materialize as we've seen Tiger struggle. Yes, he has two Top 10 finishes in majors this year, but even by his own admission, the 2010 PGA season has not gone according to plan. Now the bigger question fomenting and starting to follow Tiger is whether he is past his prime and possibly done winning at the high level we've grown accustomed to. Tiger will have the time and the means to prove his doubters and critics wrong, but here are a number of reasons why it may be too late.
Injuries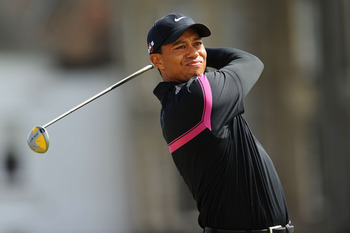 Harry How/Getty Images
Tiger Woods won the 2008 U.S. Open literally on one leg, having suffered a torn knee ligament and stress fracture to his lower leg. Since then, it's been a big 0-fer for Tiger and majors.
He revealed during his comeback that in addition to the knee and leg injuries, he underwent surgery on his Achilles. Those are major injuries to come back from and for many athletes are career-altering.
They are possibly career-altering injuries for football players, basketball players, and any other form of athlete. Tiger relies on that leg to generate the unbelievable amount of torque and power on his swing. The repeated leg injuries could hasten the speed at which his power decreases.
Nearly Two Decades of Dominance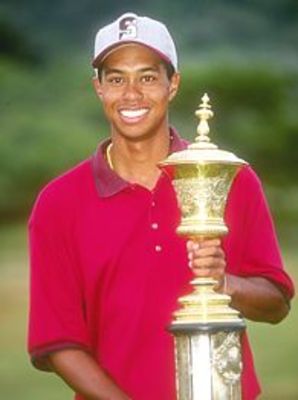 Playing at an extremely high level is nothing new for Tiger, in fact, it's not remotely new. Tiger has competed at the highest possible level of golf for nearly two decades since he first won the U.S. Junior Amateur Championship in 1991 at 15 years old.
Since then, it's been nothing but the highest level of golf and the highest level of discipline and focus for Tiger. Any athlete would consider himself extremely fortunate to be at the top of his game for nearly 20 years.
Tiger's current issues and possible shortcoming to Jack Nicklaus' record of 18 major titles may simply be a case of fuel running out of the tank.
Majors After 34 Years Old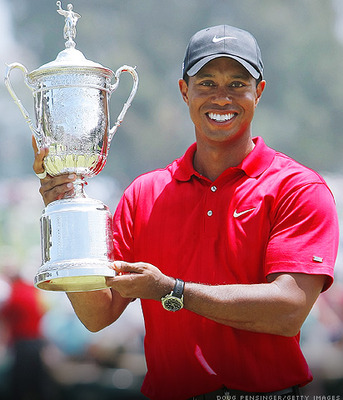 It's not impossible for a golfer, especially one of Tiger's caliber, to win a major after turning 34 years old (Tiger will be 35 in December), but it is certainly rare.
We've watched Phil Mickelson defy that thinking with his recent run at Augusta, but in all majors are rare as a golfer pushes towards 40 years old. Another recent trend-breaker was Stewart Cink, who won the 2009 Open Championship at 37 years old.
However, Nick Faldo and Greg Norman both won their last major title at 38 years old. Arnold Palmer won his last major at 34 years old. Tom Watson was 33. Ben Hogan was 40. The hourglass has not expired, but the sand may be rushing.
Family Life...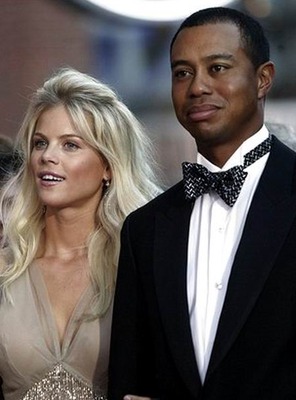 Or lack thereof in this case for Tiger, who recently settled a nine-digit divorce case with Elin. While it is tough to quantify how that will affect Tiger's abilities on the course, it is no doubt a source of significant brain drain. It has to be. Tiger may appear robotic on the course at times, but he isn't soulless.
The thing that made Tiger so great is that he appeared impervious to outside noise affecting him while on the course. But family separation while his young children grow up? No amount of heckling or media attacks could equate to that kind of mind game.
Media Pressure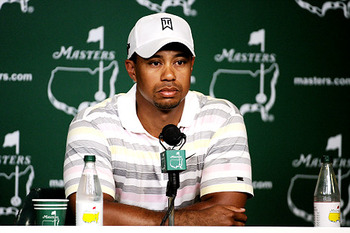 Tiger's performance at major tournaments will serve as the ultimate barometer for the media throng that follows him. Every time he fails to win a major, especially as long as he is stuck on 14 majors, the buzz will grow louder and louder from the media as far as what is wrong with his game, between his ears, his personal life, whatever the media can use to try and pinpoint his struggles.
Now, Tiger was always so good at deflecting media attacks or outlandish questions, but we've seen a Tiger Woods in recent weeks that has bitten back at the media. For one, someone who is/was such a cool customer with the media, his growing frustration with the media could manifest itself as struggles on the course.
Personal Pressure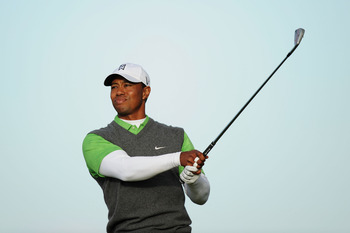 Harry How/Getty Images
Tiger has not minced words about his desire to eclipse Jack Nicklaus' 18 majors. But it is certainly possible he feels the weight of his injuries, his personal issues, and public scrutiny to the point that he is beginning to press.
The amount of personal reconstruction he is currently undergoing is unlike we've ever seen in sports, and that must weigh like a 10-ton brick on his shoulders. With each passing major and each missed opportunity to get another major, Tiger may start to the feel pressure he was so good at deflecting throughout his formative years on the PGA Tour.
Public Pressure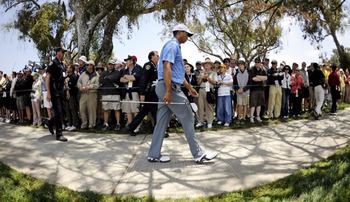 For years, Tiger walked around and through galleries without as much as a blink towards the gallery or what was being said in his direction. Now, a more engaging Tiger is actually giving attention to the enormous crowd that follows him at every tournament.
It seems like a meaningless idea that the public and fans could somehow alter the course of Tiger's career, but pressure can come in many forms and from many different directions.
Perceived Weakness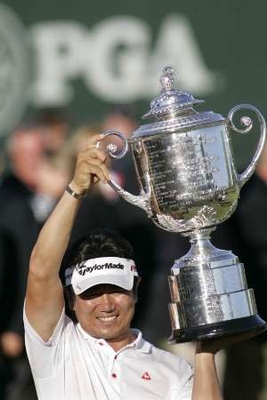 The rest of the PGA Tour smells blood in the water when it comes to Tiger's dominance, and that is not a good thing. We saw an example of that at the 2009 PGA Championship when Tiger entered Sunday after leading the whole tournament, only to shoot 75 and lose the tournament to the relatively unknown Yang Yong-eun.
The loss at the 2009 PGA was the first time Tiger failed to win a major when having at least a share of the lead entering the final round. That loss exemplified that golfers were already starting to wane on their fear of Tiger on Sundays. His struggles in 2010 do nothing to stem that tide.
Killer Instinct?
Richard Heathcote/Getty Images
Does Tiger still have it? Throughout his best years, we saw Tiger cripple players with his presence and ability to close in winning time. Is that element of final round finishing still with him?
Tiger withdrew from the final round of The Players Championship, claiming he suffered a neck injury, but there has been no news to corroborate it was anything serious. He shot 66 in the third round of the U.S. Open at Pebble Beach only to come back with a final round 75. Again, going back to the 2009 PGA Championship, one has to think if Tiger is starting to slip when it comes to putting other golfers away.
Up and Coming Younger Talent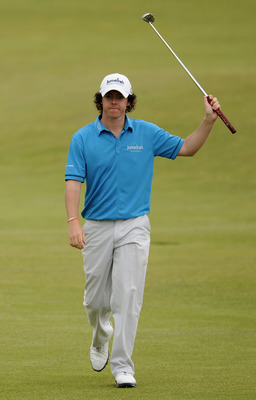 Harry How/Getty Images
Tiger may be 34 years old and younger compared to many names on the PGA Tour, but his ability to win may begin to be offset by the rise of young, physically committed golfers who are already playing at a high level.
The 20-year-old Rory McIlory is the defending champion at The Players Championship. Rickie Fowler, 21, was the number one amateur golfer in the country before turning pro. Anthony Kim, 24, finished third at the 2010 Masters and impressed many with his final round 65. Ricky Barnes, 28, finished second in the 2009 U.S. Open and third at this year's Memorial Tournament.
These are just a few of the many names 30 and under that are not only very talented golfers, but are putting in the off-the-course physical maintenance to consistently play at a high level.
Tiger's Already Slumping at Majors
Warren Little/Getty Images
As stated, Tiger finished in the Top Ten in two majors this year, but that doesn't discount the fact that he is currently riding a 1-for-9 cold spell at majors.
Though he finished in the Top Five at the Masters and the U.S. Open, those performances were highlighted by inconsistent and at times sketchy play, especially with his driver and on the green.
Tiger saved his best for the majors, and we have seen encouraging moments at the year's first two majors, but those moments appear fleeting when compared to the rest of his season.
He Simply May No Longer Be the Best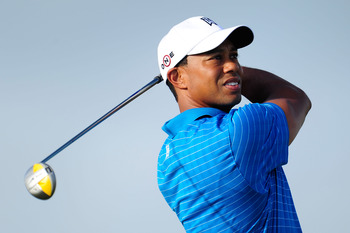 Stuart Franklin/Getty Images
It could be that simple. Whether Phil Mickelson claiming the top spot or Tiger simply falling back to the pack to level the field on the Tour, Tiger may simply be beyond his best days. Is that to say he can't win or he won't win? No.
But in the opinion of this writer, the prime of an athlete's career comes when quality of play is at its highest, success is at its most consistent, and the two co-exist for a period of time. Do those factors appear to the case for Tiger Woods as we see him today?
Lack of Favorable Courses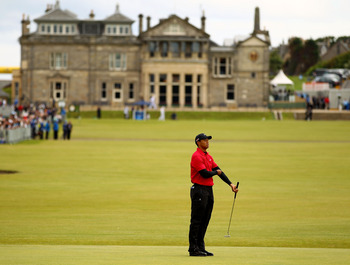 Richard Heathcote/Getty Images
Not that courses have a direct effect on Tiger's physical ability, but they will have an effect on his ability to win majors. We've already seen Tiger go 0-for-3 this year on three of the courses he has dominated most—Augusta National, Pebble Beach, and St. Andrews.
While he will get a shot at Augusta every year, it will be at least another five years before he gets a crack at either Pebble, St. Andrews, or Torrey Pines. Courses like Olympic, the Atlanta Athletic Club, and Oak Hill haven't exactly been safe havens for Tiger and all will be queued up for majors in coming years.
No More PED Use?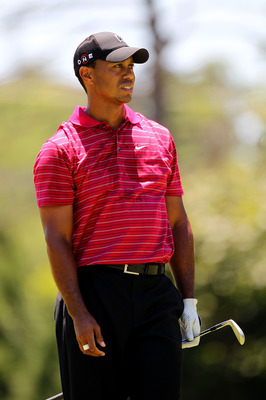 Hunter Martin/Getty Images
While nothing has been corroborated, it is fair to ask whether some sort of PED played a role in Tiger's past. Tiger has been tied to renowned HGH provider Dr. Anthony Galea, who Tiger visited both in Canada and had visit him in Orlando while he rehabbed from his leg injuries.
We don't know the full story behind Tiger's and Galea's relationship, but it is a possible factor both in Tiger's success and recent slip.
You Decide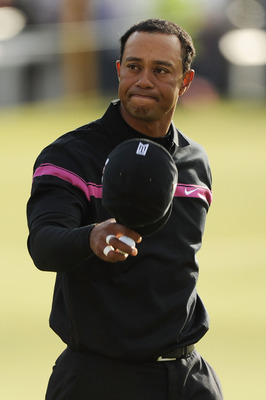 Harry How/Getty Images
The question of whether Tiger Woods is or is not past his prime is one of the biggest hot button discussion in sports today. We have witnessed unparalleled greatness from Tiger for over a decade.
But has that time come? Are the days of multiple major wins per season behind us? Are the days of Tiger stalking the course and shaming other golfers into defeat no more? What are your thoughts?
Keep Reading