2010 NFL Predictions : 10 Questions About the Miami Dolphins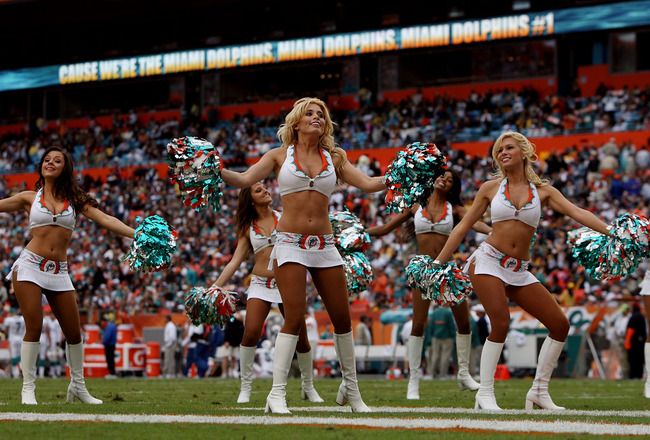 Nobody expected the Miami Dolphins to repeat as AFC East champs last season.
With the New York Jets on the rise and Tom Brady on the mend, the Fins finished with a 7-9 record.
Key players like Chad Pennington and Ronnie Brown went down for the season with injuries. Rookies emerged as starters and veterans saw less playing time.
This upcoming season, third-year player Chad Henne will man the offense that remains run-first with Brown and Ricky Williams working the Wildcat. But the addition of Brandon Marshall could shake things up.
Here are 10 questions that will determine how the Dolphins will fare in 2010.
1. Can Miami continue its streak against the Jets?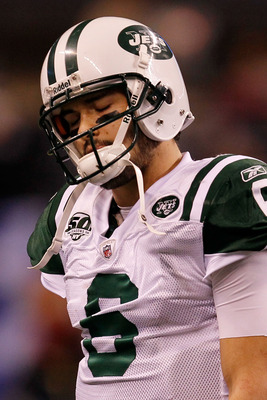 Although the New York Jets reached the AFC Championship game and finished with an 11-8 record (including postseason), two of those losses came against the rival Miami Dolphins.
After a stretch of eight of nine games won by the Jets, the Dolphins have won three in a row.
And at times by lucky fashion, like when Ted Ginn, Jr. returned two kickoffs for touchdowns to balance out the lack of offense in a 30-25 win.
For the first time since 2003, the Fins swept the two-game series.
2. Can Chad Henne break the Dan Marino jinx?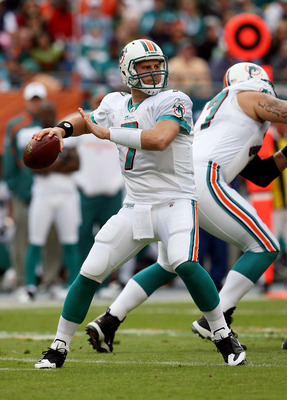 When Chad Pennington went down with a season-ending injury, it was time for the other Chad to step up.
Henne finished 274-of-451 with 2,878 yards passing, 12 touchdowns, and 14 interceptions.
With a run-first offense, it was his duty to manage the offense and not turn the ball over.
A 75.2 quarterback efficiency rating must get better. Henne must improve, and should, with the addition of Brandon Marshall at wide receiver.
The Dolphins haven't had such a talented wideout on the team in years.
3. Will Cameron Wake become a breakout player?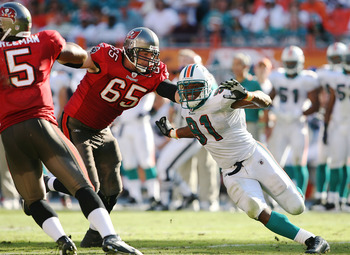 Miami wants Cameron Wake to become an every-down player, and he was promoted to the first team by June.
Former Dolphin Jason Taylor told The Miami Herald that Wake's "pass rush skills are better than mine during my career."
Last season, Wake finished with 23 tackles, 19 solo, in limited action.
It's vital for Wake and Koa Misi to rise to the occasion at the linebacker position with the departure of both Taylor and Joey Porter.
The moves could actually be seen as upgrades.
Both of those players are past their prime, and Porter caused more trouble (and talk) than good.
Combined, the two recorded 83 tackles and 16 sacks.
4. Will there be a sophomore jinx for Davis and Smith?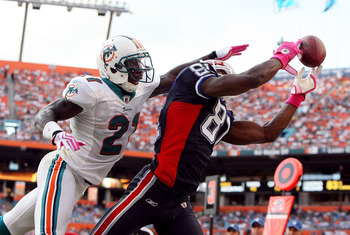 Both rookie cornerbacks started for much of last season.
Although all the attention went toward the rookie sensation for the New York Jets, Vontae Davis and Sean Smith improved over the year.
Davis was sixth on the team with 53 total tackles, 42 solo. He had 11 pass deflections and four interceptions (one returned for a touchdown). The team nabbed just 15 total picks.
Smith, on the other hand, recorded 38 tackles, 31 solo. He did not intercept a pass, but collected 12 pass deflections.
As the pair continues to develop and help the Dolphins, the 22nd-ranked defense (based on yardage) will improve upon last season.
5. Will Brandon Marshall Be As Advertised?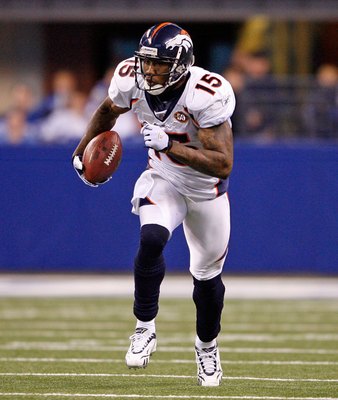 "The Beast" heads back to the Sunshine State as part of a trade between the Denver Broncos and Miami Dolphins.
Brandon Marshall is one of only five players in NFL history to catch at least 100 passes in three consecutive seasons.
With a four-year, $47.5 million contract extension, Marshall brings playmaking ability to a position at Miami that has lacked it for so long.
After having surgery on his hip during the offseason, he won't return to the field until training camp.
6. How Productive Will the Other Wideouts be?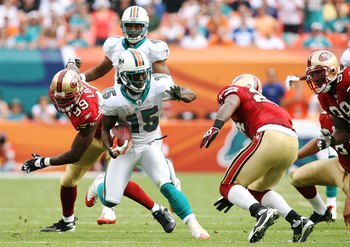 Davone Bess finished with a team-high 75 catches, 26 more than Greg Camarillo. He caught two touchdowns, but also fumbled twice (one lost).
He works best in a slot role.
Camarillo, meanwhile, was the only receiver in the NFL with at least 50 catches and no drops.
Second-year player Brian Hartline may be a faster, more downfield-version of Camarillo with 16.3 yards per catch (19th best in NFL). The two are interchangeable.
Ted Ginn, Jr., also known as quite the bust, is no longer with the team.
Overall, not bad choices at receiver for Chad Henne.
7. Can Ronnie Brown Stay Healthy For An Entire Season?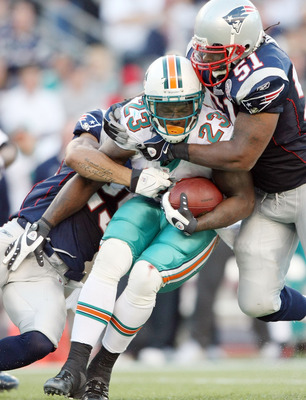 Before his season-ending injury, Ronnie Brown ran 147 times for 648 yards and a 4.4 average.
More importantly, however, he could pass and catch the ball as a triple threat last seen during his days at Auburn.
Though the Wildcat fizzled at times, new wrinkles appeared in the offense. Brown scored eight rushing touchdowns and lost just one fumble.
Ricky Williams, who said he will retire after this upcoming season, finished with 1,121 yards and a 4.7 average.
There were flashbacks of days in his prime (see the Buffalo game of several years past).
Although he collected 11 touchdowns, he fumbled four times, and lost them twice.
Toward the end of the season as fatigue began to set in, it became more of a problem.
8. Will Jake Long Remain Status Quo?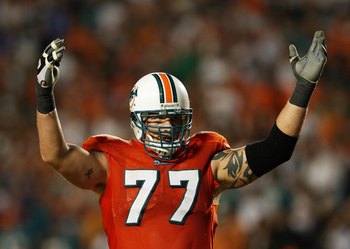 Since the 2008 NFL Draft, Jake Long has started every game for the Miami Dolphins.
He won numerous All-Rookie honors and was even a Pro Bowl substitute selection.
This past season, he earned a starting spot in the 2010 Pro Bowl.
After yielding just four sacks, Long was named the second-best offensive tackle and joined Richmond Webb as the only Dolphin offensive lineman to make back-to-back Pro Bowls.
9. Will It Be Snowing January in New England?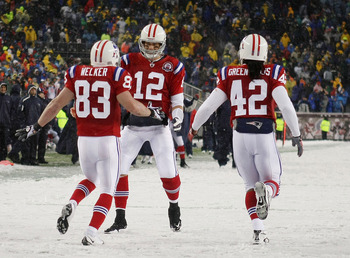 New England finished 10-7 last season, with Tom Brady returning from a season-ending knee injury in 2008.
Will the Patriots return to dominance? Will this game have playoff implications for either team?
It's only natural that the Dolphins and Pats play each other in the northeast so late in the season. This time, after the new year.
Football will be played in one of the more colder climates.
In years past, it hasn't treated Miami too well with snow and windy conditions.
10. Can the Dolphins Upset the NFC's top teams?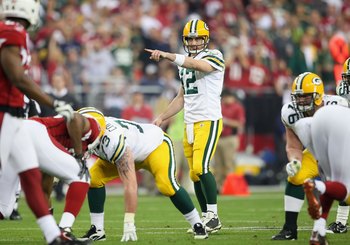 The Dolphins should take care of business at Sun Life Stadium against Cleveland (5-11) and Chicago (7-9).
They must take to the road in tough games against Minnesota (13-5) and Green Bay (11-6).
Whether Brett Favre plays, the Vikings have many offensive weapons with Adrian Peterson, Percy Harvin, and Sidney Rice.
It will be quite the test for the Miami defense.
And in Green Bay, it doesn't get much easier with Aaron Rodgers at quarterback.
In order for Miami to make a legitimate push toward the playoffs, and rise in the power rankings, it must win one of those match ups.
Keep Reading

Miami Dolphins: Like this team?