Atlanta Braves: Comparing the 2010 Team to the 1995 Team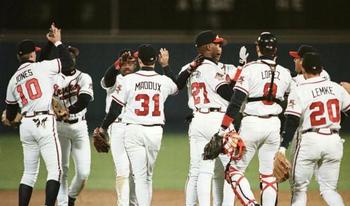 The Atlanta Braves are having a championship caliber season and looking for their first World Series title since 1995. This slideshow will compare the current Atlanta Braves to the 1995 team to see if today's team is the best Braves team that the world has ever seen.
Catcher: Javy Lopez vs. Brian McCann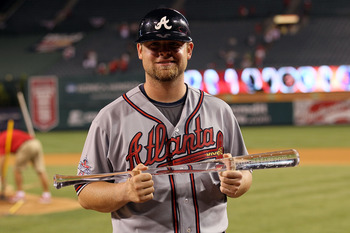 This was possibly the hardest call to make.
Javy Lopez was an incredible hitter for the Braves, hitting .315 with 14 home runs and 51 RBI in 1995.
However, Brian McCann is the heart and soul of the Braves lineup. He has made the All Star team five consecutive years and was voted as this year's All Star MVP. This is starting to look like one of the best years of Brian McCann's career.
Javy Lopez wasn't quite there yet in 1995.
First Base: Fred McGriff vs. Troy Glaus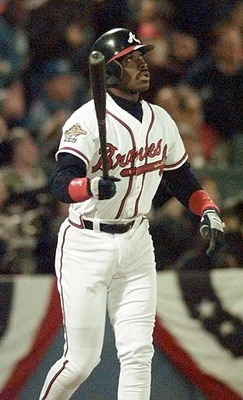 This was somewhat of an easier decision.
In 1995, Fred "The Crime Dog" McGriff hit .280 with 27 home runs and 93 RBI.
Meanwhile, Glaus is on track to have 30 home runs and over 100 RBI. Despite this, he has been too streaky this season, and he will be the first person to admit it.
This one has to go to McGriff.
Second Base: Mark Lemke vs. Martin Prado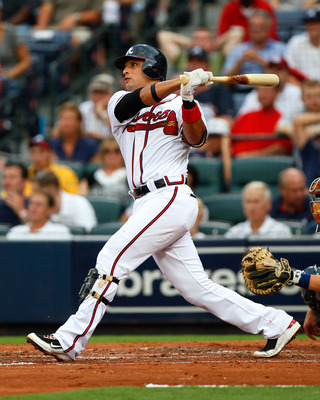 In 1995, Mark Lemke did nothing extraordinary. He had a batting average of .253 and only five home runs.
Martin Prado, on the other hand, has been the MVP of the Braves this season and is threatening to win a batting title. He is batting .317 and leads the league in hits.
Prado is possibly the best leadoff hitter in all of baseball right now and may be the best leadoff hitter in Braves history.
Shortstop: Jeff Blauser vs. Alex Gonzalez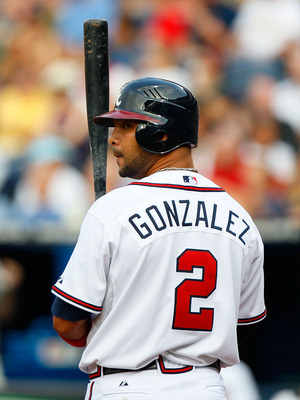 Yes, we just acquired Alex Gonzalez and we don't really know how well he will play as a Brave, but he is off to a hot start. Gonzalez leads the team in home runs with 17, and is right behind Troy Glaus in RBI with 52.
In 1995, Jeff Blauser had a team-low .211 batting average and only 12 home runs.
This one goes to Gonzalez.
Third Base: Chipper Jones vs. Chipper Jones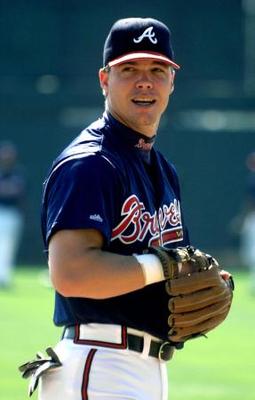 The good ole days for Chipper Jones were back in 1995. He had a decent batting average at .265, belted 23 home runs, and drove in 86 men.
It is obvious that this Chipper is not the same Chipper we saw in the 90s.
He can still hit better than most major league third basemen, but that is only when he's healthy. There is no question that Chipper Jones is a future Hall of Famer and one of the greatest third basemen to ever live, but he just isn't the same Chipper he was in 1995.
Left Field: Ryan Klesko vs. Matt Diaz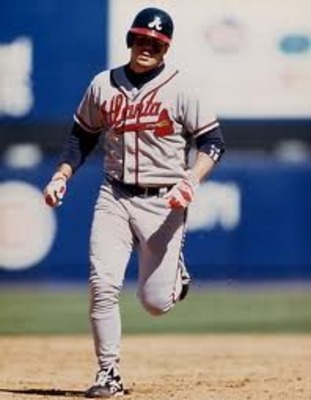 I know that we all love Matt Diaz, especially since he has come off the DL and destroyed left-handed pitching. But, Ryan Klesko was one of the best batters in the Braves lineup in 1995.
In the Braves championship season, Klesko batted .315 with 23 homers and 70 RBI. He was a good all-around hitter and a solid defensive player.
The 1995 Braves win this one.
Centerfield: Marquis Grissom vs. Nate McLouth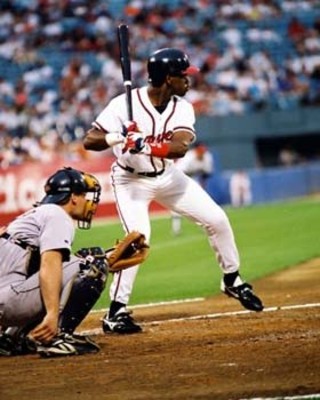 There is absolutely no contest for this position. Nate McLouth has the lowest batting average on the team at .176, and has only 3 home runs and 14 RBI.
Marquis Grissom didn't have a fantastic year in 1995, but it was better than Nate "The Rally Killer" McLouth's by far.
Centerfield goes to the 1995 Braves.
Right Field: David Justice vs. Jason Heyward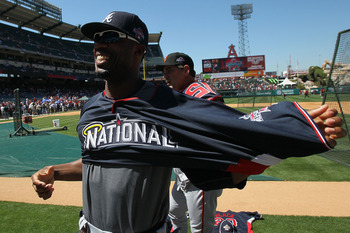 David Justice vs. Jason Heyward was a tough one.
Justice is a member of the Braves Hall of Fame and for a good reason. He was the 1990 Rookie of the Year and hit 160 home runs as a Brave. However, you can not ignore Jason Heyward.
Jason Heyward has been compared to Hank Aaron and Willie Mays, and deservedly so.
The game is more exciting when Heyward is out there. He is one of the best in every aspect of the game, and he is only 20 years old. Heyward was seriously showing that he was worthy of the MVP award before he landed on the DL a few weeks ago, but now he is right back on track, batting over .350 since his return.
When Chipper Jones is no longer a Brave, Jason Heyward will be the face of the franchise. He will be an Atlanta Brave for the rest of his career and when it is all said and done, he will be one of the best players to ever play the game.
Pitching
This was the hardest comparison to make.
The 1995 Braves had the best pitching trio in the history of baseball. John Smoltz, Tom Glavine, and Greg Maddux combined for seven Cy Young Awards in total and dominated in 1995, as well as every other year they were together. There is just no way it gets better than that.
The 2010 Atlanta Braves pitching is phenomenal, from the starters to the closer. They are the main reason that the Braves sit in first place of the NL East. But, the trio of Smoltz, Glavine, and Maddux is untouchable.
If the Braves win the World Series this year, then this issue can be re-examined. Until then, this category goes to 1995.
The X-Factor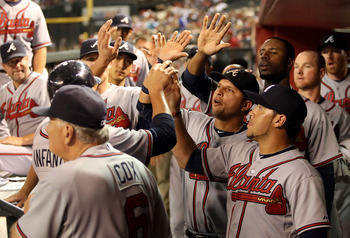 The 2010 Braves have the best bench in Major League Baseball.
From Eric Hinske to the All Star Omar Infante, the Braves bench has never failed to produce when called upon.
The 1995 Braves had nothing like the bench that we watch today, and that is what makes this year's team special. The 2010 Braves are a 25-man team and every single player plays like it's the last game they will ever play, from the starting nine to the men who ride the pine.
Just listen to Chipper Jones. "This team, the more and more I look at it, reminds me of the '95 team," Jones said. "You don't have the guys that are leading the league in any category, but you have evenly distributed production throughout all 25 guys.
That is what makes this team special. That is what makes this team even better than the 1995 Atlanta Braves.
This is the new Atlanta Braves and they are hungry for a championship.
Keep Reading

Atlanta Braves: Like this team?