The 20 Sexiest Things About MMA
Knockouts, armbars, and rear naked chokes are just a few of the reasons why Mixed Martial Arts is one of the most exciting and entertaining sports in the world but let's be honest here fellas; MMA would not be nearly as enjoyable if it was devoid of beautiful women.
As much as I love watching guys hit each other in the face nothing beats looking at a nice set of...well you get the picture.
Sit back, kick your feet up, and enjoy.
Begin Slideshow

»
Gentlemen allow me to introduce you to the lovely and talented Zolia Frausto.
Zolia is an up and coming hottie in the world of MMA not only as the arm candy for Strikeforce fighter Jorge Gurgel but as a fighter herself.
In her last outing Zolia knocked out highly regarded Rosi Sexton which in turn earned her as spot in Bellator's fast approaching season three women's 115-pound tournament.
Ah, BodogFight...what is there to say about this now defunct promotion other than their biggest contribution to the sport has got to be their glorious ring card girls.
And what a contribution it was!
I may not know the names of any of these ladies but they will never be forgotten.
On a side note, this is easily the greatest armbar picture of all time.
.....um...um...WOW...what were we talking about...oh yeah.
Thank you Bodog fight!
Brandon Vera may never reach his full potential in the cage but man oh man did he strike gold by marrying this dark haired beauty here.
Not only is Kerry Vera a total knockout in the looks department but she is also a very talented and dangerous up and coming fighter as well.
Gina Carano, the face of women's MMA, well at least she was before she was viciously beat down by a cyborg and moved on to the glitz and glamour of Hollywood.
Gina you and that magnificent smile of yours will be missed, please don't stay away forever.
A guest ring card girl for historic UFC 100, the unbelievably gorgeous Holly Madison may not have the closest of ties to MMA but she is quickly becoming a regular fixture in the crowd at major events.
The chance of just catching a glimpse of her in the crowd is enough motivation for me to order an UFC PPV.
36DD-25-34
Former playmate LaTasha Marzolla is much more than just a pretty face and an incredible figure; she is also a hard working and dedicated up and coming fighter.
I don't know about you but I sure wouldn't mind seeing this foxy lady work up a good sweat.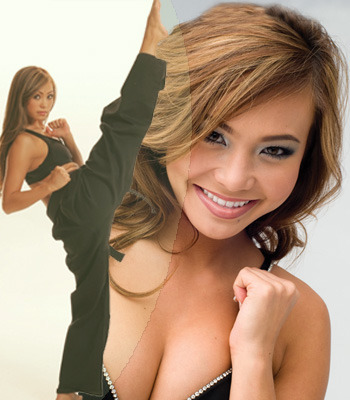 The Karate Hottie, Michelle Waterson, is a sight to behold.
Not only is this stunning woman an accomplished model but she is also a very talented up and coming fighter boasting an impressive 8-3 record.
I have had a lot of problems with some of the promotional decisions Strikeforce has made since they made the jump from regional promotion to competing with the UFC but they have also made some great decisions a well.
Hiring Natalie Skyy as one of their ring girls is one of those great decisions; I mean just look at her.
Why the UFC ever let this blond bombshell go is beyond me but at least I will always have photos like this to remember Natasha Wicks and all her glory.
I was upset to hear that the UFC let Natasha Wicks go but when I found out that they also chose not to renew the contract of Logan Stanton I nearly lost my mind.
Logan was the quintessential "Girl Next Door" and a breath of fresh air circling the Octagon.
I absolutely loved Pride FC. From the pageantry of their over the top entrances to the "Freak Show" fights to the legendary matchups Pride had it all.
Even though Pride the organization may be dead its great memory lives on in the form of Spike TV's Best of Pride series hosted by the ridiculously good looking Kendra Perez.
Bellator Fighting Championships is a tremendous promotion that is continuing to pick up steam heading into their third season.
What makes Bellator such an exciting environment is their tournament format and of course two of the hottest MMA ring card girls on the face of the planet.
Miss Monica Arteaga pictured here is simply stunning.
Making up the other half of Bellator's dynamic ring card girl duo is none other than the tantalizing Mercedes Terrell.
With a beauty like Mercedes sitting cage side it's only a matter of time before Bellator explodes in popularity.
If you are looking for some high octane, non-stop MMA action then the WEC is right up your alley and this lovely lady right here is Brittney Palmer, ring girl extraordinaire.
Mmm mmm mmm, that is one pie I would love to dive into.
Tough, talented, charming, and utterly sexy Miesha Tate is the new face of women's MMA.
Women's MMA is every bit as enjoyable as men's and with Miesha in the mix it has nowhere to go but up in terms of popularity.
Rachelle Leah is the standard by which all other MMA ring card girls are judged and boy did she set the bar high.
There's hot, there's sexy, and then there is Rachelle Leah; it's just as simple as that.
While Rachelle Leah is the standard by which all other ring card girls are measured, Arianny Celeste is the pinnacle.
I could attempt to describe just how amazingly hot Arianny is but I wouldn't be able to do her justice so I'll let this picture do all of the talking.