Four Bold Tennessee Football Predictions for 2010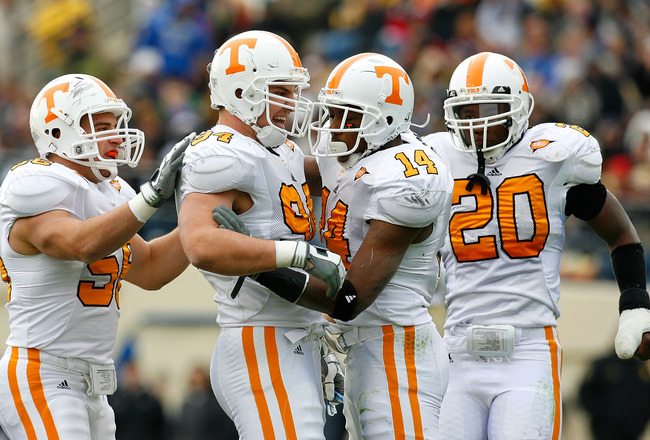 Vols fans, I know you're tired of sad stories.
Arrests, suspensions, coaches leaving town, and top recruits leaving for the West Coast have caused some pessimism as the season approaches.
But in this slideshow, I'm going to make five crazy predictions for the upcoming season that could happen in a perfect world.
Most pundits (like Phil Steele/Athlon Sports) have the Vols winning five to seven games and making a low level bowl (e.g. Music City Bowl). However, if our quarterback and offensive line grow up and learn on the job and the defense buys into Justin Wilcox's turnover forcing scheme, some of these predictions are feasible.
Tauren Poole Will Rush for 1,300 yards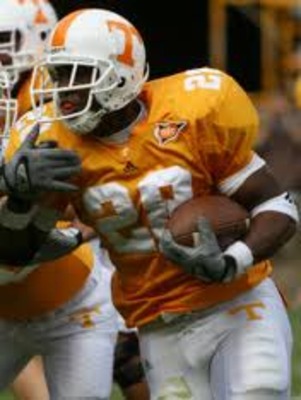 He only has 171 career rushing yards, but Poole has showed promise since he enrolled at UT in 2008.
Last season, he averaged over 8.5 yards per carry, including a 62-yard game against Western Kentucky. Against Virginia Tech, Poole penetrated the Hokie defense for five yards per carry, but he had limited touches.
However, he dominated the spring game with 108 all-purpose yards and catching a touchdown. If the offensive line can create some holes, Poole should be able to bust some moves and force opponents to respect the run game.
Tennessee has had four 1,000 yard rushers in the past five seasons, and Poole should join the pantheon.
Tyler Bray Will Break Casey Clausen's Freshman Touchdown Record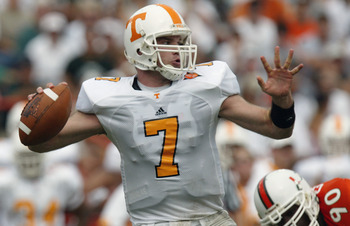 Back in 2000, Tennessee's quarterback situation was in a flux. Tee Martin(like Jon Crompton) had just graduated, and the Vols only had redshirt freshman AJ Suggs and true freshman Casey Clausen to play QB.
Tennessee started 2-3, but when Clausen took the reins, he led the Vols to a six-game win streak and Cotton Bowl appearance. He also tossed 15 TDs despite only starting seven games and beginning the season as a third stringer.
Like Clausen, Tyler Bray is from California, and they both were 4-star recruits—Clausen at a private school and Bray at a public one. Clausen had future NFL players David Martin and Cedrick Wilson to throw to as a freshman, and Bray also has an embarrassment of riches with preseason All-SEC tight end Luke Stocker (five touchdowns), reception leader Gerald Jones (46 catches), red zone threat Denarius Moore (seven TD), and a quartet of 4-star and 5-star freshmen (DaRick Rogers, Matt Milton, Ted Meline, and Justin Hunter).
Even if he doesn't start until later in the season, Bray has the big arm and weapons to easily break Clausen's freshman record for touchdowns.
The Vols Will Land JaDeveon Clowney in the 2011 Recruiting Class
For those of you who don't know, JaDeveon Clowney, who is from Rock Hill,SC, is Rivals.com's No. 1 recruit.
Tennessee is one of 12 schools that he has "medium" interest in. Clowney is a weakside defensive end who has great athletic ability and speed (4.6). He only weighs 235 lbs., but he should gain strength his senior year of high school ball.
Steve Spurrier and South Carolina have pursued Clowney heavily, and he looks like he's going to an SEC school. If Clowney signs with the Vols, he will receive instant playing time, replacing sack-master Chris Walker at left defensive end.
Even if the Vols have a mediocre 2010, this signing would set them up for 2011 and beyond.
The Vols Will Upset Oregon at Home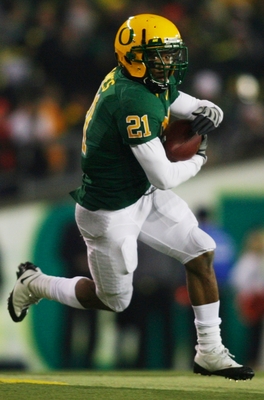 Derek Dooley's first challenge as coach at Tennessee comes in the form of the Oregon Ducks, who are the preseason favorites to win the Pac 10.
Even after losing Jeremiah Masoli, the Ducks have nine returning starters on offense, including tailback LaMichael James, who will be making his season debut vs. the Vols after his one game suspension.
Defense hasn't been Oregon's strength of late (the Ducks gave up 51 points to Stanford and 41 to Arizona), but Kenny Rowe brings a pass rushing presence off the edge (11.5 sacks) and Casey Matthews is a run stopper and senior leader (preseason Lombardi candidate, 81 tackles).
However, the Vols still have a chance. Dooley must place his faith in one quarterback (Bray or Matt Simms) and trust him to pound the rock with Tauren Poole and David Oku while playing it safe and avoiding turnovers. But it is the defense that will win the game for the Vols.
This is James' first game back from suspension, and Nate Costa will be starting his first road game at one of the loudest venues in the nation.
Also, new defensive coordinator Justin Wilcox held the same Oregon offense to 152 total yards while causing two turnovers as the coordinator at Boise State. He has about the same amount of talent at Tennessee with young playmakers Eric Gordon and Janzen Jackson in the secondary and Nick Reveiz leading the run stopping effort.
The combination of the loud venue, uncomfortable defense, and conservative offense could help the Vols pull an upset.
Keep Reading

Tennessee Volunteers Football: Like this team?