Tour de France Stage 17: Winners and Losers, Schleck makes both lists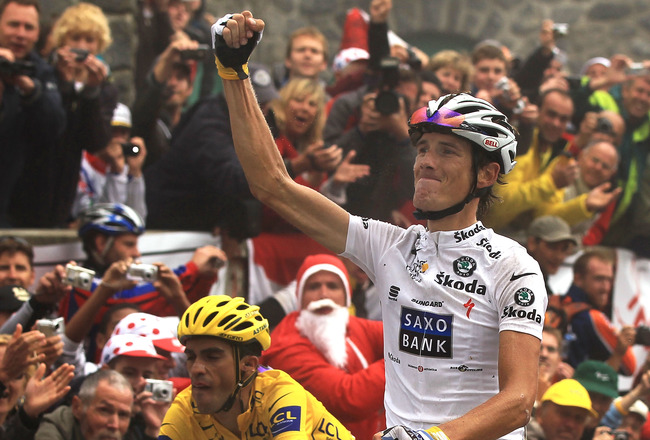 On the final mountain stage of this year's Tour de France it was Andy Schleck taking the victory, but likely seeing his last chance at a Tour Victory disappear in the mist that surrounded the final climb up Tourmalet.
Many expected fireworks on the HC climb, and for those of us lucky enough to watch, it was a fantastic drama that played out.
For the new or casual viewer it may have been a little less exciting as both Schleck and Alberto Contador appeared comfortable just riding together up the monster.
But, it was truly a battle of wills as the younger Schleck drove up the mountain shattering the other GC contenders' dreams of a crack in the top two's armor that never came.
While Schleck and Contador were battling up the road, the top 15 became very fluid, with first Alexandre Vinokourov, then Levi Leipheimer failing early and coming home nearly 10 minutes behind the lead. That allowed a surprising Ryder Hesjedal and Chris Horner to move into the top 10.
Now for today's winners and losers...
Winners: No. 1 Alberto Contador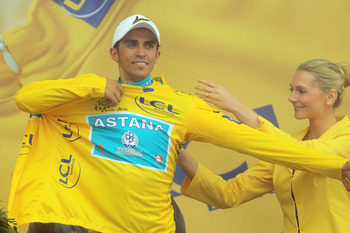 With a great ride up Tourmalet Contador showed he was the rightful leader of the Yellow Jersey and though he never initiated anything other than a short fierce attack with three kilometers to go, he was never in trouble and looked very content to ride Schleck's wheel to the finish.
Winners: No. 2 Andy Schleck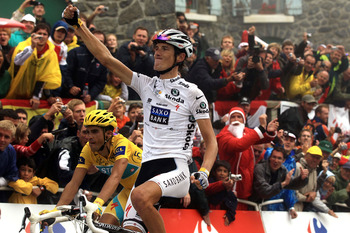 Schleck won the day and along with it wrapped up the Best Young Riders Classification for the third time.
After a furious series of pulls by his team the young Schleck rode away from all but Contador on the final climb and gained a well deserved stage win.
Winners: No. 3 Ryder Hesjedal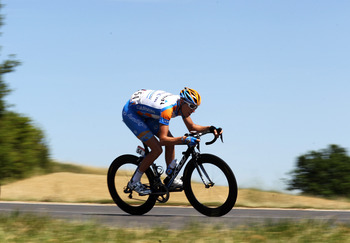 The Canadian Hesjedal finished a fantastic fourth today and moved into the top 10.
After the loss of Christian Vande Velde, Hesjedal was thrust into the position of team leader and has more than lived up to the role.
Winners: No. 4 Samuel Sanchez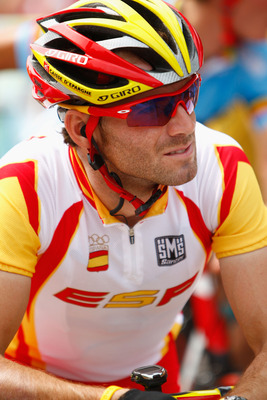 Sanchez overcame a crash and still managed to take time on fourth place Denis Menchov, gaining an important 21 seconds to widen his lead going into Saturday's individual time trial.
With today's ride, Spain could finish with two on the podium in Paris.
Winners: No. 5 Chris Horner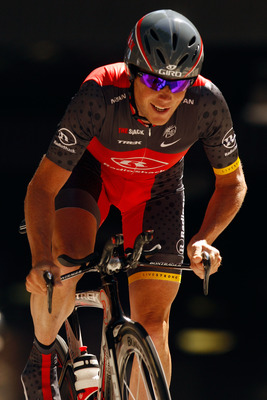 Horner, the journeyman from Oregon rode an incredible performance into a top 10 placing.
No one works harder and is more deserving of a place in the final top 10 than Horner.
Losers: No. 1 Andy Schleck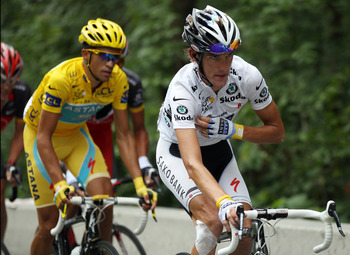 While Schleck won today's stage, his chances of winning the Tour are likely over.
Without a total collapse by Contador in the final three stages, this tour is over.
Losers: No. 2 Levi Leipheimer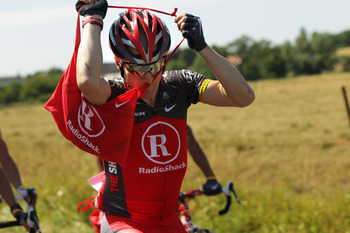 Leipheimer lost almost nine minutes today and fell out of the top 10 to 13th. He has never looked like a winner during this tour, always a pedal stroke behind the top five and today's collapse was the final nail.
Losers: No. 3 Alexandre Vinokourov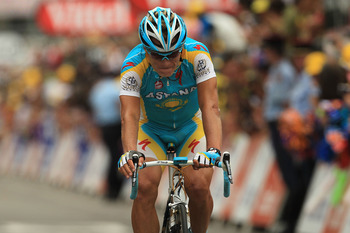 Vinokourov like Leipheimer had a horrible day in the saddle and fell out pf the top 10.
The great riders of the 2000s are looking incredibly old at this Tour.
Keep Reading