Top Five Potential Endorsement Deals for the Los Angeles Lakers
The LA Lakers are the highest profile basketball team in the world.
They have many unique players with various hobbies and skills.
This got me to thinking about how many potential companies could benefit from their vast array of talents.
Enjoy the show.
Begin Slideshow

»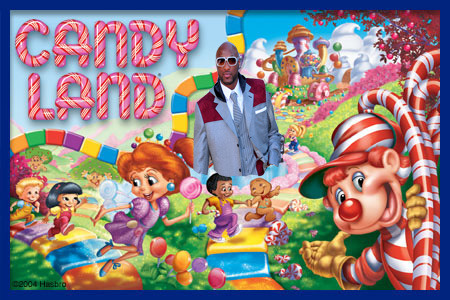 Lamar Odom's wife claims he eats candy in his sleep.
What more do you want?
Sign this man Hershey's.
Warning!!! This commercial is painful to watch.
Andrew Bynum was labelled a prodigy, when he was drafted straight out of high school by the LA Lakers in 2005 as a 17 year old.
Unfortunately we have only had rare glimpses of his talent, due to a never ending string of injuries.
It pays to have great health insurance.
On a lighter note, here is the real Andrew Bynum...
(Explicit language warning)
The reptile scene in America is not of the highest profile. The gatekeepers are the US Association of Reptile Keepers, or USARK.
Surely they could use a worldwide star known for his resemblance to a deadly snake; the black mamba.
In no time at all we could see deadly snakes and lizards in every house in America.
As long as it's not an official dunk contest, then everybody knows how much letshannondunk.com likes to fly.
What better spokesman for an airline than a man who spends so much time in the air?
When you are throwing shout outs to your head doctor on national TV during game 7 of the NBA finals; then I'd say you are a lock to become the new face of the AMHCA.
Here is a brief resume for the job...
Appeared on Jimmy Kimmel Live in his underwear.
Boarded the team bus in Houston in his underwear.
Fighting fans in Detroit.
Demanding time off during an NBA season to pursue his music career.
Wrote a tribute rap to Michael Jackson and said "I'll see you next year".
Oh and his nickname is 'Crazy Pills'.
I could go on for awhile, but instead I'll just leave you with a video of the greatest press conference in the history of professional sports.
If this guy wasn't a professional basketball player, then I can only see one other stand out career option.
XXX movie star.
Ron Jeremy's got nothing on this boy...