Fantasy Football 2010: 25 Studs Facing a Production Decline in 2010
With training camp set to take place next week, it's that time of year when fantasy football owners will begin ranking players for their upcoming draft(s) for the 2010 NFL season.
Most owners tend to have an idea of which players they want to select the first few rounds of the draft based off statistics from the previous season.
Unfortunately, this doesn't always go as according to plan for most owners.
After rushing for 1,789 yards and 17 touchdowns in 2006, Larry Johnson emerged as the No. 1 overall pick in most fantasy leagues the following year ahead of LaDainian Tomlinson.
In 2007, Johnson rushed for just 559 yards and three touchdowns during the eight games he played.
While most of the top players in fantasy football from last season should put up decent numbers again in 2010, many owners may be disappointed if their players fail to live up to last year's numbers.
Here are 25 studs, in no particular order, from 2009 who may be facing a deep production decline this upcoming season.
B/R has partnered with CBSSports.com to get Fantasy Football players a 50 percent discount on CBSSports.com leagues. To learn more and sign up, click here.
Denver Broncos QB Kyle Orton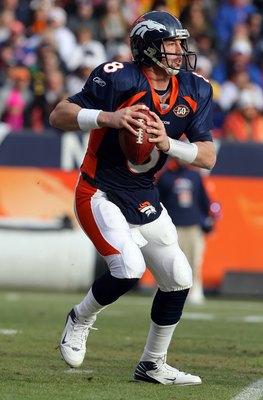 2009 stats: 3,802 passing yards, 21 touchdowns, and 12 interceptions
No team has more of an interesting situation at quarterback than the Broncos.
Kyle Orton heads into the season as the starter, but he has to make the adjustment to life without one of the league's top wideouts, Brandon Marshall.
Not to mention the possibility of Tim Tebow taking over as the starter if Denver is out of playoff contention towards the end of the season.
Pittsburgh Steelers QB Ben Roethlisberger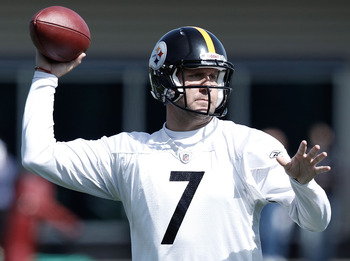 2009 stats: 4,328 passing yards, 26 touchdowns, and 12 interceptions
Nobody knows what to expect from Ben Roethlisberger considering he'll be sidelined for at least the first four games of the season.
He still has two valuable targets in Hines Ward and Mike Wallace, but Big Ben also lost a key wideout when Santonio Holmes was traded to the New York Jets.
Washington Redskins QB Donovan McNabb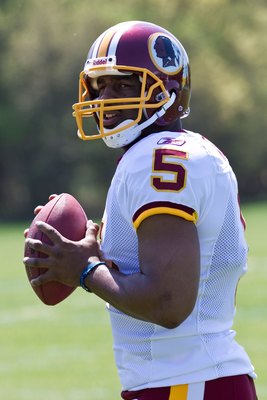 2009 stats: 3,553 passing yards, 22 touchdowns, and 10 interceptions
Last season, the Philadelphia Eagles provided Donovan McNabb with a nice offensive core behind DeSean Jackson, Brent Celek, Jason Avant, and Jeremy Maclin.
Now, he faces a situation in Washington where he'll rely on an offensive core consisting of Santana Moss, Chris Cooley, Joey Galloway, Devin Thomas, and Malcolm Kelly.
New York Jets RB LaDainian Tomlinson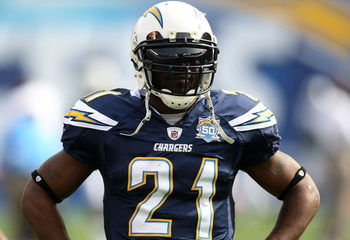 2009 stats: 730 rushing yards and 12 touchdowns
New team, same story. LaDainian Tomlinson showed us last season he's winding down as an effective running back after averaging 1,470 rushing yards and 475 receiving yards the first eight seasons of his career.
With the emergence of Shonn Greene at running back, L.T. could see fewer reps in 2010.
Kansas City Chiefs RB Thomas Jones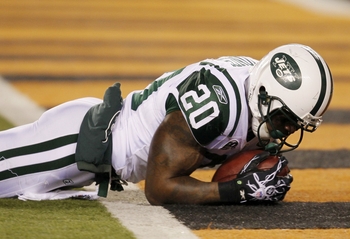 2009 stats: 1,402 rushing yards and 14 touchdowns
The best season of his 10-year career wasn't good enough for the Jets to keep Thomas Jones.
He's crossed the 1,000 yard mark five seasons in a row, but Jones now has to worry about sharing carries with Jamaal Charles in Kansas City.
Tennessee Titans RB Chris Johnson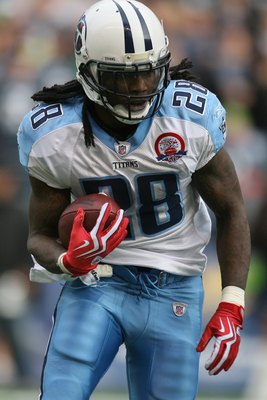 2009 stats: 2,006 rushing yards and 14 touchdowns
Chris Johnson will be selected as the top pick in most fantasy leagues this year.
He became the sixth running back in NFL history to break the 2,000-yard mark. While he should put up big numbers in 2010, Johnson faces pressure to live up to last year's production, which seems hard to top.
Dallas Cowboys WR Miles Austin
2009 stats: 1,320 receiving yards and 11 touchdowns
It's hard to imagine prior to 2009, Miles Austin had just 18 career receptions for 324 yards during his first three seasons in the NFL.
The Cowboys enter this season with arguably one of the most talented offenses.
Not only could Austin see fewer receptions because of Dez Bryant, but because of Roy Williams--who is looking to prove he's the No. 1 wideout in Dallas.
San Diego Chargers WR Vincent Jackson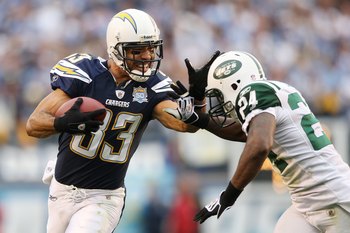 2009 stats: 1,167 yards and nine touchdowns
The main reason why Vincent Jackson's numbers could decline this season is because of his suspension.
The Pro Bowl wideout will miss the first three games for violating the league's substance abuse policy.
Cincinnati Bengals WR Chad Ochocinco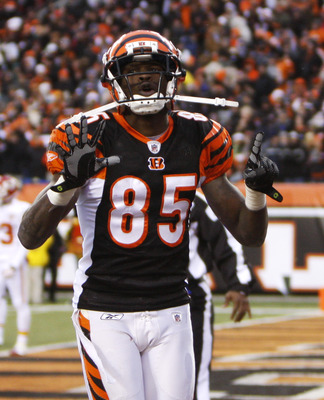 2009 stats: 1,030 yards and eight touchdowns
Last season, Chad Ochocinco bounced back from his horrendous 2008 season to reach his sixth Pro Bowl and crossed the 1,000-yard mark for the seventh time in eight seasons.
However, the addition of key weapons (including Antonio Bryant, Jermaine Gresham, and Jordan Shipley) leaves the possibility of a decline in production for the Ocho.
Indianapolis Colts WR Pierre Garcon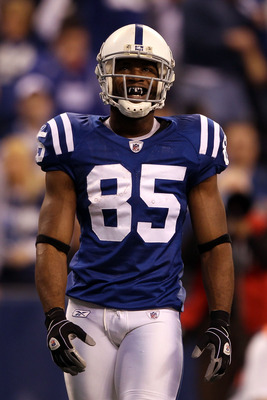 2009 stats: 765 yards and four touchdowns
Pierre Garcon surprised most owners last season after Anthony Gonzalez suffered a serious knee injury that kept him out the entire 2009 season.
Now that Gonzo is healthy, Garcon may see some competition for the No. 2 wideout spot.
San Francisco 49ers TE Vernon Davis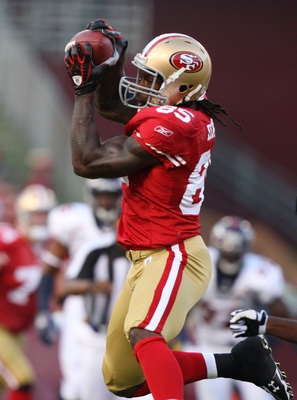 2009 stats: 965 receiving yards and 13 touchdowns
In his fourth season, Vernon Davis finally emerged into the tight end the 49ers expected him to be when they selected him in the first round of the 2006 NFL Draft.
Last year, he tied Antonio Gates for most touchdowns in a season by a tight end, which will be hard to top in 2010.
New York Jets WR Santonio Holmes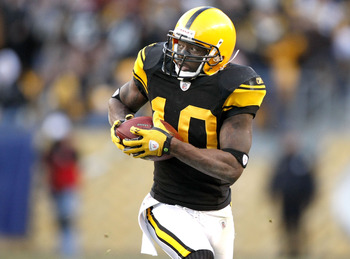 2009 stats: 1,248 receiving yards and five touchdowns
Like Vincent Jackson, Santonio Holmes will miss the first few games of the season; the only difference is he'll miss four games instead of three.
On top of that, he has to adjust to playing in a new offense with Mark Sanchez as his quarterback instead of Ben Roethlisberger.
Baltimore Ravens RB Ray Rice
2009 stats: 1,339 rushing yards, 702 receiving yards, and eight total touchdowns
In just his second season, Ray Rice emerged as one of the top threats in the league not just because he was effective as a running back, but a wide receiver as well.
It will be hard for Rice to top the 2,000+ all purpose yards from last season, especially with the new additions to the Ravens' offense this offseason.
Pittsburgh Steelers RB Rashard Mendenhall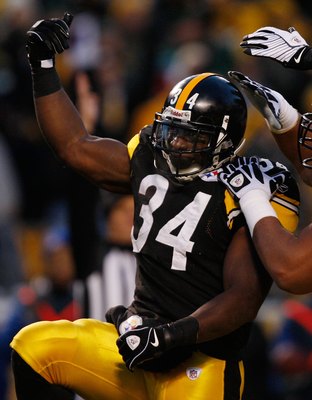 2009 stats: 1,108 rushing yards and seven touchdowns
With Willie Parker in Washington, Rashard Mendenhall takes over the starting job for the Steelers.
However, head coach Mike Tomlin has stated Isaac Redman and Jonathan Dwyer will handle most of the short-yardage situations for Pittsburgh this season, which could take away touchdowns from Mendenhall.
Cincinnati Bengals RB Cedric Benson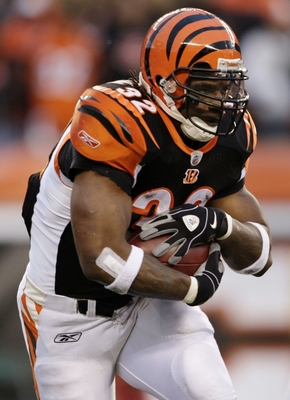 2009 stats: 1,251 rushing yards and six touchdowns
Not only does Cedric Benson have to worry about the possibility of a suspension for the beginning of the season, but he may see fewer carries due to second-year running back Bernard Scott.
Of course, the main factor is whether Benson receives a suspension.
Dallas Cowboys RB Marion Barber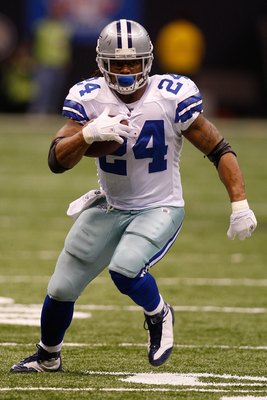 2009 stats: 932 yards rushing and seven touchdowns
Once considered a "fantasy stud" two years ago, many wonder what to expect from Marion Barber in 2010.
After rushing for 24 touchdowns from 2006-07, Barber's production could decline this season after finding the end zone just 14 times over the last two seasons.
Not to mention, he will lose carries to Felix Jones and Tashard Choice.
New England Patriots WR Wes Welker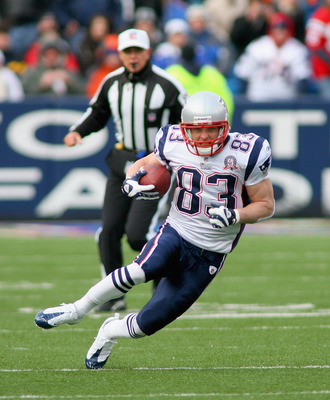 2009 stats: 1,348 yards and four touchdowns
Over the last three seasons, Wes Welker has recorded 346 receptions, which is valuable for some fantasy leagues.
Unfortunately, his return is still unknown after tearing his ACL and MCL in Week 17 last season against the Houston Texans.
Houston Texans QB Matt Schaub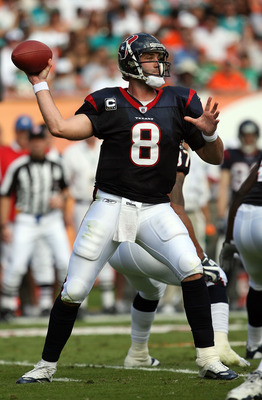 2009 stats: 4,770 passing yards, 29 touchdowns, and 15 interceptions
Matt Schaub emerged as one of the top quarterbacks in fantasy football last season, throwing for over 300 yards in nine games.
He was 314 yards off Dan Marino's record for most passing yards in a season, which may be difficult to top in 2010.
At least he has one of the top wideouts to throw the ball to in Andre Johnson.
Jacksonville Jaguars WR Mike Sims-Walker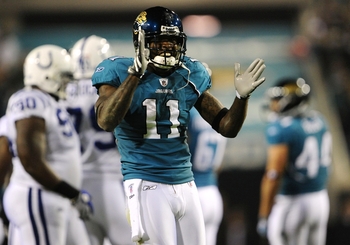 2009 stats: 869 receiving yards and seven touchdowns
Mike Sims-Walker was one of the top sleeper picks last season and has enough talent to be considered a No. 2 wideout for most fantasy teams.
Now, Sims-Walker just needs to prove he's no one-hit wonder as he takes on the pressure of being the team's No. 1 wideout.
Minnesota Vikings WR Sidney Rice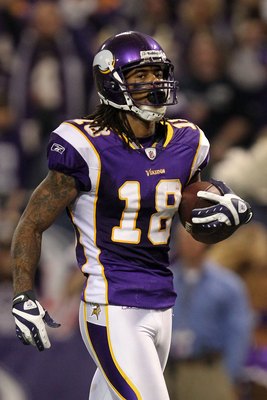 2009 stats: 1,312 yards and eight touchdowns
Last season, Sidney Rice looked almost as good in purple and gold as Randy Moss did during his rookie season with the Vikings.
His height (6'4") gives him an advantage over most defenders, but reports indicate Rice is still bothered by a hip injury suffered during the playoffs.
Kansas City Chiefs RB Jamaal Charles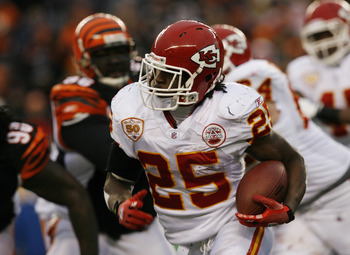 2009 stats: 1,120 rushing yards and seven touchdowns
After rushing for just 357 yards during his rookie season in 2008, Jamaal Charles emerged as the top running back for the Chiefs last year after the release of Larry Johnson.
While he's expected to be the starter this season, Charles will share carries with Thomas Jones, who rushed for 1,402 yards in 2009.
Baltimore Ravens WR Anquan Boldin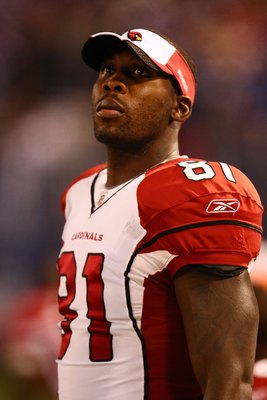 2009 stats: 1,024 yards and four touchdowns
Anquan Boldin finally received his wish when the Arizona Cardinals traded him to the Baltimore Ravens.
After benefiting as a No. 2 wideout playing alongside Larry Fitzgerald, Boldin must now adjust to being the No. 1 option in Baltimore.
Minnesota Vikings QB Brett Favre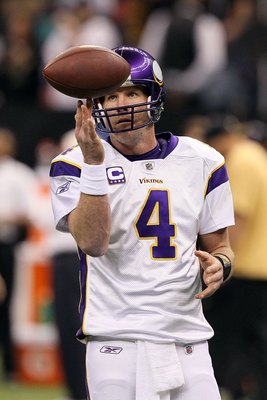 2009 stats: 4,202 yards, 33 touchdowns, and seven interceptions
Only a fool would believe Brett Favre isn't going to play this upcoming season.
He displayed one of the best seasons of his 19-year career, but his ankle may be a reason for concern in 2010.
Carolina Panthers WR Steve Smith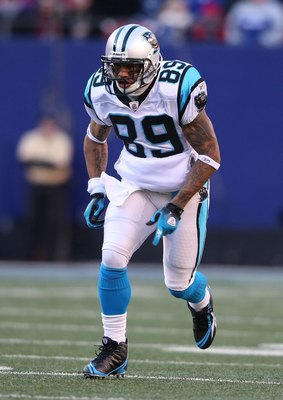 2009 stats: 982 receiving yards and seven touchdowns
Last season, Steve Smith fell just 18 yards short of his fifth-straight 1,000 yard season.
He's been reliable as a No.1 wideout through most of his career, but many wonder how Smith's broken left forearm will affect his 2010 season.
New York Giants WR Steve Smith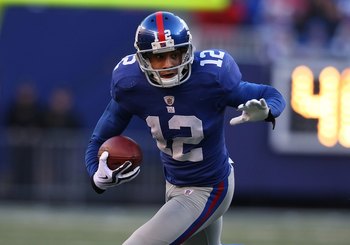 2009 stats: 1,220 receiving yards and seven touchdowns
Steve Smith emerged as one of the top sleeper picks at wide receiver last season.
Like Miles Austin, Smith now must prove himself as an elite wideout and not just a one-hit wonder for the Giants.
Want to Play Fantasy Football This Fall? Sign Up With CBSSports.com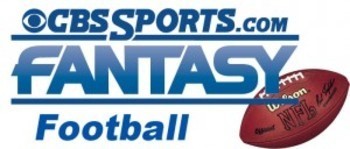 Keep Reading

Tennessee Titans: Like this team?