NHL Free Agency: Top 10 Teams Making Bold Moves This Summer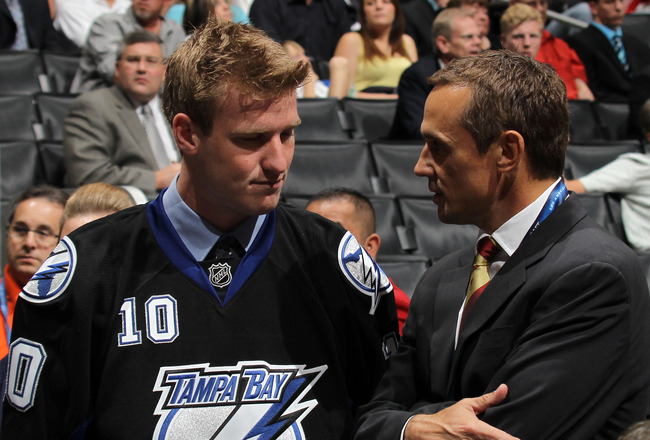 Ever since the free agency period started on July 1st, players have been going every which way signing with different teams. Now that we're three weeks in, are hardly many big players left available on the open market.
The free agency period is not just a time for teams to sign players, it is also a time for teams to acquire the right pieces via trade. This list does not just consist of the teams who have signed the most players but who have been active overall and made the biggest changes to their team.
And so we begin....
10. Chicago Blackhawks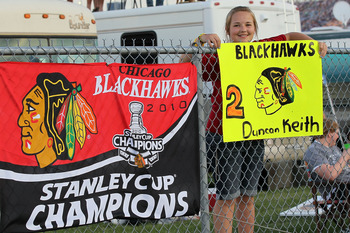 First off we have the Chicago Blackhawks.
Ever since the Blackhawks won the Stanley Cup in June they have been one of the most talked about teams in the NHL. They were on top of the world and everything was looking up for them.
But then reality kicked in.
Since the salary cap was implemented it has made it harder and harder for teams to maintain the same roster from season to season. Players constantly leave or teams are forced to trade assets due to cap issues.
Since winning the Stanley Cup the Blackhawks have had to get rid of some key players in Dustin Byfuglien, Brent Sopel, Ben Eager, Andrew Ladd, and Kris Versteeg. All of these players were key in the Blackhawks Stanley Cup victory.
While Chicago has managed to maintain the core of their team, they have weakened their team this offseason.
9. Calgary Flames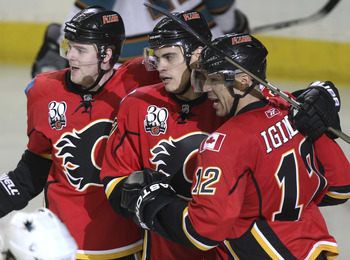 What the Calgary Flames did was a little strange if not completely bizarre.
Two years ago the Flames traded Alex Tanguay to the Montreal Canadiens and just this past trade deadline, they traded Olli Jokinen to the New York Rangers. In one of the most bizarre moves of the year, Darryl Sutter brought them both back albeit at a much cheaper price than before.
What Darryl Sutter is trying to do by making these moves is rekindle some old chemistry that existed as well try and shake things up a little bit more. It will be interesting to see if these signings will pay off.
Sutter also made a bunch of other minor signings as well as a minor trade but those moves are not that likely to pay too much dividends any time soon. Sutter is trying to make up for his lack of draft picks this year and it will be interesting to see if what he's done will pay off.
8. Philadelphia Flyers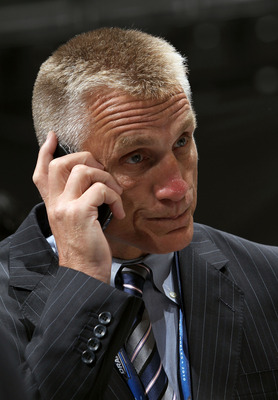 Just like the Stanley Cup winning Blackhawks, the Philadelphia Flyers finished off the season knowing that they were going to have to make a lot of moves in order to stay under the salary cap for next season.
As soon as the season ended the Flyers started their remodeling their team. First off they started by acquiring Andrej Meszaros from the Tampa Bay Lightning and then traded longtime Flyer Simon Gagne to Tampa Bay. They signed tough guy Jody Shelley and brought in the difficult Nikolai Zherdev. The Flyers also managed to re-sign a bunch of current roster players as well.
Just like the Calgary Flames, it is difficult to say where the Flyers stand. They lost a great goal scorer but found a replacement in Nikolai Zherdev. But it will be hard to determine whether Zherdev can be as productive as Gagne. They also managed to bring in two more defensemen in Meszaros and Walker but they still have not addressed their immediate concern: signing another goalie.
7. Phoenix Coyotes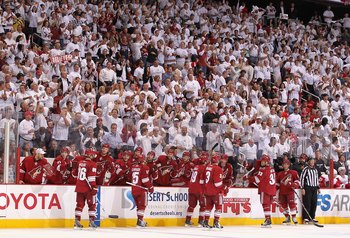 The Phoenix Coyotes may not have made a ton of moves this offseason, but the ones they have made have counted.
First off they traded for Patrick O'Sullivan. Even though O'Sullivan never managed to find his stride in Edmonton, he still has a tremendous amount of potential that can greatly benefit the Coyotes.
The team also managed to re-sign Wojtek Wolski (who they acquired from the Colorado Avalanche at the trade deadline) as well as keeping solid defender Derek Morris who would have fetched a pretty penny on the open market.
The strengths of the Phoenix Coyotes organization is the vast amount of prospect. But what they lack more than anything is leadership. They helped lessen that gap a little bit by bringing in the ageless wonder Ray Whitney. He will be a great role model for the great young players in the Coyotes system.
While the Coyotes may not seem to have made many moves this offseason, they made the ones that count that will help develop the club in the future.
6. Florida Panthers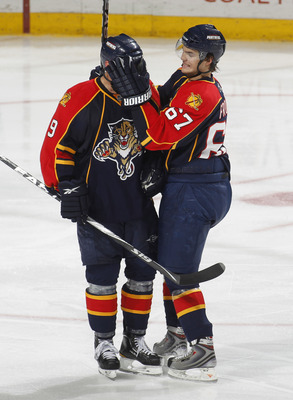 As it stands right now it is hard to determine whether the moves that the Florida Panthers have made so far will benefit or hurt them come next season.
So far the Florida Panthers have traded away Nathan Horton and Keith Ballard, one of their best forwards and defensemen respectively. After trading them away they managed to acquire Dennis Wideman, Steve Bernier, Michael Grabner, two first round picks and a third round pick. Lots of activity going on on their end.
Dale Tallon has already stated that it is time for the Panthers to rebuild and that nobody on their roster is safe. The rebuilding has begun and sooner or later everything in the Florida organization will change, one way or another.
5. Toronto Maple Leafs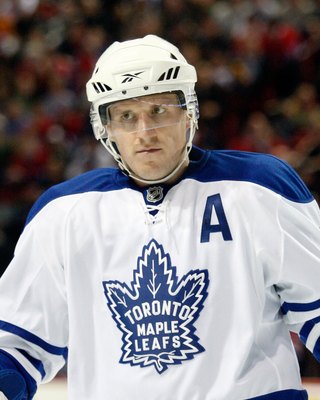 The Toronto Maple Leafs may not yet be a team to fear in the league, but they continue to take the right steps and sooner or later they will be good enough to compete once again.
So far this offseason there have been some minor moves that have helped improve the Leafs. They traded for Kris Versteeg from the Chicago Blackhawks and signed Colby Armstrong, one of the best agitators in the league, as well. They also lured Brett Lebda away from the Detroit Red Wings to further improve their already bolstered blue line.
While these moves may not seem too substantial, they have managed to improve their team and are heading in the right direction. Some people may argue that they do not deserve to be ranked so high but with Tomas Kaberle trade talks ongoing, they still remain to be one of the big players during this free agency period.
4. Pittsburgh Penguins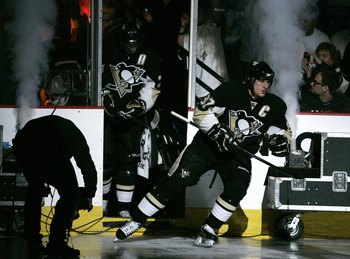 As soon as the free agency period began, the Pittsburgh Penguins became instant winners.
The Penguins managed to nab two of the top defensemen available on the open market solving one of the teams immediate needs which was on the blue line.
When Hal Gill and Rob Scuderi left the Penguins last offseason, they left a gaping that the was not able to overcome which led to their downfall in this years playoffs. The Penguins managed to not only replace those players, but make their defense much better than when Gill and Scuderi were on the team.
On July 1st the Penguins emptied their pockets and signed Zbynek Michalek and Paul Martin to five-year contracts. This move substantially improves the team's defense and if they weren't already scary to play against offensively, they now possess a tremendous defense that will stop other teams in their tracks.
3. Vancouver Canucks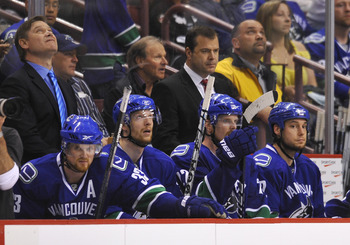 The Vancouver Canucks didn't make many major moves or signings but what they did do has helped make a really good team even better.
Two major acquisitions were made on the first day of free agency in the form of signings along with another trade that was made at the draft. The Vancouver Canucks signed Manny Malhotra and Dan Hamhuis to multi-year contracts as well as trading for Keith Ballard from the Florida Panthers.
Malhotra is one of the best faceoff men in the league as well as one of the best third line forwards. Hamhuis is one of the most underrated defensemen in the league. He can play top minutes in any situation and always produces.
Just like Hamhuis, Ballard has the ability to play in most situations and be very effective. He is an adept penalty killer and can perform well on the powerplay.
These three moves have helped turn the already Cup contending Vancouver Canucks into a serious threat in the Western Conference.
2. Tampa Bay Lightning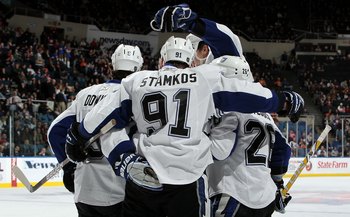 Ever since Steve Yzerman became the general manager of the Tampa Bay Lightning he has shown his wisdom being beyond his years.
First off he managed to re-sign Martin St. Louis who has never once shown signs of his age and continues to produce among the leagues best. He also signed a great backup goaltender in Dan Ellis, who has also shown that he is capable of carrying a substantial load during the course of a season. He brought Pavel Kubina back to the Lightning, who was a key player during their Stanley Cup win back in 2004.
While all of those moves were crucial and beneficial, the most important move during his brief tenure with the Lightning so far was bringing in Simon Gagne in from the Philadelphia Flyers. This trade is being criticized as one of the most lopsided trades of the year which goes to show Yzerman's killer instinct as a GM.
Tampa Bay will be a much better team this offseason and will most likely be able to compete for the playoffs. Only time will tell how significant these moves actually are for the Lightning organization.
1. New Jersey Devils (Potentially)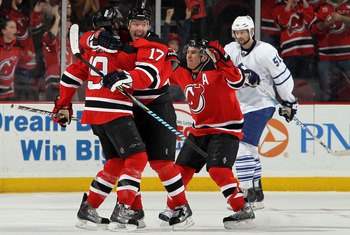 To top of the list we have the New Jersey Devils.
While every other team in the league was involved in the free agency period and tried their best to meet their teams needs, the New Jersey Devils were the team that was most actively involved so far this offseason.
To start it all off the Devils began by reacquiring Jason Arnott in a trade with the Nashville Predators. This was a move that happened relatively early but can prove to be crucial come the beginning of the season.
Once free agency started, the Devils went out straight away to meet their pressing defensive needs by signing Henrik Tallinder and the shot-blocking machine, Anton Volchenkov.
Tallinder and Volchekov are two very solid and effective defensive defensemen that will fit into the New Jersey Devils defensive-minded system. Volchenkov alone has the ability to turn a teams defense around on his own. While these are some very important signings, they pale in comparison to the potential signing of Ilya Kovalchuk.
Even though the deal was rejected by the league, Kovalchuk has shown that he wants to stay in New Jersey for the rest of his career. I believe that even if this deal does not go through, he and the Devils will come to terms on a new deal that will see Kovalchuk remain with the Devils.
The signing of Ilya Kovalchuk alone has the ability to turn the fate of any team for the better. The fact that he has now expressed a desire to play for the Devils instantly makes them the biggest winners of the offseason.
Keep Reading

Toronto Maple Leafs: Like this team?