Florida Gators—Who Will Fill the Leadership Role Vacated by Tim Tebow?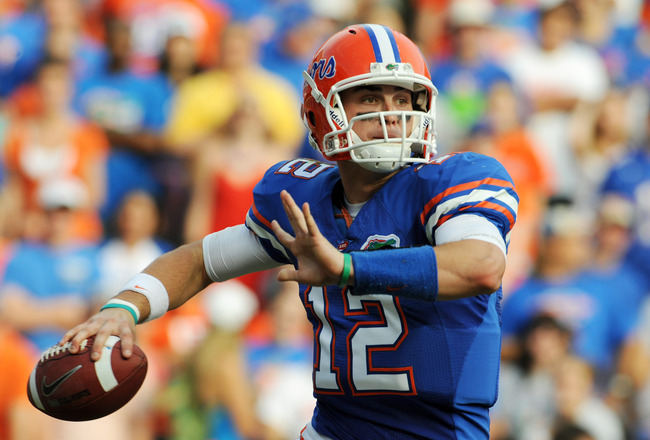 The Florida Gators have many questions surrounding the post-Tebow era, but one that has not been discussed at great length is the team's leadership void.
When you take a look at the total package Tim Tebow brought to Florida, leadership was a huge benefit for the coaching staff and players on the team. Now that Timmy is long gone, Coach Urban Meyer must find peer-to-peer leadership on his current roster.
Let's take a look at players on the Gators' current roster that could provide the leadership needed for the 2010 team.
No. 12—QB John Brantley
Yes, conventional wisdom makes everyone look to the QB to provide leadership for the team, especially in the offensive huddle. However, not all QBs are created equal.
John Brantley has a monumental task in front of him—he must replace a legend in Gainesville, and arguably the greatest college football player ever in the SEC and perhaps in college football history.
No. 94—DE Justin Trattou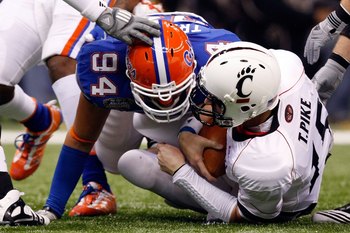 Justin Trattou knows what it means to step in to cover a leadership role. Last season when Carlos Dunlap went bonehead and got a DUI prior to the 2009 SEC Championship game, Trattou started in Dunlap's place and played well.
Trattou will now start for the Gators in 2010 at DE. In 2009, he started in four games: Troy, Kentucky, Alabama, and Cincinnati. Now he has the opportunity to start every game his senior season.
Will Trattou step up and become a true leader for the defense and possibly the entire team?
No. 40—LB Brandon Hicks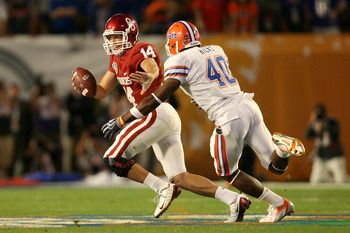 First there was Siler, then there was Spikes, now get to know Brandon Hicks.
Hicks has appeared in 27 games and started six. He has presence on the field and the respect of his peers on defense.
The question remains: does he have "it"?
No. 55—C Mike Pouncey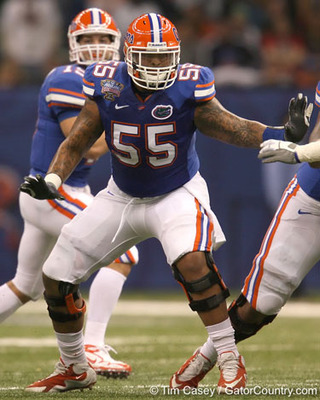 With brother Maurkice Pouncey in the news lately over the controversy of purportedly being paid $100K by an agent prior to the 2010 Sugar Bowl, Mike Pouncey has that and his play on the field in 2010 to contend with.
When his twin brother decided to leave early for the NFL, it was quite a surprise when Mike decided to stay for his senior season.
At the 2010 SEC Media Days, he was one of the Gator football players that joined Coach Urban Meyer to answer questions in front of the media. He handled himself and represented the University of Florida extremely well.
Don't be surprised if Mike Pouncey becomes the leader of the Gator offense and perhaps the entire football team.
No. 57—OL Carl Johnson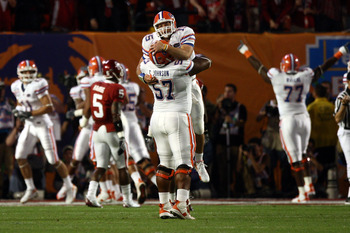 The quiet giant most certainly is Carl Johnson. The 6'5" 360 lbs offensive lineman is entering his senior season, and along with Mike Pouncey, anchors the spread offense at Florida.
Johnson has played in 39 games for the Gators and started in 22. He started all 14 games at left tackle in 2009.
Size does matter, and if you don't believe it helps motivate and lead, you are wrong.
No. 10—S Will Hill
One of the quickest ways to become a favorite of Coach Urban Meyer is to not only play on special teams, but to produce while there. Will Hill has started five times in 27 games, and has led the team in tackles on special teams the last two seasons.
Hill, entering into his Jr. season, is expected to start full-time in 2010. He has certainly performed on the field, and has earned the admiration of his teammates. He is definitely a leader in the making if not already.
Keep Reading

Florida Gators Football: Like this team?