The 10 People Most Responsible For the Sad State of the New York Knicks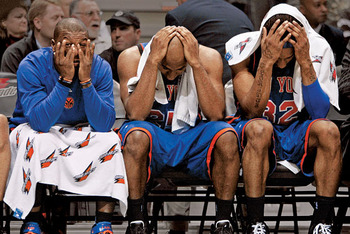 I remember so many wonderful things about the New York Knicks from my childhood.
I remember my father and brother gushing over Bernard King.
I remember Trent Tucker hitting that game-winning three with one-tenth of a second on the clock.
I remember thinking Sidney Green was good and deserving of more minutes.
I remember Pat Cummings' ugly face.
I remember Kiki Vandeweghe shooting jumpers with either hand.
I remember wearing one of those shirts that featured a cartoon drawing of a player, with his head big and body little. I had Mark Jackson. The older guys in the park would call me "Action Jackson."
I remember a buddy bumping me to create separation in a one-on-one game played in a schoolyard. Before I could recover, the ball would be in flight and he'd be yelling, "Annnn-tho-nyyyy Masss-son." Swish.
I remember trying to figure out how in the world Charles Smith missed those four shots.
I remember the first time I saw Latrell Sprewell with braids. I thought he looked like the Predator. Then Spree would swoop down with a rebound, race down court past everyone at blazing speed, and throw the ball down with murder in his eyes. "He is the Predator!
Man, there's so much I remember about this franchise. I loved all of these guys. I had posters of Gerald Wilkins. I tried to shoot free throws like Bill Cartwright. Every now and then I'd clothesline someone and give him the crazy Xavier McDaniel eye. I lived for this team.
And then, just like that, the love was gone. John Starks was gone. Patrick Ewing was gone. Charles Oakley was wearing a Toronto Raptors jersey.
Everything changed.
The Knicks transitioned from a tough, defensive-minded powerhouse team built around one of the all-time great big men, to a soft, jump-shooting squad full of regular Joes. Dave Checketts, a Mormon, took over as President. Scott Layden, also a Mormon, followed in his footsteps.
Gone were guys like Ernie Grunfeld, a native New Yorker who played in the NBA, and in came corporate MBA-types. It wasn't Times Square anymore, it was DisneyLand. Money and entertainment first, basketball second.
This is where we are now, and it's really sad.
It's only fair we look back at the past 15 years and identify those most responsible for the failures of this franchise.
To hell with them all!
10. Don Chaney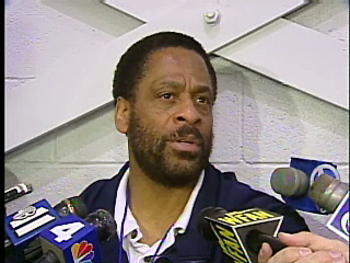 Always looking like the least confident man in the room, the Knicks assistant coach took over the head position 20 games into the season after Jeff Van Gundy quit to pursue a career as a broadcasting blowhard.
Chaney, who had prior head coaching experience but was mostly unsuccessful (.409 win percentage over 647 games; only won two playoff games), stepped in with the Knicks one game over .500 and led them to a 20-43 (.417) record the rest of the way.
In 184 games as Knicks head coach, Chaney compiled a 72-122 (.391) record despite a healthy roster that featured Allan Houston, Latrell Sprewell and Kurt Thomas—all in their prime—as well as a supporting cast of veterans.
Chaney didn't do much to hurt the franchise, but he also didn't do anything to further it. A good coach could have made a difference.
9. Eddy Curry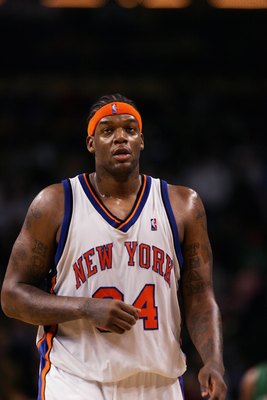 It was a month before the start of the 2005-2006 season; Larry Brown was the new coach and the tallest players on the roster were rookie Channing Frye, second-year player Jackie Butler and the recently signed Jerome James.
Isiah Thomas, the general manager at the time, needed to do something.
Curry was three months shy of his 24th birthday, just under 7'0 and 300 pounds, and coming off a season in which he averaged 16.1 points and 5.4 rebounds in just 28.7 minutes per game for the Chicago Bulls. In addition, Curry shot .538 from the field and .720 from the stripe.
Aside from having a potentially fatal heart ailment, Curry's future looked bright. Thus, Thomas traded for him in a sign-and-trade that also netted Antonio Davis, and in return sent: Tim Thomas, Mike Sweetney, Jermaine Jackson and three draft picks (one first, two second). Curry's contract was for six years and $60 million.
Curry would have a miserable debut season with the Knicks as Brown used over 40 different starting lineups in a obsessive-compulsive determination to find the perfect fit.
The ensuing season, Curry had a breakout year in which he led the team in minutes, scoring (19.5 points per game) and finished fourth overall in the league in field goal percentage (.576). It looked like the Knicks would have a quality offensive big man for years to come.
Of course, Curry didn't do much after that season. He fell out of shape to the point he couldn't even be used. Curry went on to play just 69 games the next three seasons, including a combined 10 over the last two. He is not expected to play in 2011, in what will be the final year of his contract.
Curry had the size and skill to be a 20-and-10 center in the league, but at the end of the day, he just didn't want to put forth the effort.
8. Mike D'Antoni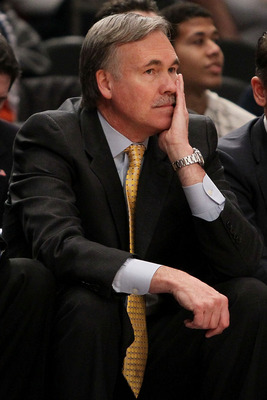 D'Antoni makes this list for three simple reasons:
1. Not only is he currently the third highest-paid coach in the NBA at $6 million per season, but he's also the sixth-highest paid coach in all of sports.
2. In two full seasons with the Knicks, D'Antoni has a record of 61-103 (.372). That's not exactly what I'd call results.
3. Anyone who has watched the Knicks play over the past two seasons can attest to the sentiment D'Antoni looks more like a spectator at a pickup game than an actual coach.
Honestly, can anyone tell me what this guy does? I don't see the team running plays on offense, going hard on defense, or making adjustments during games. The Knicks just kind of go out and there play.
In addition, D'Antoni hasn't always been on the same page as his boss, General Manager and President Donnie Walsh. Walsh would tell reporters one thing and D'Antoni would say something to the contrary, as evidenced during the whole Stephon Marbury fiasco. D'Antoni and Walsh would later tell reporters no rift existed; the two of them were on the same page.
I'm of the opinion a coach is supposed to get the most out of what he has by any means necessary. In two consecutive seasons, the Knicks have ranked third in points allowed, putting them in contention for worst defensive team in the league honors.
At what point does D'Antoni realize he doesn't have Steve Nash controlling the game? At what point does he understand he needs to take steps in improving/correcting the team's weaknesses?
I fully get the past two seasons have been more about weeding out bad apples and shedding bad contracts, but I don't think that excuses the coach from trying to win games.
Next season will be an important one for D'Antoni and his team. Should the Knicks again fail to be remotely close to .500, chants of "Fire Mike" and signs of "D'Antoni Bologna" will spread throughout the Garden like wildfire.
7. Donnie Walsh
A respected "basketball mind," Walsh has unfairly gotten a free pass the past two and a half years simply because he succeeded Isiah Thomas, a man whose popularity in New York City is slightly above that of a sewer rat.
Here's the rundown of what Walsh has done since becoming the Knicks' GM and President:
-Hired Mike D'Antoni to a four-year, $24 million deal. Two years are down and the Knicks have only won 32 and 29 games, respectively.
-Drafted Danilo Gallinari with 6th overall pick, ahead of Eric Gordon (7th) and Brook Lopez (10th).
-Traded Jamal Crawford, Zach Randolph and Mardy Collins for Al Harrington, Tim Thomas and Cuttino Mobley. Last season, Crawford won Sixth Man of the Year and Randolph was named an All-Star. However, the Knicks saved nearly $30 million in the process.
-Traded Tim Thomas, Jerome James, Malik Rose, Anthony Roberson and cash for Larry Hughes and Chris Wilcox. Knicks saved a little over $7 million.
-Waived Stephon Marbury. The Knicks paid him $22 million his last year for nothing.
-Traded Quentin Richardson for Darko Milicic. Both were in walk years. Richardson averaged 9 points and 5 rebounds. Milicic only played 71 minutes with the Knicks and was later traded for Brian Cardinal.
-Drafted Jordan Hill with the 8th overall pick. The next three picks were DeMar DeRozan, Brandon Jennings and Terrence Williams.
-Traded a 2011 second-round pick For Toney Douglas.
-Traded Nate Robinson, Larry Hughes, Jared Jeffries, Jordan Hill, Marcus Landry, first round picks in 2011 and 2012 for Tracy McGrady, Eddie House, JR Giddens, Bill Walker, Sergio Rodriguez and a second-round pick. Essentially, the Knicks gave up three first-round picks (including Hill) for Walker, a second-round pick and $6 million in cap space.
-Drafted Andy Rautins and Landry Fields with the 38th and 39th picks, respectively. Lance Stephenson and Jarvis Varnado were the next two picks.
If you look at all of these moves, you'll notice two things. One—Walsh didn't do one thing to improve the team in the short run. Two—Walsh cleared close to $40 million in cap space for the "Summer of LeBron."
The second part is great until you take a step back and realize yet another two things. One—at least seven other general managers did exactly what Walsh did, so let's not look at him as some genius. Two—the Knicks basically threw two seasons away to get Amar'e Stoudemire and Raymond Felton, and then dealt a fan favorite in David Lee for three role players.
A look at the current Knicks roster shows a team that could, with its inexperience, injury history, and lack of defensive ability, win fewer than 30 games.
Did Walsh need to have 30-win seasons to work towards building a team that can have 30-win seasons?
Walsh's work isn't finished, so it's too early to completely write him off. Then again, with rumors circling of him stepping down, maybe the 69-year-old wants to get out before the fans realize he hasn't done a damn thing to turn this franchise around.
6. Allan Houston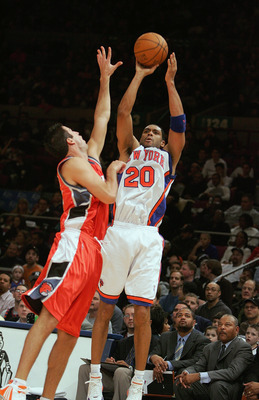 Houston isn't lower on this list for two reasons.
One—he has scored the fourth most points in Knicks history and played a key role in their run to the 1999 Finals (including a series-winning buzzer-beater against a heavily favored Miami Heat team).
Two—it's not like he offered himself a $100-million deal and then intentionally blew out a knee.
Still, because of Houston's contract and career-ending injury, the untradeable guard financially handcuffed the Knicks for three seasons. From 2004 through 2006, Houston earned $52.5 million despite making only 61 starts.
5. Stephon Marbury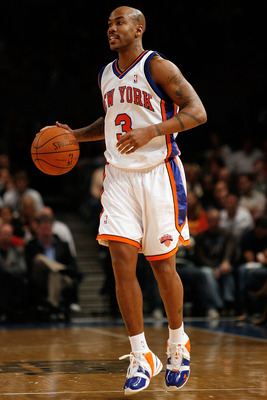 One could argue Marbury was cursed from day one being the best player to come out of New York City's public school system since Bernard King in 1973 (Fort Hamilton, Brooklyn).
The expectations placed on him were enormous.
After 536 games split between the Minnesota Timberwolves, New Jersey Nets and Phoenix Suns, Isiah Thomas traded for Marbury, who up to that point was averaging 20.5 points and 8.2 assists per game for his career.
Fans in New York were ecstatic.
Marbury joined a Knicks team that was 14-21 (.400) at the time and helped lead them to a 25-22 (.532) record the rest of the way. Even though the team would lose in a first-round playoff sweep to the New Jersey Nets, fans were excited about their star.
The next season (2005) was Marbury's best as a pro. He averaged 21.7 points, 8.2 assists, 1.5 steals, and shot 46 percent from the field, 35 percent on threes and 83 percent from the line. Unfortunately, injuries took their toll on the team—a hobbled Allan Houston missed 60 games, Jamal Crawford missed 12 and Tim Thomas missed 11—and the Knicks finished with a 33-49 record.
Larry Brown stepped in as coach in 2006 and tried desperately to turn Marbury into Chauncey Billups, a move the former took as an attempt at castration. Marbury tried to appease Brown on the court but the two would spend much of their time bickering publicly.
It's not Marbury's fault he never had the opportunity to play with a great supporting cast, but he will forever be held in poor light for the way he called himself the best point guard in the league and not once played like it.
4. Larry Brown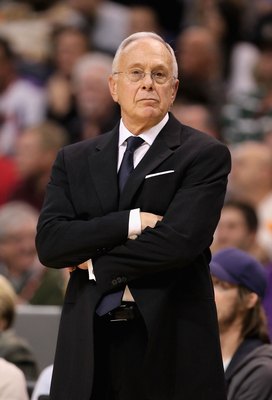 Currently the fourth-highest paid coach in sports at $7 million per season, Brown's NBA resume reads somewhat like a lifetime criminal's rap sheet.
The inconstant Brown has coached an NBA-record 9 teams in just 25 seasons, most of which—if not all—were marred by some level of controversy.
It should have come as no surprise Brown, who once accepted a job with the University of Kansas while employed by a Nets franchise about to experience its first NBA trip to the playoffs, was the wrong man to sign to a five-year deal worth $53.5 million to run a struggling Knicks team.
The maniacal Brown immediately managed to clash with GM Isiah Thomas over control and personnel decisions, as well as shoot-first scorer Stephon Marbury, whom he wanted to transform into a pass-first floor general.
With all the public bickering and the employment of a it would be comical if it weren't a sign of mental illness NBA-record 42 different starting lineups, the Knicks matched a franchise-worst 23-59 record.
What ensued continued to be madness, as Brown, who was fired at year's end, took the Knicks to court to fight over the remaining $40 million or so left on his contract. NBA Commissioner David Stern had to step in and arbitrate the case, which ended with Brown taking an $18.5 million settlement.
In a nutshell, Brown made over $32 million in one year to:
-Coach the Knicks to their worst record ever.
-Further embarrass a franchise that hired him to repair its image.
-Destroy Marbury's fragile psyche and consequently his career.
3. Isiah Thomas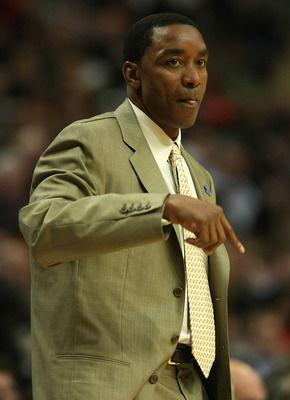 Despite his seemingly laid-back demeanor and wide smile, Isiah Thomas is one of the toughest guys to ever be a part of the NBA.
It's that same toughness, which was developed growing up in the hood in Chicago and later refined by Bobby Knight at Indiana University and Chuck Daly in Detroit, that disallows Thomas from backing down from a challenge.
Just like the crumbling Continental Basketball Association he should never have tried to rescue (it would collapse under his watch), Thomas should have taken one look at the Knicks job and said no thanks.
After all, the Knicks were in complete disarray. It was December of 2003, roughly three and a half years since the team had made a Finals appearance, and the Knicks were headed south. The team was coming off a 30-win year, the fans were calling for GM Scott Layden's head, and a visibly stressed out Jeff Van Gundy had just quit as coach 19 games into the season.
The Knicks' payroll was $89 million. They were way over the cap with long-term commitments. Three years down the line, the Knicks would be paying Allan Houston, Howard Eisley and Shandon Anderson close to $40 million.
What was Thomas' reaction?
"Anybody who looked at the cap situation, the first thing they'd say is, 'You can't fix this.' I'm 6'1", everyone told me I was crazy to stand up the first day of training camp and say the Detroit Pistons will win a championship... I'll find a way to get this done."
And with that quote, Thomas signed his life on the X and went to work immediately. Here's what he did:
The Good
-Replaced Don Chaney with Lenny Wilkens.
-Traded nothing of value for Stephon Marbury.
-Drafted Trevor Ariza with the 43rd pick. The 42nd and 44th picks were
Viktor Sanikidze and Tim Pickett, respectively.
-Traded nothing of value for Jamal Crawford.
-Traded Kurt Thomas for Quentin Richardson and Nate Robinson.
-Drafted Channing Frye and David Lee with the 8th and 30th picks, respectively.
-Traded Steve Francis and Channing Frye for Zach Randolph.
-Drafted Wilson Chandler with the 23rd pick
The Bad
-Hired Larry Brown to coach and gave him a five-year, $53.5 million deal.
-Signed Jerome James to a five-year, $30-million deal.
-Traded Tim Thomas, Mike Sweetney, Jermaine Jackson and a 2006 conditional first-round pick, which ended up being the No. 2 pick (LaMarcus Aldridge), the right to swap 2007 first-round picks (Bulls took Knicks No. 9 pick and drafted Joakim Noah), and second-round picks in 2007 (No. 38) and 2009 (No. 38) for Eddy Curry and Antonio Davis.
-Traded Antonio Davis, whose $14 million contract was expiring, for Jalen Rose (two years, $30.3 million) and a second-round draft pick.
-Traded Trevor Ariza and Penny Hardaway's expiring contract for Steve Francis (two years, $30.1 million). In fairness, Brown wanted this.
-Drafted Renaldo Balkman and Mardy Collins with the 20th and 29th picks, respectively. The 21st pick was Rajon Rondo.
-Signed Jared Jeffries to a five-year, $30 million deal.
As you can see, Thomas didn't exactly do a terrible job as GM. He inherited a crappy situation and tried to make the most of it. In the process, there were several bad breaks Thomas mistakenly believed he could correct with his unlimited credit card. Instead of starting over, he found himself neck-deep in trouble.
At the end of the day, Thomas was given the luxury of doing whatever he wanted with this franchise. In his five-year reign, only the Atlanta Hawks and Charlotte Bobcats had a worse winning percentage.
Adding insult to injury, Thomas left the team under embarrassing conditions, including a guilty verdict in a sexual harassment case and a drug overdose/alleged attempted suicide.
While Thomas may not factually be the single-most responsible person for the demise of the organization, he's certainly the face of it.
2. Scott Layden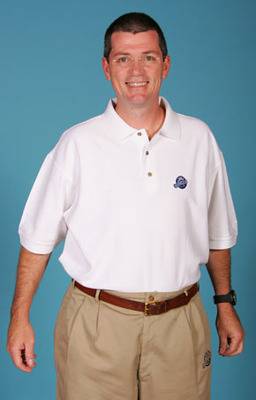 How in the world Scott Layden weaseled his way out of the that's the guy who ruined the Knicks blame game is beyond my comprehension. The reality is Layden is the one who created and threw the snowball that triggered the entire avalanche.
In five years as Knicks GM, Layden managed to only do two things right: sign both Latrell Sprewell and Kurt Thomas to well-deserved extensions.
Aside from these two moves, every decision Layden made was ridiculously awful and indefensible. Let's share a laugh:
-Drafted Donnell Harvey and Lavor Postell with the 22nd and 39th picks, respectively. DeShawn Stevenson was picked 23rd; Michael Redd 43rd.
-Traded Patrick Ewing for Glen Rice (past his prime, hobbled and owed four years and $36 million), two late first-round picks and two second-round picks. In fairness to Layden here, Ewing asked to be traded.
-Traded a first-round pick (No. 27), a second-round pick (No. 47) and Erick Strickland for Othella Harrington.
-Traded Chris Childs and a first-round pick (No. 20) for a 36-year-old Mark Jackson and 35-year-old Muggsy Bogues.
-Drafted Michael Wright and Eric Chenowith with the 38th and 43rd picks, respectively. Earl Watson was taken 39th; Bobby Simmons 41st. Both Wright and Chenowith never made the league.
-Re-signed Allan Houston to a six-year, $100-million contract. Houston was 30, had never averaged 20 points per game in a season or made an All-NBA Team, and only had one All-Star appearance.
-Traded Glen Rice and Muggsy Bogues for Howard Eisley and Shandon Anderson, both of whom had just signed baffling deals. Eisley received seven years, $41 million; Anderson six years and $42 million.
-Replaced Coach Jeff Van Gundy with Don Chaney. Chaney was later extended and re-signed despite his failures.
-Drafted Nene Hilario with the 7th pick and then traded him, along with Marcus Camby, for Antonio McDyess, who was coming off knee surgery, Frank Williams and a second-round pick.
-Drafted Mike Sweetney 9th, Maciej Lampe 30th and Slavko Vranes 39th, respectively. Mickeal Pietrus went 11th, Nick Collison 12th, Luke Ridnour 14th, Jason Kapono 31st, and Zaza Pachulia 41st.
-Traded Latrell Sprewell (two years, $28 million) for Keith Van Horn (three years, $43.5 million). After that deal, Keith Van Horn went on to average 12.5 points per game; Sprewell 14.8.
In his two first seasons with the Knicks, both of which were successful thanks mostly to the footprint left by a previous President and GM, Ernie Grunfeld, Layden was in cruise control. Layden would assume total control after David Checketts' departure and the rest is history.
The Knicks' payroll would skyrocket over the next two and a half seasons and the team would win only .398 of its games.
1. James Dolan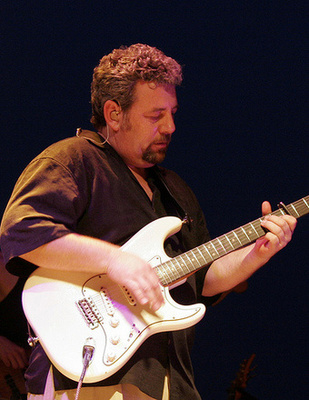 In the 14 seasons prior to James Dolan (Cablevision) buying the franchise, the Knicks won 54 percent of its games and made the playoffs 11 times. In the 14 seasons since, the Knicks have won 45 percent of its games and made the playoffs only six times.
It all starts at the top. If the owner is incompetent, chances are strong everyone below him will be incompetent (see Fred Wilpon vs. George Steinbrenner, or Donald Sterling vs. Jerry Buss for proof). Such is the case with James Dolan, the rich kid who inherited all of his father's empire but none of his work ethic or wit.
Like most privileged kids, Dolan probably putzed around much of his life; pursued an artistic endeavor (music), experimented with drugs, chased girls, neglected school—sorry, if you're the son of a billionaire and you end up going to SUNY-New Paltz, you obviously didn't take school seriously; never did he want to follow in his father's footsteps.
Even now, at age 54, does Dolan seem the least bit interested in running the family business? His blues band, JD & The Straight Shot, just completed a tour that featured The Eagles, Dixie Chicks and Keith Urban. Heck, that's his passion; presiding over the Knicks and Cablevision is his side-gig.
And this is exactly why the Knicks suck, have sucked, and will continue to suck for the foreseeable future. There's a storm this ship needs to navigate past and meanwhile the captain is down in his cabin, making White Russians for his ladyfriends.
All that has gone wrong with this organization has happened under this man's watch. But what does he care? Just until last year, the Knicks were the most profitable NBA franchise. It doesn't matter how many games the team wins or what the public thinks because this organization is making money hand over fist.
Until the New Jersey Nets move to Brooklyn and start stealing their fans, or the city starts charging Madison Square Garden property taxes, or Dolan finds a buyer (it's a package deal, you must also take MSG and the Rangers hockey team), the Knicks will continue to disappoint.
Already, there is talk about Donnie Walsh stepping down and Isiah Thomas making a return.
But what can you do except shake your head, reach for an antacid and curse all of these guys?
Keep Reading

New York Knicks: Like this team?