Reggie Bush Heisman and the 15 Biggest College Scandals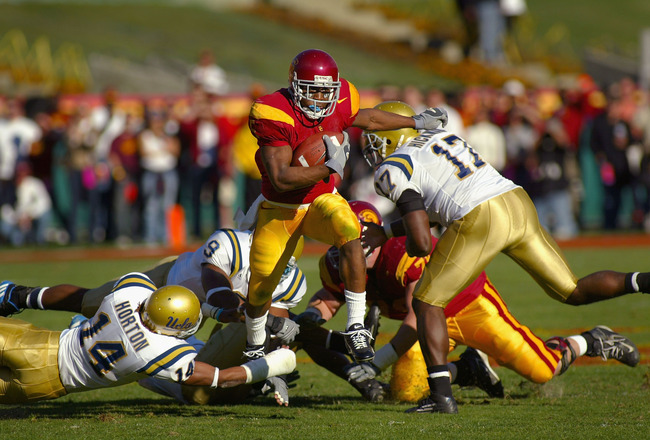 Reggie Bush and O.J. Mayo have helped make the USC Trojans the face of scandal in intercollegiate athletics today.
But rest assured, they are not alone in making shady dealings that led to unraveling of reputations and the vacating of records.
Here's a look at 15 of the biggest culprits behind both the silly and the serious scandals that have hit college sports in recent years:
No. 15: Steven Smith and Isaac Burton, Jr., Arizona State basketball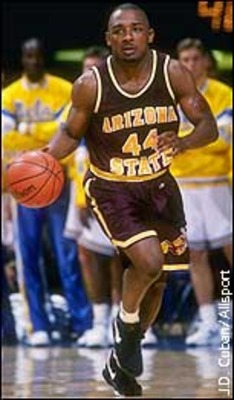 The biggest players in an incredibly expansive gambling scheme, Smith and Burton both plead guilty to conspiracy to commit sports bribery in 1997.
The pair admitted intentionally throwing four games during the 1994 season. It was suspected, but never proven, that many more games were altered as part of the scandal.
FBI investigators also discovered that 15 fraternities on Arizona State's campus were running illegal gambling rings in conjunction with the point shaving scheme.
No. 14: Mike Williams, USC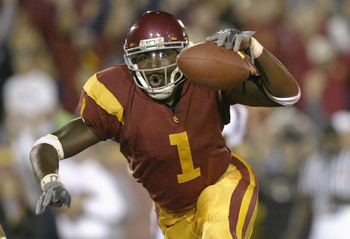 Following in the footsteps of Maurice Clarett is never a good thing.
But that's exactly what Mike Williams tried to do, and it cost him. Big time.
Williams declared for the 2007 NFL Draft after his sophomore season in an effort to follow Maurice Clarett to the NFL.
A judge initially ruled that the NFL's early-entry rule had no legal basis, but the decision was overturned.
Williams had hired an agent and was of course ineligible. It might not be an overly corrupt action, but it was certainly a dumb decision.
His NFL career has been filled with futility and weight-gain. Pete Carroll's Seahawks signed him to a contract this spring.
No. 13: Chris Rix, Florida State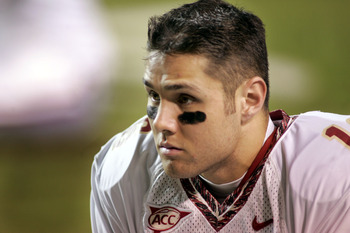 If you're going to be sleazy, you had better be good.
Chris Rix wasn't good, or at least not good enough, which might be why a collection of his Florida State classmates blew the whistle when they saw him park in handicapped spots around campus.
He paid a $100 fine and apologized for his actions.
Silliness.
No. 12: Maurkice Pouncey, Florida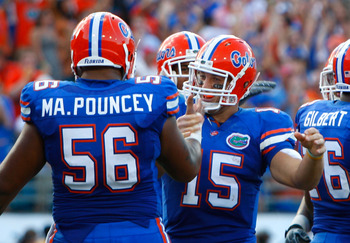 The final chapter in this fresh story has yet to be written, but allegations that Pouncey accepted $100,000 in cash from an agent have the Florida Gators in the spotlight for the wrong reasons.
The NCAA is investigating several other SEC football players for dealings with agents, but Pouncey is the most high-profile player involved.
His actions are also by far the most egregious.
No. 11: Dion Lee, Dewey Williams, and Brian Ballerini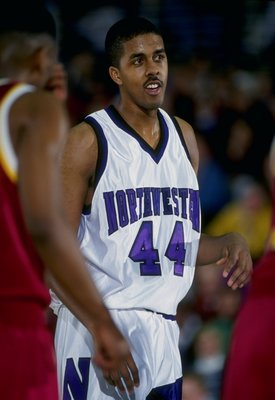 Three Northwestern basketball players were accused of accepting bets from teammates in 1998.
It was never completely clear if Northwestern intentionally threw games, but the damage had been done.
Of the three, Lee was fingered to be the ringleader. He pleaded guilty to sports bribery later that year and spent a month in prison.
No. 10: Derrick Rose, Memphis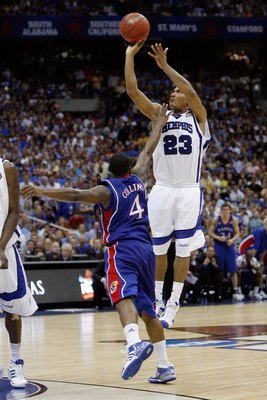 Apparently Derrick Rose had no idea that somebody else took his SAT. Neither did John Calipari, who welcomed him to Memphis with open arms.
The SAT allowed Rose to enroll in Memphis and help lead the Tigers to the Final Four.
Exactly who knew what when will probably never become public knowledge.
No. 9: O.J. Mayo, USC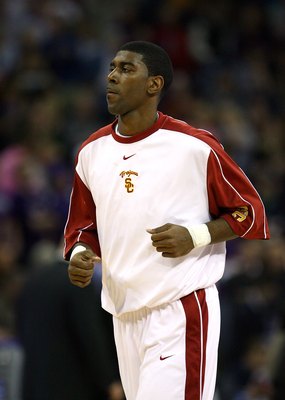 Former USC coach Tim Floyd funneled money to O.J. Mayo through middle-man Rodney Guillory in an effort to secure the services of the West Virginia prep standout.
It worked—sort of.
Mayo enrolled at USC, but to no one's surprise bolted after a year. USC underachieved on the court and was in for a world of trouble.
Floyd resigned and took the fall for something USC's athletic department probably should have known about, or at least strongly suspected.
The NCAA would agree.
At least USC refused to admit Renardo Sidney.
No. 8: Marcus Camby, UMass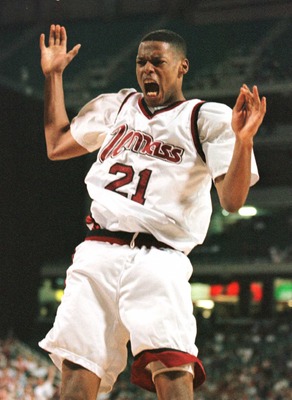 Where there's John Calipari, there's usually something odd going on.
Calipari's supporters say that Coach Cal knew nothing about Marcus Camby's new-found wealth that began to manifest itself at UConn in 1995.
It was later revealed that an agent had showered Camby with at least $40,000 in gifts.
Camby's actions led to probation and forced UMass to vacate the school's 1996 appearance in the Final Four.
Camby won the John Wooden Award and was named Naismith Player of the Year in 1996.
To his credit, he established a scholarship fund as penance for costing UMass more than $151,000 in lost earnings from the vacated Final Four Appearance.
No. 7: Honorary Coach: Jerry Tarkanian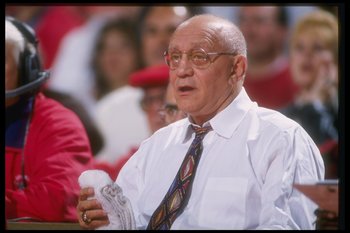 This list is intended to be reserved for players, but there is no way Jerry Tarkanian's name shouldn't be mentioned among the most corrupt individuals in college sports.
Tark turned UNLV into a dominant force in the early 90's by landing some of the nation's best players.
His dealings with the seedy underbelly of Vegas, including convicted point-shave Richie Perry, raised the NCAA's eyebrows.
He was later driven out of Vegas and sought refuge at Fresno State, where he didn't exactly turn around his reputation.
No. 6: Scooter McDougle, Toledo football
McDougle was at the center of a 2007 FBI investigation that led from a family-owned grocery store in Detroit to the Toledo campus.
The investigation revealed that McDougle had made cash payments to a handful of teammates who would in turn either sit out of games with mysterious injuries or intentionally perform at a low level.
The FBI filed a complaint of conspiracy to commit point-shaving against McDougle in 2008.
Amazingly, McDougle is still awaiting sentencing in the matter.
No. 5: Lawrence Phillips, Nebraska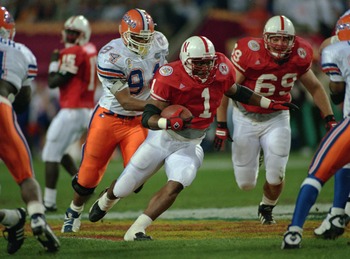 The face of a troubled, spoiled athlete that just didn't get it.
In the midst of a Heisman campaign in 1995, Phillips was arrested after allegedly choking his girlfriend, a member of the Nebraska basketball team.
Despite the allegations, Cornhusker head coach Tom Osborne later reinstated Phillips, which touched off a firestorm of public backlash.
Phillips' NFL career never got off the ground and he encountered trouble just about everywhere he went.
No. 4: Maurice Clarett, Ohio State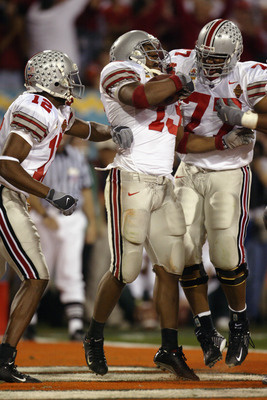 If only the public could separate fact from fiction with Maurice Clarett.
After being dismissed from the program, Clarett levied a number of charges at Ohio State, including that he and other players were provided with numerous benefits during their playing days.
The allegations included tutors doing players' homework, summer jobs that provided income but didn't require attendance, and free cars.
These allegations were never substantiated with any certainty, but tainted what would have otherwise been a magical 2002-2003 run in Columbus.
Clarett's legal troubles are well-documented. His life was already headed down the wrong path before his efforts to enter the NFL Draft as a true sophomore came up short.
No. 3 Albert Means and Lynn Lang, Alabama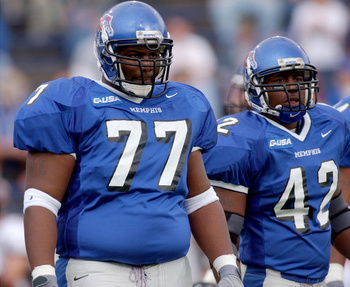 Albert Means never played for Alabama, but he nearly killed the program.
Well, to be accurate, his high school head coach nearly killed it.
Lynn Lang, who coached Means at Trezevant High School in Memphis, made it known that for $200,000 he would basically give Means to any college program.
Enter Alabama booster Logan Young, who was accused of paying $150,000 to Lang for Means' services.
Based on overwhelming evidence, Alabama was placed on probation and scarcely avoid the NCAA's Death Penalty.
Although it was never totally clear if Means actually saw any money amid the fiasco, it was clear that he knew that another student had taken his SAT entrance exam.
Means ended up attending the University of Memphis and is currently out of football.
No. 2: Reggie Bush, USC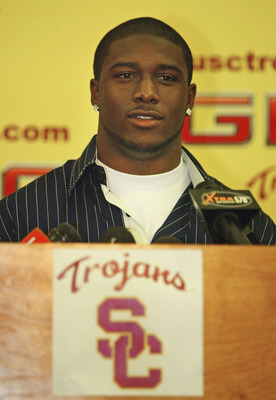 If you're looking for a way to waste time at work, download the NCAA official report on USC's violations.
Among the funnier aspects of the report, embattled former USC running backs coach is alleged to have introduced Bush to "a successful actor who has appeared in numerous motion pictures." Go figure.
The serious aspects of the report detail a complex money triangle that provided Bush with instant cash, including money to purchase a new Impala.
He later requested more funds to equip his car with rims and a stereo system.
His family got taken care of as well, with all-expense paid trips to watch Bush play and a comfy townhouse.
Bush has steadfastly proclaimed his innocence throughout the process, which frankly is somewhat unbelievable.
USC would be wise to continue to distance itself from Reggie Bush.
No. 1: Eric Dickerson, Craig James, and SMU Football
The scandal of all scandals.
Already on two-year probation, SMU continued to do what had placed it on probation in the first place: pay players out of a slush fund estimated to be around $61,000.
Amazingly, Texas Gov. Bill Clements had spearheaded a secret measure to continue making the payments to the players while serving on SMU's board of trustees.
The NCAA gave SMU the Death Penalty and effectively killed the Southwestern Conference in the process.
Keep Reading