NHL Free Agency: 10 Signings That Went Under the Radar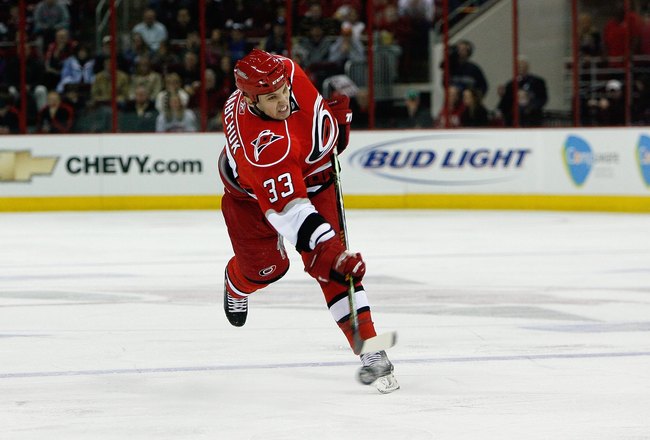 Following the Kovalchuk sweepstakes, the NHL community has a good idea of who is going where next year.
Many experts have focused on the impact Anton Volchenkov (Devils), Dan Hamhuis (Canucks), and Ray Whitney (Coyotes) will have on their new teams. Although these signings will have a big impact on the league, some players who will be an important addition to their team have gone unnoticed.
The following are 10 signings that may not have made headlines, but by completing these deals, these 10 respective teams have improved their roster.
Credit to USA Today Free Agent Tracker for information about free agents.
LW Andrew Ladd to Thrashers
The one-time WHL All-Star Andrew Ladd was selected fourth overall by the Carolina Hurricanes in 2004. The two-time Stanley Cup Champion was overlooked in Chicago because of the great team he had around him.
The Thrashers' blockbuster deal that sent a first and second round pick in the 2010 NHL Entry Draft, Marty Reasoner, Joey Crabb, and Jeremy Morin for Dustin Byfuglien, Brent Sopel, Ben Eager and Akim Aliu overshadowed the Ladd acquisition, which took place separately.
As a fourth overall selection, Ladd was expected to put up bigger numbers with the Hawks—he eclipsed the 10-goal mark once in Carolina and has reached 15 in his last two years in Chicago—but he's shown improvement and should be a great addition to the post-Kovalchuk youth movement taking place in Atlanta.
D Jordan Leopold to Sabres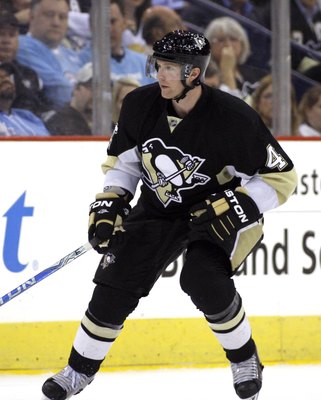 A superstar at the University of Minnesota for four years—he had more than point per game in his junior and senior seasons—Leopold was drafted in the second round by the Ducks in 1999. He has made stops in Calgary (twice), Colorado, Florida, and Pittsburgh before coming to Buffalo.
His play has been marred with inconsistency, but he had 11 goals last year and is hitting his prime as he joins the Sabres. With the loss of Toni Lydman and Henrik Tallinder, Buffalo is in need of scoring from the blue line.
Leopold should compliment new teammate Tyler Myers. The sophomore phenom had 11 goals and 48 points in his first season. Both players will benefit from the Sabres' ability to develop young players and should allow the Sabres to compete with Boston and Ottawa in the Northeastern Conference next year.
LW Chris Higgins to Panthers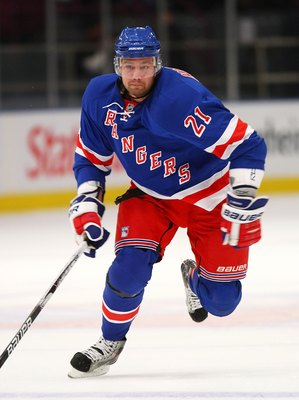 The Yale product was a first round pick by Montreal in 2002 and spent four productive seasons as a Canadien before being dealt to the Rangers in the deal that brought Scott Gomez to Montreal in the offseason.
Higgins struggled last year. After three-straight 20-goal seasons in Montreal before his injury-shortened 2008 season, he had only eight goals with the Rangers and Flames last year.
By signing the winger to a one-year, $1.6 million deal, the Panthers have negotiated a low-risk, high-reward settlement that may help GM Dave Tallon build a winner more quickly than expected.
Although the team may not be in contention next year, Higgins has an opportunity to save his career and may be in their future plans if he performs during a down season.
D Mark Eaton to Islanders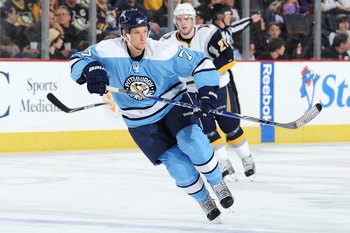 The former Fighting Irish defenseman and the only Delaware native in the NHL, the undrafted Mark Eaton had a career high 16 points last season with the Penguins while remaining a force in his own end.
Eaton, who has made stops in Philadelphia, Nashville, and Pittsburgh, is an experienced veteran with a Stanley Cup ring who can jump in and be a force in the Islanders' defensive zone while mentoring their young core.
His two-year contract will not lock up salary and allows the Islanders to pay off their young stars once their contracts are up.
D Sean O'Donnell to Flyers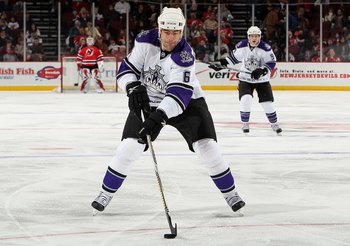 The Ottawa native, OHL superstar, and the Minnesota Wild's first captain, veteran Sean O'Donnell brings his extensive NHL experience to a team that needs to overcome a lot of adversity to get back to the Stanley Cup Finals after losing last year.
There is a legitimate concern about what the former King has left in his tank, but lately O'Donnell has kept his production up and continued to batter puckhandlers around his own net while keeping his penalty minutes down.
The Flyers have always emphasized hard work and gritty play, and O'Donnell puts forth his best effort in his own zone every night.
C Matthew Lombardi to Predators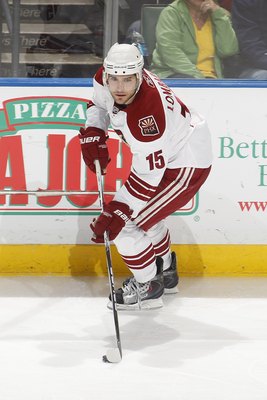 One of the few players to be drafted twice, Lombardi was selected 215th overall by the Oilers in 2000 and 90th overall by the Flames in 2002. The Quebec native spent five years in Calgary before being traded at the deadline to Phoenix in 2009.
After a 19-goal season last year, Lombardi was picked up by the Predators to jump-start their lethargic offense. He has always had at least 10 goals since entering the league in 2003 and has the wheels necessary to counterattack effectively in Nashville's defensive system.
By going out and getting Lombardi, management in Nashville is showing their loyal fans that they are dedicated to winning.
C Manny Malhotra to Canucks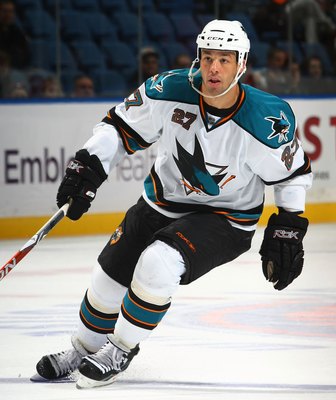 The well-traveled Ontario native has found a home in Vancouver after an outstanding season with the Sharks.
The seventh overall selection in 1998, Malhotra never was highly productive in the NHL. He has made a living roughing up players along the boards and getting into the dirty areas to make plays.
Malhotra is nearing the end of his career, but he has plenty left in the tank and is a great addition as the Canucks pursue a Stanley Cup Finals berth.
D Pavel Kubina to Lightning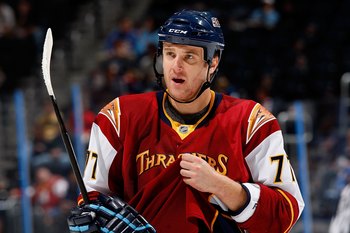 As the Czechoslovakian defenseman has grown older, his production has gone up. In the last three years, he has had around 40 points a season and his 32 assists were one shy of his career high.
Selected by the Lightning in the seventh round of the 1996 NHL Draft, Kubina spent eight years in Tampa before stints in Toronto and Atlanta. Kubina had three 10-plus goal seasons with the Bolts and set his career high for goals (17) and points (33) in Florida.
Kubina should thrive in a familiar milieu and help the Lightning get back in the right track.
D Brett Lebda to Maple Leafs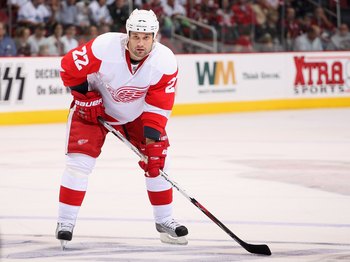 The Illinois native, Notre Dame product signed with Detroit as an undrafted free agent in 2004 after spending three seasons in the AHL.
After spending five seasons in Detroit, Lebda signed a two-year deal with the Maple Leafs during the offseason. He has never been an offensive threat from the back end, but his ability to thwart puckhandlers in his own end will make him a great asset to the Leafs as they move forward.
D Anton Babchuk to Hurricanes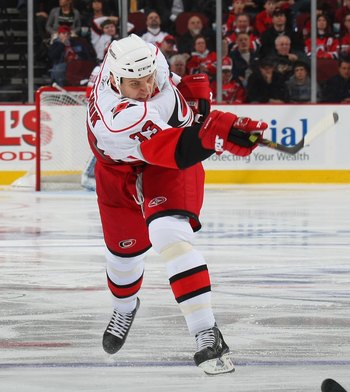 The 21st overall selection in 2002, the Russian native Babchuk bounced between the NHL and AHL with both the Blackhawks and Hurricanes before his breakout season in 2008.
In 2008, Babchuk was part of the Carolina team that went to the Eastern Conference Finals. His 16 goals and 35 points from the blue line was a pleasant surprise for the offensively-minded 'Canes.
Unfortunately for Carolina, after his breakout season he left for his native Russia. After playing a season alongside hockey legend Jaromir Jagr with Avangard Omsk of the KHL, Babchuk is back and should help the young 'Canes as they try to bounce back from a disappointing 2009 season.
Keep Reading