College Football's 15 Toughest Road Schedules of 2010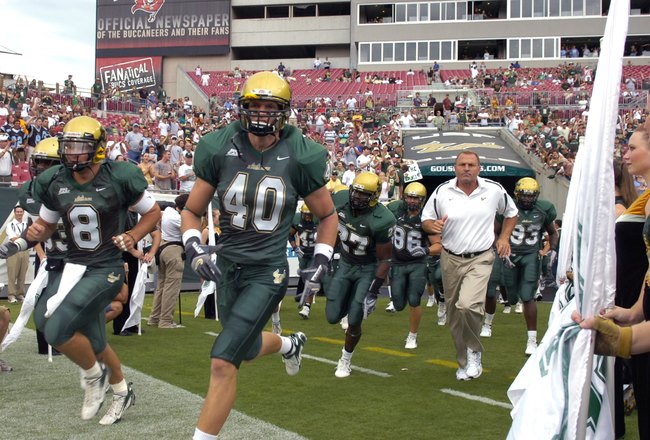 College football.
Is there any other sport in which home-field advantage is so significant?
Maybe college basketball. Still, facing a team on the road in college football is never an easy task, which makes the event a major indication of the traveling team's mental toughness while in a hostile environment.
When somebody says "hostile environment," so many settings come to mind.
LSU's "Death Valley," Penn State's 100,000-plus-seat Beaver Stadium, "The Swamp" in Florida, and Texas A&M's Kyle Field are just a few.
The teams that have to hit the road to play in these venues face enormous obstacles and are at an extreme disadvantage. So, it's only fair that their task be acknowledged accordingly.
I've tried to do that with the following list.
The 15 Toughest Road Schedules of 2010.
No. 15: Oregon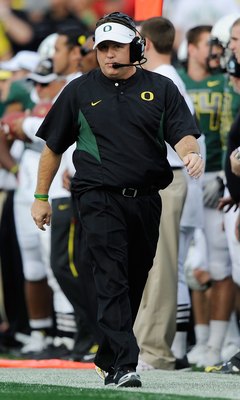 Oregon's road schedule is nothing extreme, but a few tough potential upsets do appear.
They open their season with a home stand against New Mexico and then travel to the heart of SEC country on Sept. 11 to face Tennessee in the always-feared Neyland Stadium.
The next two away matchups are cakewalks, as they make their way down south on Sept. 25 to play Arizona State and then travel up north to play at Washington State on Oct. 9.
After a home game against UCLA, things start to get real for the Ducks.
They'll head down south to face Pac-10 giant USC in Los Angeles. This game will depend a lot on how well USC can overcome a very troubling offseason. However, beating the Trojans in their backyard has never been, and never will be, easy by any stretch of the imagination.
Oregon will then square off against Washington at home and will follow up by a trip back down to the Golden State to play California on Nov. 25, a team that's no slouch when playing at home.
After hosting Arizona, the Ducks wrap up their season with the highly anticipated Civil War against Oregon State in Corvallis. The Beavers have top-20 probabilities, a Heisman Trophy candidate, and a hatred for Oregon. So needless to say, a win will take every ounce of the Ducks' strength.
Clearly, Oregon's road schedule is manageable. Even so, they cannot afford to sleep through it.
Toughest Road Matchups: @ Tennessee, @ USC, @ Oregon State
No. 14: Stanford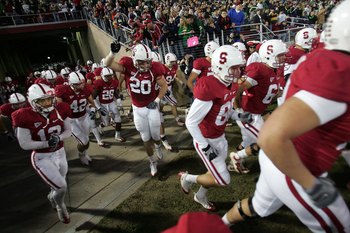 I'm going out on a limb by putting Stanford here, mainly because I believe that a few of their road opponents might surprise a lot of people this season.
They begin with a tune-up against Sacramento State and then hit the road on Sept. 11 to match up against Rick Neuheisel's hungry UCLA squad.
After hosting Wake Forest, they'll make their way to South Bend, Indiana to play Notre Dame on Sept. 25. It's hard to know what to expect after a coaching change, but Standard had better be prepared to face a top-notch Irish team.
Brian Kelly is the real deal.
It gets better.
Immediately following their showdown with Notre Dame, Stanford travels to Oregon on Oct. 2 to play the best team in the Pac-10 on their home turf. This is by far the hardest game on the schedule, as the Ducks are revving their engines for a national championship run.
Stanford hosts USC and Washington State at home and then travel to Washington to play the Huskies and Heisman hopeful Jake Locker on Sept. 30.
Remember those teams that might surprise?
Washington is one of those teams, as Steve Sarkisian looks to be making a big push this offseason. With such an improved offense led by Locker, anything can happen in Seattle this season.
Stanford returns home to face Arizona and then hits the road to play back-to-back away games against Arizona State on Nov. 13 and California on Nov. 20. This wraps up their road play.
At first glance, Stanford's road schedule doesn't seem too bad. However, don't expect winning at Washington and Notre Dame to be nearly as easy in 2010 as it was last season.
Also, playing two series of back-to-back contests won't be easy, especially when one of those includes Notre Dame and Oregon.
Toughest Road Matchups: @ Washington, @ Notre Dame, @ Oregon
No. 13: Florida State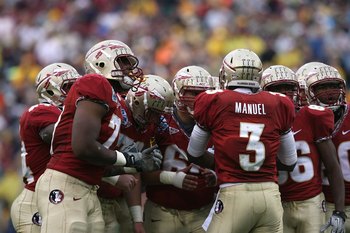 The Seminoles don't have a high number of major road contests, but they do have some that will be the toughest in the country.
They begin with a home game against a cupcake Samford team and then travel to Norman, Oklahoma on Sept. 11 for the big one.
In 11 seasons, Bob Stoops has lost only two games at home. The Sooners also have the longest current home winning streak at 30 games, which shows just how dominating Oklahoma is on its own turf.
With Oklahoma returning a number of players, this won't be an uphill climb for Florida State—this will be Everest.
Next, the Seminoles host BYU and Wake Forest and then make their way up the coast on Oct. 2 to face Virginia on the road.
Another giant obstacle comes when they travel to face in-state conference partner Miami in their own backyard on Oct. 9. Miami anticipates a huge year and a BCS bowl berth, putting huge implications on this matchup.
The second half of the season won't be nearly as hard for the Seminoles.
They host Boston College at home and then hit the road on Oct. 28 for a easily winnable game at North Carolina State.
After enjoying two consecutive home games against North Carolina and Clemson, they travel north to square off against ACC basement dweller Maryland on Nov. 20.
Finally, the Seminoles close out their season against Florida at home.
Two road opponents clearly stand far above the rest. It will take every ounce of Florida State's strength to knock off an elite Miami team on the road.
As for Oklahoma, well, the Seminoles may not be smart, but they sure are brave to enter the black hole known as Gaylord Memorial Stadium.
Toughest Road Matchups: @ Oklahoma, @ Miami
No. 12: Georgia Tech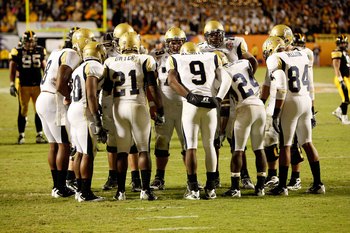 Georgia Tech will likely enter the season ranked in the top 20, which makes another 10-win season a likely goal for Paul Johnson.
Big obstacles on the road exist, however, which will make their chances tough.
They open the season at home with a warm-up game against South Carolina State and then head to Kansas on Sept. 11 to face the Jayhawks. Uncertainty lies all over Kansas, but they are a Big 12 team after all.
On Sept. 18, they'll match up with a very good North Carolina team on the road. Only the second game, this matchup will be a huge indicator of how serious Georgia Tech's BCS ambitions really are.
They play North Carolina State at home and then make their way back up to North Carolina to take on Wake Forest on Oct. 2. This shouldn't be much of a challenge for the Yellow Jackets, given their vastly superior speed.
After two easy home stands against Virginia and Middle Tennessee, Tech embarks on a short road trip to Clemson (Oct. 23) and Virginia Tech (Nov. 4).
C.J. Spiller is gone, but don't expect Clemson to roll over at home. As for Virginia Tech, don't expect to see anything less than a fast-paced, emotional brawl between the ACC's two best teams. Unless they play for a BCS Championship, it will be Georgia Tech's hardest game of the 2010.
They finish home play by hosting Miami and Duke, and then they'll drive to Athens on Nov. 27 to square off against in-state rival Georgia. Mark this game as a possible upset, as beating an SEC team at home is never a sure thing.
The Yellow Jackets have a few truly difficult tests on the road. Games at North Carolina and Clemson will be key, but all eyes will be on Tech when they take the field at the terrifying Lane Stadium.
Toughest Road Matchups: @ Georgia, @ North Carolina, @ Virginia Tech
No. 11: Arizona State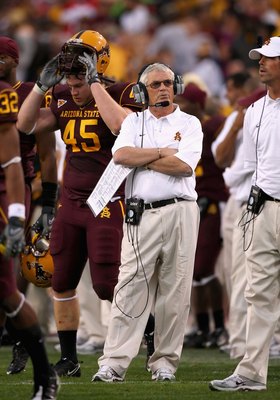 Dennis Erickson and the Sun Devils have to hit the ground running this fall, as they'll face big-time pressure on the road early in the season.
They play two tune-up games at home against Portland State and Northern Arizona and then must head north to Wisconsin on Sept. 18 to face one of the Big Ten's best.
Wisconsin is a probable top-15 preseason team and will aim for a Big Ten title this season, which means that a win for Arizona State is unlikely at best. There are a lot of easier games they could have scheduled before conference play.
After battling Oregon at home, they'll head north to Corvallis on Oct. 2 to face a tough conference contender in Oregon State and then travel to Seattle to play a scary Washington team on Oct. 9.
Both are probable losses for the Sun Devils.
They'll have some time off before a tough contest against California in Berkeley on Oct. 23 and then play Washington State back home.
On Nov. 6, they have the daunting task of playing USC on the road, which won't be easy, or even possible. After USC, they'll enjoy two weeks at home against Stanford and UCLA.
Finally, the Sun Devils wrap up their season on Dec. 2 with a road battle against in-state foe Arizona, who have made it hard to win on their turf in recent years.
Much of Arizona State's hard road schedule is standard Pac-10 conference. It's the away game against Wisonsin that makes this schedule ugly. With what the Badgers have coming back, coupled with their Big Ten environment, I'd say anybody visiting has big problems.
Toughest Road Matchups: @ Wisconsin, @ USC, @ Oregon State
No. 10: Washington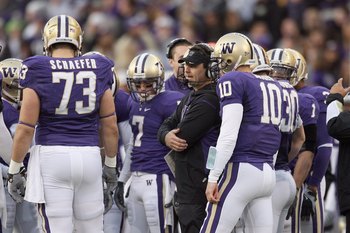 The Huskies really expect a breakout season in 2010. Regardless of their performance, they'll have every opportunity to prove themselves.
Steve Sarkisian cut out cupcakes in order to beef up Washington's schedule. They start things off with a bang as they face a tough BYU team on the road to open the season on Sept. 4.
We're just warming up.
After two non-conference "warm-up" games at home against Syracuse and Nebraska, they'll make their way down to Los Angeles on Oct. 2 to take on USC. After being upset by the Huskies last year, you can expect the Trojans to show up looking for vengeance.
Washington returns home to host Arizona State and Oregon State and then makes its way down to Arizona to face a tough Wildcat team on Oct. 23.
After a home contest against Stanford, the Huskies have their hardest game of the season on Nov. 6 when they head down to Eugene, Oregon to square off against the Ducks. The reigning Pac-10 champs will be a major obstacle on Washington's radar.
After facing Oregon, they can breath a sigh of relief. But only a short one.
They have UCLA at home and then have a tough road matchup against California on Nov. 27. After Cal, they'll compete for the annual Apple Cup at Washington State on Dec. 4.
Washington's schedule leaves little breathing room, especially when they play Oregon and USC on the road. Overall, with the exception of Washington State, the Huskies don't have a single easy road game.
Toughest Road Matchups: @ Oregon, @ USC, @ BYU
No. 9: Miami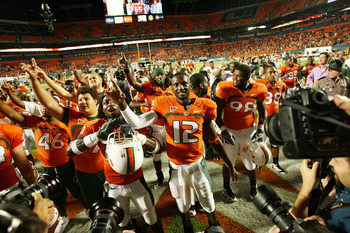 2010 is supposed to be a return to glory for Miami. If it's going to be, the Hurricanes will have to win some big, big games.
They'll have a home game against Florida A&M to find some rhythm, and then it gets real.
On Sept. 11, the Canes travel to Big Ten country to take on Ohio State. The Buckeyes are the current Rose Bowl champions and are many's favorite to win a national championship in 2010.
As crazy as it sounds, Miami's toughest game comes before October and before conference play.
It doesn't get much easier when, on Sept. 23, the Hurricanes head north to Pittsburgh to take on Dion Lewis and a very good Pitt team. The Panthers are picked by many to win the Big East, which means this game is crucial for the Canes.
Next on the schedule is a conference road game against Clemson on Oct. 2, followed by a home contest against Florida State and then another road game at Duke on Oct. 16.
After hosting North Carolina, Miami heads north on Oct. 30 for an away matchup against Virginia, which shouldn't be a problem.
They host Maryland and then travel west on Nov. 13 for their final road contest against ACC foe Georgia Tech. This will be an enormous challenge, as the Yellow Jackets look primed to win a second straight ACC championship in 2010.
Finally, the Canes close out their season with home games against Virginia Tech and South Florida.
This season, Miami has shot at defeating three conference championship favorites from three BCS conferences. If they pull off that feat, don't be surprised to see them playing for a national championship.
Toughest Road Matchups: @ Ohio State, @ Pittsburgh, @ Georgia Tech
No. 8: Virginia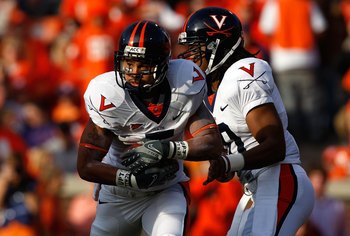 Virginia doesn't appear to be ready for what's on their plate as far as road opponents go.
After starting things off at home against Richmond, they travel 3,000 miles west to take on USC on Sept. 11. I don't think I need to explain how that might be difficult.
They have back-to-back home stands against VMI and Florida State and then have the daunting task of playing the ACC's best on the road when they visit Georgia Tech on Oct. 9.
The Cavaliers will be able to enjoy three straight home games against North Carolina, Eastern Michigan, and Miami before they jump the border to take on Duke in Durham.
After hosting Maryland, Virginia wraps up the regular season with road games against Boston College (Nov. 20) and Virginia Tech (Nov. 27).
Virginia has an incredibly tough road schedule, but luckily their toughest road contests are spaced comfortably apart.
In addition to getting stuck with road games against Georgia Tech and Virginia Tech, the ACC's two toughest teams, the Cavaliers have a huge obstacle to climb in Southern California.
Just looking at these road opponents is terrifying.
Toughest Road Matchups: @ USC, @ Georgia Tech, @ Virginia Tech
No. 7: Ole Miss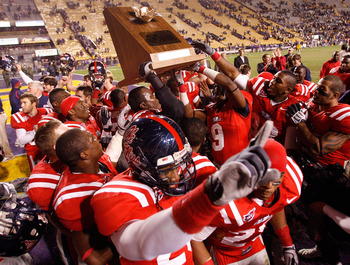 You know your conference is good when you make this list without scheduling any non-conference games worth mentioning.
Such is life in the SEC West.
After a tune-up at home against Jacksonville State, the Rebels set out for an away game on Sept. 11th against Tulane and then return to Oxford for three consecutive home games against Vanderbilt, Fresno State, and Kentucky.
The free ride ends on Oct. 16, when the Rebels must march into Tuscaloosa and try to knock off the defending BCS champions, Alabama.
The Tide hasn't lost at Bryant-Denny Stadium in two years, which shows Nick Saban's home-field dominance.
It doesn't stop there, as Ole Miss travels to Fayetteville on Oct. 23 to square off against an Arkansas team that looks primed for huge success behind Heisman candidate Ryan Mallett.
Playing at Arkansas might be easier, but not much easier.
Next, after playing host to Auburn and Louisiana-Lafayette, the Rebels will take their ambitions to Knoxville on Nov. 13 for an intense road matchup against Tennessee.
This should be a hard-fought struggle, as wins never come easily out of Neyland Stadium.
Finally, on Nov. 20, Ole Miss will travel to Baton Rouge for a deep-fried Southern clash in front of the nation's loudest audience. Due to the environment and LSU's expected depth this season, this game will be an enormous hurdle for Ole Miss.
Sure, Ole Miss didn't seek out this position. But playing in the SEC always makes having this type of road schedule a possibility.
Toughest Road Matchups: @ Alabama, @ Arkansas, @ LSU
No. 6: UCLA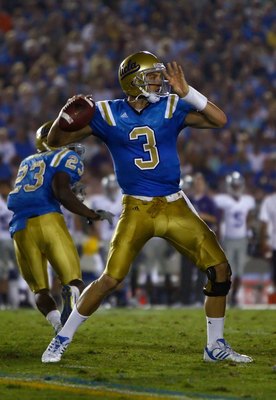 The Bruins are yet another Pac-10 team with a tough conference schedule. They'll also be making trips to the Big 12, which puts them above the rest.
They open play with a Sept. 4 road game against Bill Snyder and Kansas State. The Wildcats have a new look and a superstar running back in Daniel Thomas, which makes this contest relatively difficult.
The Bruins then go home to play Stanford and Houston.
On Sept. 25, they'll make their way to the Lone Star State to match up with Texas at Memorial Stadium, where the Longhorns have dominated in recent years. With all the talent on the Texas roster, they'll be a nightmare for any visitor.
The Bruins could have picked a much easier non-conference opponent to play on the road.
After hosting Washington State, they'll play back-to-back road games against California (Oct. 9) and Oregon (Oct. 21).
California is never easy on the road, and reigning conference champ Oregon will be dreadful to face in their backyard. Playing in Eugene seems to be the dreaded week of several teams on this list.
The Bruins have two home stands against Arizona and Oregon State and then make their way up to Washington on Nov. 18 to take on the Huskies.
As stated previously, Washington is a big scare going into the 2010 season and will create an atmosphere that will make any opponent uncomfortable. Just look at the USC game last year.
Next, they'll travel to Arizona on Nov. 26 to take on a struggling Arizona State team, which won't be too difficult.
The Bruins wrap up the regular season with a home contest against crosstown rival USC.
When you break down UCLA's unfavorable conference road schedule and then couple it with the huge game at Texas and tough battle against Kansas State, you start to see just how much work the Bruins have cut out for them in 2010.
Toughest Road Contests: @ Texas, @ Oregon, @ Washington
No. 5: Mississippi State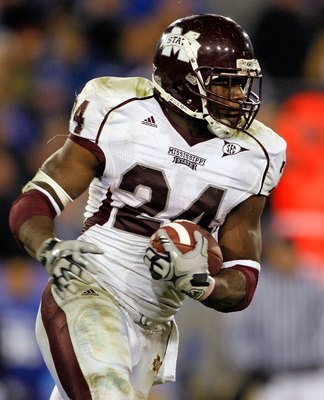 The Bulldogs are another team that has absolutely no easy road games on their schedule.
After opening up season play at home against Memphis and Auburn, they'll head to the Bayou on Sept. 18 to play in the least hospitable environment in college football. In case you couldn't guess, I'm talking about LSU, who do no less than torture their opponents each and every home game.
They'll take on Georgia and Alcorn State at home and then travel to Houston on Oct. 9 to match up with an extremely tough Cougar team. With a Heisman Trophy candidate and the best offense in the country, the Cougs will be dangerous to face away from home.
It gets even better when they head east on Nov. 16 to square off against the Florida Gators in the Swamp. Gainesville has been unimaginable for visitors in recent years, and with the insane amount of speed that Urban Meyer has stored away, it will continue to be.
They'll finally be able to relax when they enjoy back-to-back home contests against UAB and Kentucky.
On Nov. 13, the Bulldogs will be sentenced to death when they're forced to play a road game against the mighty Alabama Crimson Tide.
Not much needs to be said about that one.
After one more home game against Arkansas, they'll finish the season on Nov. 27 with a very tough road game against in-state rival Ole Miss, which won't be favorable for the Bulldogs.
This is another team that suffers from the intense but standard SEC schedule. When you throw in a road game against a scary Houston Cougars team, this schedule becomes frightening.
Toughest Road Matchups: @ Alabama, @ Florida, @ LSU, @ Houston
No. 4: San Jose State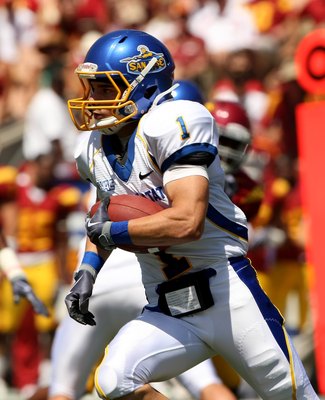 The Spartans dove head first into scheduling non-conference opponents, and their first couple of contests might be the hardest of any in 2010.
What better way to start off then to target the biggest and the best?
The Spartans do just that on Sept. 4 when they travel to the heart of the SEC and square off against Alabama in Tuscaloosa. Insane? Probably, but what better way to prepare for conference play than by being destroyed by the reigning BCS national champions?
Apparently that's not enough for San Jose State.
The following week, they'll head north to Big Ten country to take on an elite Wisconsin team on Sept. 11. This definitely won't be the easiest thing to do, especially a week after a probable bloodbath from the Crimson Tide.
After hosting Southern Utah, the Spartans hit the road on Sept. 25 for an extremely difficult matchup against future Pac-10 member Utah. Utah is good. Really good. Not an easy game away from home.
They'll play UC Davis back home and will then travel east on Oct. 9 to face an underrated Nevada Wolf Pack, who will likely rule the WAC once Boise State departs.
The Spartans finally get back-to-back home games when they host Boise State and Fresno State in mid-October, and they then travel to New Mexico on Oct. 30 for a manageable game against New Mexico State.
After a home game against Utah State, they fly way out to the South Pacific on Nov. 20 to play Hawaii. Regardless of Hawaii's talent, playing outside of the continental United States is never an easy thing to ask of a team.
The Spartans then host Louisiana Tech and then make their way up north on Dec. 4 to face Idaho.
The Spartans have only themselves to blame for this brutal list. Playing two top-15 teams on the road, including the likely preseason No. 1, was their choice. At least they won't be called cowards this year.
Who knows—with the non-conference schedule above, they might actually have a shot at playing for a national championship.
Toughest Road Matchups: @ Alabama, @ Wisconsin, @ Utah
No. 3: South Florida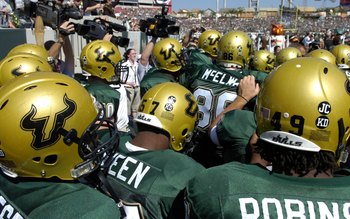 South Florida is another team that has picked its own fate.
They have a tune-up game at home against Stony Brook and then head into the Swamp on Sept. 11 to face the big, bad Florida Gators for an in-state showdown.
Not a boring way to start off the season.
The Bulls will enjoy home contests until mid-October by hosting Western Kentucky, Florida Atlantic, and Syracuse.
Things get real again on Oct. 14 when they head up north to match up with a dangerous West Virginia team on the road. With all the athleticism on the Mountaineers roster, this matchup is far from easy.
On Oct. 22, the Bulls hit the road again to face a likely top-25 team in Cincinnati.
Despite the departure of Brian Kelly, Cincy will make winning on their turf an improbable task.
After playing host to Rutgers, they'll travel west on Nov. 13 for a contest against Louisville, which won't be difficult.
The Bulls then return home for a matchup against Pittsburgh and then will square off against another in-state rival by paying a visit to Miami on Nov. 27.
A late November road game against an elite team such as Miami is a hell of a selection for a non-conference game.
Finally, the Bulls end their season at home against Connecticut.
This schedule really highlights the strength of football in the state of Florida. The Bulls have two non-conference death sentences right in their own state.
When you combine those matchups with a couple of tough conference road games, you get the makings of a truly brutal road schedule.
Toughest Road Matchups: @ Florida, @ Miami, @ West Virginia
No. 2: Iowa State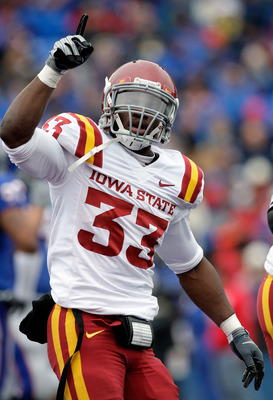 The Cyclones have an insanely tough schedule that involves trips to top-10 schools both in the Big 12 and outside of the Big 12.
After playing Northern Illinois at home, Paul Rhoads and co. face Iowa on the road for the annually given Cy-Hawk Trophy on Sept. 11. As a top-10 team, Iowa will be a nightmare for visiting teams all season long.
The Cyclones then return to Ames to play Kansas State, Northern Iowa, Texas Tech, and Utah for four consecutive home games.
Next, they face back-to-back monsters on the road when they travel to Oklahoma (Oct. 16) and Texas (Oct. 23).
Playing in Iowa is tough, but playing back-to-back road games against two of the most dominating teams in the past decade? Try unimaginable.
The Cyclones will be lucky to keep all of their limbs intact.
After home stands against Kansas and Nebraska, they pack their bags on Nov. 13 and play future Pac-10 member Colorado. It's a long way from home, but Iowa State should handle the Buffaloes pretty easily.
Afterward, the Cyclones finish off the regular season with a home contest against Missouri.
It's quality, not quantity for Iowa State's road schedule. Three road games against likely top-10 teams definitely qualifies as brutal in my mind.
Toughest Road Matchups: @ Iowa, @ Texas, @ Oklahoma
No. 1: Penn State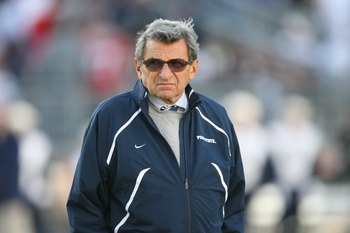 At Joe Paterno's age, is scheduling an unthinkable list of games a good idea? Maybe, maybe not. However, it'll be a lot of fun to watch.
They have a home game to prepare against Youngstown State and then head south on Sept. 11 for a Big Ten-SEC showdown against the Crimson Tide.
Facing the preseason No. 1 team on the road is the first of many daunting tasks for the Nittany Lions.
They'll return home for two home contests against Kent State and Temple but will then make their way to Iowa on Oct. 2 to attempt to knock off a Hawkeye team eyeing a national championship.
After taking on Illinois at home, they travel north on Oct. 23 to take on Minnesota in a fairly easy contest.
The Nittany Lions will have two home games against Michigan and Northwestern to find some rhythm before the big game against the Buckeyes on Nov. 13.
They'll be playing in the Horseshoe, which makes this an intense, brutal matchup to say the least.
After playing at Ohio State, the smoke starts to settle, as they finish off their regular season by playing Indiana at a neutral site and hosting Michigan State back home.
This schedule is horrendous. Three games on the road against top-10 teams? And one of them is Alabama?
Well, we'll all get to see just how much fight JoePa has left in him at age 83.
Toughest Road Matchups: @ Alabama, @ Ohio State, @ Iowa
Keep Reading