Michael Jordan vs. LeBron James: How the Two Icons Stack Up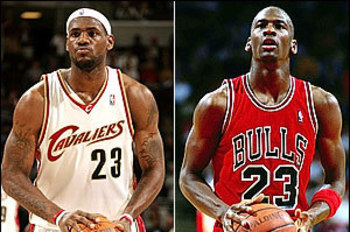 Michael Jordan recently reminded everyone what kind of competitor he is by publicly stating he would never do what LeBron James did. Jordan said that teaming up with Magic Johnson and Larry Bird would have never been a goal of his.
That statement from the game's greatest added fuel to the comparison fire between Jordan and his supposed heir apparent LeBron James. Fans and sports talking heads alike have gone above and beyond in their opinions about what Jordan said regarding LeBron, but how does the "next Jordan" (like we haven't heard that before) stack up against the man himself?
Got Rings?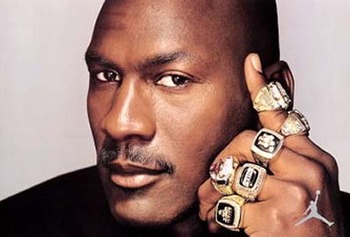 Jordan still has the obvious lead in NBA titles, having won six NBA championships to LeBron's zero.
However, LeBron has beaten Jordan in one feat. LeBron reached his first NBA Finals in his fourth season in 2006-2007 (albeit his team got swept 4-0). It took Jordan until his seventh season to reach his first Finals, which the Bulls won over the Los Angeles Lakers.
Scoring Dominance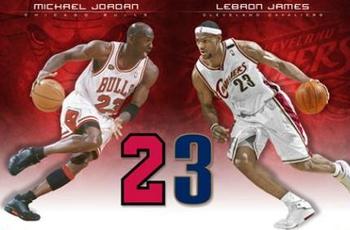 LeBron entered the NBA and looked like he belonged from day one. He averaged 20.9 points per game in his first season and has since not averaged fewer than 27.2 points per game.
Jordan entered the league and averaged 28.2 points per game in his first two seasons and then took off.
Jordan won his first scoring title in his third season with a 37.1 PPG average that has not been topped since. That sparked a run of seven straight scoring titles. LeBron has won one scoring title in his career thus far.
But does LeBron also rebound and dish the ball? Yes, he does, but the average differences between him and Jordan in this regard are not as wide as one may expect. LeBron has averaged 7.0 rebounds and 7.0 assists per game over his first seven seasons. Over that same time, Jordan averaged 6.0 rebounds and 5.6 assists per game all while averaging more points per game than the King.
MVPs, All-NBA Teams, and Awards OH MY!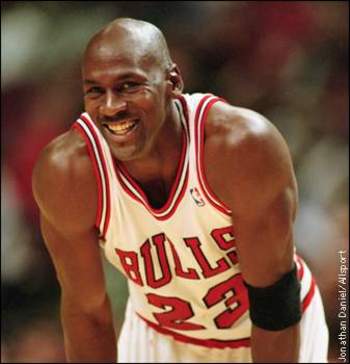 Jordan won five NBA MVP awards over his career as opposed to the two consecutive MVPs won by LeBron James. It appeared LeBron would cruise by Jordan's five MVP awards during his career, but his move to Miami comes with the likelihood that his MVP votes will take a significant hit.
LeBron has achieved First Team All-NBA status four times in the first seven years of his career. Jordan earned the designation five times in his first seven years and landed on the list in every year of his career except his first two seasons in the league (and with the Wizards).
Let's Get Defensive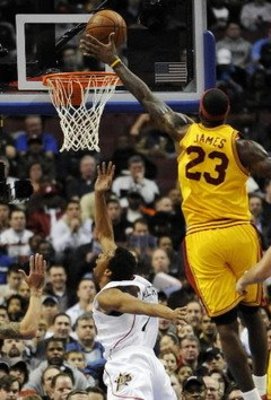 Both LeBron and MJ are/were known for their defensive prowess; however, only recently has LeBron's defense stood out. He earned his first First Team All-Defense award after his sixth season in 2008-2009 (and another this season). Conversely, Jordan won his first First Team All-Defense award after his fourth season and in every full season he played thereafter (again excluding the Wizards years). LeBron has a lot of catching up to do.
Pure Athleticism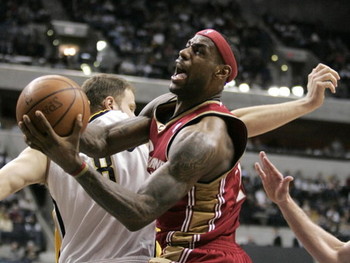 Jordan was a wiry, rather thin player when he entered the NBA. However, he rapidly developed into the greatest physical athlete the game had seen to that point. Jordan could run, cut on a dime, and jump through the roof. There was no one who could match him physically on the court. That was until LeBron James showed up.
LeBron stepped on the court as a 6'8", 220-pound teenager who could not only jump and run but also played with a vicious authority that we've never seen before. He passes like Magic and runs like an NFL wide receiver.
Jordan broke the NBA mold while LeBron has become a next-generation athletic specimen on the hardwood.
Marketability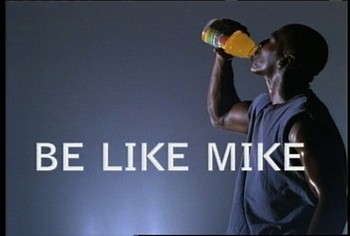 Michael Jordan revolutionized the way athletes and products are presented. He was the catalyst for all the endorsements we see today. Gatorade, Nike, McDonald's, Coca-Cola, Hanes, Wheaties, Chevrolet, Ball Park Hot Dogs, MJ hocked it all. Not only that, but he was also part of some of the most recognizable campaigns in history: "Be Like Mike", the Space Jam campaigns, playing H-O-R-S-E with Larry Bird.
LeBron has his own list of endorsements with Nike, Sprite, Bubbalicious, McDonald's, State Farm, and VITAMINWATER®. However, LeBron does not have the commercial presence that Jordan had and still has today.
During Jordan's playing days, it felt like one couldn't go more than 10 minutes without seeing a commercial featuring MJ. Even to this day, Jordan remains one of the most marketable figures in the world nearly a decade after his retirement.
The Finisher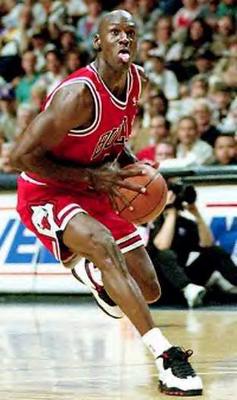 Jordan remains the ultimate closer of all time. The opposition simply knew it was in trouble when the clock was winding down and the ball was in MJ's hand. Countless big shots, big dunks, big steals, and HUGE games on the biggest stage made Jordan into the greatest player that he is. Nobody destroyed a team's confidence and humiliated the opposition like Jordan did.
LeBron? We're still trying to figure out where he fits. Hitting big shots in big moments hasn't exactly been his thing, and he has often deferred to teammates. There is no doubting LeBron's ability, but when it comes to "winning time," LeBron has left a lot of shots on the table and doubts in the minds of many.
Competitive Streak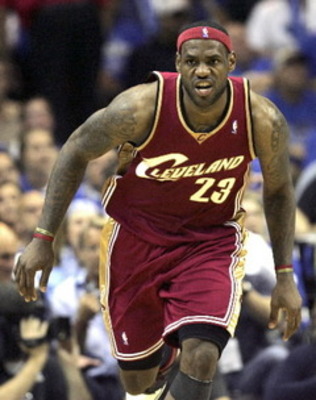 Jordan called out LeBron and his competitive streak after LeBron's decision to team with Chris Bosh and Dwyane Wade in Miami. Jordan is not the only Hall of Famer to question's LeBron's motives and willingness to win on his own terms.
There has arguably been no bigger competitor in the sport than Jordan, and while we know LeBron wants to win, how much of his credibility is he willing to lose in order to win titles? I'm of the mind that a player of LeBron's caliber is best served as being "the guy," but of course I'm not a professional athlete. But there is no denying that LeBron's decision to go to Miami shows a reluctance to be the unquestioned leader.
Likability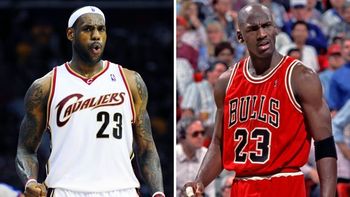 We know Jordan has some skeletons in his closet, including an apparent gambling addiction and his marriage turmoil, but he remains a legend and an icon to basketball fans around the globe. None of his off-the-court drama has ever diminished what fans love about him on the court, which makes him one of the most likable athletes to this day even in his mid-40s.
LeBron, however, tossed a grenade into his likability factor perhaps not so much by leaving Cleveland (although that is certainly a factor for Ohioans), but for the manner in which he left. Through the self-aggrandizing show, "The Decision," reinforced by ESPN's complicity and never-ending LeBron drama, and his stammering and almost bewildered explanation, LeBron turned himself into a villain to many with an on-court decision. That could spell trouble for a league that is seriously bankrolling LeBron's popularity.
You know it is a bad sign when as recently as last week's ESPY awards, a room full of athletes, entertainers, and other big wigs booed LeBron at the simple mention of his name.
To many people outside of South Beach, LeBron has transformed his fans from "witnesses" into "deserters".
Keep Reading