The 20 Most Outrageous Mel Gibson-Like Sports Rants (With Video)
What is a racist, antisemetic, bigoted, Academy Award winning producer and director supposed to do when he has an ex-girlfriend and child to support and can no longer finance his attendance of Los Angeles Lakers games? When you're a living Looney Tunes character that goes by the name of Mel Gibson, you scream until your face is as blue as in Braveheart.
In the latest of the recorded phone rants to his ex-girlfriend Oksana Grigorieva, Gibson screams: "I don't have any ------- money! I have to support you and everybody else! I have to sell paintings." Perhaps more importantly to the crazed lunatic, he shouted, "I have to sell my box at the Lakers game!"
Upon hearing of the demise of Gibson's personal box, it has been rumored (and you heard it here first) that Lakers star Ron Artest immediately offered the services of his own, personal psychiatrist to help Gibson deal with the internal pain that must come from losing a season ticket to basketball games. However, since he can no longer afford ticket prices at the Staples Center let's hope he at least has an affordable co-pay for mental health visits under the terms of his insurance policy.
Regardless of what happens to Mel, in the spirit of his lunacy we have decided to explore the rantings and ravings that occur within the sports world. As a special treat, this week's show will allow you to look AND listen as athletes and sports figures do their very best to give Gibson's rants a run for their money.
So sit back and relax as we welcome you to "The Passion of the Crazed: 20 Biggest Mel Gibson-like Rants in Sports"- complete with video!
Enjoy!
Begin Slideshow

»
Upon his return to the PGA Tour at the 2010 Masters, a reporter asked Tiger Woods if he would show more respect for the game. Woods's response?
"I am actually going to try and obviously not get as hot when I play. But then again … I'm not going to be as exuberant, either.... I can't play one without the other. And so I've made a conscious decision to try and tone down my negative outbursts. And consequently, I'm sure that my positive outbursts will be calmed down, as well."
Uh Tiger, don't be so sure about that. As the legendary broadcaster Warner Wolf would say, let's go to the videotape!
Former NFL quarterback Jim Everett had enough of ESPN talking-head Jim Rome derogatorily referring to him as Chris (short for former women's tennis star Chris Evert).
Former Texas Tech head coach not exactly playing Cupid for his players.
University of Connecticut head basketball coach Jim Calhoun gets a bit hot under the collar when asked about his hefty salary.
After suffering a 40-21 defeat at the hands of the San Francisco 49ers, former Indianapolis Colts head coach Jim Mora went off on this memorable rant.
Extra! Extra! Read all about it! Oklahoma State head coach Mike Gundy is a man and he's 40!
On October 30, 2002, New York Jets head coach Herm Edwards responded to a reporter's seemingly mindless question, thus providing one of the greatest sound bites in sports history.
On October 16. 2006 the Bears were just as the Arizona Cardinals and head coach Dennis Green thought they were.
In 2010, Dennis Green is who we thought he is- a necessary inclusion to the list of Mel Gibson-like rants.
Although he didn't use Gibson-like profanity this Allen Iverson rant will always be one for the ages.
Serena Williams' mouth managed to get her disqualified during a 2009 US Open Women's Semifinals match against Kim Clijsters.
In a June 2007 game against the Chattanooga Lookouts, Mississippi Braves manager Phillip Wellman is anything but a "well" man in what is quite arguably the worst (and funniest) tirade ever displayed on a professional baseball field.
Former Kansas City Royals manager Hal McRae had a famous meltdown in which he threw a phone with more velocity than he ever did a baseball.
Hockey coaches and players can pull a Mel as well, especially when the Stanley Cup is on the line.
If only Chicago White Sox manager Ozzie Guillen would learn to put his hands over his mouth rather than around his throat...
He could...curse...all...the...way...
Nobody circles the wagons like the Buffalo Bills but apparently nobody circles on-air versus off-air personalities like ESPN's Chris Berman.
WARNING: The following video clip has been unedited and contains language which may be offensive- please listen at your own discretion.
One of former Baltimore Orioles manager Earl Weaver's many tirades.
WARNING: The following video clip has been unedited and contains language which may be offensive- please listen at your own discretion.
Less than a month into his tenure as the Chicago Cubs skipper, Lee Elia went off on the city of Chicago and its fans during one of the most famous tirades in sports history.
In his coaching days, Bobby Knight set the standard by which crazed sound bites are now measured up to. There are so many of them that ESPN put together this wonderful clip.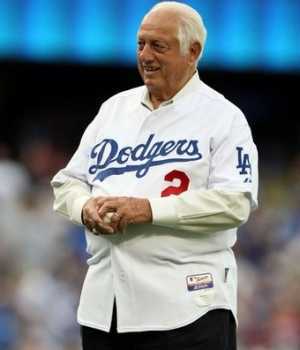 Perhaps angered by the fact his spaghetti sauce brand was a flop, former Dodgers manager Tommy Lasorda certainly did a lot of ranting and raving.
In fact, when you hear him in the following video, it's hard to believe that he was cast as "The Dugout Wizard" in the famous syndicated children's television show "The Baseball Bunch."
WARNING: The following video clip has been unedited and contains language which may be offensive- please listen at your own discretion.
His face is painted with a tribal symbol. He's shown violence towards men and women. He uses vulgarities. He has unique religious perspectives.
No, we're not talking about Mel Gibson but rather former boxing great "Iron" Mike Tyson.
When asked about Lennox Lewis, Tyson went off on one of the craziest rants ever witnessed, especially since he was expressing his innermost thoughts.
What happens when those innermost thoughts can be set to a classic song by the legendary Shirley Bassey? Watch and enjoy.