2010 NFL Predictions: 10 Things Cleveland Browns Fans Can Expect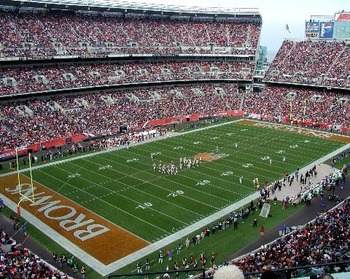 With just 11 days remaining until training camp begins, expectations and excitement about the Browns are higher than they have been in years. The proverbial glass is finally half full in Cleveland again.
In a season prefaced by so much hope and anticipation, there are bound to be a lot of surprises. We don't know how this adventure will end yet, but here are 10 things Browns fans can expect in the 2010 season.
10. Cleveland Will Get Back to Being a Football Town Again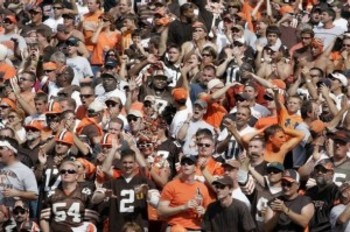 Cleveland fans had a tragic affair with baseball in the late 1990s. Over the last few years, we even flirted with basketball. But in its heart of hearts, Cleveland's one true love will always be football.
Crushed by the team leaving town and kept down for years even after the team came back by its poor performance, even the most loyal of football fans were understandably discouraged.
But 2010 looks to be a new and promising beginning for the Browns, and thus for their fans to fall in love all over again.
Once a football town, always a football town. Welcome back, Browns faithful.
9. Jake Delhomme Will Be the Team's Best QB in Years...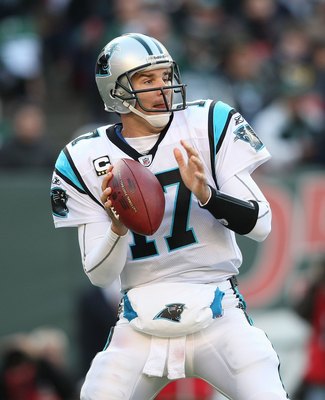 ...but you'll complain about him anyway.
You'll still miss Bernie Kosar. You'll still miss Brian Sipe. On a particularly dark Sunday this fall after a couple of interceptions, you may even miss Vinny Testaverde in a fit of frustration-driven insanity.
Browns fans shouldn't expect Jake Delhomme to blaze into town and look like a true franchise quarterback. But that's far from terrible news.
Delhomme wasn't brought in to be the team's savior at the quarterback spot; that job is on ice until Colt McCoy is ready. Delhomme was brought in to manage the offense competently and efficiently, and that's exactly what he'll do.
There will be too many interceptions and too few big plays, but that's okay. Delhomme will do his job, and we'll all complain that he isn't doing it better, but in the end, we'll be satisfied by a quarterback who gives exactly the type of performance this team needs this season.
8. The Receiving Corps Will Grow Up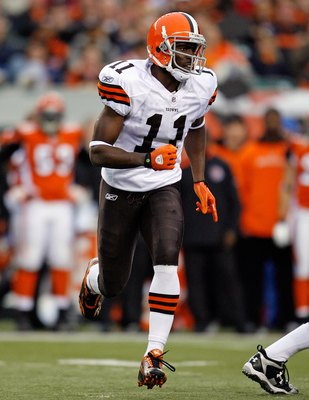 The Browns receivers weren't necessarily "bad" last season. They were just...new to all this.
Mohamed Massaquoi may never be a true No. 1 receiver, but he should improve tremendously upon last season's 624 yards and three touchdowns.
With a year of experience under his belt, a more accurate and patient passer sending the football his way, and a better surrounding cast to draw off coverage, he could easily touch 1,000 yards and double his number of touchdowns.
Brian Robiskie should follow suit. Early reports have indicated that he's already holding on to the ball better and appears to have lost some of his fear of making a catch in traffic.
He too was in just his first season last year, and as was pointed out to me recently, he was a slow starter at Ohio State as well. Like Massaquoi, he will improve based on experience alone and benefit from having a stronger team around him.
Then there's Josh Cribbs, who will also help the receiving corps grow and improve. Granted, this will be just his second season lining up at wideout on a regular basis, but I think we've already established that he's a quick learner, right?
7. 2009 Heroes Josh Cribbs and Jerome Harrison Will Only Get Better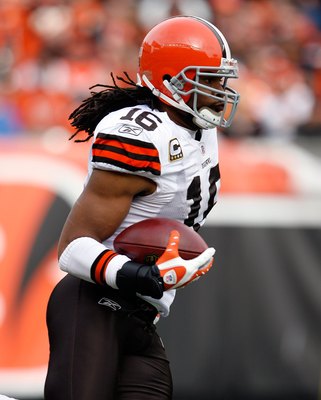 Josh Cribbs will no doubt continue his mastery at returning kicks, but this season he'll also have even more chances to show his stuff as a wide receiver.
It won't just be about the Wildcat formation either. Browns fans should expect to see Cribbs establish himself as an offensive presence on more than just what might be deemed trick plays.
As far as running back Jerome Harrison is concerned, we've really only seen the tip of the iceberg. Harrison truly only began to show his stuff and break out as a premier running back at the tail end of last season. 2009's 862 yards were only a flash of what he can do.
6. The 2010 Secondary Will Look Like a Totally Different Animal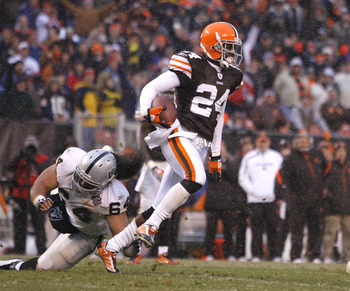 The Browns' brass promised a new and improved secondary this season, and all signs thus far indicate that they'll deliver.
With the offseason addition of cornerback Sheldon Brown and the strong draft class that includes safety T.J. Ward and cornerback Joe Haden, the team has done an excellent job of solidifying a secondary that would likely have been tagged in 2009 as "has potential but needs improvement."
Expect good things from Eric Wright and former special teams stalwart Mike Adams. Don't count out Chris Chancellor and Coye Francies either. If all the parts fit together as well as they should, then this is the kind of secondary that could truly scare opposing offenses.
5. Mike Holmgren Is Not a Miracle Worker...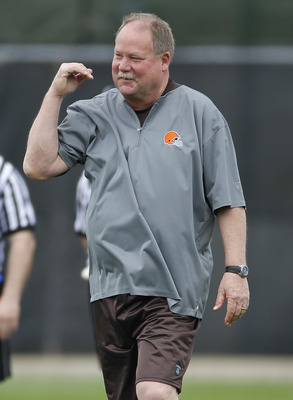 ...but there will be moments this season where we'll think he is.
After years of failed front office experiments, the Browns and their fans needed a football mastermind to give them some hope, some direction, and maybe even a few more marks in the win column.
Enter Mike Holmgren.
Unfortunately, the man can't perform miracles. Some of his strategies will be busts. Some of his decisions will be mistakes. But most of them won't.
Holmgren is building a masterpiece the only way one should: from the ground up. That means they'll be a few pitfalls along the way, but there will be even more occasions where Holmgren's master plan will produce results that make him look like a genius.
4. Browns Fans Will Be Blown Away by What Ahtyba Rubin Can Do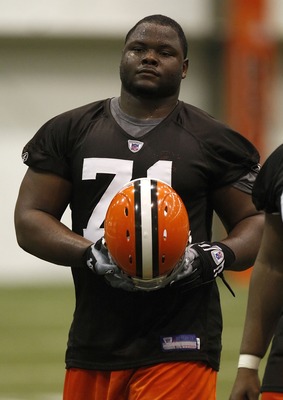 Raise your hand if you're sick of the biggest news about the Browns' front three being about who took which gun to which airport. Ahtyba Rubin is here to help.
While Shaun Rogers and Robaire Smith are counting down the days until their suspensions end, Rubin may very well be counting down the days until his first Pro Bowl.
With the anticipated shift to nose tackle this season, Rubin will have a chance to truly show what he's made of. Rubin already proved he could step up his game last season when he filled in for an injured Shaun Rogers in a most impressive way.
The Browns won four of the five games Rubin started last season. With his nose-to-the-grindstone work ethic and humble, quiet manner of performing, Rubin is the much-needed antithesis of Shaun Rogers.
3. The Browns Won't Demonstrate "Rebuilding" the Way the Indians Do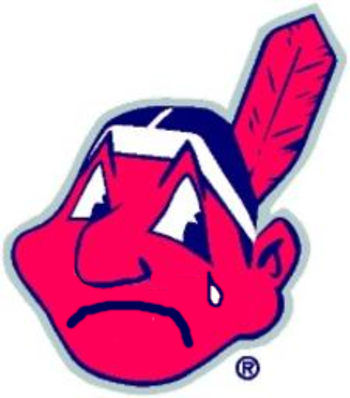 The way the Indians have defined "rebuilding" in Cleveland over the last couple of years makes you want to go grab a dictionary and make sure they didn't misunderstand what the word means.
The good news is, contrary to all the disappointment and broken promises delivered by the Indians organization in recent years, rebuilding for the Browns will mean something entirely different.
While the Tribe continues to spin its wheels, the Browns will show steady forward progress as they methodically build the winner that they promised to the city of Cleveland.
The Tribe will be a good team again someday. But the Browns will be a good team again very, very soon.
2. Wins Won't Define Success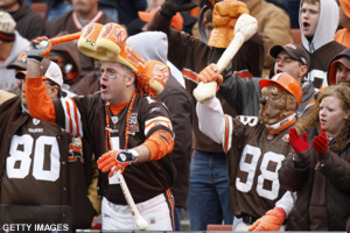 The Browns could go 10-6. Or they could go 6-10. The smart money is probably on 8-8.
But it won't matter.
Creating a team that can win, even if it doesn't do so for a year or two, comes first. The translation in the actual win column comes later.
The Browns may very well put a good number of W's on the board this season, but even they don't, that doesn't mean their efforts to improve haven't been a success.
A solid season, no matter the actual record, will be the benchmark for success for the Browns this year.
1. We'll All Stop Talking About LeBron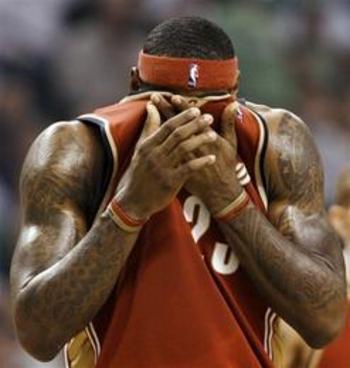 LeBron James is Cleveland's past. The Browns are its future.
Let's all do what we do best in Cleveland and look ahead. Go Browns!
Keep Reading

Cleveland Browns: Like this team?