A-Rod's 10 Most Memorable Moments In Pinstripes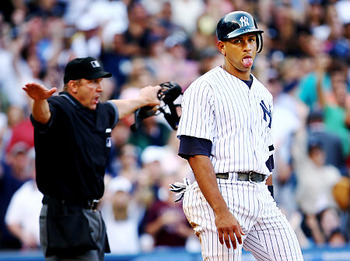 Tonight in the Bronx, history can be made.
Currently sitting at 598 career home runs, Alex Rodriguez is only two home runs away from becoming just the seventh member of the 600 home run club.
Since his time in pinstripes, he has not always said the smartest things. But there is no denying that A-Rod is one of the greatest baseball players of all-time.
Therefore, in honor of his pursuit for number 600, I present "A-Rod's 10 Most Memorable Moments In Pinstripes."
Since being acquired from the Texas Rangers in 2004, he hasn't always performed at his best.
But that doesn't matter, because I'm just thankful he's a Yankee.
I couldn't imagine him playing for any other team. It just wouldn't be right.
Welcome to New York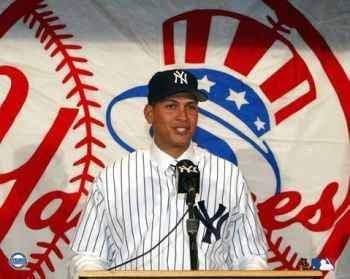 Following his first of three MVP seasons in 2003, where Rodriguez batted .298 with 47 home runs,124 runs,118 RBI, and 364 total bases, the Texas Rangers had agreed to trade Rodriguez to the Boston Red Sox.
However, the MLB Players Association vetoed the deal because "it called for a voluntary reduction in salary by Rodriguez." After the deal failed to be completed, Rodriguez was named team captain of the Rangers.
"I feel very' very excited and very honored," Rodriguez stated. "The last couple of years have been hard' and all of us have the same passion for winning and moving this train in the right direction."
Although A-Rod said all the right things, his time as captain didn't last long. Because on February 16, 2004, noticing the trade availability of Rodriguez, the New York Yankees made headlines by acquiring the future Hall of Famer for Alfonso Soriano.
Upon his arrival, Rodriguez agreed to switch positions from shortstop to third base and switched uniform numbers from 3 to 13.
In his first season as a Yankee, Rodriguez hit .286, with 36 home runs, 106 RBI, and 28 stolen bases.

The 2004 season was A-Rod's eighth consecutive 100-RBI season and ninth overall in his career, joining Hall of Famers Babe Ruth and Jimmie Foxx in becoming one of only three players in Major League Baseball history to record 35 home runs, 100 runs scored, and 100 RBI for seven consecutive seasons.
The 2004 season launched the roller-coaster journey in the Bronx for Rodriguez.
"You Play Ball Like A Girl"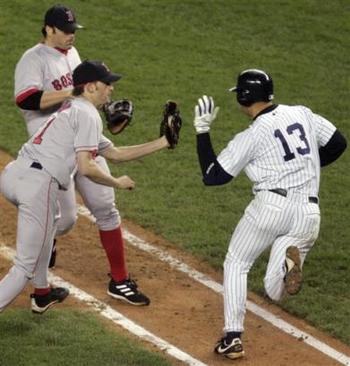 He has the MVP awards, the home runs, and the World Series ring.
But unfortunately for Rodriguez, one of his most "memorable" plays in a Yankees uniform was against the Boston Red Sox during Game Six of the 2004 ALCS.
After Curt Schilling and his bloody sock shut down the Yankees for seven innings, Bronson Arroyo came onto pitch the eighth inning as the Yankees were starting to rally.
Trailing 4-2, Derek Jeter was on first, and Rodriguez came to bat.
Hitting a little dribbler up the first base line to first, this should've been an easy out for Arroyo, who fielded the ball. But it wasn't, and controversy arose.

Rodriguez prevented Arroyo from tagging him out by trying to slap the ball out of his glove. Jeter scored on the play, and the sold-out Yankee stadium crowd erupted in joy.
But then the umpires ruled Rodriguez was out for interference, and Jeter ended up back at first.
The momentum was lost, and the Yankees never threatened in the series again.
Everyone knows what happened in Game Seven.
It's not even worth writing about.
His First MVP Award In Pinstripes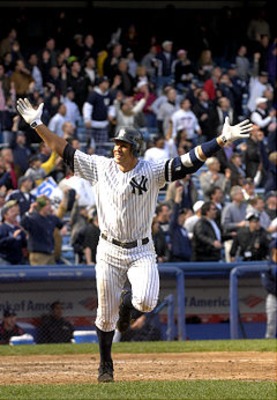 It didn't take long for Rodriguez to make "New York, New York" his home.
In only his second season as a member of the Yankees, Rodriguez won his second MVP award after batting .321 and leading the AL with 124 runs and 48 home runs while driving in 130 runs in 162 games, becoming the first Yankee to win the award since Don Mattingly in 1985.
Rodriguez also became the first Yankee to win the AL home run title since Reggie Jackson (41) in 1980, en route to hitting a record 26 home runs in Yankee Stadium, breaking the previous record of 25 home runs held by Joe DiMaggio and Gary Sheffield.
A-Rod also added another milestone to his resume.
On June 8, at 29 years, 316 days old, he became the youngest player in MLB history to reach the 400 home-run mark.
He was only getting started.
A-Rod Gets Demoted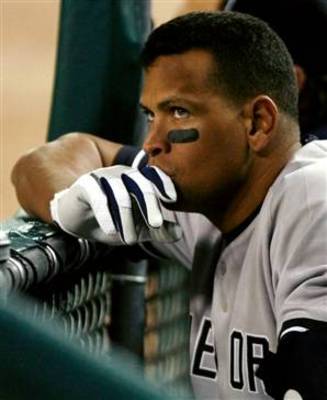 Was A-Rod a waste of money?
Could he not handle the bright lights of Broadway?
Was he always going to falter under the pressure?
With his team struggling to score in the 2006 ALDS against the Detroit Tigers, manager Joe Torre made waves that would have registered an 8.0 on the Richter Scale.
As the Yankees struggles at the plate continued, going scoreless over the previous 15 innings, Torre decided it was in the team's best interest to drop Rodriguez to the eighth spot in the batting order. This was the lowest Rodriguez batted since May 7, 1996, when he was a 20-year-old shortstop for the Seattle Mariners.
Rodriguez, who was 1-for-11 with no RBI during the 2006 AL playoffs prior to the move, was realizing the pressure of playing for the Yankees, and that he must be perfect almost every time he's at the plate.
Unfortunately for the Yankees, the move didn't make a difference, and their season was over.

Rodriguez went 0-3 and finished the series batting an abysmal .071 with zero RBI and four strikeouts.
After another early disappointing playoff exit, the Yankees had to consider trading the 31-year-old, who was acquired in 2004 for second baseman Alfonso Soriano.
Could they really have traded A-Rod?
Well, it appears to me they made the right decision by holding onto him.
"Mine"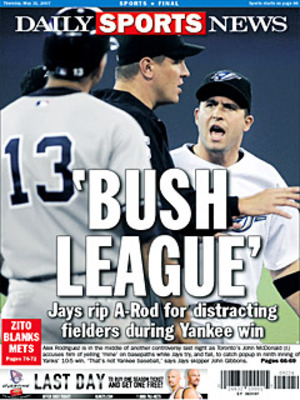 May 30, 2007 appeared to be just another regular season game between the Toronto Blue Jays and the New York Yankees.
This game turned out to be anything,but that.
Although the Yankees won the game 10-5, ending a five game losing streak, and Johnny Damon recorded his 2,000th career hit, that was all secondary as A-Rod stole the headlines once again.
In the top of the ninth inning with the Yankees leading, Alex Rodriguez appeared to yell out "It's mine!" during an infield pop-up, causing Blue Jays third baseman Howie Clark to drop what would have been the third out of the inning.
In response to the accusation, A-Rod stated after the game "I just said, 'Hah!' That's it. Sometimes it works, sometimes it doesn't."
This time, it worked.
A Season To Remember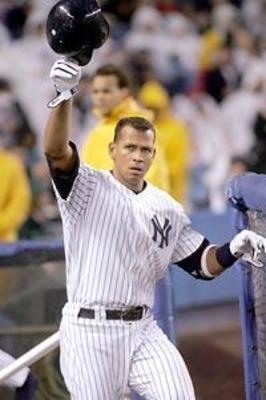 In 2007, A-Rod...
1) Became the first player in major league history to have at least 35 home runs, 100 runs, and 100 RBI in 10 consecutive seasons, surpassing Jimmie Foxx (nine consecutive seasons).
2) Led the AL in home runs (54)
3) Led the AL in RBI (156)
4) Led the AL in slugging percentage (.645)
5) Led the AL in OPS (1.067)
6) Led the AL in total bases (376)
7) Led the AL in times on base (299)
8) Set a career high in runs scored (143)
How's that for an MVP season?
500 Home Run Club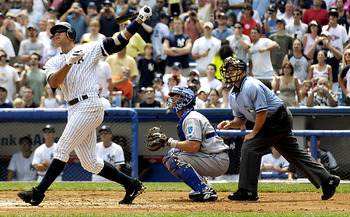 On August 4, 2007, Rodriguez hit his 500th career home run against pitcher Kyle Davies of the Kansas City Royals, becoming the youngest player ever to reach 500 home runs (32 years, eight days).
Rodriguez joined Mickey Mantle as the only other Yankee to hit his 500th career home run at Yankee Stadium.
Not bad company to be in.
Blame Boras, Not A-Rod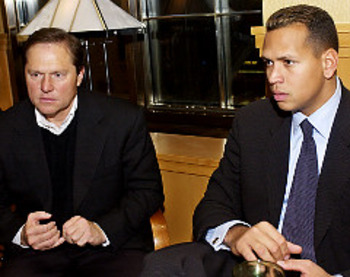 2007 was the final season of Rodriguez's 10-year, $252 million contract.
Throughout the 2007 season, Rodriguez continuously stated he wanted to remain a Yankee for the remainder of his career.
We all thought he was telling the truth, until this happened.
On October 28, during the eighth inning of Game Four of the World Series, as the Boston Red Sox were about to secure their second World Series championship in the past four seasons, Rodriguez's agent, Scott Boras, announced that he would not renew his contract with the Yankees.
Facing ongoing criticism for the timing of his announcement, Rodriguez stated he wanted to stay with the Yankees.
Well, A-Rod got his wish because on November 15, 2007, the Yankees and Rodriguez agreed on a 10-year, $275 million dollar contract.
It took a few seasons, but A-Rod would prove he was actually worth the money.
From A-Rod to A-Roid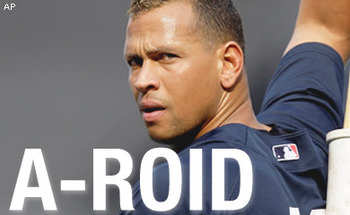 Couric: "For the record, have you ever used steroids, Human Growth Hormone, or any other performance-enhancing substance?"
Rodriguez: "No."
Couric: "Have you ever been tempted to use any of those things?"
Rodriguez: "No."
He became the youngest player in MLB history to hit 500 home runs.
He was on pace to hit more than 800 career home runs.
As soon as Rodriguez was to surpass Barry Bonds, who stands at 762 career home runs, the steroid era would officially be put to sleep, and there would be no question who the greatest home run hitter of all time was—Alex Rodriguez
With Rodriguez, it was not a matter of if he was going to break Bonds' record, but when.
Then in 2009, A-Rod admitted to using performance enhancing steroids from 2001 to 2003 while with the Texas Rangers, citing "an enormous amount of pressure to perform."
Rodriguez was now deemed a cheat (not for cheating on his wife), but for being a steroid user.
He knew they weren't "Tic-Tacs", but claimed he had no idea what was he was doing.
That's no excuse.
Call me a fool, but when the news broke, I was not only shocked, but disappointed.
So whether you like or not, this is just the world we live in.
That is never going to change.
I Finally Got A Ring, Too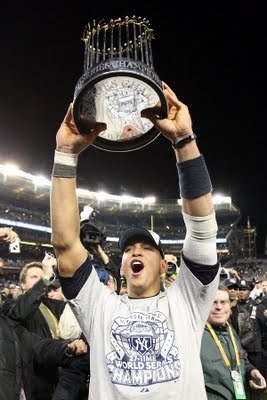 En route to the Yankees 27th World Series championship, Alex Rodriguez silenced all of his critics with a postseason performance for the ages by finishing the postseason with six home runs, 18 RBI, and a .365 batting avg.
No one should ever question Rodriguez and wonder if he's able to thrive in the postseason because he certainly proved he can.
But more importantly, he finally won his elusive World Series championship.
A championship ring that was well deserved.
Keep Reading

New York Yankees: Like this team?