Power Ranking the NHL's Top 15 First Lines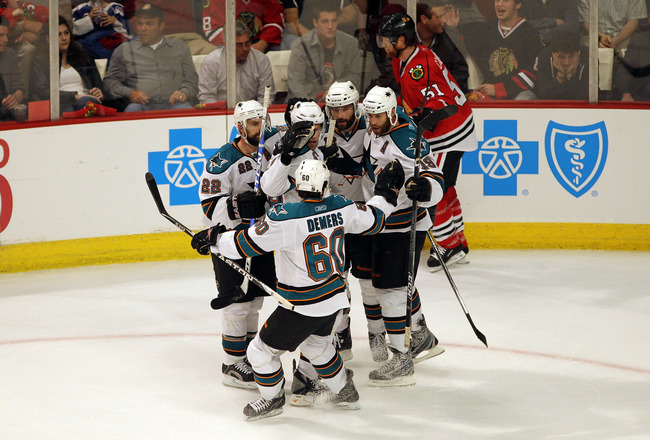 In the NHL, line combinations are pretty pointless.
Coaches match lines and flip flop line combinations more than you change seats in a game of musical chairs.
There are some teams, like the San Jose Sharks, that have a pretty consistent top line. There are others, like any team coached by Jacques Lemaire, that look like the lines were chosen on a dartboard on any given night.
The bottom line is that this makes choosing rankings for top lines pretty difficult.
So, using the line combination program from Dobber Hockey, I've narrowed it down based on the percentage of time the lines were used during last season's regular season.
It's not the most scientific of evaluations, but hey…hockey's not an exact science.
15) Daniel Briere, Jeff Carter, Scott Hartnell – Philadelphia Flyers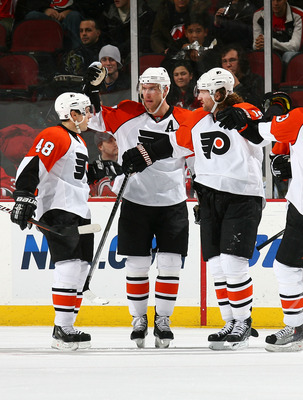 The Flyers are one of a few unique teams that could mix and match at least eight of their forwards and have a legitimate top line. However, the line of Carter, Briere, and Hartnell was the line that they rolled out the most during the '09-'10 regular season and it worked pretty well for them.
While neither of the three players had a great season, the Flyers found themselves in the Stanley Cup Finals, thanks in large part to both Hartnell and Briere, along with recently traded Simon Gagne.
The chemistry that Hartnell and Briere had should be enough to keep the two together for the coming season. Carter's versatility should be enough to find him back on the line.
The three totaled a combined point per game average of .69 points per game last season.
14) Mikko Koivu, Andrew Brunette, Antti Miettinen – Minnesota Wild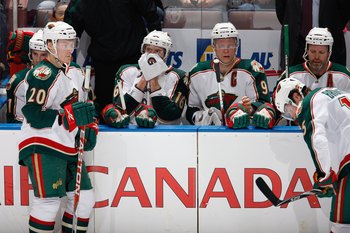 While the Wild could be considered a significant disappointment last season, the line dubbed the "AMA Line" was again one of the more cohesive lines in the NHL.
Anchored by Koivu at center, this trio has the uncanny ability to know exactly where each other are on the ice at any given time. The three combined for some of the more beautiful passing plays of the season last year and give a rebuilding Wild team a solid first line that they can look to in any situation.
The beauty of their chemistry is that they can be used to either produce offense for a Wild team that desperately needs it or to shut down the opposing team's top line if need be.
The three totaled a combined point per game average of .72 points per game last season.
13) Kristian Huselius, Rick Nash, Antoine Vermette – Columbus Blue Jacke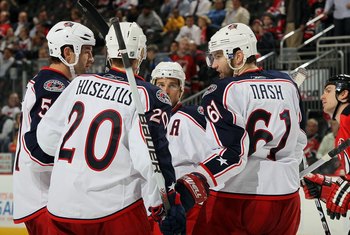 If there's one bright spot in Columbus, amidst the floundering team and declining attendance numbers, it's their top line.
Huselius, Nash and Vermette were not only the team's best line all season long, but were also the top three scorers on the team. The chemistry they exhibited was spectacular all season long and even masked the fact that Nash was severely lacking a supporting cast.
Nash is a top flight talent and, while Huselius and Vermette are both terrific players, they're nowhere near Nash's league. Nevertheless, this is a line that is both talented and deadly in the offensive zone and one that is one of the more potent in the league.
The three totaled a combined point per game average of .84 points per game.
12) Brandon Dubinsky, Marian Gaborik, Vinny Prospal – New York Rangers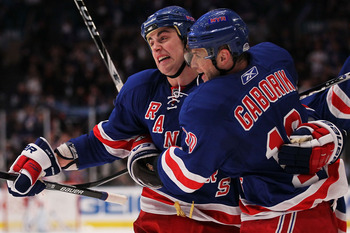 This line could easily be dubbed as the Gaborik and Company line because, quite honestly, it's Gaborik's show and both Dubinsky and Prospal are along for the ride.
The talented young sniper gave both Prospal and Dubinsky the means to have solid, if unspectacular, seasons that admittedly didn't live up to expectations. The idea that this line has room for improvement is, quite frankly, a frightening thought.
If both Prospal and Dubinsky perform up to expectations this coming season, you could easily see this line shoot up this list. However, this is also a line that is prone to being questioned.
"If Gaborik is healthy…", "If Dubinsky performs up to expectations…", "If the team can find any secondary scoring…"
An answer to any of these questions could easily give the Rangers a more potent attack heading into next season.
The three totaled a combined point per game average of .85 points per game.
11) Daniel Alfredsson, Milan Michalek, Jason Spezza – Ottawa Senators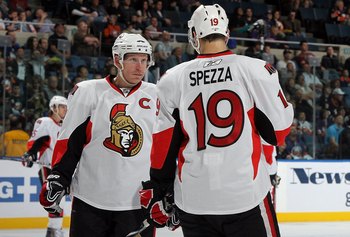 Had injuries not derailed all three of these players' seasons, this could have been a much more potent line than it was.
A total of 50 man games lost to injury tell a more telling tale for this line than their stats. Allow this line to play together for a full season and the sky could be the limit, with Michalek filling in for Heatley in the goal scoring department.
While Michalek is nowhere near as potent a goal scorer as Heatley, he is most certainly capable of playing a significant role on this line and this team.
The three totaled a combined point per game average of .83 points per game.
10) Steve Downie, Martin St. Louis, Steven Stamkos – Tampa Bay Lightning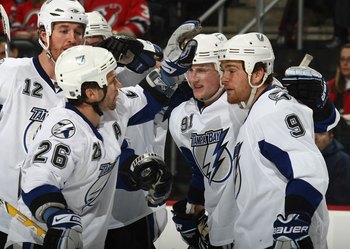 The Lightning put together a line with three 20-goal scorers on it and you could easily sing the song "One of These Things is Not Like the Other."
But if you put Downie, a 200-plus penalty minute player, on the line with the supremely talented St. Louis and Stamkos and you have yourself a very dangerous line. Stamkos and St. Louis to create offense and Downie to create space and give protection.
While Downie was interchangeable with Ryan Malone on this line, it was his presence as a grinding, physical player that really made the line click. Downie brought a mean streak to the line that Malone didn't provide and finally started to show some of the promise that he exhibited before he started showing signs of mental instability on the ice.
The three totaled a combined point per game average of .97 points per game.
9) Pavel Datsyuk, Johan Franzen, Tomas Holmstrom – Detroit Red Wings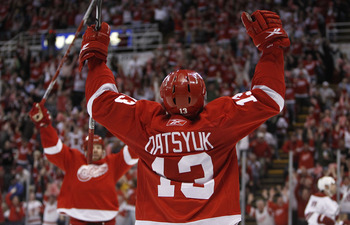 The fact that this line is this far down on the list is a testament to how difficult Detroit's season was last year.
Franzen and Datsyuk are both much better players than last season indicated while Holmstrom is likely around the same.
The three have a unique chemistry and a perfect combination of size, skill and grit that mesh perfectly. Franzen is a perfect mesh between the talent of Datsyuk and grit of Holmstrom and brings the two sides together perfectly.
A healthy Franzen and a healthy Holmstrom will bring this line back into prominence where it should be in the limelight.
The three totaled a combined point per game average of .78 points per game.
8) Ryan Getzlaf, Corey Perry, Bobby Ryan – Anaheim Ducks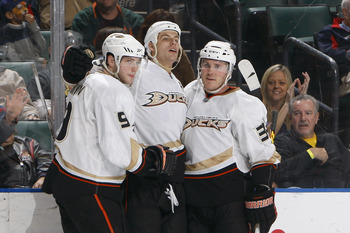 The bad news about this line is that Ryan and the Ducks are still squarely in the middle of contract talks. The good news is that Ryan is a restricted free agent, so there's a good chance he'll be back.
These three are the perfect blend of size, skill and physicality and are easily one of the top lines in the NHL.
All three players are over six-feet tall and two hundred pounds and all three are willing to mix it up and go to the hard areas to get the job done.
Injuries to Getzlaf derailed his season but with a healthy pivot, this line will be a dominant force once again.
The three totaled a combined point per game average of .91 points per game.
7) Troy Brouwer, Patrick Kane, Jonathan Toews – Chicago Blackhawks
It's funny to think that the top line of the Stanley Cup winners would be this far down on the list, but the fact of the matter is that the Blackhawks were and are a team first, which means they get it done by committee. Chicago had five players with more than 50 points last season and six with more than 20 goals. This coming season, however will be a different story and this line will be instrumental in the team's success. It would be easy to say that the 'Hawks will substitute Hossa or Sharp onto this line for Brouwer, but that would be putting far too many eggs into one basket and, besides, Brouwer's combination of grit and skill fits well beside Kane and Toews. The three totaled a combined point per game average of .83 points per game.
6) Jamie Langenbrunner, Zach Parise, Travis Zajac – New Jersey Devils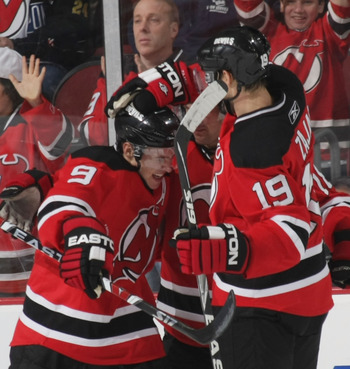 The signing of Ilya "Devil 4 Life" Kovalchuk will actually only help matters when it comes to this line.
What Kovalchuk's signing will do is give the Devils a situation similar to Philadelphia and Chicago, meaning that they are able to substitute one forward for another at any given time.
These three, however, have a unique chemistry that allows them to play seamlessly with one another night in and night out. The three not only are the team's top line, but they're the team's leaders as well which gives them both a unique position in the team and on this list.
The three totaled a combined point per game average of .86 points per game.
5) Loui Eriksson, James Neal, Brad Richards – Dallas Stars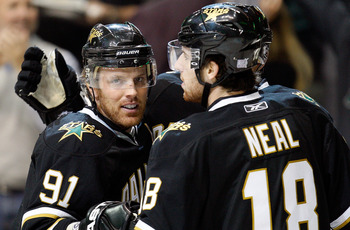 The biggest surprise about this line is that the Stars were last in their division last season, yet this line was one of the more productive in the NHL.
Led by playmaker extraordinaire Brad Richards, Neal and Eriksson were able to find the back of the net quite a bit easier.
Offense definitely isn't the Stars' failing and this trio is one of the best in the league at finding the back of the net. They're not especially big, they're not especially physical but somehow they manage to get the job done nonetheless.
The three totaled a combined point per game average of .90 points per game.
4) Sidney Crosby, Evgeni Malkin, Chris Kunitz – Pittsburgh Penguins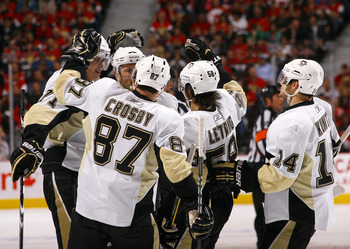 The biggest question mark in Pittsburgh's organization is at wing, so why not plug your second best center in on your first line? That's exactly what the speculation is heading towards for the Penguins. Kunitz is the interchangeable part on this line, but he is also the most offensively talented wing that the Pens have at the moment. Throw him in front of the net with Malkin and Crosby on the same line and you could have a potentially lethal combination for opposing goaltenders. So, the question then becomes, what do you get when you combine a couple of world class centers and a passable winger? The three totaled a combined point per game average of 1.1 points per game.
3) Alexandre Burrows, Henrik Sedin, Daniel Sedin – Vancouver Canucks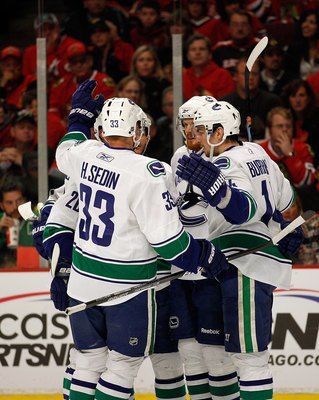 As with the Rangers, this is the Sedin's show and Burrows is just along for the ride.
Burrows does the exact same for the Sedin twins that Downie does for his linemates. He gives them protection and space—not that the Swedes need it.
This line is very unique in that the Sedins are practically psychic when it comes to their playmaking. The twins create the plays and Burrows helps finish them, as well as finish any messes that are left over.
Whether or not Burrows' success comes from playing with the Sedins or not doesn't change the fact that this line is one potent combination.
The three totaled a combined point per game average of 1.2 points per game.
2) Nicklas Backstrom, Mike Knuble, Alexander Ovechkin – Washington Capit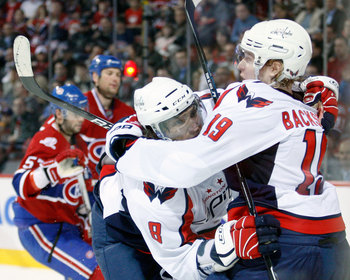 It's hard to imagine that any player could make Backstrom and Ovechkin play even better together, but Knuble has done just that.
His presence around the net has provided the yin to his linemates' yang and he creates havoc around opposing goalies that frees them up to do their thing.
On top of that, he is a supremely hard worker that plays the game the right way and has begun to rub off on his linemates. A noticeable difference in the way that both Backstrom and Ovechkin play came once Knuble was added to the fray on this line and he has taken a good thing and made it even better.
His size and his tenacity at both ends of the ice make this line even better and are what will help the two youngsters teamed with him continue to grow, which is a frightening prospect for the rest of the league.
The three totaled a combined point per game average of 1.2 points per game.
1) Dany Heatley, Patrick Marleau, Joe Thornton – San Jose Sharks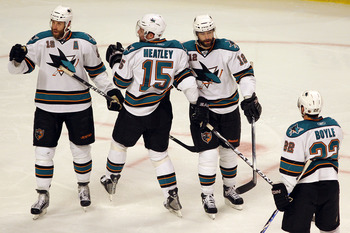 If you didn't think that this trio would be at the top of this list, you're kidding yourself. They may not have been the top scoring players in the NHL, but this isn't a list for the top scorers—this is one for the top line. The Sharks might not have had the league's top scorers, but they were all point per game players, all 20-plus goal scorers and one of the most consistent lines in the league. They have a unique combination of size, skill and athleticism that is rare to find in three players playing on one line. This isn't based on playoff success or anything else. It's based, simply, on what line functions the best as a unit and these three are most certainly it. The three totaled a combined point per game average of 1.1 points per game.
Keep Reading