10 More 2012 College Football Recruits To Watch For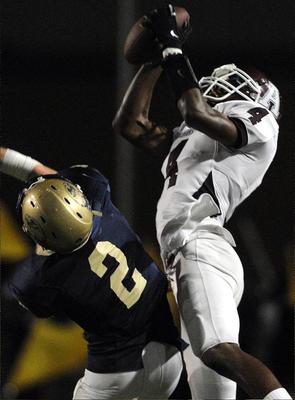 I'm not the first person to try and get an early look at the 2012 recruits who will populate the top 100 lists, and I certainly won't be the last.
Continuing in the vein of the 12 must-see recruits from the 2012 class that I posted last month, here are ten more to keep an eye on at the junior camps and combines circuit.
Video is still limited and none have even reached the stage where they can receive written offers, but that hasn't prevented the country's best coaches from trying to gain an edge.
Stefon Diggs, ATH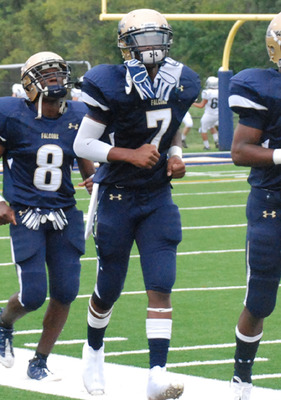 Maryland has been raising its recruiting profile year after year—this year, five-star OT Cyrus Kouandjio headlines a strong group of talent—and 2012's best may be athlete Stefon Diggs.
Diggs' film is a little chopped up—watch a screen pass for a big gain here, a long ground gainer here, a kickoff return for a TD here and a beautiful defensive stop here—but you get the picture.
The 6'0", 160 lb athlete already holds offers from Maryland and Pitt and is drawing interest from UCLA.
The knock on any recruit north of the Mason-Dixon is speed, but I'm reserving judgment until a number emerges from an official combine. If it does become an issue, I see no problem putting him at safety.
Dorial Green, WR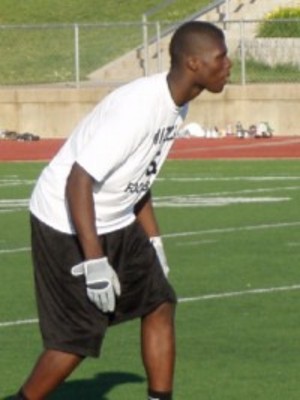 I'll let B/R writer Kyle Faller, who commented on my previous 2012 article, take this one:
A dominant athlete in track and basketball, Green has only been playing organized football for a few years and already holds offers from Mizzou, USC, Oklahoma, UCLA, among others.
There's limited video on the kid, but he's 6'5" and runs somewhere in the neighborhood of a 4.4 forty.
On top of that, people are saying he may be the most heralded recruit to come out of Missouri in decades, maybe ever.
I've seen that last sentiment echoed elsewhere, along with comparisons to the legendary Randy Moss. And Missouri hasn't exactly been a desert of talent (see Maclin, Jeremy).
You can read up on Green here or check out some limited video of the future five-star here.
Johnathan Gray, RB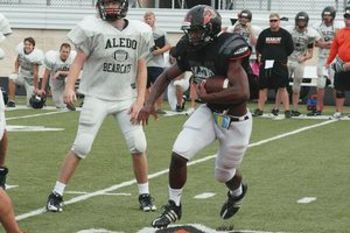 Aledo, Texas running back Johnathon Gray was the subject of an entire ESPN recruiting profile singing his praises as one of 2012's future finest.
The 5'10", 180 lb back already holds offers from Texas A&M and Texas Tech, the latter of which was where his father attended school and rose to fourth all-time in single season rushing yards for the Red Raiders. Some neat highlight clips in that link, too.
As for his son, the versatile back ran for 989 yards as a freshman and had a whopping 2800 yards and 50 touchdowns as a sophomore. He runs outstandingly well through contact and looks like he's jogging to get past defenders. A true natural at the position.
Recruitniks are calling him an improvement on Malcolm Brown, the five-star and top overall running back in the 2011 class.
There's no end of hype on this kid, so don't get caught napping on him. Tommy Tuberville surely isn't.
Cayleb Jones, WR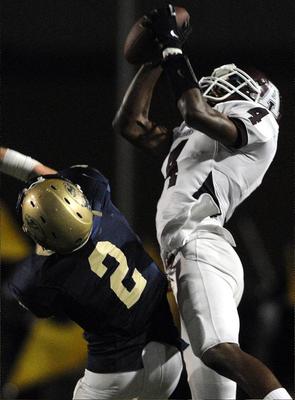 Already holding 10 offers, Austin, TX receiver Cayleb Jones already holds as much college interest as most 2011 prospects.
That elusive Texas offer still escapes him, but the 6'3", 185 lb recruit holds verbal offers from Notre Dame, UNC, Miami, and Texas A&M, whom he visited with his family just recently.
The video below doesn't do him much justice, but that's about what you can expect for these 2012 prospects. He looked like a smooth runner with the ball in his hands on that underneath route, however.
Barry Sanders, Jr., RB (Naturally)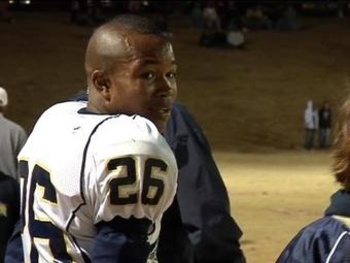 The son of the greatest running back of all time looks equally as bouncy, shifty and brilliant in his cuts as his dad did at Oklahoma State and in Detroit.
Sanders, a 5'11", 180 lb prospect, has some of the best highlight film I've seen at the high school level. That move where he extends his arm and keeps his balance against a wave of offensive and defensive linemen is classic Barry.
Texas Tech, Tulsa and Texas A&M have already extended verbal offers, and Rivals reports interest from Oklahoma, Okie State, Auburn and Arkansas. Size may handicap his star ranking, but if history holds, it shouldn't mean much for his production.
Quay Evans, DT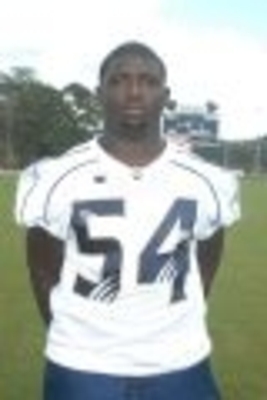 Generating buzz as Mississippi's top recruit for 2012, defensive tackle Quay Evans committed early to Ole Miss, but opened things up after verbal offers from Alabama, Mississippi State, UCLA and Oregon and interest from LSU, Florida State and others started coming in.
The 6'3", 295 lb tackle recently visited Mississippi State and was named second-team all-district as a sophomore, starting every game.
Scout praised his explosive first step and heady play, and he was clocked in the 5.0 range in the 40, so he could fit the mold of an SEC-style rush DT. I anticipate he'll premiere in the high four-star range and compete for a fifth star if he hits up the combines.
Imani Cross, RB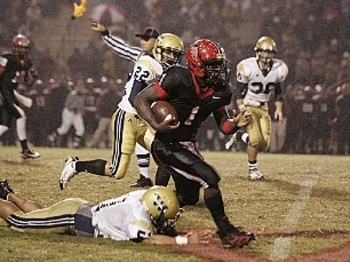 Imani Cross of Flowery Branch, GA plays on a very successful high school team, which has meant the the 6'1", 215 lb running back hasn't been able to feature his skills yet.
But Cross still posted 554 yards and six touchdowns after taking over midway through his sophomore season.
The South Carolina Gamecocks are high on Cross, extending him a verbal offer. They signed his teammate, QB Connor Shaw, in the 2009 class.
Rivals customers can hit up his video here. All others will have to make do with the game video below.
Erick Hallmon, LB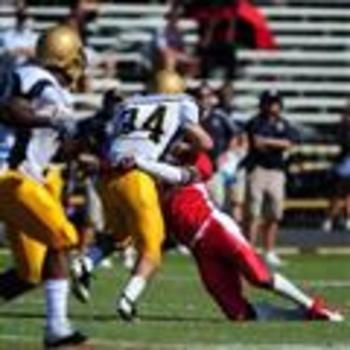 Outstanding freshman and sophomore seasons have many pencilling linebacker Erick Hallmon in to an early top 100 ranking.
The 6'0", 201 lb linebacker/safety prospect hails from Cardinal Gibbons in Fort Lauderdale, FL and is receiving early interest from Florida, UCLA, and Miami, where his father, Jack, was an accomplished cornerback.
Avery Johnson, WR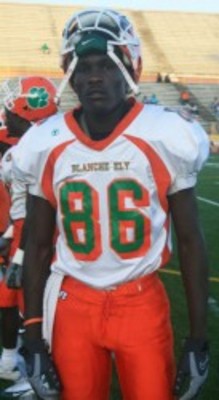 Another candidate for an early five-star evaluation is Pompano Beach, FL receiver Avery Johnson. The 6'2", 180 lb receiver already holds offers from Alabama, Georgia, Florida, Miami, Michigan, LSU and USC, among others.
Johnson told Scout's Chad Simmons that he ran a sub-4.4 40 at a camp at LSU recently, which explains the offers. Melding his size with that kind of speed puts him at the blue-chip level of 2011 five-star George Farmer.
Embedding was disabled, but here's his must-see highlight film.
Nacho Garcia, OT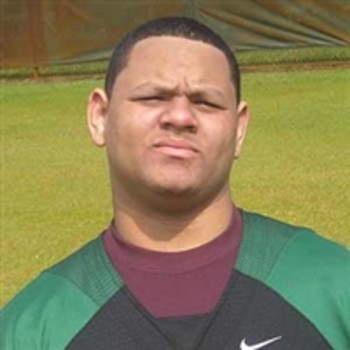 SI writer Andy Staples profiled both Avery Johnson and good-natured 2012 prospect Nacho Garcia in a good write-up that ran a few weeks ago.
While Johnson has been the target of many offers, Garcia has been a slow burner up the recruiting boards.
The 6'6", 339 lb recruit might have a good disposition off the field, but he shows great competition on it. He's somewhat new to the tackle position, but has the agility of someone much lighter.
2011 recruiting followers will be reminded of another big-sized, somewhat raw tackle prospect, five-star Maryland OT Cyrus Kouandjio.
Film of the Fort Lauderdale prospect is not available.
Keep Reading