Jacksonville Jaguars Training Camp Features Five Big Battles in 2010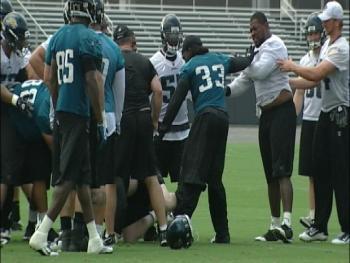 Unfortunately, Paul McQuistan versus Walter Curry isn't among them.
McQuistan and Curry—both facing long odds to make the Jaguars' final 53-man roster—were the biggest names of Jacksonville's organized team activities for a day back in June. Squaring off in an 11-on-11 practice, the two tussled well past the drill's final whistle before their teammates intervened.
When the Jaguars open their training camp in less than two weeks, attention will turn away from such minor scuffles toward some real fights: the position battles.
As many as eight starting jobs are said to be on the line in Jacksonville this year on what general manager Gene Smith has described as the Jaguars' most competitive roster ever.
For various reasons, the outcomes of these five competitions will have the biggest effect on Jacksonville, both in 2010 and as a franchise.
5. Quarterback: David Garrard vs. Luke McCown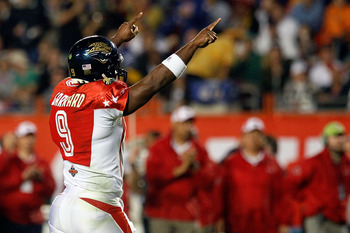 Disclaimer: This is not a competition.
As much as Garrard may have downplayed his job security since the end of the Jaguars' disappointing 2009 season, both in interviews with Jacksonville newspapers and as a guest on ESPN's "Jim Rome Is Burning," he isn't going to be dethroned the way he unseated Byron Leftwich in 2007.
What's important here is whether Gene Smith and head coach Jack Del Rio will continue to publicly acknowledge that fact.
Theoretically, yes, all starting jobs are up for grabs, it's an open competition, etc. But the level of the Jaguars' stated commitment to Garrard will be a strong indication of how long he might stick around after they've drafted his successor next April.
4. Defensive End: Derrick Harvey vs. Austen Lane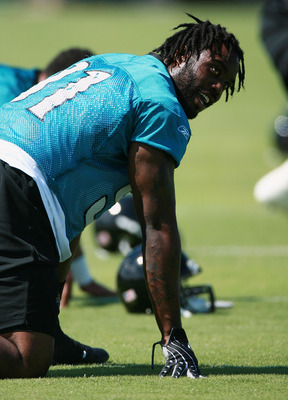 As at quarterback, this shouldn't be much of a competition on the field. Harvey is bigger, stronger, and more experienced than Lane.
The problem is that Lane, Jacksonville's high-upside fourth round pick from this year's draft, has been christened by some observers as a camp challenger for Harvey's job.
Despite his consistent performance as a front-line run defender, his underrated knack for shedding blockers, and his highly-touted offseason work ethic, Harvey—on whom the Jaguars went all-in in 2008, trading up 18 spots to land him in the first round—is publicly perceived to be a "bust."
If this farcical "competition" isn't put to bed as soon as Jacksonville's first practice in pads, that "bust" tag will stick (however unjustly) a little more.
3. Troy Williamson vs. Jarett Dillard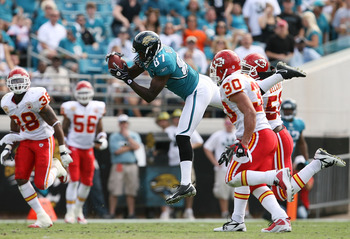 Finally, an important competition that's not a matter of public image! The Jaguars' wide-open battle royale for who'll start opposite 2009 revelation Mike Sims-Walker is a surprisingly murky situation for such an important spot.
Assuming that Mike Thomas, last year's rookie standout in Jacksonville's receiving corps, has been pegged as the Jaguars' slot receiver, there are still several contenders.
Troy Williamson, a former seventh overall draft pick (2005), came to Jacksonville as a castoff looking for a second chance. Despite showing promise and speed in two preseasons as a Jaguar, injuries have limited Williamson to 10 regular season appearances and only eight catches.
Jarett Dillard, Jacksonville's fifth round pick in 2009, showed very well in limited action. Dillard's penchant for spectacular catches and underrated ability to separate from coverage marked him as a strong candidate to start.
The Jaguars' signing of special teams ace Kassim Osgood came with the promise that he'd get a chance at receiver, and past offseason high-flyers such as Nate Hughes and Tiquan Underwood will also be in the mix.
2. Brad Meester vs. Uche Nwaneri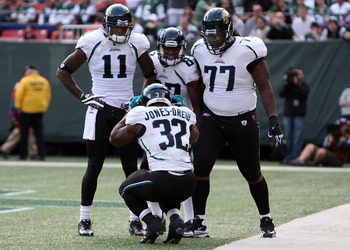 It's time for Jacksonville to challenge Meester's tenure as the starting center.
Despite his value as the experienced leader of the Jaguars' offensive line and the role he played in developing younger players thrown into that mix over the last three years, injuries and age have chipped away at Meester's lateral agility in pass protection and as a pulling lead blocker.
Signs are that Nwaneri, a project pick in the 2007 draft, has wrapped his head around the positional responsibilities of snapping the ball. At center, he'd offer Jacksonville the physicality and quickness that's been missing since Meester's last biceps injury.
He'd also get out of the way at guard, where the Jaguars' depth chart is crowded enough by Vince Manuwai, Kynan Forney, and Justin Smiley. Two position battles with one stone, as it were.
1. Coaching: Jack Del Rio vs. Mel Tucker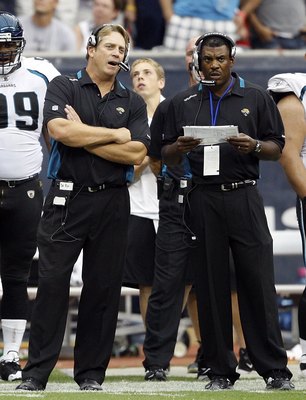 Last year, Jacksonville's training camp was taken over as the set for "Mel Gone Wild."
Regrettably, it had nothing to do with recorded phone calls or out-of-control A-list celebrities.
In his first year as the Jaguars' defensive coordinator, Mel Tucker decided to take the whole thing apart and try to put it back together. His switch to a 3-4 scheme entailed new responsibilities for players like Justin Durant, Quentin Groves, and Derrick Harvey who were still settling into major roles.
It took Del Rio until part-way into the regular season to straighten out the mess, restoring order by returning his defense to a familiar four-man front.
This year, Del Rio—who, unlike Tucker, has Super Bowl appearances and a history of success on defense with the Ravens and Panthers from 1999 to 2002—has to save himself a headache in September by keeping Tucker on a shorter leash in July.
In what might be his last season in charge, after all, he might as well do the thing his own way.
Keep Reading

Jacksonville Jaguars: Like this team?