Top 20 Most Overblown Sports Moments Ever (With Video)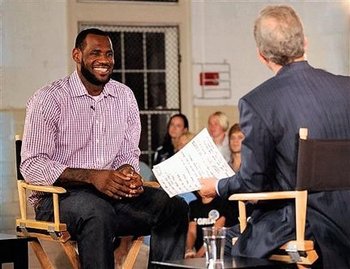 Leave it to the media for sometimes creating too much hype, discussion, and even controversy regarding significant events in sports.
Perhaps it's the need to draw fans, readers, and viewers that explains why ESPN decided to air LeBron James' outlandish one-hour special.
LeBron James wasn't the first, he was just the latest to participate in an overblown sports moment. There are plenty more!
Here are 20 of the most overblown moments in sports...
Honorable Mention: Spain Loses To Switzerland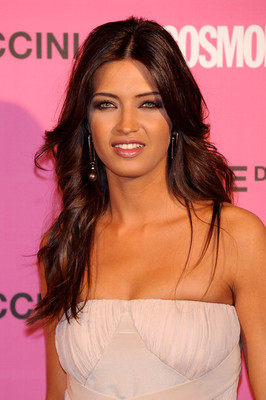 Spain's 1-0 loss to Switzerland led to a global controversy that resulted in super-hot sideline reporter Sara Carbonero being blamed by fans and media for distracting boyfriend Iker Casillas during the game.
Now that Spain came away as the winners of the World Cup, people have seem to have forgotten that she was the target of their ire earlier in the tournament.
You don't need to be versed in Spanish to see what's going on in this clip:
20. Beckham Coming To America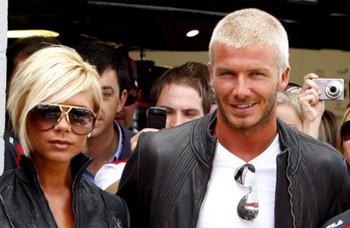 David Beckham signed a five-year, $250 million contract which also included commercial endorsements, to move from Real Madrid to the Los Angeles Galaxy in 2007.
He was expected to be the face of soccer in the United States. Three years later, after another unproductive season with the Galaxy—Becks is more of an afterthought.
19. He Loves Attention: Terrell Owens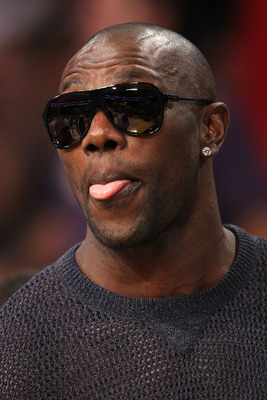 Most sports fans are aware that drama inevitably follows T.O. wherever he goes.
From his touchdown dances, to his "accidental overdose," to his new reality show on VH1. Everything he does is overblown and seems to be a cry for attention.
Here's a clip on T.O.'s spitting incident with DeAngelo Hall:
18. A-Rod and Dallas Braden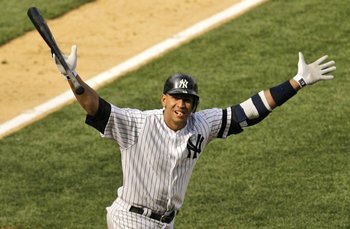 On April 23, 2010, A-Rod showed the world the he is oblivious to baseball etiquette when he walked over the pitching mound on his way back to first base.
The incident enraged pitched Dallas Braden and even inspired "Get off my mound" t-shirts.
Perhaps it even drove him to pitch a perfect game on May 9, 2010.

Dallas Braden flips out
Uploaded by udrtwe. -
17. Freddy Adu Signing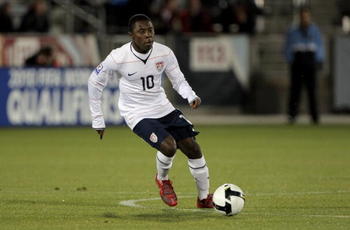 At 14 years old, he became one of the youngest athletes to sign a professional contract.
He was drafted by the D.C. United and scored his first goal two weeks after his debut.
Freddy has had very little success since and his career has been a disappointment.
Here's video of a young Freddy Adu playing against older and bigger competition:
16. Barry Bonds: The Home Run King?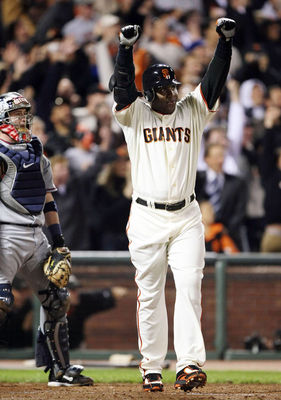 One of the most heavily discussed feats in baseball is the home run record.
On paper, Bonds holds the all-time record for most career home runs (762) and he also holds the record for most home runs in a season (73).
However, he set the record during the steroid era.
Which fuels the constant and sometimes overblown arguments that he really didn't deserve his accomplishments.
15. The Bartman Curse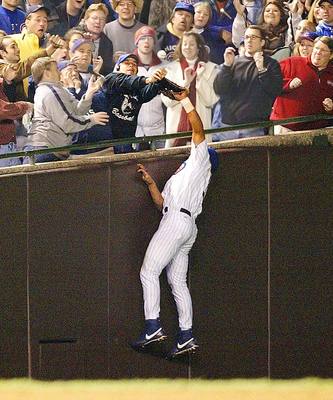 To Chicago Cubs hopefuls, this single play changed the luck of their beloved franchise.
Instead of being four outs away from winning the NLCS series which they were leading 3-2 at the time, they blew a 3-0 lead and lost the game that night and let another one go in game seven to the Florida Marlins.
The Marlins went on win the 2003 World Series, and the Cubs haven't won a playoff series since.
Apparently, all because of Steve Bartman.
Here's footage of Bartman getting escorted off the field:
14. Patriots Spygate
So one of the best coaches and teams in the NFL was caught trying to gain an advantage against their opponents. Is that such a big deal?
I guess if you're Bill Belichick and the New England Patriots, then you're in for some public outrage.
Tapes were confiscated, fines were levied, a draft pick was taken away and even a Senator wanted a piece of the action.
Here's Boomer Esiason's take on Spygate:
13. MLB Steroid Hearings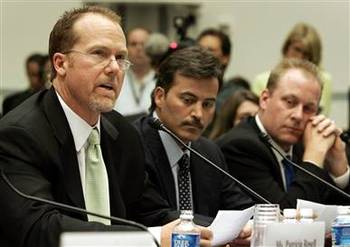 Was it really necessary for George Mitchell to step in and lead an investigation to expose the use of steroids in baseball? I mean, wasn't it obvious?
The hearings saw the likes of Sammy Sosa and Rafael Palmeiro deny using steroids. And Mark McGwire declined to give an answer to the question of whether he used performance-enhancing drugs.
Talk about some reality-television-like drama...yawn.
Listen to Roger Clemens' testimony:
12. Iverson Missing Practice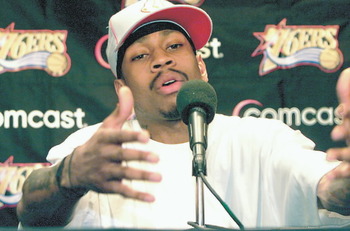 When reporters made a big deal out of missed practices from Iverson, he then lashed out and went on a "practice" tirade.
11. Sean Avery's "Sloppy Seconds"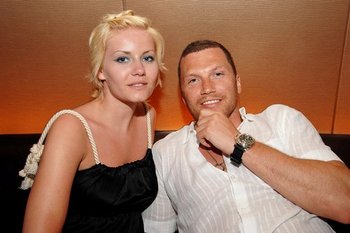 It was a pretty cheap move for Avery to comment about his former girlfriends while on a trip to Calgary.
So what if his super hot exes Elisha Cuthbert and Rachel Hunter found other hockey-player boyfriends? They're hot; it was bound to happen.
Avery was suspended indefinitely for his comments and never played another game for the Dallas Stars.
10. Super Bowl XXXVIII: Wardrobe Malfunction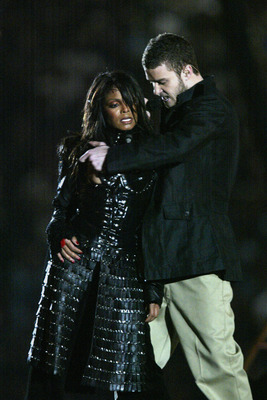 Who hasn't heard about what happened in Super Bowl XXXVIII? A supposed wardrobe malfunction was the reason for all the controversy.
Intentional or not. It doesn't really matter anymore, future Super Bowls and halftime shows have never been the same.
Plus, the term "wardrobe malfunction" has been adopted and constantly used in popular culture to refer to anything remotely close to a slip.
The halftime show that changed it all:
9. Miami Heat LeBron, Bosh & Wade Intro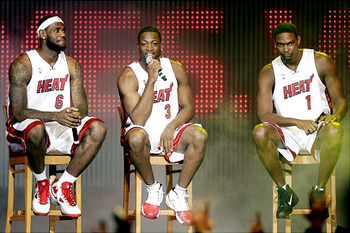 The signings of LeBron James, Dwyane Wade and Chris Bosh are definitely great for the city of Miami.
But the celebration may be premature. They haven't won anything yet.
Check out the overblown introductions:
8. Romo's Trip To Mexico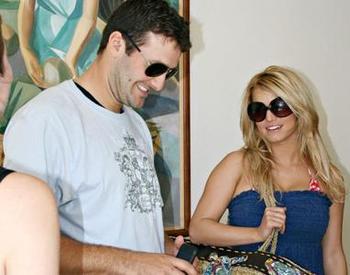 Let's face it, Dallas Cowboys fans were already not big Jessica Simpson fans.
But when she and Romo were captured on photo vacationing in Mexico during the Cowboys bye week prior to a heated playoff match against the New York Giants in 2008, pundits and fans collectively shook their heads.
When they lost, all hell broke loose.
7. Magic Johnson Returns to 1992 All-Star Game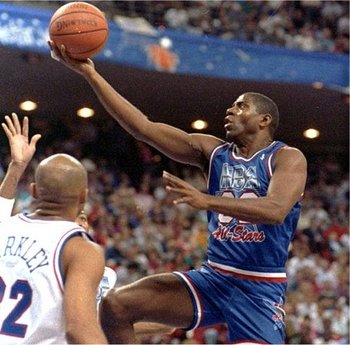 Hard to be believe that nearly two decades ago, the entire nation were not very informed about HIV and AIDS.
Even though he retired before the start of the season, Magic competed in the All-Star Game.
Despite overblown fears of former teammates, players in the league, and even media about being on the court with someone that was HIV positive, Magic still made his appearance.
His stat line: 25 points, 5 rebounds, 9 assists
6. Michael Phelps Takes a Hit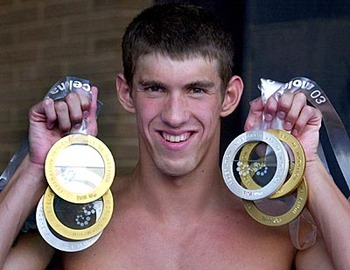 He got caught on picture taking a hit from and was scrutinized by media and fans.
After his admission, an investigation by the Richland County Sheriff's Department there was talk of prosecuting the Olympic champion. Phelps even lost his Kellogg's contract for it.
5. Shaq and Kobe Tension/Breakup/Rivalry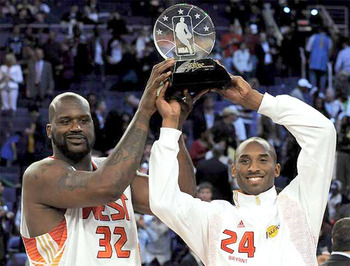 The Shaq-Kobe drama regarding tension and animosity between these two future Hall of Famers dominated most of basketball during the 2000s.
Almost every single year before and since their breakup in 2004, media found a way to produce a drawn-out storyline about these two.
Here's Shaq rapping about Kobe after the Lakers lost to the Boston Celtics in 2008. There's no word if he plans on releasing a new rap video congratulating Kobe on his last two championship rings.
4. 2009 Finals: Kobe and LeBron Puppets
The 2009 Finals were supposed to feature the head-to-head matchup between two of the league's best players Kobe Bryant and LeBron James.
But it never happened.
The Nike puppet commercials, although they were entertaining, ended abruptly when LeBron couldn't get past Dwight Howard and the Orlando Magic in the 2009 Eastern Conference Finals.
3. LeBron James: The Decision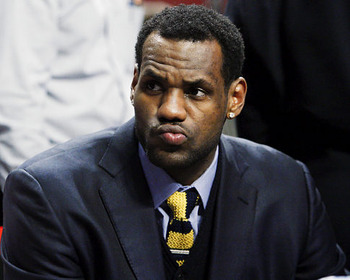 For some reason (a large ego perhaps), LeBron believed that his decision to sign with a team during the this offseason warranted a one-hour special on ESPN.
Yes, it was one of the most overblown and self-serving specials of all-time. But many of us still watched and oddly entertained by all the drama.
2. Tiger Woods and His Mistresses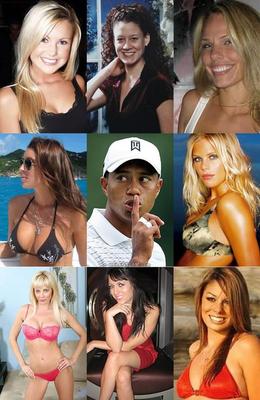 Yes, Tiger cheated. But this topic about his infidelity and his numerous mistresses has got to be the most overblown sports-related moment of the year.
It seemed like every day after that "car accident" more and more evidence of a growing list of mistresses surfaced.
From sports media to supermarket tabloids, Tiger and his women were all over the news.
Watch his apology:
1. Brett Favre's Retirement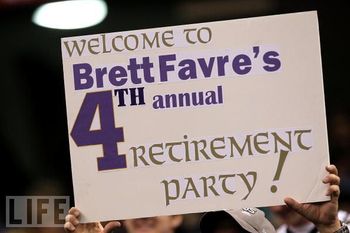 At first, Favre's retirement was viewed by many as the end of an era. Now, it's become a running punchline among fans and pundits alike.
Four seasons after talks first surfaced about Brett Favre's retirement from the NFL, it looks like he's leaning towards another attempt at a comeback.
Here's a hilarious Favre commercial:
Keep Reading