2010 NBA Summer League: The Top 10 Performers in Las Vegas
It can be difficult to extract meaningful information out of the NBA Summer League, which is essentially a glorified pickup game where defense is optional.
Although it takes some effort, it's possible to sift through the inflated statistics to discover some meaningful trends.
The 2010 NBA Summer League in Vegas provided a showcase for the NBA's rookie class. John Wall and Dominique Jones put up solid numbers while demonstrating impressive versatility.
Among the more veteran participants, J.J. Hickson and JaVale McGee played at a high level and could use Vegas as a springboard heading into next season.
Here's a look at the top 10 performers of the 2010 NBA Summer League:
Begin Slideshow

»
Caracter probably should have stayed at UTEP for another season, but his performance in the summer league could secure a spot on an NBA roster next season.
The big man averaged 15.5 points and 8.6 rebounds for the Lakers' summer league squad.
He showed a nice touch around the rim in Vegas, shooting 59 percent from the floor and making the most of his catches in the paint.
As long as he stays in shape, Caracter should find a home in the NBA.
If C.J. Watson leaves Golden State, the Warriors appear to have a capable replacement available off the bench.
Williams was a dynamic scorer during his college days at Virginia Military Institution and showed an ability to score at the NBA level, albeit against little defensive resistance.
He averaged 22.1 points per game on 41 percent shooting for the Warriors' summer league team.
Although he still hasn't shown the ability to run a team, Williams will be a good fit in Don Nelson's system.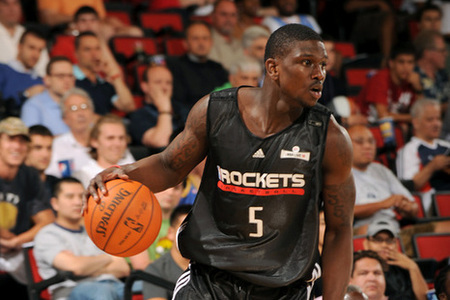 After playing sparingly as a rookie last season, Taylor displayed his talents in Vegas.
The former Central Florida hoopster averaged 18.4 points and 4.8 rebounds while shooting 47 percent from the field.
Taylor still needs to improve his game, but he certainly has a chance to be a part of the Rockets' rotation in 2010-2011.
Monroe's summer league numbers weren't overwhelming, but his skill was certainly on display in Vegas.
More importantly, he demonstrated assertiveness on the offensive end.
Monroe was one of the few bright spots for the Pistons' summer league team, which got poor performances from 2009 draft picks Austin Daye and DaJuan Summers.
Based on the Memphis Grizzlies 2010 draft, it appeared that the club didn't have a great deal of faith in Young.
That could change after his strong showing in Vegas.
The swingman averaged 19.4 points and 3.8 rebounds on 54 percent shooting.
He still needs to improve his jump shot, but there is no question that he bettered his stock by playing well in the summer league.
Jones became a solid all-around player during his three years at South Florida. Based on the the early returns, it appears that he will showcase a variety of skills at the NBA level.
The 6'4" guard averaged 16.6 points, 3.8 rebounds, and 3.4 assists for the Mavs' summer league squad.
Jones will likely make a strong push for playing time on a crowded Dallas roster next season.
DeRozan's game is perfectly suited for the run-and-gun action of the summer league, which is why his numbers have to be looked at with some degree of skepticism.
He needs to show continued improvement in his ball-handling skills and 3-point range.
Don't expect him to average 21 points on 58 percent shooting once the real games begin.
Speed, speed, and more speed.
Lawson played at a frenetic pace in the summer league and was one of the most productive players on the court, averaging 16.4 points on 58 percent shooting along with five assists.
He didn't demonstrate a great deal of improvement on his jump shot in Vegas and still needs to make himself a more complete player.
If only it was this easy in the regular season.
McGee showcased his athleticism and looked like the best player on the court for much of the summer league action.
He averaged 19.8 points and 9.3 rebounds while shooting a ridiculous 68 percent from the floor.
You guessed it, the majority of his baskets came at the rim.
The gaudy numbers aside, McGee's intensity in Vegas certainly provided reason for optimism heading into next season.
Wall just makes things happen.
Although he shot just 37 percent from the field in the summer league, he averaged 23.4 points and 7.8 assists to lead all players in both categories.
It's difficult to grade his effort on the defensive end given the care free atmosphere of the games, but the early returns in that area were not very good.
Wall didn't demonstrate much improvement in his jump shot either, but he is clearly a player with the ability to leave his fingerprints all over the game.
The future is bright in Washington D.C.