Chicago Bulls, Not Miami Heat, the Team To Beat in the East
Yeah, the title is right. No need to refresh your browser, and yes, your eyes are focusing right.
LeBron James, Dwyane Wade, and Chris Bosh may be enough for some (and Las Vegas) to say that the Miami are the odds-on favorite to represent the new look Eastern Conference.
Poo poo that idea, and let's break down the evidence.
The Starting Five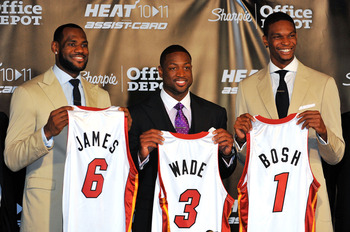 What better to prove my point than to start out with t Chicago's main weakness.
The "Big Three" will cause havoc out on the court together, no doubt. The glaring weakness that will haunt Miami in their starting five will be brought up in just a second (or slide).
As good as some of the starting five are for the Bulls, being able to cover all three of the new trio will be a tough task.
Dwyane Wade and LeBron James are extremely tough to guard. Chris Bosh will be happy those two are on his team because he will be eaten up alive by the combo of Carlos Boozer and Joakim Noah.
Rose will make Mario Chalmers look even more lost. No matter if Jamaal Magloire or Zydrunas Ilgauskas starts, the monster combo of Boozer and Noah will make quick work of them, exposing....
Depth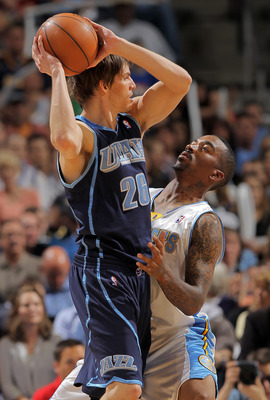 Chicago has it, Miami might have some of it.
Nothing makes owners look bad than justifying their spendings. Example: Miami big gun Pat Riley calling Mike Miller the quintessential multi-facted player in the NBA.
That is not a quote, but it is the essence of what Riley said. Barf.
In 33-plus minutes a game, Mike Miller scorched the court for 11 points, six rebounds, and four assists a game. In Miller's defense, he shot 40 percent from the arc.
New Bull Kyle Korver had 7/2/2, shooting almost 54 percent in 15 less minutes a game.
Do not forget new additions Magloire, Joel Anthony, Big Z, and James Jones. Ilgauskas led this trio in points (7) and rebounds (5.5). Miller led in assists. That is great depth if your team wins 15 games a season. Remember, one of them has to start.
Second year F/C Taj Gibson of Chicago averaged nine points, 7.5 rebounds, and 0.9 assists. If Big Z starts, our bench has better statistics. If any of those three "depth" guys for Miami starts, our sophomore forward has better splits minus assists.
The Chicago Bulls, with as many bench guys signed as Miami, is already the best. Do not expect that to change much during the season.
News just came too that Chicago acquired guard C.J. Watson in a sign-and-trade with the Golden State Warriors. Depth is in check on the west side.
All stats courtesy of Yahoo! Sports
Physicality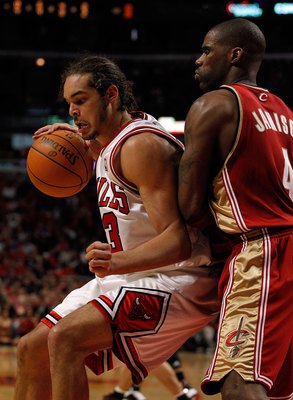 Continuing with the theme of lacking something, Miami has very little physicality.
James and Wade can bang all day and earn their bruises. That is it. Bosh is a twig compared to Boozer and Noah. Unless Gibson is guarding him the most, which is highly unlikely, Bosh will more than likely have a hard time producing consistently against Chicago, as well as big guys like Boston's Kendrick Perkins, and Dwight Howard in Orlando.
Chicago now has the ability to play strong defense and give the offense second and third chances with their size and physicality. Size and defense are crucial in winning championships. If you do not agree, as MJ, Kobe Bryant, and Wade how their bigs helped them win rings.
Offense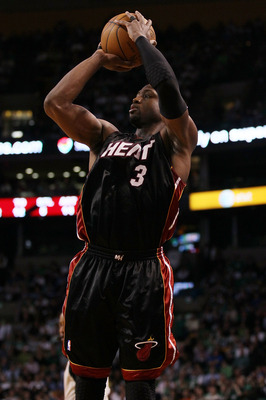 Miami possesses a dangerous scoring potential. The league knows what the "Big Three" can do. It obviously falls on how often the bench players contribute.
If Bulls head coach Tom Thibodeau's "defense leads to offense" style works, look out. Boston had dangerous scoring teams that played defense. If Kevin Garnett can run on 65-year-old legs, imagine what a Derrick Rose-led offense can do.
Chicago is young and is ready to run.
Lean towards Miami for the clear reason, but do not sleep on Chicago.
Defense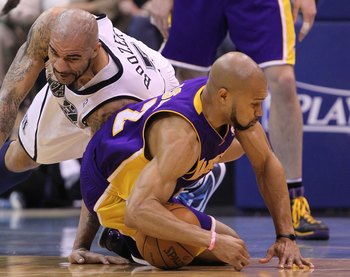 Defense wins. In all honesty, Boston got to within an arm's length of another title this season because of their defense coupled with good player management.
Chicago has all the keys to do that.
Miami has a handful of special players who can do it all, but team defense is what wins, not individual. James and Wade can change momentum with one good block, but if the Heat role players do not match what the "Big Three" offer, which they will not most nights, the good plays are wasted.
Chicago's defense will stifle Miami enough to put a scare in them as the season progresses.
Chicago has the advantage, but not by much.
Leadership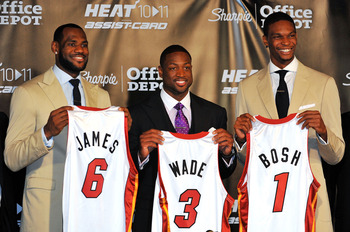 It is pretty tough to say that Miami does not have leaders on the court.
The "Big Three" have showed what they can offer in terms of leading where it counts.
Rumor had it that Derrick Rose did not have much contact with LBJ in the free agency sweepstakes because he wanted to be the unquestioned leader in Chicago. That takes a lot of stones to say I do not want one of the most talented players ever to not be on my team.
Push on leadership for now.
Competition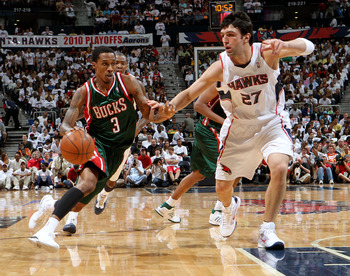 Same conference? Check. Intra-conference match-ups? Check.
Miami playing Orlando more than Chicago? Check.
Teams like Milwaukee will be much improved, but the Southeast Division is so much better than the Central Division. Tougher division leads to tougher games. Tougher games lead to more warn down players. Warn down players lead to gaps in performance.
Take Chicago having less gaps overall.
Ranking the East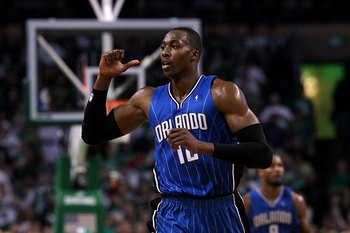 1. Chicago Bulls
2. Miami Heat
3. Orlando Magic
4. Boston Celtics
5. Milwaukee Bucks
6. Atlanta Hawks
7. Charlotte Bobcats
8. New York Knicks
9. Cleveland Cavaliers
10. New Jersey Nets
11. Indiana Pacers
12. Philadelphia 76ers
13. Detroit Pistons
14. Washington Wizards
15. Toronto Raptors
Take the team under the radar, and you rarely get hurt (thank you, Netherlands). The attention is on Miami now and until they win their rings. The top of the East will change frequently throughout the season.
Agree or not, Chicago can compete with anyone in the their conference. The pieces are there, now they just need to fall in place.
Keep Reading

Chicago Bulls: Like this team?