Five Players Key To a Successful LSU Football Season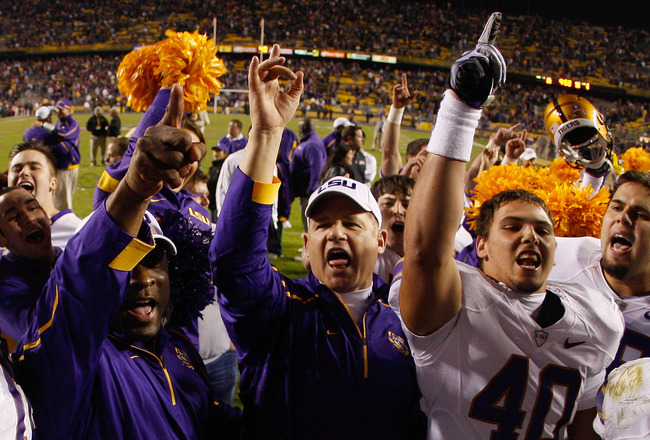 Two years ago, at this time, LSU was still riding the excitement of being the first team to win two BCS National Championships. The loss of a high ceiling quarter back and struggling quarter back play has plagued the Tigers the past two years, going (8-5) and (9-4), respectively. After their offense finished dead last in the SEC for YPG (304.5pg) and the defense lost eight starters, who needs to step up for the 2010 LSU Football team?
5) Kelvin Sheppard MLB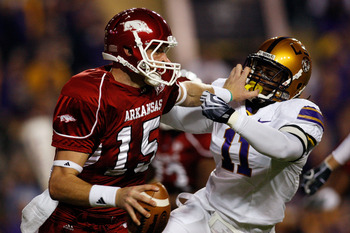 Sheppard is one of the three returning starters to this defense and is one of, if not the leader of this young, fast LSU defense. Sheppard led LSU with 110 total tackles, while also ranking 4th in the SEC in that category. Sheppard is a key cog for LSU this season and the state of the defense rest in his hands. Sheppard will be a senior this upcoming year.
4) Stevan Ridley RB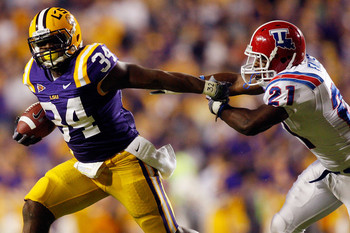 LSU had a dismal time last year running the ball. However, late in the year, after numerous injuries to Keiland Williams and Charles Scott, Stevan Ridley had his chance. He showed promise in some later games in the season, being a powerful back, who can be shifty at times as well. He performed well in the LSU Spring game along side redshirt freshman Michael Ford. Ridley will need to step up this season to give a better balance for LSU on offense. I expect for him to have a big season, splitting carries with Ford.
3) Terrance Toliver WR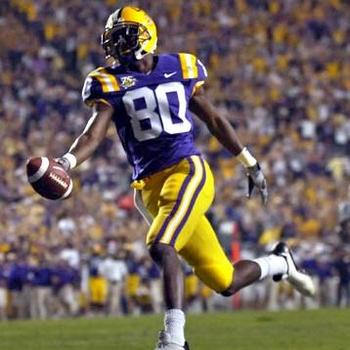 Over the past few years at LSU, they always had a reliable wide receiver they could go to. Maybe not a play maker, but a solid, NFL type wide receiver to go to on the big play. Brandon LaFell, who graduated this past year, and Early Doucet fit this mold. This year LSU needs that player, and the player perfect for this role is senior Terrance Toliver. A nice combination of size and speed, and a nice pair of hands, Toliver has to chance to become a great go-to guy for QB Jordan Jefferson. Will he, is the great question, everyone is waiting to answer.
2) Russell Shepard WR/RB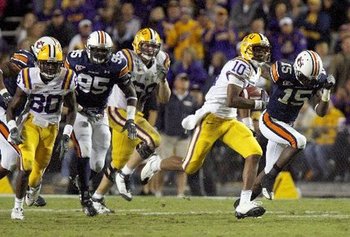 One of the most anticipated players coming out of high school last year as a freshman, Shepard was a talent last year, unused. He has breakaway speed and the agility to cut on a dime. This year, Shepard made the change from QB to WR just to get him on the field more. Shepard has the potential to be a game changing play maker for LSU and could be similar to a Percy Harvin of Florida. Obviously, Shepard will be used in the Wildcat offense as he still has the ability to throw the football. At the spring game, Shepard showed promise as a runner, but you can tell he is still struggling a little with the transition. Shepard is in my opinion, the key cog to LSU's offense this year due to his sheer ability to change a game on any given down.
1) Jordan Jefferson QB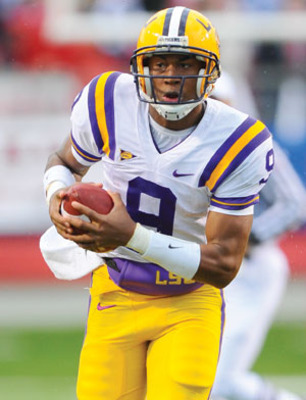 QB is the most important position on the field when it comes to football. Unfortunately for LSU, this has been their primary struggle for the last two seasons. Two years ago, Ryan Perriloux was next in line to take the reigns and lead LSU to another successful season. Due to multiple off-season offenses, he was kicked off the team by LSU Head coach Les Miles. Jarrett Lee and Andrew Hatch split time, at the beginning of the season, with Lee becoming starter after Hatch at injuries. After Lee had constant struggles, true freshman Jordan Jefferson took over late in the season and tried to help LSU finish strong. Last season, Jefferson was the out right starter and showed many signs of inconsistency. He has the ability to lead a team, yet doesn't do it on numerous occasions. This spring he had some struggles in the spring game. If Jefferson has a great season, expect for LSU to have a great season. Expect Jefferson to feel like he has a 10 Ton weight on his shoulders, because he knows that its up to him to lead this team back to winning double-digit games, and going back to BCS bowls.
Keep Reading

LSU Football: Like this team?