College Football Predictions 2010: 10 Possible Surprise Teams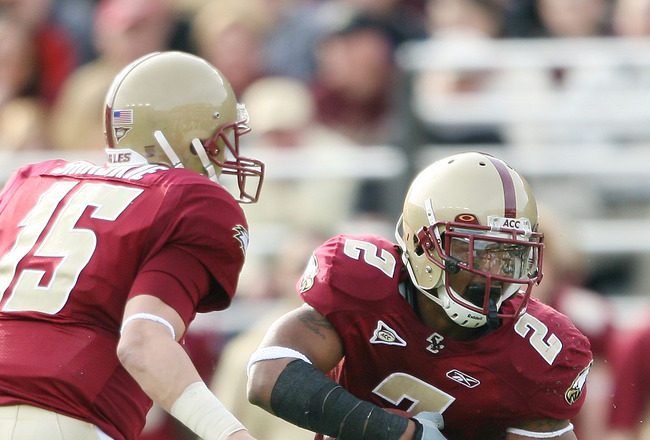 Preseason prognostications are ramping up as the start of the college football season rapidly approaches.
While most of the attention is directed towards the traditional marquee programs embedded in the preseason rankings, there are plenty of good teams flying below the radar.
Here's a look at ten teams throughout the landscape of college football poised to make a big splash in 2010:
No. 10 BYU Cougars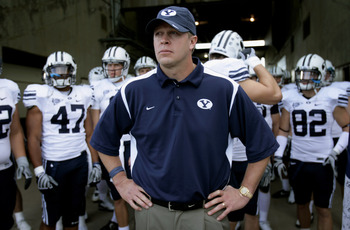 While Mountain West rivals TCU and Utah continue to get all the love, BYU is quietly poised for a good season.
The Cougars don't have a quarterback as of yet, but highly recruited freshman Jake Heaps is likely to distance himself from Riley Nelson at some point.
Heaps brings plenty of accolades and expectations to Provo.
The Cougars look to replace Harvey Unga, the school's all-time leading rusher, and departed tight ends Dennis Pitta and Andrew George.
BYU has plenty of candidates to handles carries next fall and has enough talent at wide receiver to continue the tradition of lighting up the scoreboard.
The Cougars aren't likely to win ten games for the fourth straight year, but a productive offense and a fast defense should lead to another successful season for Bronco Mendenhall's team.
No. 9 Purdue Boilermakers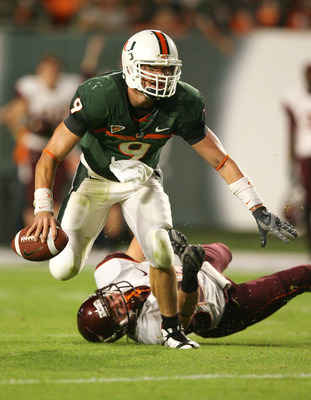 Robert Marve begins the second chapter of his career in West Lafayette, where Danny Hope is beginning to rebuild the Purdue program.
The Miami transfer has reportedly matured and is anxious to get back on the field. Receiver Keith Smith and running back Robert Bolden should make Marve's transition to Big Ten play a smooth one.
The defensive side of the ball is solid but unspectacular, aside from All-American candidate Ryan Kerrigan.
The Boilermakers filled needs in the 2010 recruiting class and are clearly headed in the right direction.
Purdue will likely to return to the postseason and could pull off a few upsets throughout conference play.
No. 8 South Florida Bulls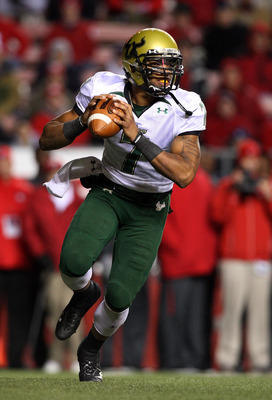 Skip Holtz looks to take the Bulls to the next level after the departed Jim Leavitt laid the groundwork by stockpiling considerable talent in Tampa.
The Bulls have a number of questions, especially at running back, but boast one of the Big East's best players in the Big East.
Quarterback B.J. Daniels is a dual-threat athlete with the ability to keep plays alive with his legs. Holtz and his staff are likely to encourage him to stay in the pocket in an effort to prevent him from taking hits.
South Florida needs Daniels to stay healthy, and that means less designed quarterback runs. But if the offense sputters, he will be turned loose.
Elsewhere on offense, Moise Plancher is expected to be the Bulls' featured back and Dontavia Bogan leads a solid group of wide receivers.
The defensive side of the ball has plenty of raw talent, but still must replace five starters from last year's squad, including Jason Pierre-Paul and Nate Allen.
South Florida's schedule is brutal, featuring trips to West Virginia and Cincinnati in back-to-back weeks and non-conference games against Florida and Miami.
An upset or two could propel the Bulls into a very respectable bowl game in Holtz's debut season.
No. 7 Texas A&M Aggies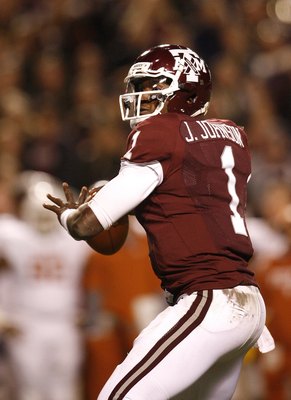 Can the Aggies stop anybody? If the answer is yes, Texas A&M could be a huge factor in the Big 12 South.
Quarterback Jerrod Johnson has yet to get the attention he deserves on the national level, but his skill and incredible numbers are worth paying attention to.
The Aggies are loaded at receiver, with Jeff Fuller, Uzoma Nwachukwu, and Ryan Tannehill providing outstanding targets for Johnson.
Texas A&M returns nine starters on defense, which isn't necessarily a good thing.
Aside from All-American Von Miller, the Aggies struggled across the board defensively last season.
A favorable schedule makes eight wins a distinct possibility for Mike Sherman's squad in 2010.
No. 6 South Carolina Gamecocks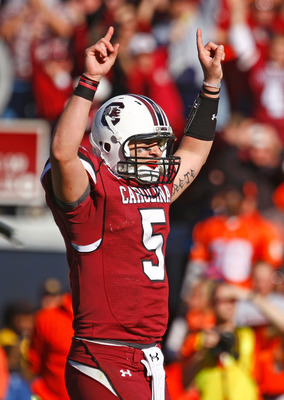 Has Steve Spurrier finally found himself a running back?
Incoming recruit Marcus Lattimore figures to have a huge impact in 2010, giving the Gamecocks balance for the first time in Spurrier's tenure in Columbia.
Stephen Garcia seems to finally have his head on straight and has a bevy of targets, including Alshon Jefferey and Weslye Saunders.
The NCAA is investigating Saunders for possible dealings with an agent, but for the moment he remains a key part of the South Carolina attack.
The defensive side of the ball has plenty of playmakers, led by Stephon Gilmore, who could also play some Wildcat in 2010.
Although South Carolina's schedule is daunting, with road games at Auburn, Florida, and Clemson, Spurrier's talented Gamecocks could scrape out eight wins in 2010.
No. 5 Northwestern Wildcats
It's time to recognize Pat Fitzgerald for being one of the best coaches in college football.
In the last three seasons, he has led the Wildcats to 23 victories while working hard to improve Northwestern's depth.
Despite the loss of quarterback Mike Kafka and two starting receivers, the Wildcats will make things interesting in 2010.
Dan Persa is a dynamic runner who is good enough to get the job done in the passing game. His skills mesh perfectly with the Wildcats' spread attack.
Northwestern's defense has a good deal of experience and one of the best linebacking corps in the Big Ten, led by Quentin Davie.
The Wildcats could easily get off to a hot start in 2010 thanks to a favorable schedule. Don't be surprised if Northwestern goes into Happy Valley on November 6 with a 6-2 record.
A return trip to the Outback Bowl is certainly a possibility.
No. 4 Missouri Tigers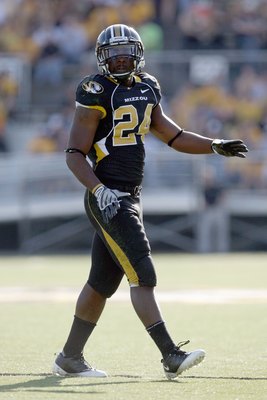 A favorable schedule could allow the Tigers to hang with Nebraska in the Cornhuskers' swan song season in the Big 12 North.
Gary Pinkel always finds players to produce in his system in Columbia. It starts with Blaine Gabbert, who got off to a fantastic start last season before battling inconsistency.
The Tigers return speedy running back Derrick Washington and have plenty of weapons at wide receiver.
On the defensive side of the ball, Aldon Smith leads what should be an opportunistic unit capable of making big plays.
The Tigers are undersized up front and thin at defensive tackle, which could lead to struggles against powerful running games boasted by Big 12 North foes Iowa State and Kansas State.
If Missouri gets off a good start in the soft early part of the schedule, the Tigers could make some noise in the Big 12.
No. 3 Nevada Wolfpack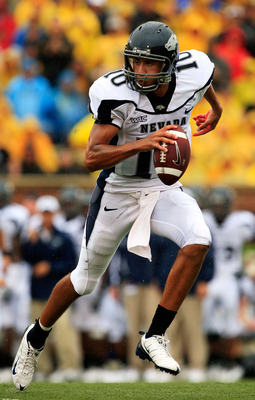 The fortunes of the Wolfpack could come down to a single game. Nevada hosts Boise State on Nov. 27 in a game that could have a huge impact on the BCS picture.
Boise State has become the darling of college football in recent years, but Nevada boasts three electrifying stars including one of the best running quarterbacks in NCAA history.
Colin Kaepernick led a rushing attack that produced an incredible 4,484 yards and 48 touchdowns last season. Along the way, Nevada became the first team in NCAA history to produce three 1,000-yard rushers.
Although he isn't a great passer, Kaepernick has improved and has a big-time target in sophomore Brandon Wimberly.
There is no question that Nevada can score with anybody, including Boise State.
The questions are exclusively on the defensive side of the ball. The Wolfpack ranked second-to-last nationally in passing yards allowed and tackled poorly last season.
If the defense improves, even only a little bit, Chris Ault's team will have a good opportunity to pull off wins against BYU, California, and Boise State.
No. 2 Boston College Eagles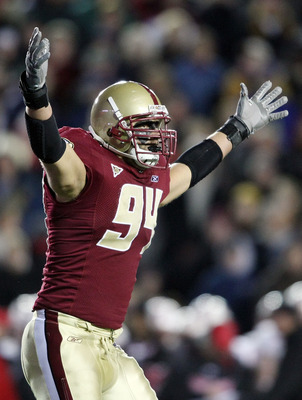 Boston College has been a model of consistency in recent years, winning at least seven games in each of the last 11 seasons despite frequent turnover in coaching staffs.
Current head coach Frank Spaziani has a solid squad, led by 25 year-old quarterback David Shinske and sensational sophomore-to-be Luke Kuechly.
The return of former ACC Defensive Player of the Year and cancer survivor Mark Herzlich could provide a big boost to the Eagles.
The offensive side of the ball is a little short on weapons and depth, making it imperative that versatile running back Montel Harris stays healthy.
The Eagles have enough experience and breaks on the schedule to claim the ACC Atlantic crown for the third time in four years.
A BCS berth might seem like a long shot, but the ACC is clearly up for grabs this year given Miami's brutal schedule and uncertainty at Florida State, Georgia Tech, and North Carolina.
No. 1 Auburn Tigers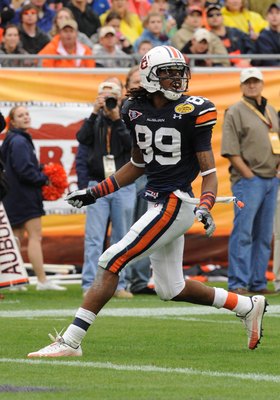 The Auburn Tigers boasted one of college football's most prolific offenses in 2009. Although the spread offense sputtered down the stretch last season, it should hit on all cylinders once again in 2010.
Former Florida Gator Cam Newton won the starting quarterback job in the spring and has plenty of weapons at his disposal, including speedy receiver Darvin Adams and running back Onterio McCalebb.
The Tigers return for starters on the offensive line to provide protection for the strong-armed Newton.
Gene Chizik's defensive background suggests that the defense will improve considerably in his second year at Auburn. The Tigers struggled against the run last season, but return eight starters on the defensive side of the ball.
A favorable schedule featuring home games against LSU, Georgia, Arkansas, and South Carolina at home makes Auburn a team to watch throughout the upcoming season.
Keep Reading