NFL Free Agency: Five Destinations for Terrell Owens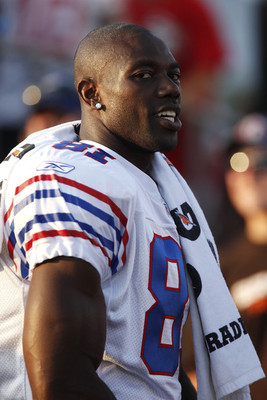 Wide receiver Terrell Owens is once again on the free agent market this summer. He is struggling to find a home for the upcoming season.
Owens hauled in 55 catches for 829 yards and five touchdowns last year for the Buffalo Bills. Those aren't the type of numbers that made Owens a superstar earlier in his career, but he showed that he could still be a serviceable second option in most offenses.
According to Owens' agent, Drew Rosenhaus, there are five teams who are interested in signing his client.
Here are five teams that should be interested in acquiring Terrell Owens.
New England Patriots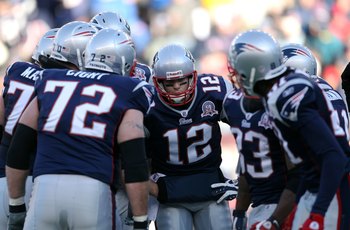 Just imagine what would have happened if Owens and Randy Moss joined forces in the early 2000s. It probably would have been similar to what LeBron James, Dwyane Wade, and Chris Bosh did to the NBA.
But several years have passed and both receivers are slowly declining in skill.
That doesn't mean this duo couldn't be extremely dangerous on the field next season. Wes Welker and Moss are clearly the top two receivers in New England, so Owens would not be expected to play more than a third receiver role.
Last year Julian Edelman filled that role. Owens would definitely be an upgrade over Edelman for this year.
Bill Belichick has been able to control Randy Moss over the last few seasons, and he would certainly be sure to not let Owens get out of hand either.
Oakland Raiders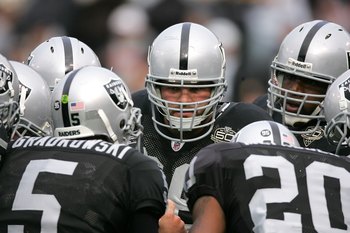 The Oakland Raiders officially gave up on the JaMarcus Russell experiment by bringing Jason Campbell in as his replacement.
Campbell is no superstar, but he is an upgrade over Russell.
Owens would immediately step in and contribute for the Raiders by instantly becoming their top receiving option. Campbell has a big arm and loves to throw the ball down the field.
Louis Murphy and Chaz Schilens were Oakland's top two receivers behind tight end Zach Miller. The addition of Owens would certainly bolster that core.
Oakland is known for bringing in players with attitude problems, but this could be a move that makes sense for both parties involved.
Tennessee Titans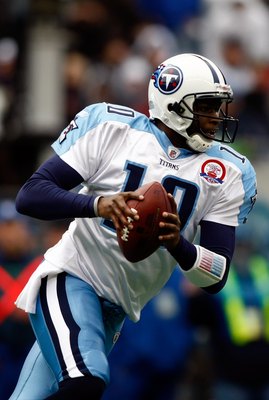 Everyone knows about Chris Johnson, but Vince Young needs another weapon if the Titans' offense will be successful in 2010.
Kenny Britt and Nate Washington were the Titans' leading receivers last year, and they both posted numbers less than Owens.
Young and Johnson have the ability to occupy an entire defense by themselves, and the addition of Owens on the outside would free up even more running room for those two.
As Young continues to develop as a passer, Owens would be a big target to throw to this season.
Chicago Bears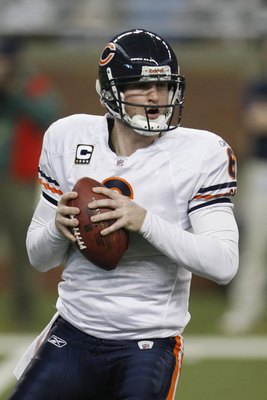 Looking at the numbers from last year, Owens would have been the best all-around wide receiver in Chicago.
The Bears still lack a true No. 1 receiver. Although Owens could not best fulfill that role, he would provide Jay Cutler a valuable target in 2010.
Devin Hester, Devin Aromashodu, Johnny Knox, and Earl Bennett currently make up the Bears' receiving corps. Owens could make a strong case that he is still more talented than any of those four listed.
Mike Martz is calling the plays in Chicago now, which means that Bears fans will see a lot of passing this season.
With the throwing ability of Jay Cutler and a big target like Owens, they could become a good combination.
New York Jets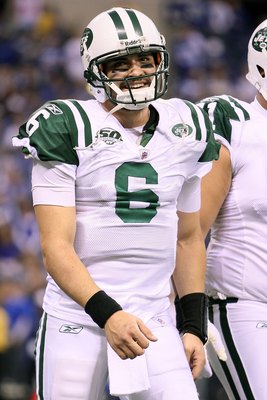 Similar to Chicago, Owens would have been the best receiver for the Jets last season. He had a better statistical season than both Jerricho Cotchery and Braylon Edwards last year.
If you think that Owens had better numbers because the Jets had a rookie quarterback, remember that Ryan Fitzpatrick was Owens' primary quarterback last year.
Rex Ryan is a no-nonsense coach, and he would have no problem getting rid of Owens if he began to act up.
Mark Sanchez still needs another playmaker to throw the ball to, and Owens may be that answer.
Keep Reading