College Football Predictions 2010: How Heisman Trophy Voting Will Look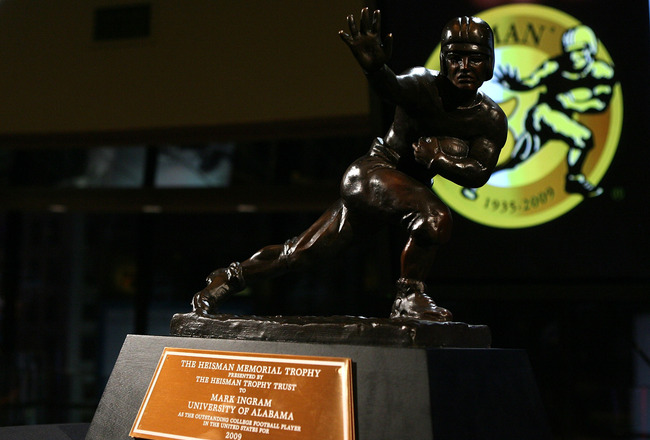 Fall is just around the corner, meaning fans all around the country are beginning to advocate for or against their favorite college football teams and players.
Once again, we saw an underclassman win the Heisman in 2009. And once again, the Heisman winner was the best player on a team that played in the National Championship.
That seems to be a trend.
We all know that players' Heisman Trophy chances rely greatly on his team's success on the field. As a result, the strength of these players' teams are factored into the equation.
So, here is an early prediction for the results of the 2010 Heisman voting.
1. Terrelle Pryor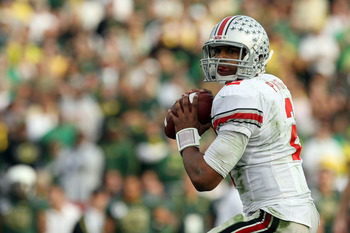 2009 Stats: 2,094 passing yards, 18 passing touchdowns; 779 rushing yards, 7 rushing touchdowns
He was the No. 1 high school recruit in the nation and was touted as the next Vince Young.
Many believe that Pryor will make a statement this season by leading Ohio State to a BCS Championship win, marking him as the best player on the best team in the country.
He'll certainly have every tool at his disposal, as the Buckeyes return 16 total starters from a team that amassed an 11-2 record and a Rose Bowl victory. Of the returning lettermen, 10 are offensive players, meaning that Pryor shouldn't have any trouble posting bigger numbers than in 2009.
If Pryor can progress just enough to lead the Buckeyes to a National Championship, he'll stand a very, very good chance at winning the Heisman Trophy.
2. Kellen Moore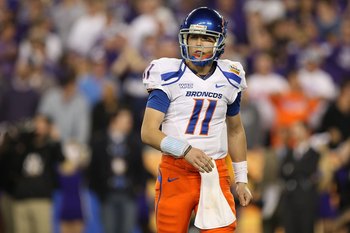 2009 Stats: 3,536 passing yards, 39 touchdowns, 3 interceptions
No other player has a resume that comes remotely close to matching that of Kellen Moore.
In two seasons, Moore has led Boise State to a 26-1 record and a Fiesta Bowl win. In an undefeated 2009 season, he posted an unbelievable 39-3 touchdown-to-interception ratio. With two more seasons left at Boise, he'll likely become one of the most decorated college quarterbacks of all time.
The Broncos will try to make history in 2010 by becoming the first non-BCS team to play for and win a National Championship.
With an amazing 21 returning starters, they unquestionably have the firepower to do so. If they do, Moore will be the top one or two players in the Heisman voting, guaranteed.
Moore has a huge opportunity in 2010. If he and the Broncos match their 2009 success, he'll become the first WAC player to win the Heisman Trophy, and he will become a legend for decades to come.
3. Dion Lewis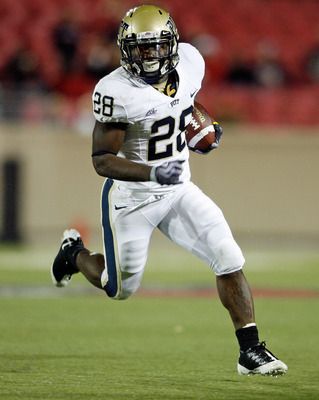 2009 stats: 1,799 rushing yards, 17 touchdowns, 5.5 average yards-per-carry
Last year, we saw Dion Lewis come out of nowhere to emerge as one of the most dynamic players in the nation.
As a true freshman, Lewis led the Panthers to 10-3 record and a final AP ranking of 17, earning the Big East Offensive Player Award along the way. His name was tossed around the Heisman talks last year and will be all over the place during the 2010 season.
While a little under the radar, Pitt has national title hopes this year. They'll likely be a top contender for the Big East Championship, which would give them an automatic BCS birth and strengthen Lewis's Heisman Trophy chances.
If Lewis can match his success from last season, and possibly add a few more touchdowns, he'll easily make the Heisman short list in 2010.
4. Jacquizz Rodgers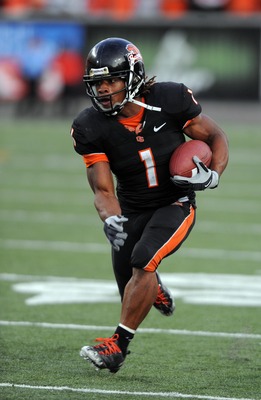 2009 Stats: 1,440 rushing yards, 21 touchdowns, 5.3 average yards-per-carry
At 5'7", Rodgers isn't half the size of his impact on the Oregon State offense or the Pac-10 conference.
In addition to his 1,440 rushing yards, he amassed 530 receiving yards, bringing his total yardage production to nearly 2,000. It's numbers like these that have everybody talking about the smallish running back from Richmond, Texas.
He has the Beavers in the talks for a Pac-10 Championship, which is their key to experiencing BCS glory.
As a sophomore, Rodgers led Oregon State to an 8-5 record, helping them close the gap between them and bitter rival Oregon and conference king USC. Rodgers will undoubtedly be in the Heisman discussion all season, but he has a chance to make huge statements in home games against Oregon, USC, and TCU, and in a road game against Boise State.
If Rodgers steps up in these contests, while continuing to pile up yardage as he's done, don't be surprised to see him walk away with the big award in 2010.
5. Mark Ingram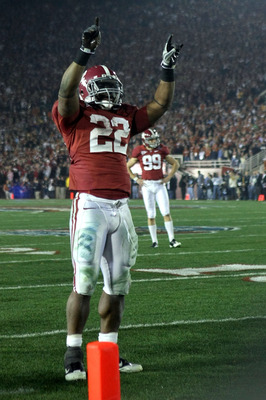 2009 Stats: 1,658 rushing yards, 17 touchdowns, 6.1 average yards-per-carry
There's not much that needs to be said about Mark Ingram.
The stud running back led Alabama to a National Championship and established himself as the nation's best player by winning the Heisman Trophy. He did this during his sophomore season, which means he's not going anywhere soon. Well, at least not too soon.
But, as history shows us, the chances for a Heisman repeat are slim. America really needs to love a player in order for him to win the award more than once.
We saw countless people fall in love with Tim Tebow, yet even he didn't win the award again after his sophomore season.
Also, enter in the fact that Trent Richardson will likely get a few more carries this season, carries that would have otherwise gone to Ingram.
It'll be difficult for Ingram to snag the award again. But I still wouldn't rule him out completely.
6. LaMichael James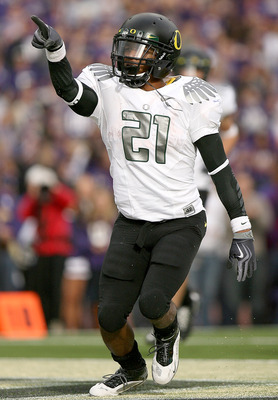 2009 Stats: 1,546 rushing yards, 14 touchdowns, 6.7 average yards-per-carry
LaMichael James was stellar after the 2009 suspension of LaGarrette Blount, helping the Ducks win the Pac-10 and receive a Rose Bowl invitation.
He did this as a freshman, which means that Oregon has more hype than ever coming into the 2010 season.
His productivity was outstanding, as shown by his 6.7 yards-per-carry average, and his athleticism will play a major role in the Oregon offense in their quest for a National Championship. His play, despite the absence of Jeremiah Masoli, may very well lead Oregon to that position.
James is another running back who will tear up the stat sheet this season, and may find himself inch closer to the 2,000 yard mark under coach Chip Kelly.
If James can stay healthy and active in the offense, expect Oregon to amass another 10-win season, thus placing him among the leaders in the Heisman hunt.
7. Case Keenum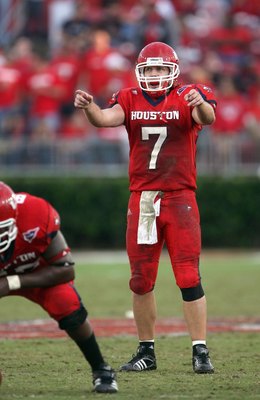 2009 Stats: 5,671 passing yards, 44 touchdowns, 15 interceptions
Houston is the latest landing spot for Mike Leach's Air Raid offense.
Say what you want about the "system," but Keenum's offense ranked No. 1 in the nation in yards per game (563.4) and points per game (42.2). Those numbers are likely to be same, if they do not increase, this season.
More importantly, the Cougars are beginning to slowly pull away from the rest of the Conference USA. Keenum led Houston to big wins last year by defeating Texas Tech and Oklahoma State, which made his name heard across the country.
If Houston can win out in conference play, beat Mississippi State at home, and beat either Texas Tech or UCLA on the road, then we might see an upset in the Heisman Trophy race.
Regardless, don't be surprised if you see him on the short list.
8. Jacory Harris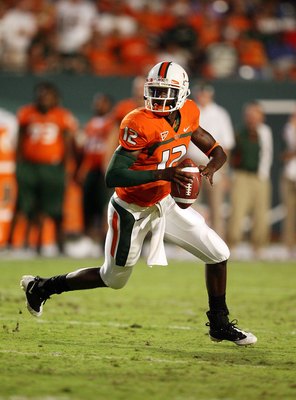 2009 Stats: 3,352 passing yards, 34 touchdowns,17 interceptions
People seem to be talking a lot about Miami's return to glory in 2010.
Most of that talk is because of Jacory Harris. As a sophomore, the quarterback was the indisputable leader of a Miami team that finished 9-4 and received a final AP ranking of 14. He was terrific all season, most notably in a nationally-televised match against Oklahoma.
In 2010, Harris will need to cut down on interceptions if the Hurricanes want to win out in the ACC.
There's a lot of anticipation in Miami, but we'll find out how legitimate Harris is when he plays back-to-back road games against Ohio State and Pittsburgh.
9. Jake Locker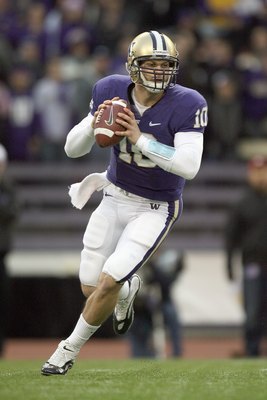 2009 Stats: 2,800 passing yards, 21 passing touchdowns; 388 rushing yards, 7 passing touchdowns
Jake Locker turned down millions of NFL dollars to return as Washington's quarterback under Steve Sarkisian.
He wouldn't have done that if he didn't think that the Huskies could win the Pac-10. If they do, Locker will be No. 1 on the Heisman list. Period. However, that's a big "if."
Washington finished 5-7 last season and missed a bowl game. Not great Heisman credentials.
A lot of people seem to think that could change in 2010, given Locker's all-around athleticism and talent coupled with Sarkisian's deep knowledge of the game. Many point to Locker as the best quarterback in the country, which may give him enough boost to get the job done.
Washington has scheduled zero cupcakes for the upcoming season. They open with a three-game skid against BYU on the road, and Nebraska and Syracuse at home. So, Locker won't be short of opportunities to shine.
He'll have to improve his consistency and accuracy, but Locker has all the tools to make the kind of plays that could push Washington into the Pac-10 Championship race, and place himself into the Heisman hunt.
10. John Clay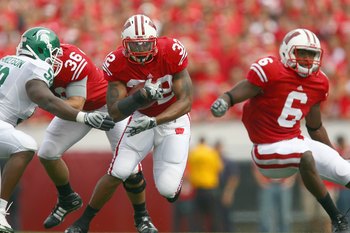 2009 Stats: 1,517 rushing yards, 18 touchdowns, 5.3 average yards-per-carry
Clay and the Badgers probably aren't talked about as much as they should be.
They only lost three games last season, two being against Iowa and Ohio State. They finished with a 10-3 record and a final AP ranking of 24. Clay was clearly the focal point of the Wisconsin offense, and he will continue to be in 2010.
He's a big reason why this team is considered a sleeper for the Big 10 title. If he can find some holes against Ohio State and Iowa, the tables might turn, and Clay might find himself on top of a lot of Heisman Trophy lists.
Like so many others, Clay's Heisman fate remains to be seen. If the Badgers do well, so will his Heisman chances.
Others to Keep in Mind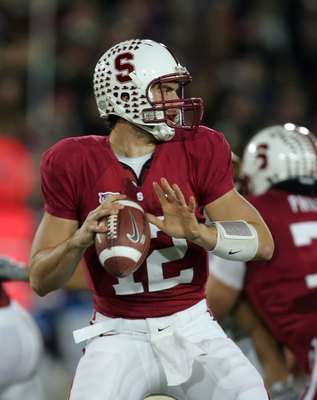 QB Andrew Luck, Stanford
QB Jerrod Johnson, Texas A&M
WR A.J. Green, Georgia
QB Greg McElroy, Alabama
QB Landry Jones, Oklahoma
Keep Reading