NBA Summer League 2010: Top 10 Potential Sleepers To Watch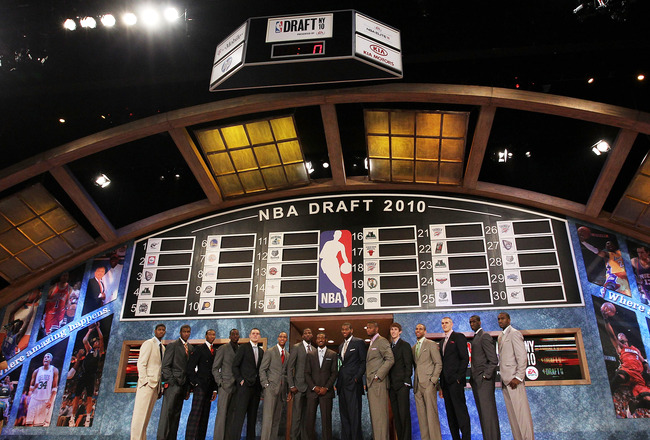 All that seems left in NBA news are teams picking through the leftovers of 2010 free agency, but let's not forget other things going on in the NBA world.
The NBA's two Summer League sessions in Orlando and Las Vegas are all wrapped up. It was a chance for first-round picks to strut their stuff, second-year standouts and flops to show why they should stay in the pros, and the unheard of players to get their names out there.
Like Blake Griffin, Tyreke Evans, and Brandon Jennings in the 2009 Summer League games, rookies John Wall and Demarcus Cousins lived up to their expectations as top draft picks. Evan Turner and Derrick Favors, like Ty Lawson and Stephen Curry, will need to continue to develop in training camp.
Then, there are the Taj Gibson's—those who surprised with their skill but barely made it on people's mock drafts. They are the ones who made a good impression in their Summer League performances and could find significant roles in their team's roster.
If given the chance.
Samardo Samuels, Chicago Bulls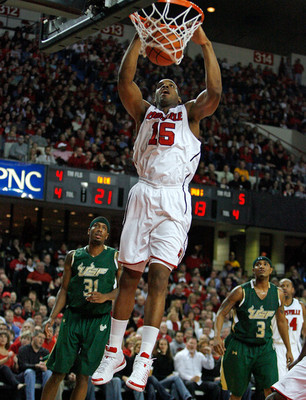 Samuels didn't get drafted out of Louisville, but the 6'8" forward could claim a spot on the Bulls roster after a solid contribution in Las Vegas.
He might not be the big-man the Bulls are looking for to back up Carlos Boozer and Joakim Noah, but he displayed impressive strength and toughness at the post. Though criticized for his lack of athleticism, he sure knows his fundamentals while he averaged 12.5 points and seven rebounds per game.
Plus he looked good dunking over DeMarcus Cousins.
(Image taken from zimbo.com)
Quincy Pondexter, New Orleans Hornets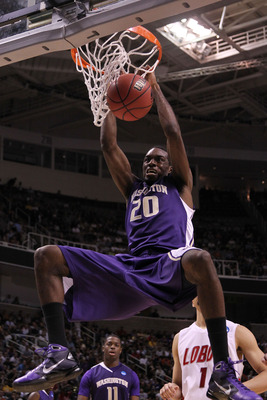 Picked as a sleeper in the draft, Pondexter could be a steal for the Hornets.
James Posey and Peja Stojakovic are aging, opening up the small forward position. Pondexter could see significant minutes there, which can only aid in his development.
The 26th draft pick quietly averaged 15.2 points, four rebounds and 1.4 steals per game in the Summer League. His youth and size could add some boom in the Hornets' bench.
Greg Monroe, Detroit Pistons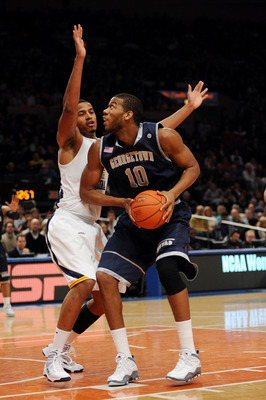 The No. 7 overall pick outperformed some of those in his draft class.
Monroe left Vegas with an inspiring offensive performance in the Pistons' final game, with 27 points and 14 rebounds, yet his defense is still questionable.
Standing an inch short of seven feet, Monroe is an offensive powerhouse and can complement defensive-minded Ben Wallace.
Dominique Jones, Dallas Mavericks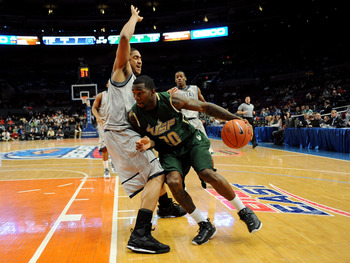 Sure, he was picked higher in the draft than most, but he matched up well with John Wall defensively, making Wall work for every shot.
He shined brightly with his offensive talent as he exploded to the basket and knew how to handle the ball. He proved to be a decent passer as he averaged 3.4 assists per game, which will definitely help his case.
But the Mavs have a loaded backcourt with Jason Kidd, Jason Terry, and Caron Butler, which could limit Jones' minutes.

With 16.6 points, 3.8 rebounds and his aforementioned 3.4 assists per game over the summer, Jones might find a way to sneak onto the roster.
Damion James, New Jersey Nets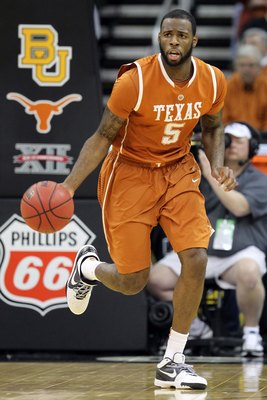 The unheralded late pick wanted to prove to his pundits why he should have been chosen higher in the draft. With that determination, James stunned the Nets and even made them looked foolish for choosing Favors with the No. 3 pick over him.
The swingman was relentless on both ends of the court, displaying quickness and athleticism.
An adamant scorer and rebounder, he averaged 18.8 points and 5.3 rebounds per game as he looks like he wants to prove his worth to the league.
Lance Stephenson, Indiana Pacers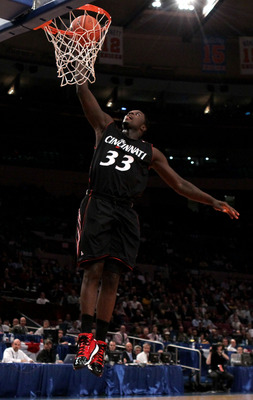 The Pacers have been a forgotten team in the Midwest, and that pushes Stephenson under the radar even more.
There are many Stephenson doubters out there. Yes, he didn't spend much time to develop his IQ in college, but his IQ on the basketball court is a different story.
He surprised the Pacers with his ability to work every corner of the court, run the offense, and distribute the ball.
Nonetheless, he's a playmaker and could fit in well with a Pacer team that has been struggling at the point.
Limited to three games, Stephenson averaged 14.8 points, 2.3 rebounds and 1.5 assists per game. If given more minutes, expect his assists stat to be higher.
Luke Harangody, Boston Celtics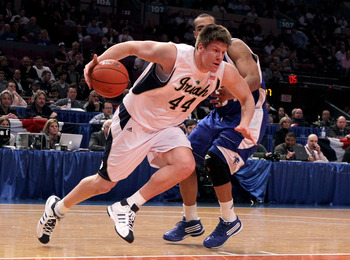 Is there room for the Big Four in Boston?
Though the 52nd overall pick, Harangody caught the eyes of many with his strong and consistent performance in Orlando.
And consistency is key.
He displayed the same talent he had in Notre Dame in the Summer League, which could mean his transition into the pros should be a breeze, hopefully.
He owned the boards and is a dirty worker on the glass, grabbing 6.8 rebounds per game. Don't forget he can also score from different ranges, even the NBA three. He shot 50 percent from the three-point line and averaged 16.6 points per game.
Looks like the Celtics have a little upgrade to their veteran roster.
Larry Sanders, Milwaukee Bucks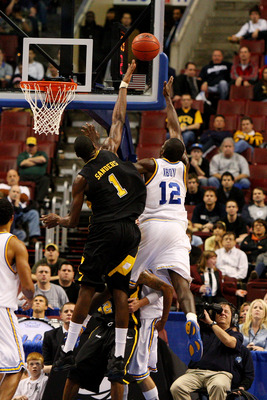 No one really knew who he was when David Stern called Sanders' name in the draft. But coach Scott Skiles has a knack for making the unknown known.
To this point, many still didn't know the Bucks were in the 2010 playoffs. They are a sleeper team, and that buries Sanders' name deeper in the NBA.
A 41 percent shooting seems mediocre to some, but Sanders proved that he is capable of impacting a game with his versatility both offensively and defensively.
With a wingspan and body weight of a center, but the size of a forward, Sanders showed that he can rebound, crash the boards, and run up and down the court effectively.
His numbers are impressive: 14.0 points, 8.4 rebounds and 3.2 blocks per game.
Sanders seems fitting for Skiles' defensive style and pick-and-roll plays with Brandon Jennings.
Landry Fields, New York Knicks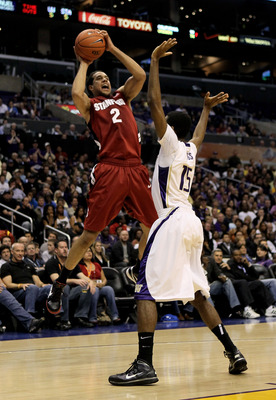 The Knicks have gotten their name out this summer, and that might help others in the league to take notice of Fields.
He was one of the biggest surprises in the Summer League as many didn't expect him to even be drafted.
The Knicks have the players, but don't really know how to play with the pieces.
But they know, with Fields, that they have a guy who can be a scoring threat from any angle—though he needs to adjust to the NBA three.
He collected solid numbers: 15.6 points, 4.8 rebounds and 1.2 assists per game.
Plus, he's shown that he is a pure basketball genius and can see the court very well. He knows when to pass, when to shoot, and when to make plays given various situations.
Hopefully, this can all translate to success in the NBA.
Derrick Caracter, L.A. Lakers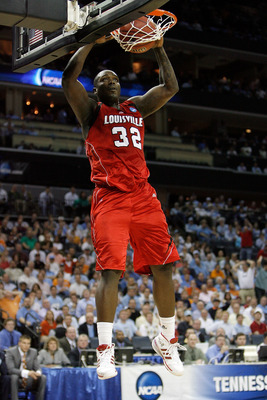 Phil Jackson knows how to utilize his bench, and Kobe Bryant knows how to work his big men on the practice courts, as he did so well with Pau Gasol.
With Andrew Bynum fighting back from a knee injury, Caracter could have a significant role in the Lakers front court.
The rookie played like he should have been picked higher in the draft. He averaged 15.4 points, 8.6 rebounds and 1.4 blocks per game. He showed off his various post moves and the strength that goes with it. Furthermore, he's got a ton of energy.
The Lakers seem to have a real steal with Caracter.
Keep Reading