10 Reasons Ilya Kovalchuk Makes the Devils a Stanley Cup Contender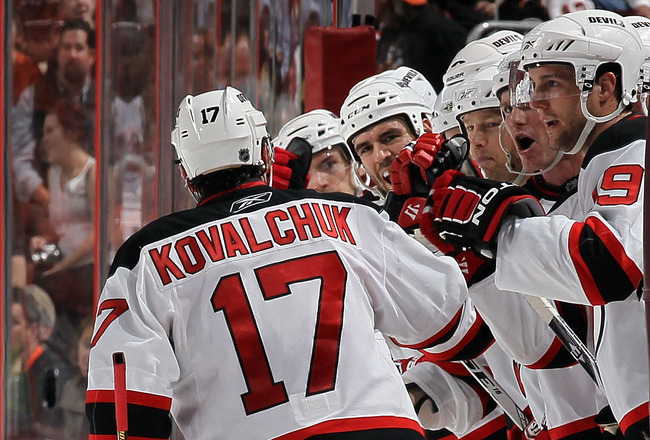 With all the rumors pointed to the Los Angeles Kings, the New Jersey Devils have emerged as the winner in the Ilya Kovalchuk sweepstakes.
The Devils announced that Kovalchuk has agreed to sign a long-term deal that will keep him in New Jersey. While terms and monies are yet to be announced, Kovalchuk is expected to sign a deal that will pay him between eight and nine million per season.
Clearly the Kovalchuk signing, which is expected to be officially announced Tuesday via press conference, has every team in the East sweating right now.
While no guarantee to make the Stanley Cup Finals, the addition of Kovalchuk makes the New Jersey Devils one of the favorites to win it all in the Eastern Conference.
Let's take a look at 10 reasons Kovalchuk makes the Devils one of the favorites in the Eastern Conference and in the race for Lord Stanley's mug.
Added Offense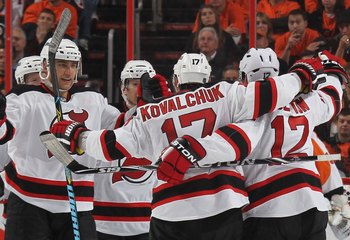 The New Jersey Devils finished the 2009-10 NHL regular season averaging just 2.63 goals per game, good enough for 19th overall in a 30 team league.
Needless to say, Kovalchuk has the talent to score 50 goals in any given season. If he scores 40 goals and the Devils match their 2009-10 offensive output, they will raise their goals per game total to around 3.15 goals per game, which would make them one of the NHL's top offensive teams.
For the record, the Washington Capitals led the NHL in goals per game with an average of 3.82 goals per game, followed by the Vancouver Canucks (3.27), Chicago Blackhawks (3.20), San Jose Sharks (3.13) and the Pittsburgh Penguins (3.04).
A Better Power Play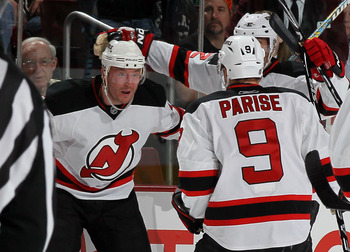 The New Jersey Devils emerged from the 2009-10 regular season with the 11th ranked power play, playing out at a 18.7% success rate.
The Devils scored a total of 51 power play goals last season, 27 at home and 24 on the road.
Kovalchuk lit the lamp a total 12 times on the power play last year (13th overall), which should help to bolster the Devils already impressive power play.
Increased Power Play Opportunities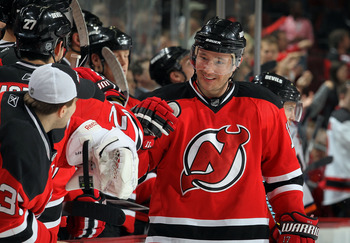 While they excelled when they had power play opportunities, the Devils finished the 2009-10 regular season ranked 28th overall in that category, with a paltry 131 power plays.
Kovalchuk's speed necessitates that opposing NHL teams slow him down in the neutral zone, often resulting in a penalty.
Extra power play opportunities means your opponents are likely to become tired, which should lead to more goals for not only Kovalchuk, but his teammates as well…that is as long as the coaching staff doesn't throw Kovalchuk out there for the entire two minutes again!
The Brodeur Factor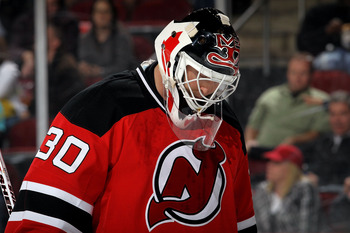 With Martin Brodeur getting a little long in the tooth for some people's liking, the added offense Kovalchuk will bring to the Devils will allow him to play a little looser.
Brodeur is a tremendous goalie; he'll be that much better playing with a lead more often than not with Kovalchuk in the fold.
Furthermore, you can expect the Devils to allow their backup to play a little more this season, which, in the end, should allow Brodeur to show up for the playoffs in tip-top shape. A well-rested and ready to go Brodeur, something many have speculated has not happened over the years, could lead to a longer New Jersey playoff run.
Less Pressure for Parise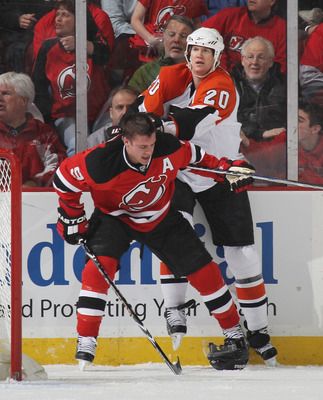 Last season the Devils had to rely on a trio of forwards to net most of their offensive totals. At the top of the list was Zach Parise, who looked spent during the playoffs.
The addition of Kovalchuk (who will command a lot of opposing defensemen's attention) will allow Parise to take a little pressure off himself. He can work on the other areas of his game and take advantage of the extra room on the ice that Kovalchuk's presence will afford him.
Team Morale: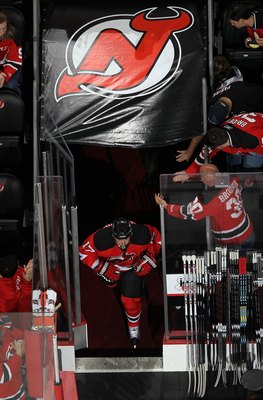 Can you imagine if the New Jersey Devils organization had to watch as Ilya Kovalchuk signed elsewhere?
The Devils gave up a ton of talent when they made the Kovalchuk deal, including the likes of defenseman Johnny Oduya, rookie forward Niclas Bergfors, prospect Patrice Cormier and their 2010 first round draft choice.
With Kovalchuk coming back to the Devils organization, it helps to establish them (and general manager Lou Lamoriello) as one of the best teams in the entire NHL, especially when it comes to acquiring talent.
Having a player of Kovalchuk's talent in the organization sends a message to your players that you want to win now, which will ultimately give your roster a shot in the arm and increased confidence heading into the 2010-11 season.
Like I said, re-signing Kovalchuk is awesome. Losing him? That would have been disastrous.
Game Plan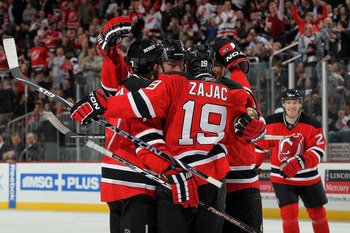 There are very few NHL players that command the kind of pre-game attention that Ilya Kovalchuk does. With NHL teams focusing on Kovalchuk night-in, night-out, the likes of Parise, Travis Zajac and Patrick Elias should have a lot more chances to score and a lot more room on the ice.
There will be several benefactors, especially Zajac and Parise, who are likely slated to see plenty of ice time alongside Kovalchuk.
Defense Get's a Break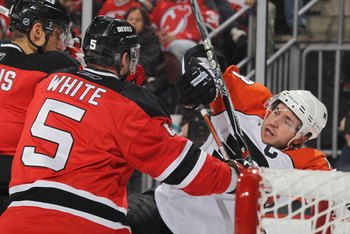 The New Jersey Devils have long been known as a defense-first team that likes to use its speed on the backend to help control the neutral zone.
Adding Kovalchuk to the mix will allow the Devils defense to use outlet passes to keep opposing forwards honest in the Devils zone. With Kovalchuk's great speed and offensive capabilities, the puck should spend a lot more time in the opposing teams' zone.
The end result will be a Devils defense that will be both better rested and more confident every time it is on the ice.
The Devils defensemen should also benefit from all the assists they will be racking up, especially on the power play.
Shootouts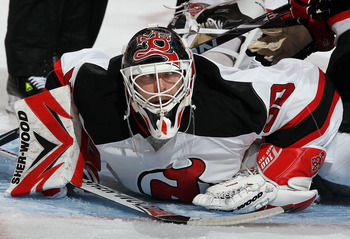 The New Jersey Devils emerged from the 2009-10 regular season having been successful on 12 goals on 32 shots (37.5% success rate) in the shootout.
As good as the Devils were in the shootout last season, they emerged with a paltry six wins and five loses, hardly impressive.
Ilya Kovalchuk has scored a total of nine shootout goals on 37 career attempts—certainly not earth shattering totals, but decent nonetheless.
As average as Kovalchuk has been in the shootout, there are not many NHL goaltenders that look forward to facing Kovalchuk under these circumstances. That is a fact that can throw any goalie off their game, if only for a few seconds.
Increased Rubber
As much as opposing defenseman fear Ilya Kovalchuk, opposing goaltenders fear him the most.
Kovalchuk posted shot totals of 323 (2005-06), 336 (2006-07), 283 (2007-08), 275 (2008-09) and 290 (2009-10)—that's a ton of rubber for opposing goaltenders to be facing, especially when you consider just how hard and accurate Kovalchuk's shot has proven to be over the years.
Just as goaltenders can get in the shooters head, shooters can get into a goaltenders head. Kovalchuk can do just that, which is a very powerful thing for any NHL forward.
Keep Reading

New Jersey Devils: Like this team?