Top 25 College Football Receivers of the Decade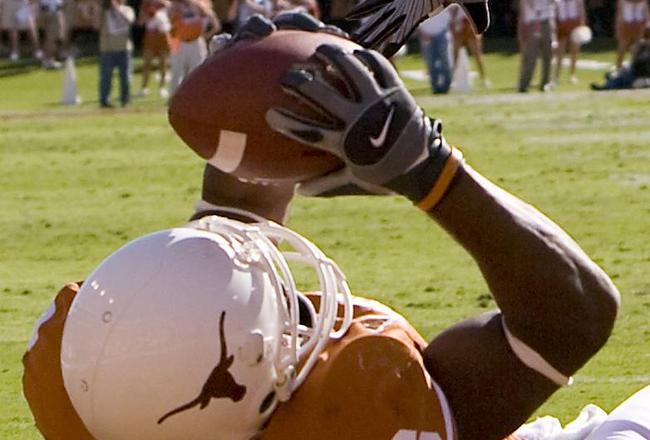 There have been some marquee wide receivers to come out of the college ranks over the last decade.
It is way too early, and perhaps a bit too speculative, to classify the last decade as that of the wide receiver. In a sport dominated by quarterbacks and running backs, the wide receiver is now a centerpiece of the passing game.
Every team covets one, if not more than one, elite wide receiver. This list represents 25 of the best receivers to come out of the college ranks since 2000.
While these guys may have not always been household names, or their statistics may have not always stood out, they have proven to be worth the investment NFL teams made. And it all started when they were in college.
Deion Branch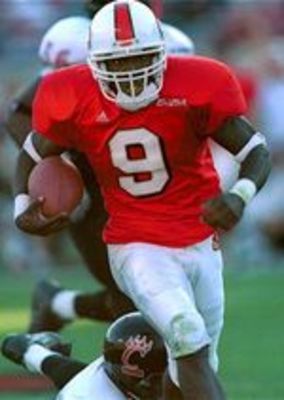 Prior to helping establish the mini Patriots dynasty in the early part of the decade, Deion Branch was a high-flying receiver at the University of Louisville.
In 2000, he made the Conference USA all-conference team. He went on to become MVP of Superbowl XXXIX. Not bad for a guy deemed too short since middle school.
Andre Johnson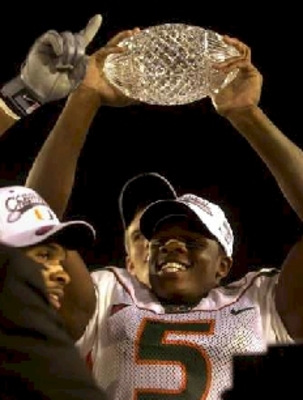 There probably isn't anything Andre Johnson would like to get his hands on more than the Vince Lombardi Trophy.
But before he was arguably the best and yet least-publicized wide receiver in the NFL, he starred at Miami and helped "the U" to a national championship at the 2002 Rose Bowl.
He was the MVP of that game, by the way.
Anquan Boldin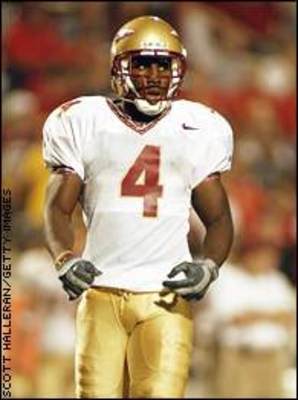 Boldin certainly was one of the major movers in the offseason after he ended his tenure with the Arizona Cardinals.
While in college at Florida State, he split time between wide receiver and quarterback. He may not have a trophy case full of college hardware, but he certainly has proven he was a good catch.
Roy Williams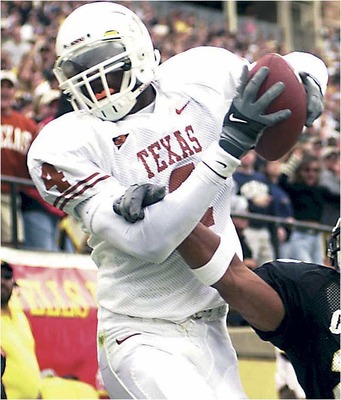 His lackluster pro career aside, Roy Williams was a pretty solid receiver at the University of Texas.
He certainly was feared, and by all accounts was thought to be a sure thing in the NFL. That hasn't happened yet, but anything is possible.
DeSean Jackson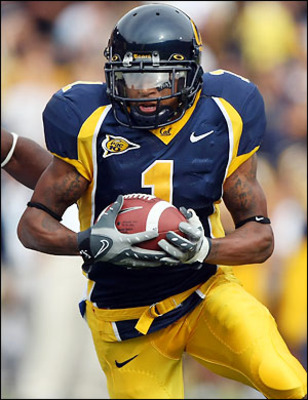 Jackson was a stud at Cal, catching 162 balls for 2,423 yards and 22 touchdowns.
Not bad for a guy who would become a go-to-guy for Donovan McNabb...er, Kevin Kolb.
Jordan Shipley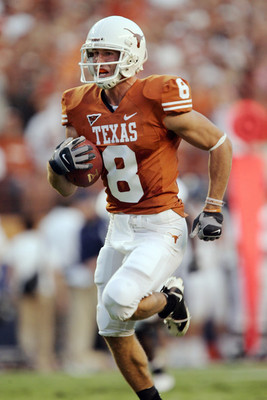 Shipley was the stud in Austin, Texas with his buddy Colt McCoy. Now he will have to find his way as a pro.
He was the man in high school and in college, catching 116 balls for 1,485 yards and 33 touchdowns.
Perhaps some guy named Ocho Cinco can teach him a few tricks in Cincy.
Chris Henry
The late Bengals receiver had his fair share of problems on and off the field even before his untimely death last season.
However, when he was on the field, he was a solid receiver at West Virginia. He caught 93 balls for 1,878 yards and 22 touchdowns.
Anthony Gonzalez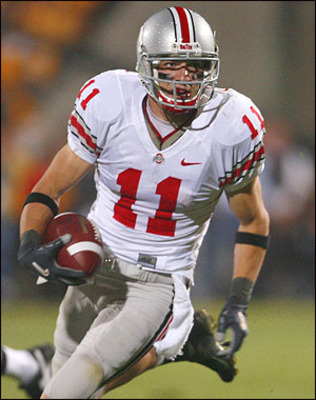 Gonzalez didn't put up gaudy numbers in Columbus playing with the Buckeyes, but then again he wasn't playing with Peyton Manning.
Now he is one of Manning's favorite receivers, but before, he was a solid possession receiver with the Bucks.
In college he caught 87 balls for 1,286 yards and 13 touchdowns.
Eddie Royal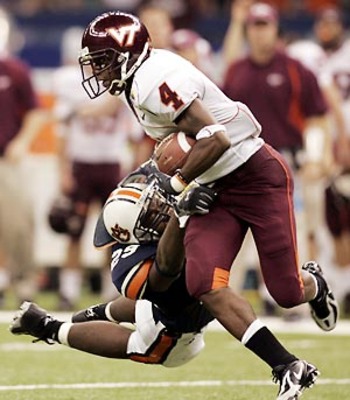 Royal was another guy who didn't put up mammoth numbers in college but was electric when he was on the field.
Still, he managed to catch 119 balls for 1,778 yards, and 12 touchdowns over his career at Virginia Tech.
Michael Crabtree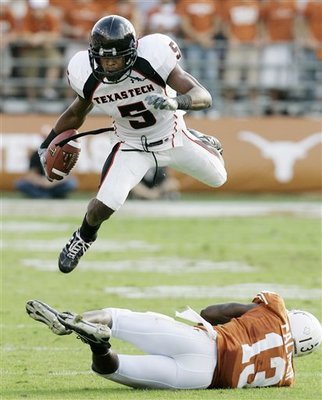 Crabtree may have been one of the highest-profile receivers in the last decade.
He certainly brought life to Lubbock with Mike Leach's high flying offense. Crabtree caught 231 balls for 3,127 yards and scored an amazing 41 touchdowns over his career.
Had he not held out with the 49ers, who knows how successful his rookie campaign would have been in the NFL.
Jeremy Maclin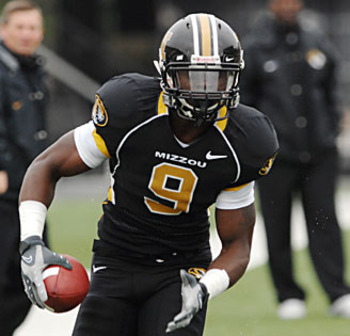 Maclin may not have gotten much play while at Missouri, but he certainly was a solid player and one of the best receivers during his college career.
For the Tigers, Maclin caught 182 balls for 2,315 yards and 22 touchdowns.
Percy Harvin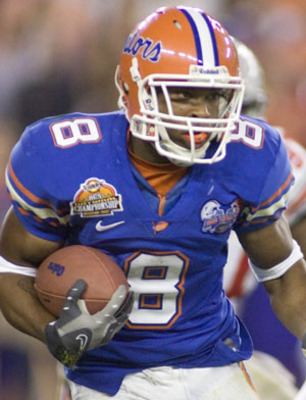 Harvin was a stud at Florida, even if he was often overshadowed by some guy named Tim Tebow.
While being a major go-to guy in the Gator's less than conventional offense, Harvin caught 133 balls for 1,929 yards and scored 13 touchdowns.
Having played with Tebow prepared him for the drama he and his teammates are dealing with waiting on another attention-grabber to make a decision.
Hakeem Nicks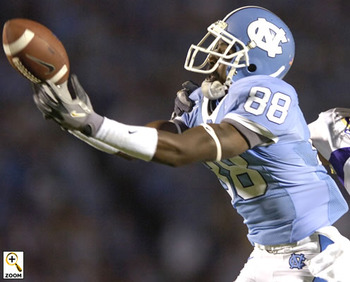 Being a Duke guy, it is hard to put a Tar Heel on this list, but I can't deny his talent. Plus Duke hasn't had much to talk about in football anyway.
While with the Tar Heels, Nicks was a big-time receiver. Imagine if he had a top-notch quarterback to throw him the ball.
He made the most of his career though, catching 181 balls for 2,840 yards and 21 touchdowns.
Golden Tate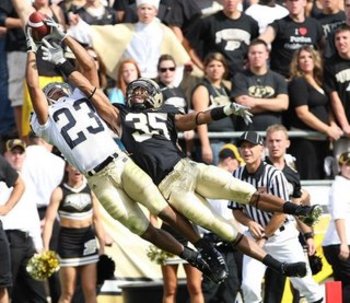 Tate was an electrifying receiver for the Fighting Irish despite having previously been a running back.
Charlie Weis certainly knew how to use him, and during the 2009 season, he was even mentioned as being an early Heisman candidate.
During his career he caught 157 balls for 2,707 yards and 26 touchdowns.
Braylon Edwards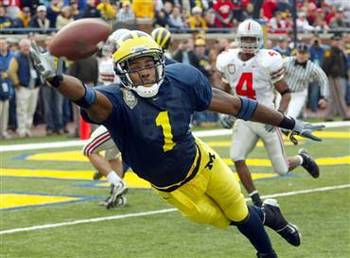 Edwards was definitely a BMOC for the Wolverines. While with Michigan, Edwards caught 252 balls for 3,541 yards and 39 touchdowns.
He is Michigan's all-time leader in receptions and holds the Big Ten record for touchdown receptions.
Koren Robinson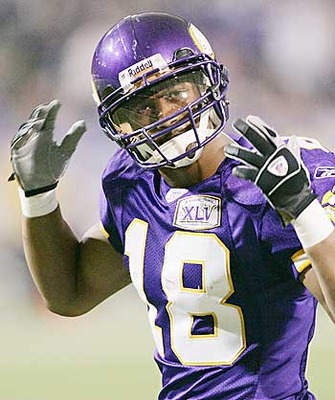 Before Robinson began his troubled pro career, he was a star at NC State. The biggest factor to his success may have been that he had Philip Rivers throwing him the ball.
Still, he managed to be a big play receiver and was a Pro Bowler in 2005.
Jerricho Cotchery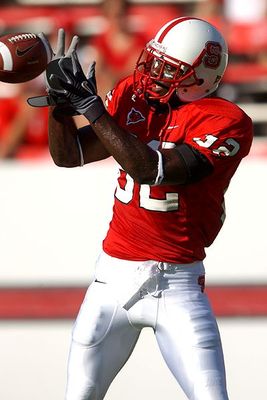 Cotchery was one of NC State's all-time leading guys, and perhaps only Torry Holt was better.
For the Wolfpack, he had 200 career receptions, 3,119 yards receiving, and 21 touchdowns.
Chad Johnson
Before he was Ocho Cinco, he was Chad Johnson. But unlike other famous athletes who changed their names for religious reasons, Johnson did so for the publicity.
Still, his talent is undeniable. At Oregon State, Johnson was good enough to get the attention of NFL scouts and the Bengals drafted him in the second round. The rest is history.
Reggie Wayne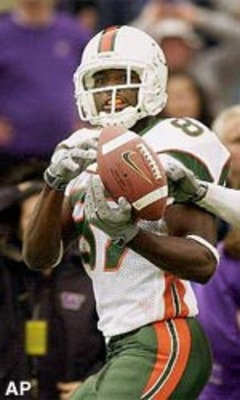 Wayne is known for being one of Peyton Manning's key receivers. But, before that, he had his skills in full display at the U.
For the Hurricanes, he may have been the best receiver ever, and that includes guys like Michael Irvin and Santana Moss.
Wayne caught 173 balls for 2,510 yards.
Plaxico Burress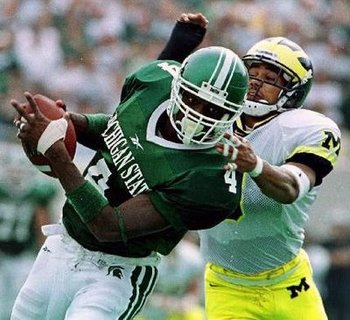 Before Burress was being guarded by guys who carry guns legally he was one of the toughest guys to guard in the Big Ten.
While at Michigan State, he caught 131 balls for 2,155 yards and 20 touchdowns.
His size made him hard to guard playing split end, a trend that continued in the NFL prior to his imprisonment for carrying an illegal firearm.
Calvin Johnson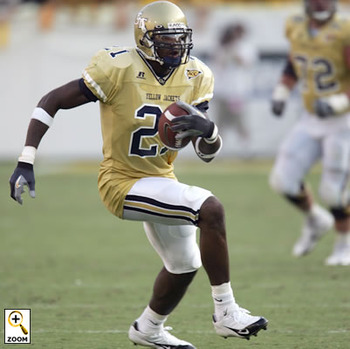 Had Johnson been playing for current Yellow Jackets coach Paul Johnson, the coach may have rethought his famous triple option attack.
During his career at Georgia Tech, Johnson caught 178 balls for 2,927 yards and 28 touchdowns.
It is clear to see why Matt Millen liked him so much, but then again he liked every receiver to come out of college while he was the Lion's GM.
Larry Fitzgerald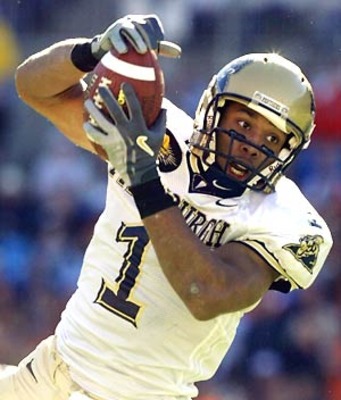 Fitzgerald was a stud at Pitt, and even got his picture on the front of EA Sports' NCAA Football game following his senior season.
While with the Panthers, Fitzgerald caught 161 passes for 2,677 yards and set a Pitt record with 34 receiving touchdowns.
Santana Moss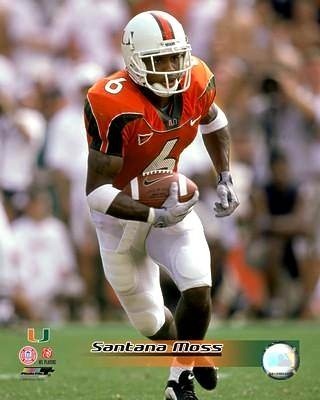 Moss was at one time a Heisman Trophy candidate at Miami. Small but speedy, he put up good numbers in college, which have continued for the most part, despite his size, in the NFL.
While with the Hurricanes, he caught 143 balls for a record 2,546 yards and 19 touchdowns.
Dez Bryant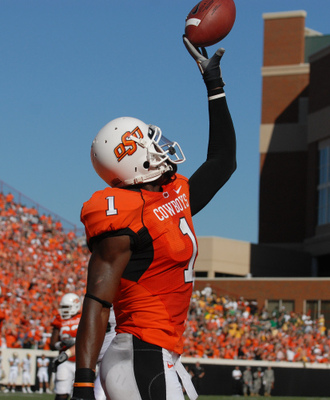 Bryant was to be the biggest receiver last college season. The only problem is the NCAA found he violated rules and had him sit out the season.
Still, despite the missed field time, he managed to put up impressive numbers at Oklahoma State, catching 147 balls for 2,425 yards and 29 touchdowns.
Just imagine if he had played last year.
Mark Clayton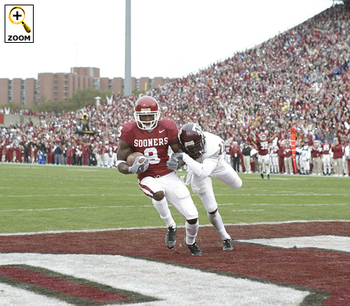 Clayton and teammate and Heisman Trophy winner Jason White helped lead Oklahoma to the 2004 national title.
While White took home the trophy for the best player, during his career he could thank Clayton for a lot of his success.
Clayton caught 220 balls for 3,236 yards and 31 touchdowns.
Keep Reading