Taylor Hall, Tyler Seguin, and the NHL's Top 10 Instant Impact Rookies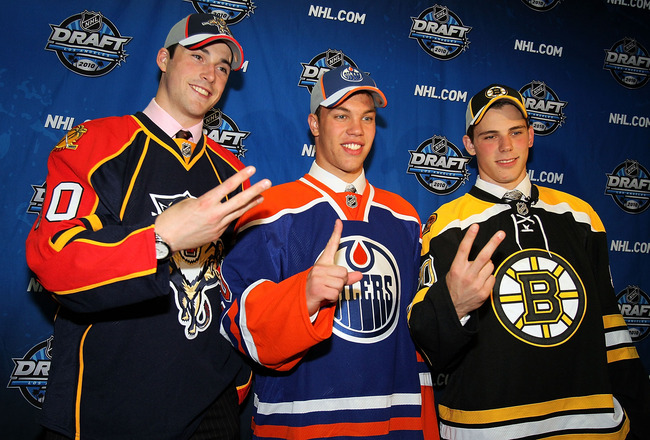 The 2010-11 NHL season promises to be one of the more exciting seasons in recent memory. One of the major reasons behind this is the introduction of several rookies to the league that could tear it apart.
The league is seeing a shift to the youth of the game, and this crop of rookies coming up could be one of the best ever. From recent draftees to seasoned prospects, the league should be very exciting next season.
The following article outlines the ten best prospects heading into the 2010-11 season.
10. Calvin de Haan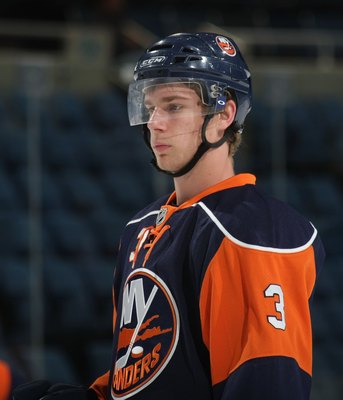 The pick of Calvin de Haan in the first round of the 2009 NHL Entry Draft may have surprised some, but it really was a shrewd move by Islanders general manager Garth Snow.
de Haan failed to make the team last year, but he has since improved his game significantly. Calvin is a offensive defenseman by trade, and has really worked on his skills in junior.
With nearly a point a game in a season and a half's work with the Generals, it is clear he has a lot of talent, and it is not only one-way talent. Calvin can handle himself in his own end, and has a physical game that is steadily improving over time.
The Islanders are always adding solid young talent to the lineup, and Calvin de Haan should fit in nicely on the back end.
9. Austin Watson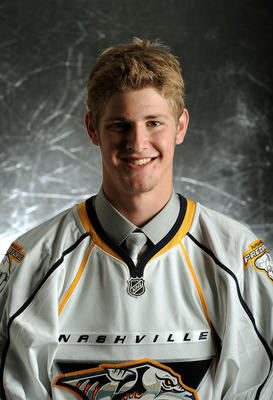 This pick may be surprising to some, as Watson was picked 18th overall by the Nashville Predators, but those that have seen him play know that he is good enough to make this team.
Austin is not going to dazzle you with slick moves or amazing goals, but what he does bring to the table is a great work ethic, and a very solid two-way game.
Watson plays a stereotypical Nashville Predators game. He plays defense first, and then worries about the offense. Playing with the Peterborough Petes, Watson asserted himself as one of the best penalty killers in the OHL.
Along with great defensive play, Watson put up solid numbers, recording 20 points in his final 10 games.
Watson will have to fight hard for a spot on the team, but if he gives it 110 percent, he can make this team and make a difference in the NHL.
8. Magnus Paajarvi-Svensson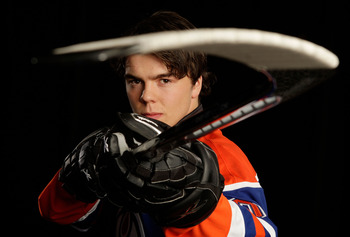 The Edmonton Oilers are loaded with very solid young talent, and Magnus Paajarvi-Svensson could make a big difference on an emerging young franchise.
Over the summer, Svensson signed a three-year entry-level deal that will more than likely put him in the lineup next season.
Svensson is a skilled forward with a lot of speed, good hands, and a knack for the net. His numbers were not outstanding last season playing with Timra in the Swedish Elites, but he has done a great job in International tournaments.
Taking part in both the World Juniors and World Championships this past year, Svensson put up eight goals and 11 assists for 19 points in 15 games played. Svensson has done quite well, and will look to take that talent into the NHL next season.
Look for Svensson to be a dark horse for the Calder trophy.
7. Nazem Kadri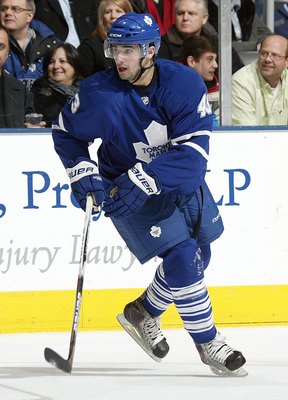 The Toronto Maple Leafs have finally worked a very solid prospect into the system. For the past several years they have traded away picks for veterans and have left the cupboards fairly bare.
Now the Leafs are starting to restock, and with Nzaem Kadri in the system, they are definitely on the right track.
Kadri came very close to making the squad last year, but Ron Wilson and Brian Burke felt it would be best to develop just a little more with the London Knights.
Nazem started off slow, but eventually he dominated scoring 120 points in 68 regular season and playoff games.
With Kadri, Kessel, Versteeg, and Bozak, the Leafs are finally heading in the right direction.
6. John Carlson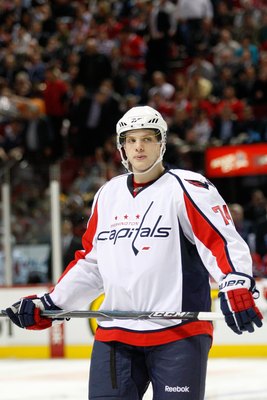 John Carlson fell three games shy of having last season as his rookie season. Carlson played very well for the Washington Capitals in the regular season and playoffs, and has basically assured himself a roster spot.
Carlson is more of an offensive defenseman, but he can play in his own end better then some defenders on the Capitals team.
Carlson is quick, he (as the Canadians would know) has a fairly lethal shot, has good hands, and is fairly steady
His numbers last season weren't stellar, but he ended up picking up the pace in the playoffs.
With plenty of experience under his belt, you can expect a very solid rookie season out of John Carlson.
5. Cody Hodgson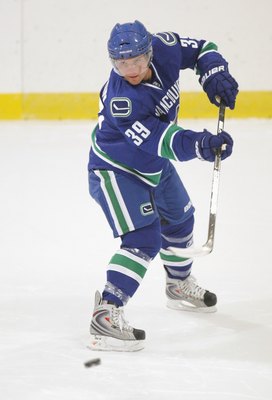 Last year, I would have said that Hodgson would likely win the Calder trophy, but with each passing day, and with each squabble between Hodgson and the Vancouver Canucks, the once Canadian hero is falling lower and lower down the charts.
No doubt Hodgson has been an exceptional player at every level he has competed at, but whether it's him or the Canucks, there seems to be something wrong.
With a change of scenery or just a change in attitude, Hodgson could run wild in the NHL as he is a very gifted player, and can beat you in just about any way imaginable.
A solid recovery from injuries and a new outlook could make Cody a superstar some day.
4. Tyler Seguin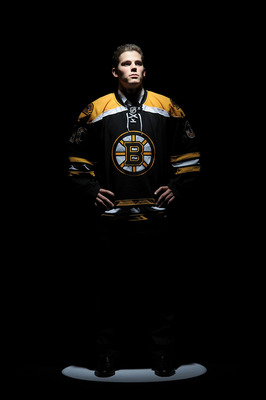 The battle between Taylor and Tyler at the draft table is finally over, but they will be living in comparisons for the rest of their careers. Next season it's likely that Taylor will reign supreme, but over the long haul don't be surprised if Tyler takes charge.
Seguin will land himself a spot on the Bruins, and will likely get to play in almost all key scenarios.
With amazing hands, great speed, and solid scoring and playmaking abilities, Seguin is well on his way to becoming a very strong player.
The first name that comes to mind when thinking of Seguin is Steve Yzerman. With great offensive potential, and a solid two-way game, Seguin plays a very similar style to Stevie Y.
Whether he matches the high praise is another story, but it should be fun to watch.
3. P.K. Subban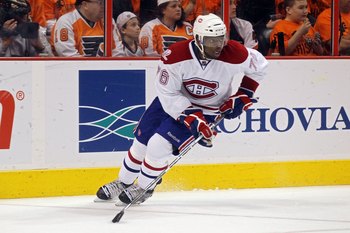 P.K. Subban is certainly something else. Playing in his rookie season with the Hamilton Bulldogs, P.K. finished third in rookie and defensive scoring, second in +/- (with a +46), and was one of the top scorers for his Hamilton squad.
Subban was also awarded the AHL's Presidents award, which is awarded to a player for outstanding accomplishments on the ice.
Keep in mind, Subban has done all of this as a defenseman.
What's even more spectacular is that he was called up during the Canadiens' miracle run and was one of the best players on the ice for the Habs.
Subban is offensive and defensive minded, he is a good skater, has good hands, is physical, and seems to be a great leader.
Without a doubt, P.K. will be an outstanding player, and will give every rookie a run for their money. No one would be surprised if Subban wins the Norris down the road.
2. Taylor Hall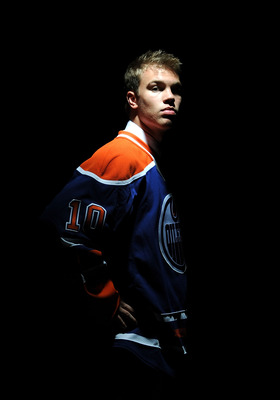 Everyone will be looking at Taylor Hall next season to run away with the Calder trophy. Taylor has done nearly everything possible in Junior including: two Memorial cups, two Mem Cup MVP's (only player to ever accomplish this), and CHL rookie of the year among other things.
Taylor was selected by an up and coming Oilers squad that will likely surprise most next season, and Taylor will be called upon to be one of the leaders on this team.
Taylor Hall is a near complete player, he has size, skill, and speed. With tremendous offensive potential and alright defensive potential, Hall could mold into one of the greats.
The hockey world will be keeping a close eye on him. As long as he doesn't get weighed down by the pressure, he will be a star as early as next season.
1. Jordan Eberle
Jordan Eberle would have to be my preseason pick for the Calder trophy. The thing with Eberle is, that he can step into any situation with any team and succeed.
In the WHL Eberle scored 106 points in only 57 games played, he was the WHL MVP, and was also named the CHL MVP.
After his season ended he was sent to the Oilers' AHL affiliate in Springfield, and managed to score 14 points in 11 games. Eberle had the highest points per game average on the team.
Jordan is most known for scoring key goals when the chips are down. In the semifinals of the 2009 World Juniors, he scored the game-tying goal with five seconds remaining. In the 2010 World Juniors down 5-3 in the finals, Eberle scored two goals in the final two minutes to tie the game.
Eberle is already one of Canada's most beloved players, and he hasn't even hit the big stage yet.
Edmonton fans, and fans of the game in general should be excited to see Eberle finally make the show next season.
Keep Reading

Edmonton Oilers: Like this team?