2010 NFL Predictions: Top Five New England Patriots Fantasy Picks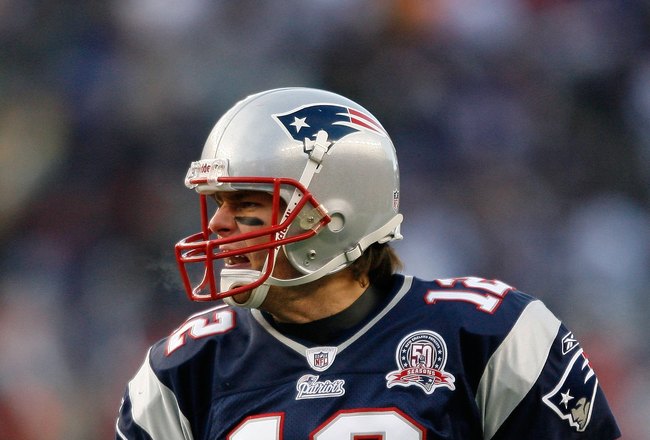 This article is going to tell you who I think will be the five most valuable fantasy assets coming from the Patriots this year.
This is the slide show for you if you are a fantasy football playing Patriots fan that is looking to stock up on your favorite players. Or you may just want to further your fantasy knowledge in general by taking a more in-depth look into another teams' fantasy products.
No. 5 Patriots Defense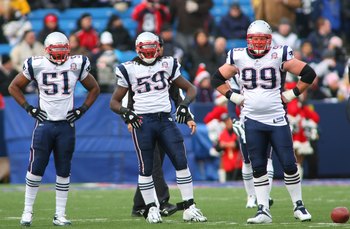 Some of you may be shaking your heads or have a confused look on your face, but the Patriots' defense is a viable low-end defense that you can start most weeks.
They have Ty Warren and Vince Wilfork on the line to stop the run and plug the holes. In the line backing corps they have Jerod Mayo who is looking to have a career season and step up and lead the defense.
There is also Brandon Spikes who will be a force against the run, and Gary Guyton who is great in coverage. The pass rush will be provided by Banta-Cain and Derrick Burgess who got three of his five sacks last season in the final four weeks, a sign he was starting to get comfortable in the defense.
The shining star of the Pats D at the moment, though, is definitely the secondary with Pro Bowl safety Brandon Meriweather leading the way. Add to him Leigh Bodden and great depth at corner and safety and you have a recipe for not giving up many big plays and making a few big plays themselves.
Also add in the special teams points which Julian Edelman and Brandon Tate may bring in and you could be talking about even more points.
One more plus is the Patriots' schedule. They only play a small amount of true powerhouse offenses that can score on anybody in the Colts, Chargers, Vikings, and the Packers. On top of that they play a lot of terrible offensive teams such as the Bills (x2), Browns, and the Lions.
Projected Stats: 38 sacks, 20 interceptions, three TD's, one Return TD.
No. 4 Julian Edelman/Wes Welker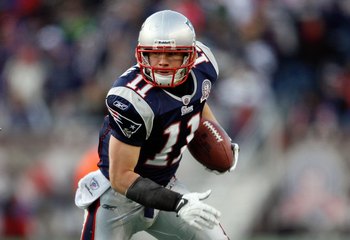 This spot really depends on how quickly Welker comes back. If Welker is back early then he could get 900-1,000 yards which is always good.
If Welker comes back late then you should pick up Julian Edelman who will no doubt replace Welker in the offense and do an excellent job in doing so.
Once Welker returns, though, Edelman's numbers will shrink pretty quickly as Welker steps in to his usual role.
So, in other words, pick up Edelman for the first few weeks and then just before Welker comes back trade Edelman while his stock is high and try to pick up Welker.
Projected Stats: Can't be sure without knowing when Welker returns.
No. 3 Laurence Maroney
Laurence Maroney will not be a surefire fantasy contributor every week. It's one of the things Pats fans hate about him, but what he will do is step up some weeks and get you the points you need to win.
In one six game stretch last season Maroney rushed for 420 yards and eight TDs. Sure those aren't #1 RB numbers but if you have a flex spot open or are struggling to find a #2 RB, don't feel worried about sticking Maroney into one of those spots for one or two weeks.
Projected Stats: 800 yards rushing, 100 yards receiving, 10 total TDs.
No. 2 Tom Brady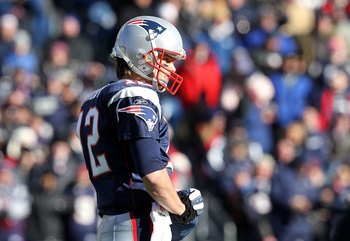 Tom Brady is another year removed from his injury and has had the off-season to recover from nagging injuries from last season. That means he should be fully healthy for the 2010 season.
Brady will have his old weapons in Moss and Welker, but he will also have some newer toys to play with in Edelman, Tate, Price, Gronkowski and Hernandez. This should mean Brady can spread it out more and find more holes in defenses as they have more to prepare for.
Projected Stats: 4,500 yards passing, 30 passing TDs, 14 INTs, 70 rushing yards, one rushing TD.
No. 1 Randy Moss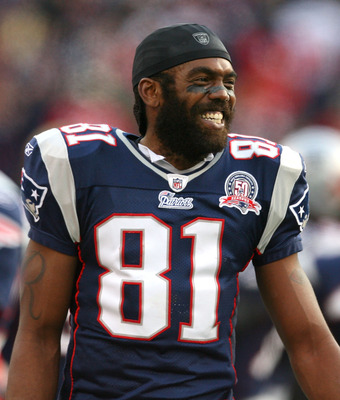 Randy Moss is still a deep threat in the NFL and can catch a long bomb on any given play. With New England acquiring all their new weapons over the last two years, defenses will have to plan for it and therefore the coverage on Moss will ease up a little.
Moss also battled nagging injuries last year but should be fully healthy coming into the new season. He should be a certain for double digit touchdown catches as he has only had less in three of his previous twelve NFL seasons and two of those seasons were in Oakland.
Projected Stats: 76 catches, 1,250 yards receiving, 15 receiving TDs.
Keep Reading

New England Patriots: Like this team?