Pre-Season Top 25: Ranking College Football's Hottest Campuses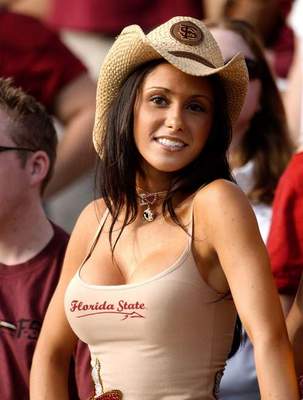 The 2010 College Football season is nearly upon us, which means it is time to start thinking about pre-season polls, Heisman Trophies, the BCS, and bowl games all over again.
It also means that it is time to start thinking about college girls again, and to try to figure out what college or university has the hottest campus in college football.
Let's have a look.
Honorable Mention: Texas Christian University
Before the third girl from the left rubbed off the bottom part of her "E," this group had accidentally showed up with "GO OGRES" spelled out on their stomachs.
Honorable Mention: University of Michigan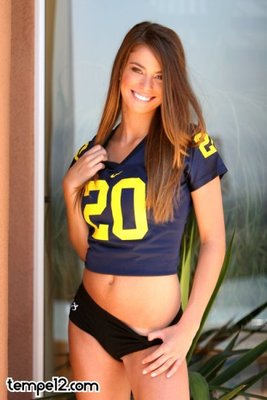 This girl may be just about the only thing Michigan has going for it in 2010, what with the way Rich Rodriguez's tenure has gone so far.
25. San Diego State University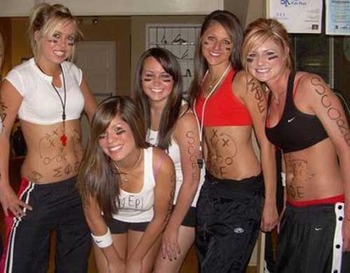 This picture is left over from the days before the San Diego State football team bought marker boards for diagramming plays.
24. University of Arkansas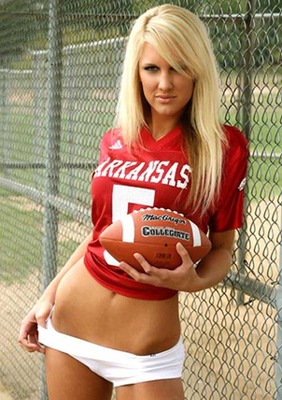 I've only been to Arkansas twice in my life, and once was a mistake.
I guess I could be talked into going back.
23. Auburn University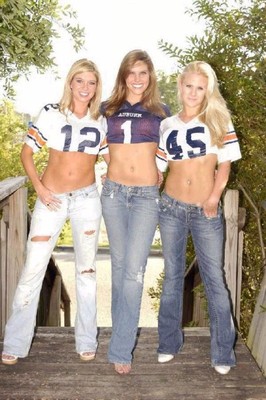 They kinda look like Auburn Tiger action figures, don't they?
22. Clemson University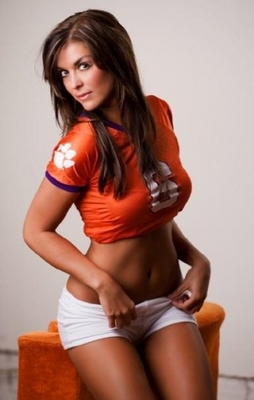 Isn't it weird how many southern schools have the Tigers as their mascot? There is, at a minimum, Auburn, LSU, and Clemson.
The funny thing is, I am reasonably certain there are no Tigers in the southern states, and never have been.
21. Ohio State University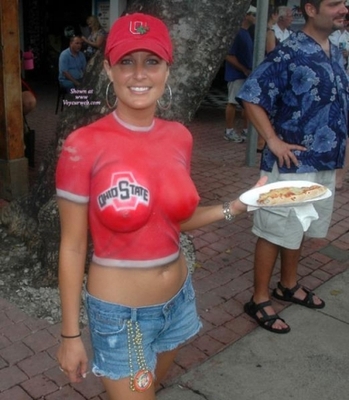 Bucket List Item No. 73: Go to Ohio with lots of red and black body paint.
20. University of Florida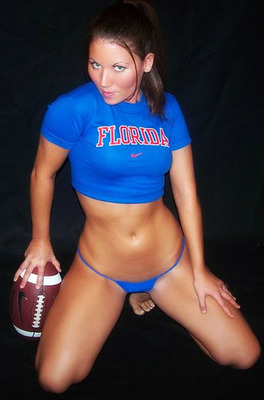 I have something to say. There is no way you've noticed what I'm about to say, but as soon as I say it, you're not going to be able to stop thinking about it, and it is going to ruin this picture for you.
So if you want to stop reading here, fine.
But...
This girls foot has ended up in a rather funny juxtaposition with the rest of her body.
19. University of Georgia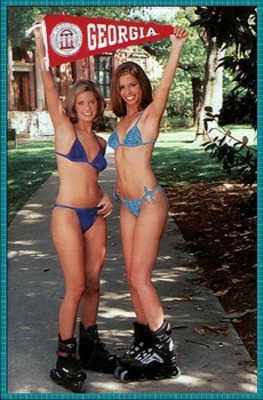 I don't mean to sound old, but does it seem like college girls are a lot more willing to pose in suggestive girl-on-girl poses than they were when I was in college?
18. University of Oregon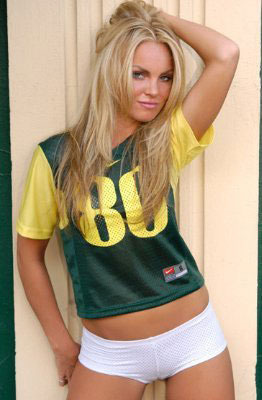 The state of Oregon has two major universities, University of Oregon and Oregon State University. Their two universites engage in two silly traditions.
First, their annual rivalry game is call "The Civil War," even though Oregon is the top five states in the country in terms of "least connection to the Civil War."
Second, one is called the Ducks and the other is called the Beavers.
Yikes.
17. University of Wisconsin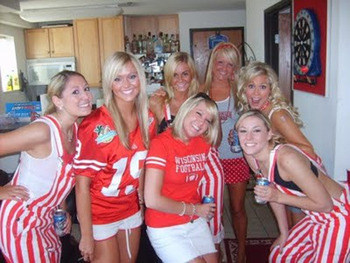 Hot college girls + a fully loaded bar + a dart board = inevitable trip to the emergency room.
16. Virginia Tech University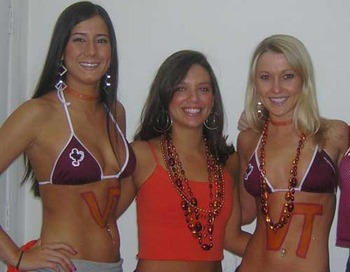 The girl in the middle is wearing a shirt because she did her own orange school spirit belly tattoo and accidentally wrote "TV."
15. University of Kentucky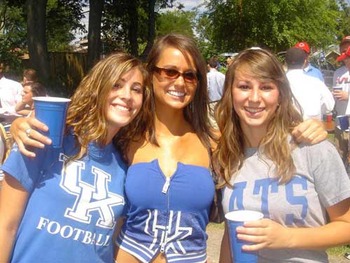 I have a question, and I'm serious about it: if not for Kentucky basketball and the Kentucky Derby, isn't Kentucky the single state that the vast majority of Americans would forget exists?
14. University of California-Los Angeles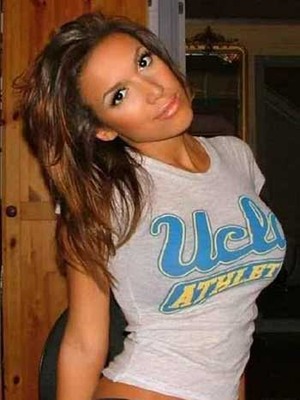 Yeah, UCLA doesn't even really have to enter these sorts of contests any more. UCLA is to college hotties what Notre Dame is to college football—they could take a decade off and they'd still be considered one of the best.
Of course, it doesn't appear as though UCLA is taking a decade off.
13. University of Central Florida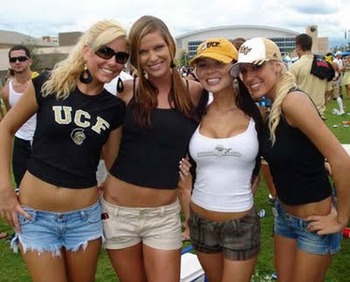 Don't overlook University of Central Florida as a real up-and-comer, in terms of college hotties and in terms of football.
It;s right smack in the middle of Florida in Orlando, which means tons of amenities for both the football team and the college hotties.
12. Texas Tech University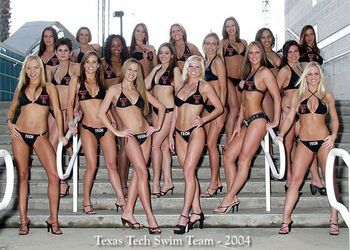 Are those the sanctioned swim team uniforms?
Awesome.
11. University of Miami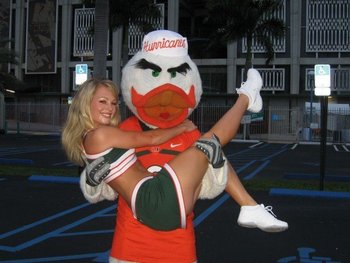 No list would be complete without some representation from Miami.
10. Stanford University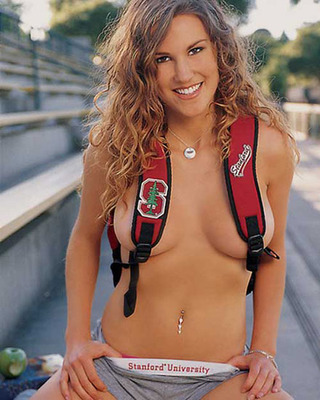 How much hotter is she knowing that she was smart enough to get into Stanford?
9. Louisiana State University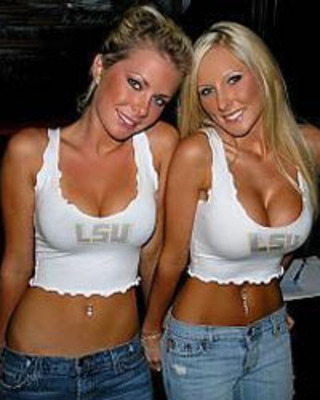 8. University of South Carolina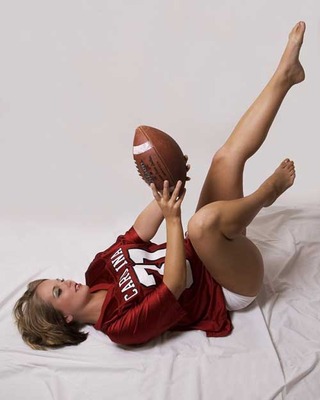 Wow, we managed to find a picture of a University of South Carolina girl looking sexy without some sort of incredibly juvenile envelope-pushing "Gamecocks" double entendre.
7. University of Arizona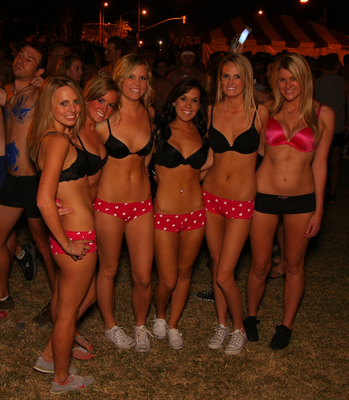 This is a photo from a University of Arizona event entitle, I kid you not, "Undie Run."
I'll take it.
6. University of Alabama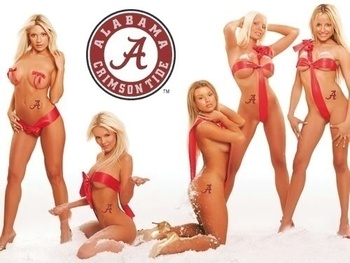 My daughter can go to any college that she wants.
Except one.
5. University of Tennessee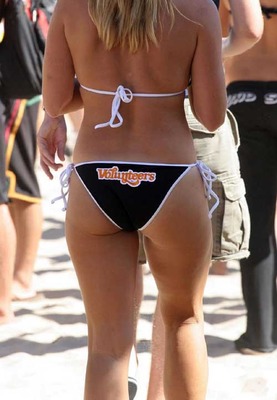 I don't know who invented the "writing on the butts of women's clothing" thing, but I like it.
4. University of North Carolina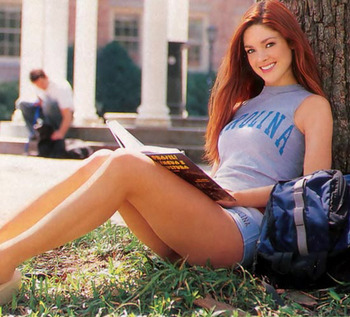 The guy in the background has been pretending to look for a pen in his book-bag for the last 25 minutes.
3. Arizona State University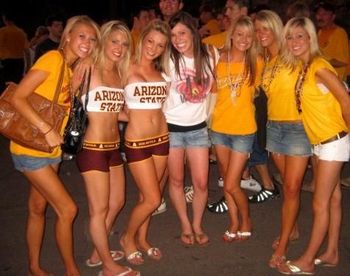 Lovely girls, all of you.
Weird how the second and third girls from the left make the fourth girl from the left look like she's wearing a whole lot of clothes.
2. Florida State University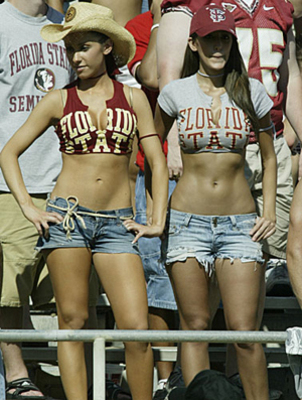 This is like "Football Game Sexy 101."
Sexy bent-into-shape cowboy hat? Check.
Blue Jean cut-offs? Check.
Team shirt two sizes too small which has been cut off at the top and bottom? Check.
Eight minute abs? Check.
Rope belt? Check.
Okay, let's go catch some 'Noles.
1. University of Southern California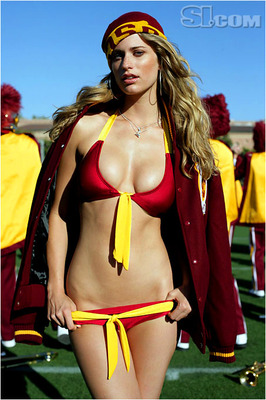 Band guys are such dorks.
Turn around, band-dorks, there's a total hottie behind you.
Keep Reading

Arizona State Football: Like this team?