Top Five Fantasy Football Players For The San Diego Chargers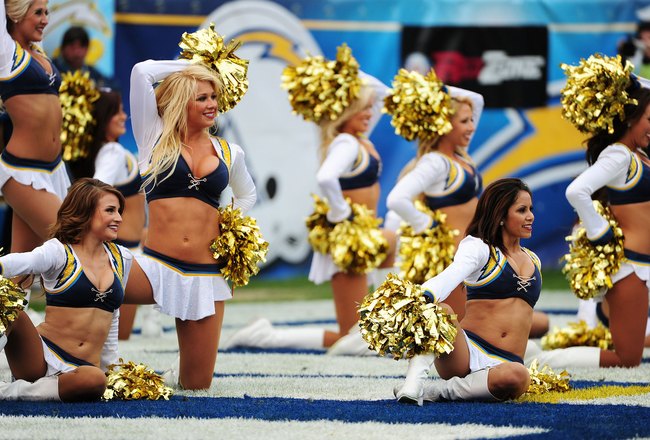 With training camp just around the corner, it is time for fantasy owners all over the country to put together their draft boards.
With one of the most prolific offenses in the NFL, the San Diego Chargers will have a wealth of high scoring fantasy players.
Here's a look at the top five fantasy players that will be wearing powder blue and gold this season...
Not Included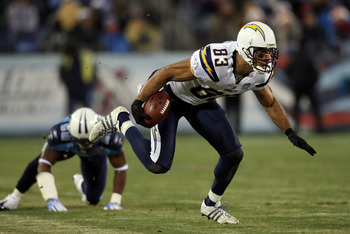 Vincent Jackson would be on the top five player on my list... if he wasn't going to potentially sit out the first 10 games of the season due to contract negotiations.
Keep him off your draft board, but be ready to grab him in the middle of the season for the playoff push. His hold out will greatly affect the amount of points this teammate earn this season, so make sure to check Jackson's status before the draft.
The rest of the list is done based of the assumption that he will be out for at least the first 10 games.
5. Darren Sproles
With the addition of Ryan Mathews, Sproles will not be depended on to run between the tackles. He will however, get to do the things he does best, which is catch screen passes, and run in space.
While Sproles will should not be a primary fantasy running back on a team, he should find his way onto the bench of most leagues, and used for spot starts in bye weeks.
He should have around 450 rushing yards, and 500 receiving yards with five total touchdowns.
4. Malcom Floyd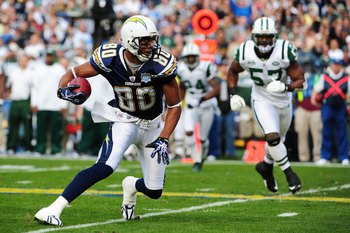 Without Jackson in the lineup, Malcom Floyd's receptions will go up.
Floyd's great leaping ability and size make him a reliable target for quarterback Philip Rivers.
Don't worry about him being double teamed in the absence of Jackson, because defenses will still have to worry about Antonio Gates.
Also, look for his red zone targets to go up in the 2010 season. He should be a starter for most teams this fantasy season.
Look for Floyd to amass 1000 yards and five touchdowns.
3. Antonio Gates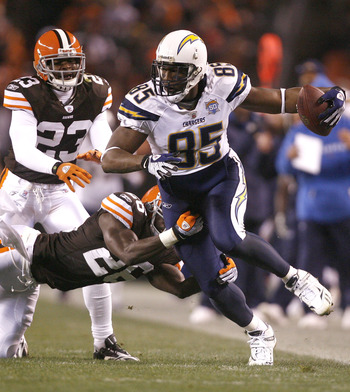 He has been one of the best, if not the best tight end in the NFL since 2004. Look for another great season from Gates this year.
Last year he still ended with 1157 yards and eight touchdowns, despite a nagging foot injury. He should put up similar stats this year.
He should be one of the first tight ends taken this year.
2.Ryan Mathews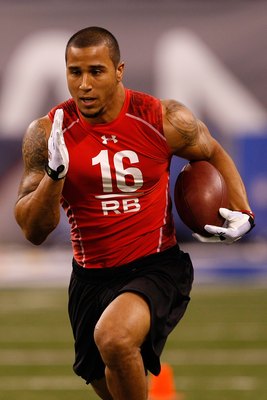 Yes, he's a rookie, but he will be given the ball around 20 times a game.
Norv Turner has already said that he is going to try and run the ball more this year.
High carry frequencies are rare now a days, because most teams are going to two back systems. Even if Mathews does not have that phenomenal of a season, he should still put up points in fantasy.
The former Fresno St. Bulldog should be able to gain 1,100 yards rushing, 300 receiving, and eight total touchdowns.
He should start in all leagues, and should be drafted in the third round of most leagues.
1. Philip Rivers
It should go without saying, but without LT, this is Philip River's team now.
He will have a monster fantasy season as well.
He should be one of the top five fantasy quarterbacks this season, in what is a loaded position this season. He will probably be without his main target from last year, Jackson, but he will still be able to distribute the ball to his other targets, such as Gates, Floyd, Nanee and his running backs.
Rivers should be able to come up with 4250 yards, and 30 touchdowns. Try and grab quarterbacks a little bit earlier then normal, because they will have bigger fantasy impacts than running backs this season.
Keep Reading

San Diego Chargers: Like this team?