UFC Contenders, Gatekeepers, and Journeymen: The Heavyweights (Part 2)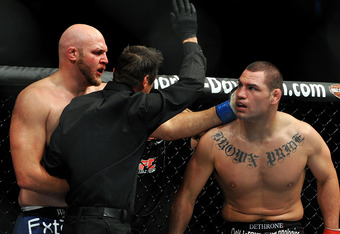 Jon Kopaloff/Getty Images
This article is Part 2 of "UFC Contenders, Gatekeepers, and Journeymen: The Heavyweights"
Just like gatekeeper, the definition of journeyman in boxing differs slightly from how it is should be used in MMA. A boxer journeyman is said to have little or no expectation of winning his fights, hence he is "along for the journey."
Although they are said to be competent boxers, their limitations have since been exploited and reduced them to their journeyman status.
Although MMA journeymen have visible weaknesses in their game, they never under any circumstance enter the Octagon with the expectation of losing.
This is where the two sports differ greatly, because even though in boxing everyone has a "puncher's chance," in MMA "anything can happen," and that's exactly what these fighters shoot for every time they compete.
Fan Favorites
Some of these fighters are favorites because of their ability to finish a fight in style. Some are favorites because they have lost to fighters who top the rankings.
All have been in co-main event fights. These are, for one reason or another, the fan favorite journeymen.
Cheick Kongo (15-6-1)
Who he has beaten: Mirko Cro Cop, and Paul Buentello
Who he has lost to: Frank Mir, Cain Velasquez, and Heath Herring
Who he fights next: Future prospect Travis Browne at UFC 120 on Oct. 16
What has kept him from a title shot: Losses to Velasquez and Mir have kept Kongo from moving up the ladder.
Had Kongo been able to get past Mir, then he would have gotten a shot at Shane Carwin for the Interim title, and would have at least been able to advance to gatekeeper status.
Kongo's continued failure to defeat ranked opponents will keep him in the journeyman status, but his ability to finish fights against fellow journeymen makes him a fan favorite and employed with a new six-fight contract.
Ben Rothwell (31-7)
Who he has beaten: Roy Nelson, Ricco Rodriguez, and Gilbert Yvel
Who he has lost to: Cain Velasquez, Andrei Arlovski, and Tim Sylvia
Who he fights next: Nothing scheduled yet for the former IFL and Miletich Fighting System veteran
What has kept him from a title shot: Rothwell was highly touted coming into the UFC as one of the best fighters to have never competed inside the Octagon. Unfortunately for him, Velasquez didn't think so.
With his recent win over fellow journeyman Gilbert Yvel, look for Rothwell to face off against a tougher opponent as he tries to climb back up the ladder, possibly in the form of gatekeeper Mirko Cro Cop.
Heath Herring (28-14-0-1)
Who he has beaten: Cheick Kongo, Gary Goodridge, Gann McGee, Evan Tanner, and Mark Kerr
Who he has lost to: Brock Lesnar, Minotauro Nogueira, Mirko Cro Cop, Fedor Emelianenko, Vitor Belfort, and Evan Tanner
Who he fights next: Nothing scheduled yet for the man who helped build Brock Lesnar's career, although he has been busy working on his acting career
What has kept him from a title shot: Simply put, Brock Lesnar and Big Nog. Both his fights with them were used as contender eliminator bouts for the heavyweight title and interim title, respectively.
Although Herring hasn't been active since his loss to Lesnar at UFC 87, he boasts a win over fellow journeyman Cheick Kongo and is still under contract to the UFC.
Expect Herring to be handed another journeyman to battle upon his return before he faces off against a rising star.
Stefan Struve (19-4)
Who he has beaten: Paul Buentello and Denis Stojnic
Who he has lost to: Roy Nelson and Junior Dos Santos
Who he fights next: The Dutch Skyscraper will face off against undefeated UFC newcomer Christian Morecraft at UFC 117 on Aug. 7
What has kept him from a title shot: Struve was put up as Big Country's first test in the UFC. Big Country proved to be to much for the Dutchman, as his hopes of a rematch with JDS and the contender eliminator match that came with it vanished before his eyes.
Struve is yet again going to be the test against another newcomer at UFC 117. For his sake, let's hope he proves to be a test the undefeated Morecraft fails.
Either way, don't expect the skyscraper to get the boot anytime soon as he is a fan favorite and a proven draw in Europe.
The Lesser-Knowns
These fighters also garner the title of journeyman until they prove themselves otherwise. The are the lesser-knowns because to the casual fan they are unknowns.
To the educated fan, they are experienced fighters who've been around the block.
Hopefully they can remain successful enough to stay with the UFC and become the fan favorites they have the potential to be.
Pat Barry (5-2)
Who he has beaten: Dan Evensen and Antoni Hardonk
Who he has lost to: Tim Hague and Mirko Cro Cop
Who he fights next: It will be sometime before we see Barry fight again as his loss to Cro Cop has confined him to a wheelchair for the time being
What has kept him from a title shot: Barry had a successful kickboxing career before transitioning to MMA, and he showed promise early on. Unfortunately he has yet to string together enough wins to be taken seriously.
His fight with Cro Cop was suppose to put him back on track, but the more accomplished former Croatian kickboxer proved to be too much to handle. It's hard to say where Barry goes from here.
Anthony Perosh (10-6)
Who he has beaten: Bryan Harper
Who he has lost to: Mirko Crop Cop and Jess Monson
Who he fights next: Perosh recently underwent knee surgery and is expected to make his return sometime this fall
What has kept him from a title shot: Perosh has had a career with many ups and downs. His failure to win during his first run at UFC 61 and UFC 66 didn't win him any fans.
Perosh was fortunate to be a last-minute replacement against Cro Cop. Unfortunately his second run in the UFC looked a lot like the first.
Despite the loss, Perosh was given a four-fight contract, so he has many more chances to prove himself.
Chris Tuchscherer (18-3-0-1)
Who he has beaten: Tim Hague
Who he has lost to: Brendan Schaub, and Gabriel Gonzaga
Who he fights next: Nothing scheduled yet, but since he just fought on July 3, I'm not surprised
What has kept him from a title shot: Although Tuchscherer tried out for The Ultimate Fighter: Heavyweights he was given a shot straight away due to his record.
This proved to make little difference as his debut was against Gabriel Gonzaga where The Crowbar suffered a first round TKO loss to the gatekeeper.
Tuchscherer rebounded with a win over fellow journeyman Tim Hague, but was unable to get past TUF Season 10 finalist Brendan Schaub. It's hard to say where the Crowbar goes from here.
Gilbert Yvel (36-15-1-1)
Who he has beaten: Pedro Rizzo, Cheick Kongo, and Gary Goodridge
Who he has lost to: Dan Henderson, Vitor Belfort, Don Frye, Jeremy Horn, Josh Barnett, Junior Dos Santos, and Ben Rothwell
Who he fights next: Nothing scheduled yet, but bet on it being an unaired preliminary bout
What has kept him from a title shot: Yvel has fought a who's who of contenders, gatekeepers, and future champions. It's too bad he hasn't managed to beat any of them.
With two back-to-back losses against JDS and Rothwell it's hard to imagine Yvel has many lifelines left in the UFC.
The fact that he is still listed as an active fighter means someone must like him, so he better get a big win fast, so other people can like him, too.
It's no secret that if you're a journeyman in the UFC a losing streak will get you cut. These fighters are not just trying to claim a fleeting glory that never was, but they are also trying to stay employed by the biggest MMA promotion in the business.
Not just so they can keep fighting, but so they can support their families. If anyone clung on to the saying "in MMA, anything can happen" it's these guys. Just so long as that "anything" is a win for them.
Make sure you read "UFC Contenders, Gatekeepers, and Journeymen: The Heavyweights (Part 1)" where we will take a look at the contenders and gatekeepers in the division and what they are up to.
Follow Justin Alonzo-Fuller on Twitter @jalonzofuller
Follow Bleacher Report MMA on Twitter @BleacherRprtMMA
This article is
What is the duplicate article?
Why is this article offensive?
Where is this article plagiarized from?
Why is this article poorly edited?