The 15 Best Coaches Never to Win a National Title & Their 2010 Chances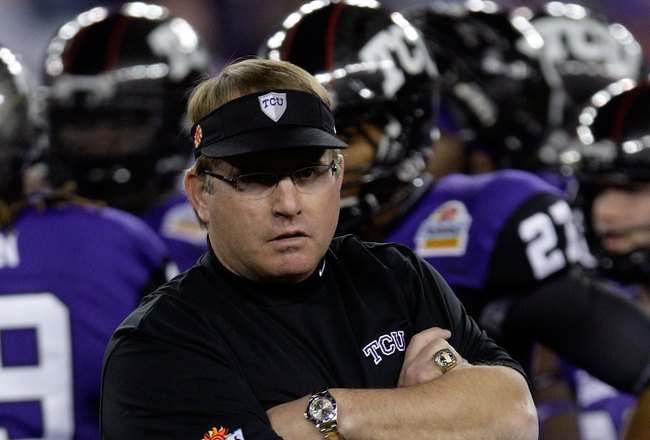 Over the past decade or so, college football has produced some great programs, and accordingly, great head coaches.
Oklahoma, Texas, Ohio State, Florida, LSU, Alabama, USC...all programs with great coaching and national titles to show for it.
But there have definitely been some other programs led by great coaches that have made some noise in the college football world. The only thing missing is those coaches have yet to win the national title.
So, who are the coaches that have done just about everything but win it all? And, more importantly, will they have a chance to complete that final portion of the resume in 2010?
There are dozens of exceptional coaches who haven't won the national championship, but here are the 15 best.
Note: Coaches were selected based on their career record, winning percentage, coaching awards, and conference championships. They also had to be an active coach going into the 2010 season.
However, overall statistics didn't play the only role. Recent success and how the individual coaches influenced the overall dynamic of the program they inherited, also played a role in where the coaches were ranked.
Honorable Mentions
Bret Bielema, Wisconsin
Tom O'Brien, North Carolina State
Greg Schiano, Rutgers
Rick Neuheisel, UCLA
Tommy Tuberville, Texas Tech
Bronco Mendenhall, BYU
Houston Nutt, Ole Miss
Dave Wannstedt, Pittsburgh
Ralph Friedgen, Maryland
Mike Riley, Oregon State
No. 15: Pat Hill, Fresno State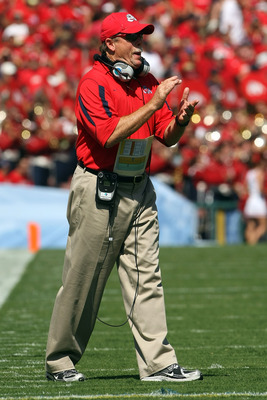 As the head coach at Fresno State since 1997, Pat Hill has made it clear to the college football world that his Bulldogs will play "anybody, anywhere, anytime."
Unfortunately, that motto has never included a BCS game, much less a national title.
That's not to say Fresno State hasn't been one of the most successful mid-major programs in the country since Hill took over as lead dog.
Since 1997, Fresno State has won one WAC title, attended 10 bowl games, and have compiled a 100-66 overall record.
It's just that they've never quite been able to get over the hump.
Fresno State will undoubtedly have a decent team in 2010—they always do—but don't expect a run at the BCS. Boise State will just be too strong in the WAC.
No. 14: Jeff Tedford, California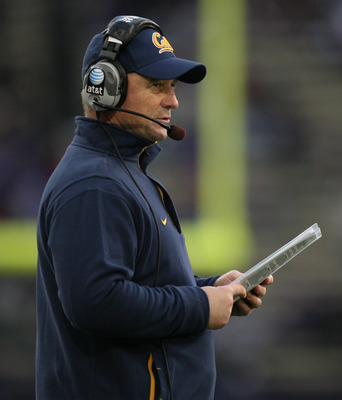 As the architect behind the revitalization of the Cal football program, Jeff Tedford has accomplished a lot since 2002.
Berkeley has seen a Pac-10 title, five bowl wins, and a 7-1 record over rival Stanford in the "Big Game" since Tedford came to town.
He's compiled a 67-35 record in his time at Cal and has even won two Pac-10 Coach of the Year awards.
But he hasn't yet won a national title—or even made it to a BCS bowl. The Golden Bears have certainly come close.
In 2004, with quarterback Aaron Rodgers at the helm, Cal went 10-1 in the regular season and many expected them to a receive a BCS bid. However, in a controversy epitomizing the frustrations concerning the BCS, Texas jumped ahead of Cal in the final polls to steal away the last at-large bid.
With his pedigree and ability at grooming quarterbacks, it seems like a national title could only be a matter of time for Tedford.
2010 could see Cal competing for a Pac-10 title, especially with Oregon and USC's difficulties, but don't expect a national title.
It will be pretty hard for any team in the Pac-10, much less the Bears, to run the table in the conference.
Cal should still be going bowling, maybe even 'BCS'ing, but don't expect an undefeated season, or national title.
No.13: Chris Ault, Nevada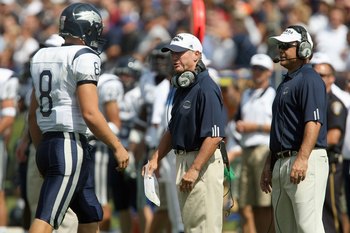 One of only three active coaches who is a member of the College Football Hall of Fame, Nevada coach Chris Ault has done it all.
Except win it all.
He's won eight conference titles in three different conferences (4 in the Big Sky, 3 in the Big West and 1 in the WAC), oversaw the Wolfpack's transition from DI-AA to DI-A, and compiled a 200-94-1 overall record.
But Nevada hasn't yet won it all—about the only thing lacking in Ault's illustrious career.
Like the Bulldogs in Fresno, Nevada will field a good team in 2010.
A bowl game is a probability and a WAC championship is certainly within reach, but don't count on it. With Boise State on their schedule, expect at least one loss and a shot at the BCS to go up in flames.
No.12: Rich Rodriguez, Michigan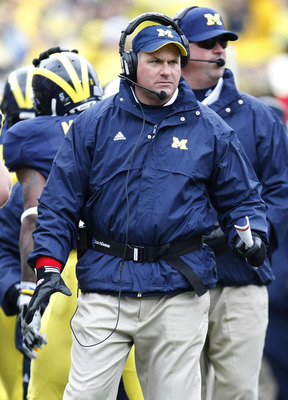 Yeah, yeah, yeah. Rich Rodriguez is on the verge of getting canned at Michigan. Why is he on this list?
The fact is, Rich Rod is a good coach. He just hasn't had the kind of success in Ann Arbor that's been typical of his coaching career.
He's compiled only an 8-16 record as a Wolverine, and has many fans doubting whether his coaching strategy is right for Michigan.
But that's not characteristic of his career.
He's won eight conference titles, multiple coach of the year honors, and compiled a 113-78-2 record in his career. He's certainly not a loser.
As the coach of Glenville State, he led the small West Virginia school to the NAIA championship game in 1993.
At West Virginia, he won four Big East titles and the Sugar Bowl in the 2005 season.
Now, don't expect miracles at Michigan in 2010. The Wolverines are not going to win the national title..
It was however, the university's ultimate goal when they hired Rodriguez. He certainly has that championship quality to him.
Expect a bowl game in 2010 with Rodriguez living to fight another year in Ann Arbor.
No.11: Bobby Petrino, Arkansas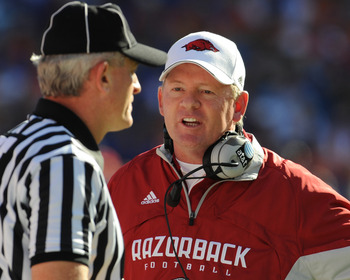 After spending a year in the NFL, Bobby Petrino came back to where he really belonged: college football.
Although not the most widely-recognized coach in the land, Petrino has made sure to do what really counts: win.
In his four years at Louisville, he led the Cardinals to two conference titles and an Orange Bowl win in the 2006-07 season.
Now, he leads the Arkansas Razorbacks and is poised to turn the Hogs into an SEC power.
With quarterback Ryan Mallett leading the way, the Razorbacks should compete for the SEC West in 2010 with Alabama, and if things fall their way, could make an appearance in a BCS bowl.
Winning the national title may be slightly out of their reach, and going unbeaten through the SEC schedule is going to be virtually impossible for any team in 2010 and Arkansas is no exception.
Petrino though, has the team and himself headed in the right direction. In the case of Petrino finally winning a national title, it may only be a matter of when.
No. 10: Paul Johnson, Georgia Tech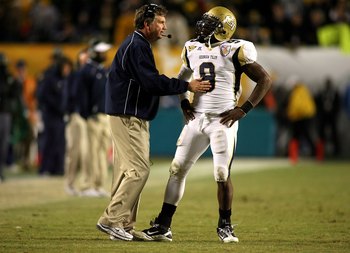 After leading Georgia Southern to two DI-AA national championships and Navy to unparalleled success in his six years in Annapolis, Paul Johnson took over the Georgia Tech Yellow Jackets in 2008 and promptly led the program to consecutive bowl games.
Yet, despite compiling a 126-46 career record, two straight ACC Coach of the Year awards, and four bowl victories, Johnson has yet to taste the sweet nectar that is a DI-A national championship.
With Atlanta as his home now, he may have found the right place.
Playing in the ACC and for a school that has a history of success on the gridiron should give Johnson some ample opportunities before he departs.
However, 2010 may not be the year.
Yes, Georgia Tech will once again compete for the league title and may even win it, but the odds are pretty low that the Yellow Jackets will finish the year without a blemish.
And because they'll be starting the year relatively low in the polls, that's what they'll need to make an appearance in the national championship.
Johnson will get there eventually though. You can count on that.
No. 9: Kyle Whittingham, Utah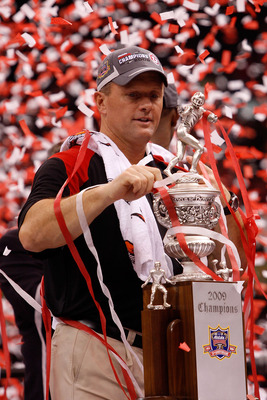 It's no easy task taking over for Urban Meyer in Salt Lake City, but Kyle Whittingham has led Utah to nothing but success in his five years at the helm.
Five straight bowl games and five straight bowl wins, including their shocking upset of Alabama in the 2009 Sugar Bowl, have led many experts to call Whittingham one of best coaches in the nation.
His 47-17 record speaks for itself.
His Utes finished second in the AP poll following that Sugar Bowl victory, but second isn't what Whittingham was shooting for.
He wants that national title however, he may have a little trouble in 2010.
Utah will be good once again, no doubt. Good won't be enough to win the Mountain West next year, let alone go undefeated.
The Utes would have to defeat BYU and TCU to win the conference and that just may be too much to ask for, but expect Whittingham to win that national title before he's done coaching, whether it's at Utah or not.
No. 8: Brian Kelly, Notre Dame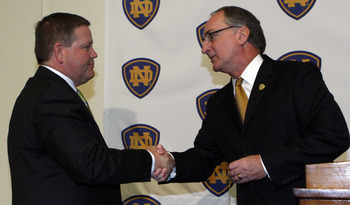 Other than maybe Rich Rodriguez in Michigan, there won't be another coach in the nation who will have to deal with the kind of pressure Brian Kelly will be facing at Notre Dame.
The only thing Irish faithful expect from Kelly is a national title.
That's not too much to ask for, right?
But, if there is a man that could bring Notre Dame back to glory, it may just be Kelly.
In his career, Kelly has compiled a 171-57-2 record, while bringing home two Division II national titles for Grand Valley State, one MAC title for Central Michigan, and two Big East crowns for Cincinnati.
The guy knows how to win.
So, will Kelly be able to earn his first DI-A national title with the Fighting Irish in 2010?
Um...no.
He should be able to take them to postseason play. That should pacify the folks in South Bend for a little while.
No. 7: Kirk Ferentz, Iowa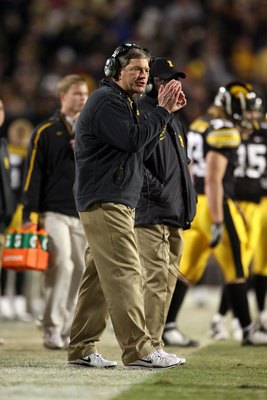 Over the past decade, you'd be hard-pressed to find a coach who has generated more buzz concerning a possible transition to the NFL than Iowa's Kirk Ferentz.
And it's not like it hasn't been well deserved. Ferentz, taking over for the legendary Hayden Fry in Iowa City, has compiled an 81-55 record at Iowa and has taken the Hawkeyes to two Orange Bowls, including last year's win over Georgia Tech.
His Hawkeyes have won two Big Ten titles, while Ferentz has personally taken home three Big Ten and one Walter Camp Coach of the Year awards.
The only thing lacking is that national title,but he may get that chance in 2010.
The Hawkeyes are expected to compete with Wisconsin and Ohio State for the Big Ten championship and with both the Badgers and Buckeyes needing to come to Iowa City, Iowa just may have a chance to run the table.
Certainly no easy task, but 2010 will probably be the best shot Iowa has had in a long time to compete for the national title.
No. 6: Butch Davis, North Carolina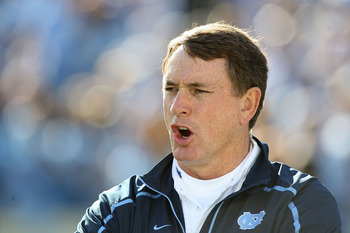 Now the coach of North Carolina, Butch Davis has been known as one of the premier college football coaches during both his time in Chapel Hill and Miami.
In his time as a head coach, he's compiled a 71-38 overall record and won three conference titles and four bowl games while in South Beach.
He's also come about as close as possible to winning a national title as one can get.
His 2000 Hurricanes finished the season with an 11-1 record and No. 2 ranking in the final polls—once again, a case of BCS snubbing.
At North Carolina, Davis has turned the Tar Heels into national powers, taking the team to consecutive bowl games and challenging for the ACC crown.
In 2010, don't expect a national title. But a conference title?
Maybe.
North Carolina should compete for the ACC and with the play of their stout defense, could be able to come out on top over rivals Virginia Tech, Miami and Georgia Tech.
No. 5: Gary Patterson, TCU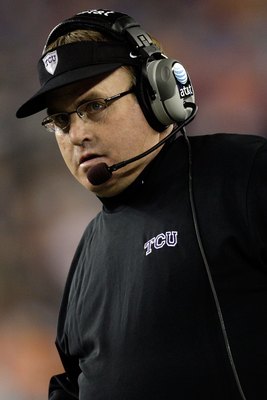 One of the most successful coaches in all of college football, Gary Patterson has turned Texas Christian into a mid-major power on the verge of becoming a consistent BCS challenger.
Since taking over the Horned Frogs in 2001, Patterson has posted an 85-28 record, won five bowl games, countless coaching awards, and took TCU to their first-ever BCS bowl game—a Fiesta Bowl loss to Boise State.
Simply put, he may be the greatest overlooked coach in all of sports.
But, that could all change in 2010.
Why? Because TCU has a legitimate shot at winning the BCS National Championship. No lie.
If the Frogs can run the table in the Mountain West—a league many consider to be on par with some BCS conferences—while also taking out non-conference foes like Baylor and Oregon State, they could just land a spot in the title game.
Now, that would probably have to mean that there would only be one or no undefeated BCS conference teams, but that's a pretty good possibility.
Winning the national title would probably get Patterson noticed a little more. Just maybe.
No. 4: Mark Richt, Georgia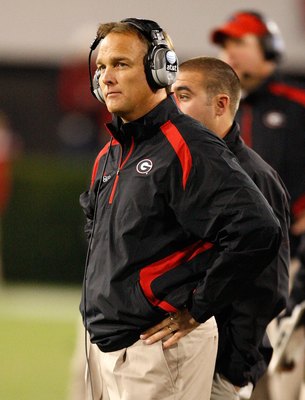 Since taking over in Athens in 2001, Georgia coach Mark Richt has been possibly the most successful coach in the nation not to win the national title.
He's got two SEC titles, two SEC Coach of the Year awards, a 90-27 record, and seven bowl victories (including two Sugar Bowl wins), yet the Bulldogs haven't yet won it all.
That's not to say they haven't been close.
After their two Sugar Bowl victories, they were ranked in the top 3 in the season's final polls.
In 2010, Georgia will once again compete for the SEC East. With Florida somewhat rebuilding, who knows?, they may even win it.
But there is no way the Bulldogs run the table during the season. The SEC is just too tough.
Richt and Georgia will have to wait another year to get a crack at the national title.
No. 3: Chris Petersen, Boise State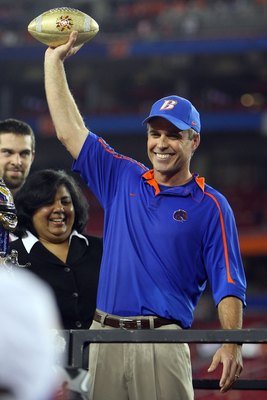 You thought Boise State was good under Dan Hawkins?
Watch them under Chris Petersen.
While under Peterson, the Broncos have become probably the greatest mid-major football program of all-time.
Since taking over for Hawkins in 2006, Petersen has led Boise State to two Fiesta Bowl wins, three WAC championships, and has posted a 49-4 record (a .925 winning percentage).
Oh, and he's also won two Paul "Bear Bryant" Coach of the Year awards.
Simply put, Petersen's Broncos have become a mini-dynasty. Yet due to their mid-major status, they haven't gotten a chance to compete for the national championship.
That could change in 2010. If they can go undefeated in the WAC, while also defeating their two premier non-conference foes—Oregon State and Virginia Tech—it will be hard for voters and the BCS computers not to put the Broncos in the national championship game.
Going undefeated though is no easy task, even for Petersen and Boise State. It will take almost flawless execution throughout the entire year for the Broncos to reach their ultimate goal.
However, if any coach has proven that perfection is almost possible in college football, it's Petersen.
No. 2: Frank Beamer, Virginia Tech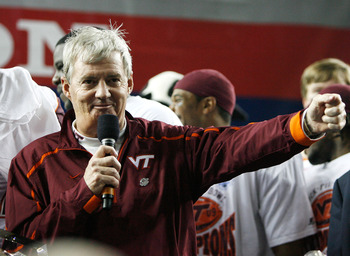 One of the winningest active coaches in college football, long-time Virginia Tech leader Frank Beamer has yet to win a national title despite 229 career victories and multiple appearances in BCS bowls.
After coaching Murray State, the Hokies hired Beamer in 1987 in the hopes of a revival of their football program after a largely unsuccessful first century.
Boy, did they make the right hire.
During his time in Blacksburg, Beamer has won six conference titles (3 in the Big East, 3 in the ACC) and eight bowl games.
The Hokies have also won the Sugar Bowl in 1995 and the Orange Bowl in 2009.
The closest Beamer came to winning a national title was in 1999, when Virginia Tech fell in the Sugar Bowl to Florida State.
In 2010, Beamer may once again have a chance to win that elusive national title.
The Hokies are expected to win the ACC and if Virginia Tech can beat Boise State in their season opener, an undefeated season is certainly a possibility.
Not to say it will be easy going through the ACC unscathed, but if any team can do it, it would be Beamer's squad.
No. 1: Bill Snyder, Kansas State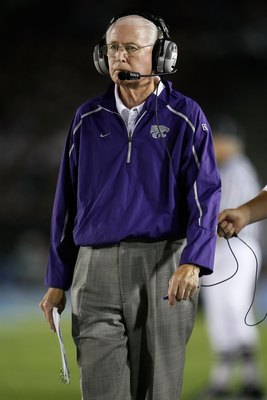 How do you know a coach is special?
When the university names the stadium after you.
That's the case with Bill Snyder and Kansas State. That's how influential he's been to that program.
Considered by many to be the worst program in all of college football before Snyder took the reigns, Kansas State was still searching for their 300th win as a program and hadn't won in 27 consecutive games going into the 1989 season.
Heck, in 93 years of play, the Wildcats had won one conference title. Sports Illustrated called them "Futility U."
It's amazing what one coach can do.
Since then, Snyder has led KSU to a Big 12 conference title, six bowl wins, and a 142-74-1 record.
He's won five coach of the year honors between the Big Eight and Big 12 and won both the "Bear Byrant" and Walter Camp coaching awards in 1998.
The one thing he's yet to accomplish?
A national title.
He's come close. His '98 Cats would have gone to the national championship had they not lost a heartbreaker to Texas A&M in the Big 12 Championship Game and his 2003 team just lost to Ohio State in the Fiesta Bowl.
Don't expect Kansas State to come anywhere close to a BCS bowl, much less a national title, in 2010. The Big 12 is just too strong.
But without Snyder, Wildcats fans wouldn't consider those concepts as even being a possibility.
Keep Reading