Top Five Most Unbreakable Sports Records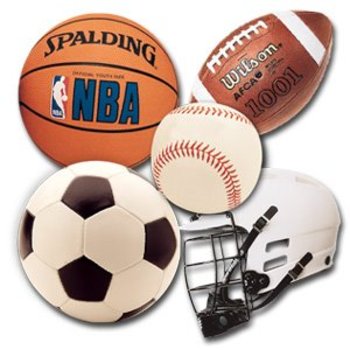 This might be the most debatable subject in sports, which makes this topic so much fun to write about.
The content of the next five slides won't shock you, but the order in which they appear might. If you disagree, comment, and let me know why. I'm always open for a good 'ol sports argument.
Without further ado, here are the Top Five Most Unbreakable Sports Records, with my reasons why.
#5: Cy Young's 511 Wins
Cy Young played during a vastly different era. His Hall of Fame career lasted from 1890-1911. He won 21 or more games 15 times and the fewest number of complete games during a season was 12! Young pitched no fewer than 28 complete games a ridiculous 19 times. He totaled an astounding 749 complete games throughout his career.
Young's best five year stretch was from 1891-1895, which he went 158-81, pitched 213 complete games, and had a 3.04 ERA.
The reason I ranked this so low is because of the difference of time. I was thinking about not including him, but his 511 wins, was, even for that time, amazing. He is nearly 100 wins ahead of the next player on the career wins list. Number two is Walter Johnson, who won 417 games during his career.
Young also holds the record for most career innings pitched (7,355), most career games started (815), and most complete games (749). He did occasionally lose. His 316 losses is the most in MLB history.
He also pitched Major League Baseball's first perfect game.
His best season came in 1901: 33-10 record, 1.62 ERA, 41 games Started, 38 complete games, 5 shutouts, 371 1/3 innings pitched
Closest player to breaking the record:
Walter Johnson (417)
Accolades:
One World Series Championship
Perfect Game against the A's (May 5, 1904)
MLB All Century Team
Hall of Fame (1937 with 76.12%)
Career numbers:
511 career wins
316 career losses
7,354 2/3 innings pitched
815 career games started
749 career complete games
#4: Joe DiMaggio's 56 Game Hitting Streak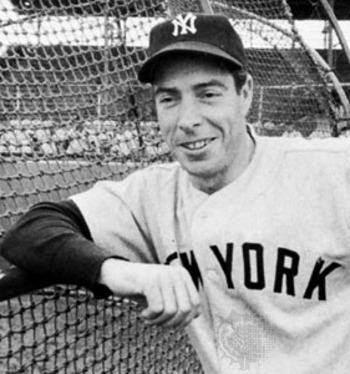 It all started on May 15, 1941 with a measly hit against Eddie Smith of the Chicago White Sox and ended 69 years ago yesterday against the Cleveland Indians.
If not for two great plays by third baseman Ken Keltner, who knows how long the streak might have lasted.
Pitchers Al Smith and Jim Bagby held him hitless in the game that ended the streak.
His final numbers during the streak: 91 hits in 233 at bats, which equaled a .409 average, 15 Home Runs, and 55 RBI. The Bronx Bombers racked up an impressive 41-15 record during his streak.
DiMaggio finished the year with a very impressive line: .357/.440/.643/1.083 with 30 home runs, 125 runs batted in, and 122 runs.
What many people forget, or don't know, is that DiMaggio had his 56-game hitting streak the same season that Williams batted .406; which many people say will never be passed in the modern era.
FUN FACT: Hall of Famers Ted Williams, Stan Musial, Honus Wagner, Shoeless Joe Jackson, Willie Mays, Wade Boggs, and Tony Gwynn never had hitting streaks that lasted 30 games!
FUN FACT TWO: After his 56-game hit streak ended, DiMaggio had a hit in 17 straight!
Closest player to breaking the record:
Pete Rose in 1978 had a hit in 44 straight games.
*Accolades*
9x World Series Champion
3x AL MVP
13x All-Star
MLB All Century Team
New York Yankees #5 retired
*Career Numbers*
.325 Average
2,214 Hits
361 Home Runs
1,537 Runs Batted In
#3: Wilt Chamberlain's 100-Point Game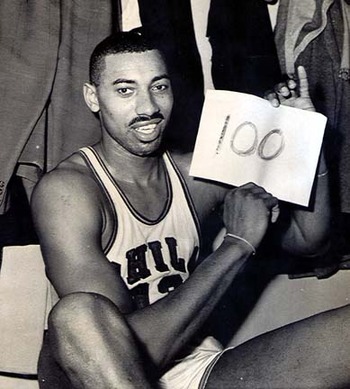 Usually, you don't see this record as #3 on most lists. However, I have two records coming up that nobody ever really talks about.
Wilt Chamberlain played from 1959-1973 and he was unlike any other player that had come before him, or after him for that matter.
The Kansas alumni took advantage of a time when big men were not the norm in the game. On March 2, 1962 in a game against the New York Knicks at Hersheypark Arena in Hersheypark, Pennsylvania, Chamberlain took his game to another level.
The final score was 169-147 (which was at that time combined for the highest scoring game in NBA history until the Spurs beat the Bucks 171-166 in three overtimes on March 6, 1982). You would think that the Warriors won with just about each player contributing. But as we all know, Wilt dominated basketball as no one had ever seen before.
Let's rewind a little bit. On December 8, 1961, Chamberlain scored a new single game record of 78 points (eclipsing the mark held by Lakers star, Elgin Baylor). In a moment of foreshadowing, legendary Lakers broadcaster Chick Hearn asked Baylor if it bothered him that his record was gone and that it took Chamberlain three overtimes to break. Baylor's response, which isn't known by many, was that he wasn't concerned because, "Someday that guy is going to score 100."
History would go on to prove Baylor's prediction. However, Chamberlain almost didn't make the train to Pennsylvania. He was in New York and had partied all night long and was in no mood to get on the train. Suffering the effects of a hangover and with barely any sleep, he made in on the train at 8 AM.
4,124 people were in attendance on what would turn out to be one of the most historic nights in all of sports.
Chamberlain would go on to score 23 points in the first quarter and have a total of 41 when the teams entered their locker rooms for halftime. He was stated as saying after the game, "I often came into the locker room with 30 or 35 points, therefore, 41 points was not a big deal." Well, on this day it turned out to be a very big deal. By the end of the third quarter, his total stood at an astounding 69 points!
With 7:51 left to play in the fourth quarter, Chamberlain broke his previous scoring record with his 79th point. At that moment, the 4,000-plus in attendance started to chant, "Give it to Wilt! Give it to Wilt!"
When there was 2:49 left on the clock, Chamberlain had scored 94 points and then with one minute left, he was two points away from the mark for which he is most famous.
Being quintuple teamed (Yes, the whole Knicks team was guarding him!), Chamberlain broke free and scored the historic 100th point. Eyewitness accounts say that he slam dunked it while others say he just tossed it in.
Chamberlain's final numbers were 36 of 63 from the field and he went 28-32 from the charity stripe. He still holds the NBA records for most field goals attempted (63) and made (36) from that game.
This record will never be broken in my lifetime or more than likely the lifetime of anyone else in the future. He was a living legend, much like Babe Ruth during the '20s and '30s, who dominated their respective sports.
FUN FACT: The next night, the Warriors played the Knicks again, and Chamberlain scored 54 points! The player guarding him that night, Darrall Imhoff, received a standing ovation for holding him to 54 points.
Closest Player to Breaking the Record:
Kobe Bryant on January 22, 2006, scored 81 points in a game against the Raptors.
*Accolades*
2x NBA Champion
4x NBA MVP
1x NBA Finals MVP
7x All-NBA First Team
2x All-NBA Second Team
2x All-NBA Defensive First Team
1x NBA All Star Game MVP
13x NBA All-Star
7x NBA Scoring Champion
11x NBA Rebounding Champion
NBA Rookie of the Year
NBA Hall of Fame (1978)
NBA's 35th Anniversary Team
50 Greatest Players in NBA History
*Career Numbers*
31,419 points (30.1ppg)
23,924 rebounds (22.9rpg)
4,643 assists (4.4apg)
#2: Nolan Ryan's Seven Career No-Hitters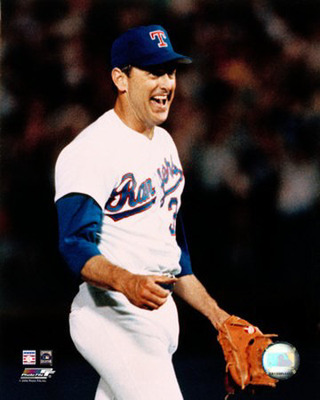 Nolan Ryan, the current Texas Rangers President, was quite the pitcher. He holds the record for the most career strikeouts in baseball (5,714), but he also ranks first on the career walks list with 2,795.
He threw an unbelievable seven no-hitters! The first took place when he was 26 and the last was thrown at the age of 44. His record breaking no-hitter came on September 26, 1981 against the Los Angeles Dodgers. He pitched four with California, two with Texas, and one with Houston.
1. May 15, 1973 (@ Kansas City)
2. July 15, 1973 (@ Detroit)
3. Sept. 28, 1974 (vs. Minnesota)
4. June 1, 1975 (vs. Baltimore)
5. Sept. 26, 1981 (vs. Los Angeles)
6. June 11, 1990 (@ Oakland)
7. May 1, 1991 (vs. Toronto).
He also holds the record, along with Bob Feller, for most one-hitters (12). Unbelievably, he also pitched 18 two-hitters.
Best Season (1981): 11-5, 1.69 ERA, 140 Ks in 149 IP
*Accolades*
1x World Series Champion
8x All-Star
Record 5,714 Strikeouts
Record 7 Career No-Hitters
Record 27 Major League Seasons
Houston Astros #34 retired
Texas Rangers #34 retired
Los Angeles Angels of Anaheim #30 retired
Major League Baseball All-Century Team
*Career Numbers*
324-292
5,714 Ks
3.19 ERA
#1: Johnny Vander Meer's Two Consecutive No-Hitters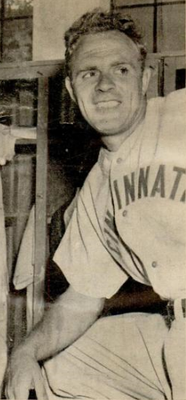 This is probably the most underrated record in sports today and it's mainly because Vander Meer is the least recognized athlete of the group.
Vander Meer, born in 1914, pitched for the Reds (1937-1943, 1946-1949), Cubs (1950), and the Indians (1951).
The lefty threw his back-to-back no-hitters in June of 1938. On June 11, he held the Boston Braves without a hit and followed that up four nights later by no-hitting the Brooklyn Dodgers.
He would end up going 15-10 with a 3.12 ERA in '38. He ended up having a 13 year career in the majors and finished with an overall record of 119-121 and a 3.44 ERA.
In order for someone to break his record, they'd have to throw three consecutive no-hitters. I don't care how good the pitcher is because that will never happen.
*Accolades*
1x World Series Champion
4x All-Star
Record Back-to-Back No-Hitters
*Career Numbers*
119-121
1,294
3.44 ERA
Honorable Mention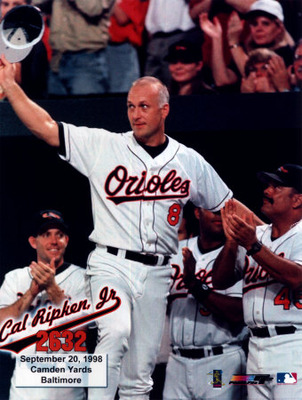 -Cal Ripken, Jr 2,632 Consecutive Games Played
-Ted Williams' .406 Batting Average (Single Season)
-Ty Cobb's .366 Career Batting Average
-Wilt Chamberlain's 55 Rebounds In A Game
-Wayne Gretzky's 215-Point Season
-Boston Celtics' Eight Consecutive NBA Championships
-Wilt Chamberlain's 50.4 ppg (season)
Keep Reading