NBA Positional Power Rankings: All Defense List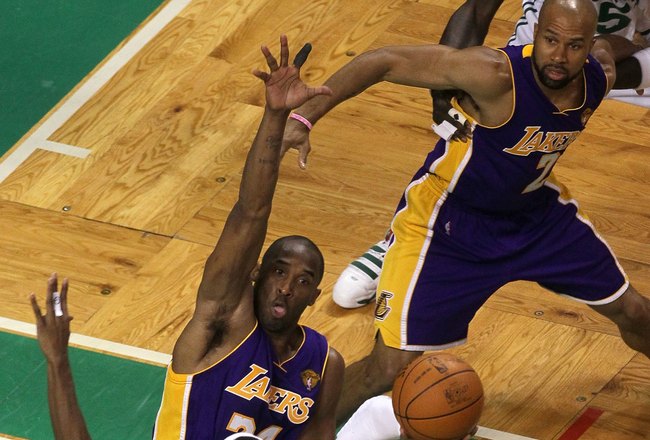 Many NBA players and so called stars view the defensive aspect of the game with disdain — not these guys. The flashy showmen, desperate for publicity and endorsement deals, need not apply for this list, which is all about defensive grit and toughness.
The following is a preseason power ranking of the top five players at each position based upon defense. This is not about potential and only takes into account what I believe to be true for next season.
Players who are expected to miss significant time next year due to injuries or those that whose health situations still lack clarity did not make the list. You cannot be considered a top five player in anything when you're not playing the game.
As a bonus I have included an "On The Cusp" player, someone I believe has the potential to be regarded as a top five defender at their position by seasons end.
Point Guard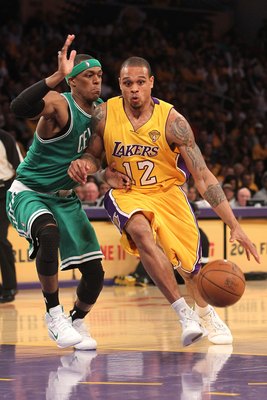 1. Rajon Rondo, Boston Celtics
Can defend on the ball, can defend off the ball, great help defender, fills passing lanes, and can even block shots. Best rebounding point guard in the league.
2. Russell Westbrook, Oklahoma City Thunder
I can imagine Westbrook and Rondo waging yearly battles to determine the NBA's best defensive point guard. Rondo is the better defender right now, but Westbrook might have more potential due to his greater size, length, weight, and strength.
3. Chris Paul, New Orleans Hornets
Superb at providing on the ball pressure. Also perhaps the best in the league generating steals. Unlike a young Allen Iverson, Paul doesn't risk the team defense for it.
4. Jason Kidd, Dallas Mavericks
At this point in his career he spends as much time defending shooting guards as he does point guards, but he is still effective. Too strong to muscle, too wise too outsmart, and his feet still have good speed.
5. Deron Williams, Utah Jazz
Has amazing defensive potential due to his size, strength, and quickness, but his focus isn't always on. Sometimes he plays at an elite level, sometimes average, but he is never a liability.
On The Cusp: Derrick Rose, Chicago Bulls
Shooting Guard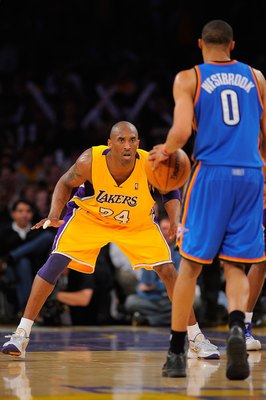 1. Kobe Bryant, Los Angeles Lakers
He is slowing down, but when Russell Westbrook was performing surgery on the Laker's defense in the first round, Kobe demanded the assignment and kept in check one of the most athletic point guards in the NBA.
2. Dwyane Wade, Miami Heat
Prone to lapses in focus during games, but he is perhaps the leagues best clutch defensive player. When his team needs a stop, when his team needs to swing the momentum, Wade comes through for them more often then not.
3. Thabo Sefolosha, Oklahoma City Thunder
His defense was so good he kept last year's number three pick in the draft, James Harden, on the bench. Quickly becoming Bruce Bowen-annoying.
4. Brandon Roy
Like his offensive game, Roy's defensive game is smart, effective, efficient, and smooth. Roy is one of the rare players in the NBA who can check a Dwyane Wade level player without needing a double team.
5. Stephen Jackson, Charlotte Bobcats
Simply put, has never gotten the credit he deserves for being the defensive player he is. Larry Brown loves him, that should tell you right there how good he is.
On The Cusp: Arron Afflalo, Denver Nuggets
Small Forward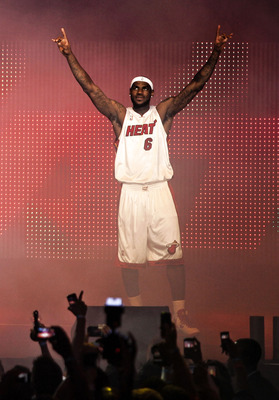 1. LeBron James, Miami Heat
Even without the spectacular blocks, LeBron is perhaps the only player in the NBA who can guard five positions at an elite level. He is the perfect pick and role defender as he can switch on to any player at any time.
2. Gerald Wallace, Charlotte Bobcats
Wallace can singlehandedly wreck havoc on a team's offensive game plan. Defensively, there is nothing as a small forward he cannot do, and he can even do some things a small forward shouldn't be able to do.
3. Ron Artest, Los Angeles Lakers
Will go down as perhaps the best defensive player of his generation. He is declining physically, but he is only at the beginning of that slide, so he has two elite years left in him at least.
4. Luc Mbah a Moute, Milwaukee Bucks
The best defender in the league you have never heard of. Kevin Durant called him one of the toughest defenders he faced all season. Thats good enough for me.
5. Paul Pierce, Boston Celtics
At this point in his career, he has somehow become overrated as an offensive player and underrated as a defensive player. He doesn't have the hops he used to, but he can't be outmuscled and is hard to get by.
On The Cusp: Andre Iguodala, Philadelphia 76ers
Power Forward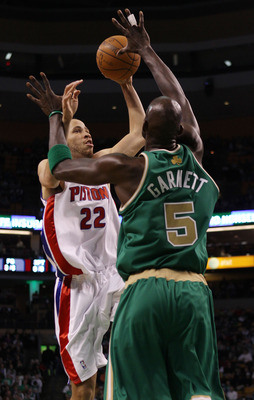 1. Kevin Garnett, Boston Celtics
Yes, he was a shell of himself last season, but that shell was still an above average player. Now that he is healthy, I expect him to challenge for Defensive Player of the Year again.
2. Josh Smith, Atlanta Hawks
A human Swiss Army Knife. Perhaps the best shot blocker and help defender in the NBA, and a truly elite on the ball defender. He can guard four positions and guard the post.
3. Anderson Varejo, Cleveland Cavaliers
Strictly a frontcourt defender, he is still one of the feistiest annoying defenders in the NBA. Fantastic low post defender who can lock people down.
4. Jeff Green, Oklahoma City Thunder
The definition of a dirty work player. LeBron James once remarked that he and his family nicknamed him Uncle Jeff because of his old school style of play.
5. Lamar Odom, Los Angeles Lakers
He can defend four positions on the court and can even play effectively down defending the low post. Underrated as a defender.
On The Cusp: Tyrus Thomas, Charlotte Bobcats
Center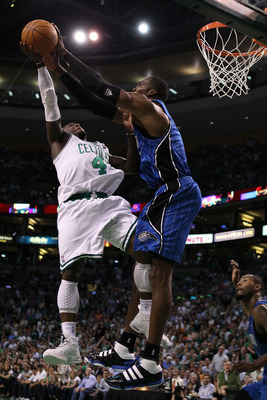 1. Dwight Howard, Orlando Magic
The fact that he has back-to-back Defensive Player of the Year Awards should say it all. Any team that has him regardless of surrounding talent will be statistically a top five defense.
2. Andrew Bogut, Milwaukee Bucks
Blocks more than two shots a game, alters countless others, and was leading the league in charges taken before he was injured last season. He also plays strong and nasty when defending the low post.
3. Tim Duncan, San Antonio Spurs
While losing a step has prevented him from being the help defender and guardian of the paint he used to be, he still might be the best low post defender in the NBA.
4. Joakim Noah, Chicago Bulls
Not many centers can guard more than frontcourt players, but Noah somehow can get low and stay in front of agile smaller perimeter players. Noah is also perhaps the best fast break defender in the NBA aside from LeBron.
5. Marcus Camby, Portland Trailblazers
Camby no longer has the hops he once had, but considering how long and tall he is those hops are still plenty. Still, a very effective defensive player.
On The Cusp: Greg Oden, Portland Trailblazers
Keep Reading