Indianapolis Motor Speedway: 10 NASCAR Drivers Ready to Kiss the Bricks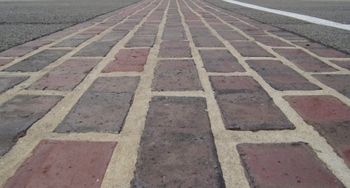 It's very rare for drivers on the NASCR circuit to honestly admit they aren't point racing. Every weekend when they strap into their machine there is one goal: win and bring home the maximum amount of points for the championship Chase.
On Sunday at the Indianapolis Motor Speedway, it will be one of the rare times when that won't be the case. When 43 drivers take the green flag for the 17th annual Brickyard 400 they will all do so with something more in mind then just winning: kissing the bricks.
Much like the Daytona 500, this race is about the history attached to it. No one remembers nor cares about who finished second, who had a great run, or who ruined their day on pit road. That's unless you're Juan Pablo Montoya whose temper tantrum single handedly made the 2009 Brickyard 400 one that will continue to live on for many years to come.
Winning at the Brickyard is about joining the greats of Earnhardt, Jarrett, Labonte, and Elliott to name a few. Winning at the Brickyard could make your career; it's what can catapult you into superstardom. When Kevin Harvick captured the checkered flag in 2003, it was more than just winning in Dale Earnhardt's car; it made him a serious contender in the sport.
Some things, however, will remain the same. Like any other race weekend there will be the usual suspects near the front of the field. The likes of Jimmie Johnson and Tony Stewart, as well as Jeff Gordon, who have all become self-crowned kings of the Indiana track.
Then there will be others who show up and make it a memorable day for himself and his fans.
When looking for favorites for the day or maybe what your fantasy lineup should look like, there are ten drivers that will find their way to the front at Indianapolis. These are the drivers that have the track well figured out and will be waiting to strike in order to get that sweet kiss.
Some of the drivers won't be surprising. Others might raise an eyebrow. But at the end of the day, after the champagne has been sprayed, the interviews have concluded, and it's time to pack up and head home, just remember that some things could have been seen coming.
10) AJ Allmendinger, No. 43 Best Buy Ford Fusion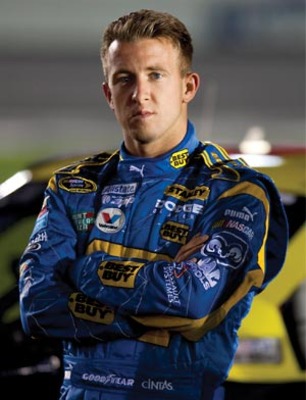 While AJ Allmendinger sits 22nd in points that's not indicative of how well the No. 43 team has run this season. Allmendinger seems to have taken up the role of "better luck next time," as wrecks not of his doing would pop up while he was having a career day.
Through it all though, Allmendinger's made the highlight reel, just for all the wrong reasons. Mostly losing his cool or causing a teammate to lose it, but on Sunday he could do something that not even his car owner had the opportunity to do. A win at the Brickyard would put Allmendinger in an elite group.
Allmendinger may not have the experience that most of the field does at the speedway; but that doesn't mean he hasn't figured his way around. He's driven it in an open wheel car and now he'll do it for a third time in a stock car.
In those two races he's finished 10th (2008, he also led four laps that day) and 20th (2009) and completed 320 out of the total 320 laps. Like he's known for, Allmendinger turned in solid performances and it shouldn't be any different this weekend.
But even more so, maybe this will be the weekend where lady luck finally looks in Allmendinger's direction.
Average Start = 29.5
Average Finish = 15.0
Driver Rating at Indianapolis = 80.2
9) Kasey Kahne, No. 9 Budweiser Ford Fusion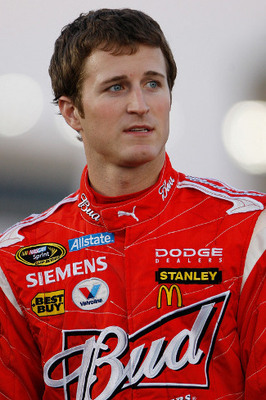 Allmendinger's teammate Kasey Kahne has also suffered the bad luck bug this season. Kahne will be leaving Richard Petty Motorsports at years end and is becoming a long shot to make the 2010 Chase. Instead of giving up, Kahne wants to leave the only team he's ever known by winning and you won't find a bigger celebration than at Indianapolis.
The speedway has been kind to Kahne and he's proven he can be a contender. Late in 2005 he was leading the Brickyard 400 before Tony Stewart made an appearance.
In the six races he's competed in at the Brickyard, he's led 40 laps with a career best finish of second, to aforementioned Stewart. The last two years the driver of the Budweiser Ford Fusion has finished seventh, and if the motor doesn't experience on engine No. 9, he could very well better that Sunday.
Average Start = 6.2
Average Finish = 16.0
Driver Rating = 91. 4
8) Kevin Harvick, No. 29 Shell/Pennzoil Chevrolet
The point leader seems to have had everything go his way thus far in 2010 and enters the Brickyard with two wins to date. As mentioned, he's a past winner at the track with the capability of doing it again.
In 2003 Harvick battled Jamie McMurray late in the going, taking advantage of McMurray getting caught behind lapped traffic. The win, which was the first for car owner Richard Childress at the track without Earnhardt Sr. in the car, has since been followed up by a victory in the Daytona 500, and the Sprint All-Star race. It makes Harvick a threat when the big money is on the line.
In nine races competed in, Harvick's led 87 total laps and completed 99.17 percent of the total laps. Don't be surprised to see the No. 29 Shell/Pennzoil Chevrolet battling for a top finish on Sunday, just as it has been for much of the 2010 season.
Says Harvick, "Indy is just like Daytona, everybody wants to win that particular race and even for us last year that's where the turnaround started."
Average Start = 14.7
Average Finish = 10.8
Driver Rating = 91. 9
7) Kyle Busch, No. 18 M&M's Toyota Camry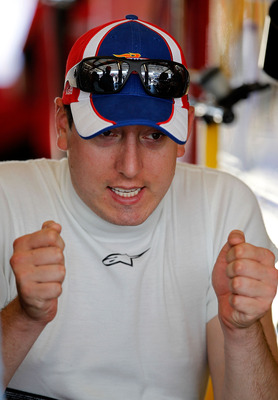 Wild Thing or Rowdy also comes to Indianapolis with two wins in 2010, but he's never reached victory lane at the Brickyard. He's scored a Nationwide win at O'Reilly Raceway Park across town, however the big track has been hot and cold to Busch.
This is a driver though, that is never one to count out. He and new crew chief Dave Rogers are sitting pretty to make the Chase after Busch missed it in 2009. He still lacks the amount of bonus points teammate Denny Hamlin and Jimmie Johnson have to this point however, with seven races remaining to grab some more.
With a career best finish of fourth and 39 laps led at Indianapolis, Busch will know what he needs to do to win, the question becomes can he. The track is also a sentimental place for Busch and fiancée Samantha Sarcinella. It's where they met a few years ago.
Busch asked his PR person to bring Sarcinella over, who was working for Chevrolet at the time, and he would give her a ride around the racetrack. The rest is history and the two will be married in December after the season has concluded. A win at Indianapolis would be the perfect way to celebrate the upcoming nuptials.
Average Start = 22.0
Average Finish = 14.8
Driver Rating = 92.8
6) Jeff Burton, No. 31 Caterpillar Chevrolet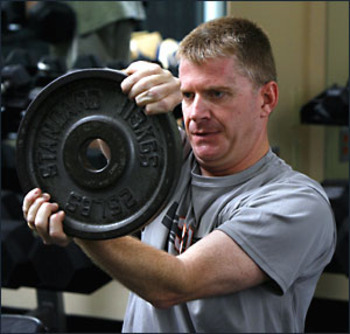 With the career that Jeff Burton has had, it's incredible to think that there are still certain things he hasn't accomplished. The list includes things such as never having won the championship, the Daytona 500 or Indianapolis.
But with Richard Childress Racing on the rebound, Burton has become a factor each weekend. The wins are still eluding him, but Indianapolis is a good of place as any and it's a track that Burton has figured out.
In 16 starts he's led 123 laps, has a career best finish of fifth and has completed 98.56 percent of the laps. Whether it's trying to take the lead or holding a spot in the top 10, Burton will show his face on Sunday.
"Being at the Brickyard with NASCAR is an unbelievable experience," Burton said. "I've been fortunate enough to run every race there and it's a hell of an experience to be quite honest."
Will this be the year though, that he finally wins it?
"It's a big race, it's a really big race," he continued. "The things that are in front of me that would really mean a lot to me are winning a championship, winning a Daytona 500, and certain the Brickyard is on that list as well."
Average Start = 25.5
Average Finish = 18.2
Driver Rating = 93.1
5) Denny Hamlin, No. 11 FedEx Toyota Camry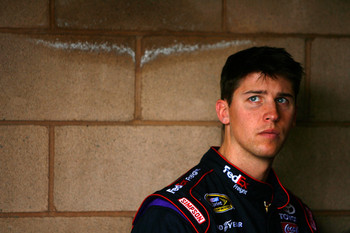 Denny Hamlin is another driver in the field that will be looking for his first win at the Brickyard. With five wins to date in 2010, tying him for the most with Johnson, Hamlin has shown that he can win at any type of racetrack the series has to offer.
While his finishes at Indianapolis have been nothing to brag about in the past, except a third place in 2008, Hamlin has become a weekly contender in 2010.
From having knee surgery and being counted out, to looking like a driver that could challenge Johnson for the title, everyone knows to be aware of Hamlin whenever the green flag flies.
The last few weeks he seems to have lost the oval track momentum that he had rolling into June, but big races bring out the best in everyone. Indianapolis is a big race and if the No. 11 FedEx team is on their best Sunday, they could be the ones in victory lane for a sixth time in 2010.
Average Start = 15.3
Average Finish = 17.3
Driver Rating = 93.3
4) Jeff Gordon, No. 24 DuPont Chevrolet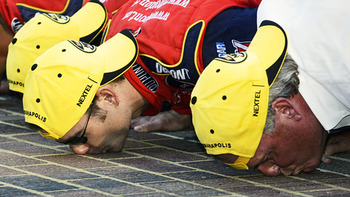 Any one of the next few drivers on the list could be at the top on any given day. Today, Gordon gets the No. 4 nod with four wins at the track, including the inaugural event in 1994. His last win to date was in 2004 and he's been locked out of the track's victory lane ever since.
He's also been locked out of victory lane in general since Texas in April of last season. The driver of the No. 24 DuPont Chevrolet is one of the coulda, woulda, shoulda drivers of the season. And this is a track that he could, should, and would win at if the pieces fall into place.
On Sunday, whomever ends the day kissing the Bricks will no doubt have to deal with Gordon and his team in one way or another. With his last five finishes at the track being a ninth, fifth, third, 16th, and eighth, Gordon is one of the drivers that's a must pick for Sunday.
Says Gordon about winning at Indianapolis, "Never thought we'd go there and win it and when we did it honestly, I still look back on it and felt like someone needed to pinch me and wake me up, it wasn't real."
Average Start = 13.2
Average Finish = 8.6
Driver Rating = 96.2
3) Juan Pablo Montoya, No. 42 Target Chevrolet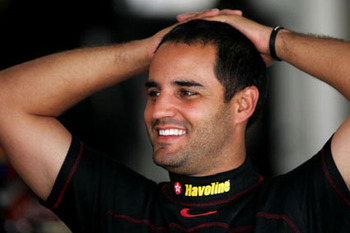 With the way that Juan Pablo Montoya has run this year he shouldn't be on any list when it comes to talking about winning, but Indianapolis is not just any list. Last year Montoya was well on his way to victory before he made a driver error on pit road.
The track is well known to Montoya from his days driving an open wheel car. On Sunday he'll use that to his advantage since he only has three stock car races under his belt at the speedway. In two of those three races Montoya started second, and even finished second in 2007.
A year later he blew an engine and finished 39th and last year it was total domination as he led 116 laps. The 11th place finish may have helped the Target driver make the Chase, but that wasn't what he was concerned with.
Now he gets another Chase, but the way his team has run this year, will Indianapolis be different for the Earnhardt-Ganassi team?
Average Start = 5.7
Average Finish = 17.3
Driver Rating = 102.0
2) Jimmie Johnson, No. 48 Lowe's Chevrolet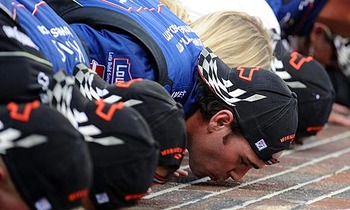 Hard to find Jimmie Johnson second on any list, but even at a track that he's won three times at he's still behind one driver. On Sunday he could be leading those drivers however, coming off back-to-back wins at the Brickyard in 2008 and 2009.
Indianapolis is just another track that the No. 48 Lowe's team has made their playground. It's a playground however, that can be vicious. While Johnson will no doubt be near the front of the field on Sunday and in the fantasy lineup of many, there's just one problem when it comes to Indianapolis and Jimmie Johnson.
Ever hear the expression, "if he isn't winning he's wrecking?" For Johnson, in his eight starts at the track he's finished first, first, 39th, first, 38th, 36th, 18th, and ninth. But he's also led 128 laps.
Time and time again Johnson and company have shown that just when you think it can't be done, they show up and do it. He may have had a rough night in Chicagoland two weeks ago, but he's won five races this season and is the driver you want in the seat of your car when it comes to races like Indianapolis.
"It would be a huge honor to join the list of four time winners," Johnson said about the upcoming race. "Just to win there once is a career maker for anyone. So to have the three victories there mean a lot to me."
Average Start = 17.3
Average Finish = 17.9
Driver Rating = 104.9
1) Tony Stewart, No. 14 Office Depot/Old Spice Chevrolet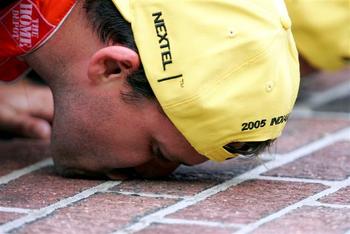 Back home in Indiana again for Smoke. Still, yes still, winless in 2010 Tony Stewart returns to his home track looking for that extra boost to get his season turning in the right direction.
When it comes to racing at Indianapolis, Stewart knows the direction around and will be ready to show everyone else on Sunday. He's had everything happen to him at this racetrack: fights, wrecks, and wins. Growing up as a child in Indiana the goal was to race at Indianapolis.
While he admits that he won't ever again have the chance to win the Indianapolis 500, the Brickyard will always be the biggest race to him. He may not have won at this track since 2007, the second of two wins for Stewart at Indianapolis, but he's always at the front.
Two wins, 217 laps led in the 11 races that he competed in Stewart has completed 1,761 of the 1,761 total laps. He's another must pick when it comes to the Brickyard 400 and you can't go wrong in doing so.
"I go to Indy for one reason and one reason only and it's never changed," Stewart said. "I'm just so passionate about the Indianapolis Motor Speedway, whether it's driver or owner."
Average Start = 15.2
Average Finish = 8.5
Driver Rating = 111.8
Final Thoughts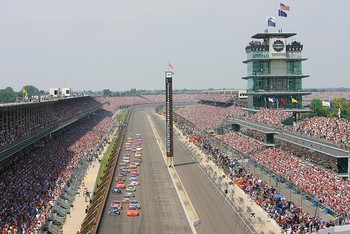 Indianapolis marks the 20th race of the 2010 season and leaves just six before the Chase starts. There are still plenty of positions up for grabs over the next six weeks and no spot is secure until the checkered flag falls in Richmond.
Drivers such as Dale Earnhardt Jr., Mark Martin, Kasey Kahne, Ryan Newman, and Jamie McMurray are all on the outside looking in. Martin, Kahne, and Newman all made the 2009 Chase. Earnhardt Jr. is trying to rebound from a horrendous 2009 and McMurray won the season-opening Daytona 500.
Indianapolis will also bring a special opportunity for car owner Chip Ganassi. Driver Jamie McMurray won the Daytona 500 in NASCAR, while IRL driver Dario Franchitti won the Indianapolis 500 in May to give Ganassi two crown jewels in one year.
If McMurray or Montoya were to win Sunday, Ganassi would become the first owner to win all three events in the same year. Currently he's the only owner to have won the Daytona 500 and the Indy 500 in the same year.
Indianapolis also brings a great opportunity for many drivers to not only get their first wins of the season, such as Stewart, Gordon, Martin, and Earnhardt Jr., but who will be the next driver to win their first career race?
Or will drivers like Martin Truex Jr. follow in teammate David Reutimann's steps and win his second career race?
The Brickyard 400 will not be one to miss. Watch the coverage on ESPN at 1 p.m. ET, July 25.
Keep Reading